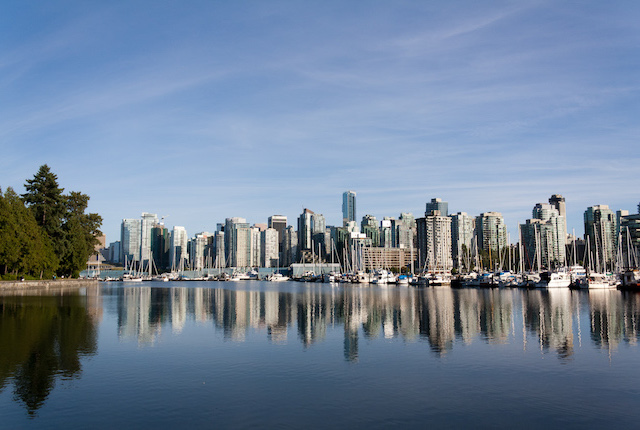 is a favorite travel destination for many Americans, attracting more than 12 million visitors each year. A sizable chunk of these travelers head straight to , which is arguably one of the coolest cities in the Pacific Northwest. Beyond its stunning nature, you can expect big-city attractions, hospitable locals, and gastronomic greatness. Outdoor enthusiasts will love the parks, beaches, mountains, forests, and gardens, while city slickers will be drawn to the museums, galleries, theaters, concerts, and sporting events. The wide range of trendy restaurants and shops, from historic Gastown to the West End, don't hurt either. In fact, Vancouver is consistently ranked among the world's most livable cities. Those who can't make the commitment to move here, however, should certainly consider a visit. To help make your trip a memorable one, we rounded up some of the best things to do in Vancouver.
1. Sample some coffee.
Vancouver's coffee culture exploded during the early 1970s and it hasn't looked back since. Most locals won't settle for a cup of Starbucks. Instead, there's a huge emphasis on independent cafes and microbrews. Mugs and reusable take-out cups are the preferred Vancouver accessory, after yoga mats and umbrellas. When you're craving some delicious fair-trade, or ethically sourced, organic java, try 49th Parallel, Revolver, or Timbertrain Coffee Roasters. But don't worry if you don't like the hard stuff. As a former British colony, Canada is full of tea-lovers as well. For a high-tea experience, head to The Sutton Place Hotel or Bacchus. The finger sandwiches, scones, pastries, and Champagne are all chosen to complement your blend. No matter what you're drinking, use your beverage to connect with locals or people-watch as you sip.
2. Hit the park.
Vancouver is an outdoor-lover's dream. Its temperate climate and plentiful rain give way to lots of lush public land. And though there are several parks scattered throughout the city, two tend to steal the show. At 100 acres, Stanley Park in northwest Vancouver edges out New York's Central Park as the largest city park in North America. The whole thing is surrounded by a five-mile sea wall and filled with lakes and rivers, meaning you can enjoy waterfront views as you walk, run, cycle, rollerblade, kayak, or picnic. The 500,000 cedar, fir, and hemlock trees throughout Stanley Park only add to its beauty. The oasis is also home to Canada's largest aquarium, several sculptures, totem pole displays, four restaurants, and horse-drawn carriages.
There's also the 128-acre Queen Elizabeth Park just south of downtown. Inside Queen Elizabeth, you'll find the Bloedel Conservatory garden and aviary, an arboretum of native and exotic trees, and recreational tennis courts. Thanks to the park's elevated position, visitors can also enjoy incredible views of the city and North Shore surroundings. If you need even more fresh air, head to one of the three world-class mountains within a 15-minute drive: Cypress Mountain, Mount Seymour, and Grouse Mountain.
3. Experience the art scene.
Calling all locals and visitors who appreciate a good gallery. The most popular one is the Vancouver Art Gallery, which showcases regional and international artists, including Canadian legends Emily Carr and Jeff Wall. Even the courthouse building itself is an iconic work of art. The cafe upstairs is a great spot to drink wine, enjoy dessert, and discuss what you've seen. Art aficionados will also want to wander through the Contemporary Art Gallery, a non-profit public art gallery dedicated to both exhibition and education. Dealers and curators should head straight to Catriona Jeffries Gallery or LeSoleil Fine Art Gallery, which house works from familiar artists. Casual observers may prefer the conceptual photography on display at Monte Clark Gallery, the mixed media at the newly-opened Polygon Gallery, or the jewelry and sculpture at Bill Reid Gallery of Northwest Coast Art. For even more visual marvels, stroll down South Granville Street, which known as "gallery row."
4. Relive the Olympics.
Vancouver served as a Winter Olympics destination in 2010. To commemorate the incredible events, head to the Olympic Cauldron at Jack Poole Plaza. It's right next to the Vancouver Convention Centre and looks especially stunning at sunset. Next, you'll want to see some of the sporting venues. Pacific Coliseum hosted figure and short track speed skating; Hillcrest Centre hosted curling; and Canada Hockey Place held many a game.
You can also head to the Richmond Olympic Experience (ROX) at the Richmond Olympic Oval, an interactive and dynamic museum filled with super-realistic sports simulators that mimic what Olympic athletes experienced during the Games. Test your skills on the Olympic ski jump, whitewater kayak course, or bobsleigh track. Once you've gotten your fill of thrills, check out the Olympic artifacts and memorabilia and catch a film in the motion-activated seats at the ROX Theatre. To round out your Olympic tour, head to the southeast corner of False Creek. Once the Olympic Village residences for international athletes, it's now one of the world's greenest communities. There are public art installations, epic city views, and incredible waterfront dining options.
5. Shop vintage.
The Vancouver scene is fashionable, but also focused on sustainability. To fit in on your trip, you'll want to mix and match vintage finds with current trends. You could head to Community Frock Shoppe on Carrall Street or Duchesse Vintage in Chinatown for pieces dating back to the 1940s, but the real magic is waiting in the vintage, thrift, and consignment stores on South Main Street below West Broadway. Frocks abound in the two-floored Bohemia Gallery, retro fun awaits at Burcu's Angels, and authentic 50s frills come in droves at the Parisian-owned C'est La Vie. Last but not least, go to F as in Frank for custom reworked vintage. If you want something new, try any of the 200 boutiques and designer shops on Robson Street. For even more choice, check out the enormous Metropolis at Metrotown in nearby Burnaby.
6. Embrace the waterfront.
Now that you've witnessed enough waterfront views, it's time to really enjoy it. Thanks to aggressive advocacy dating back to the 1920s, the city of Vancouver has acquired tons of beachfront property that was once flagged for hotel or residential development. If you're lucky enough to be in town when weather is nice, slip into your suit and board the Blue Bus. These busses run from downtown all the way along Marine Drive. There are eight beaches on the ocean and one along a freshwater lake, meaning visitors have access to more than 11 miles of sunbathing, swimming, and sports space. The most popular are Kitsilano Beach, Spanish Banks, Jericho Beach, Sunset Beach, and Second Beach. The Kits Pool at Kitsilano is Canada's longest and the city's only saltwater pool. It's three times longer than an Olympic pool. Second Beach also has a public swimming pool, if freshwater is more your style. For something closer to the downtown action, consider English Bay or Sunset Beach Parks.
7. Visit Granville Island.
No trip to Vancouver would be complete without seeing Granville Island. Don't let the name fool you — it's actually a peninsula, not an island. A former industrial hub, the area is now a mecca for trendy restaurants, boutiques, galleries, and theaters. This popular and picturesque neighborhood is basically a mini-city. Its biggest draw has to be the open-air Granville Island Public Market. Saunter the aisles of fresh organic produce and local crafts before grabbing some food at the stalls. If the weather is nice, get a seat along the water and watch as buskers perform and ferries putter between English Bay and good ole Granville. The area is also home to Canada's first microbrewery, so you can have your drink with a side of history.
8. Stop to smell the flowers.
The verdant wonders in Vancouver don't stop at parks. Vancouver is full of spectacular public gardens, like the 55-acre VanDusen Botanical Garden. VanDusen is home to some of the best botanicals in the world, but it's rarely crowded with tourists. More than 7,500 plant species and varieties representing ecosystems from the Himalayas to the Mediterranean pepper the property, but the real stars come out in the spring and early summer. Whether you prefer rhododendrons, laburnum, or cherry blossoms, you'll want to plan your visit around the . You can also see wildlife and wander through a hedge maze, as well as unwind in the rose garden while you're here.
For something a little different, head to Dr. Sun Yat-Sen Classical Chinese Garden or Nitobe Memorial Garden. The former is a zen retreat in bustling Chinatown, filled with winding walkways and pagoda-style pavilions. Built in 1986, it's the first full-scale classic Chinese garden outside China. The latter is a traditional Japanese garden located on the University of British Columbia campus, complete with a ceremonial teahouse. Named after a Japanese scholar and diplomat, it's one of the best spots for observing magnolias and maples.
9. Get multicultural.
Forty percent of Vancouver's total population comes from another country. It's Canada's most diverse and densest city. Street and commercial signs throughout Vancouver showcase an array of languages. Though the Brits and the Irish were the first groups to arrive and are still the largest ethnic group there, Vancouver also has a record number of German and Chinese immigrants. In addition to a vibrant Chinatown, you'll want to spend some time in the Punjabi Market, Greektown, Japantown, and Little Italy neighborhoods.
10. Reach new heights.
There are plenty of chances to get high in Vancouver — and we aren't talking about the city's cannabis culture. Perhaps most exhilarating is the Capilano Suspension Bridge, the oldest tourist attraction in the city. It has been around since 1889, but traversing the 450-foot-long, 230-foot-high landmark is every bit as exciting in 2018. The canopy walk offers awe-inspiring views of the Capilano River and the surrounding forest. True daredevils can continue on to the seven bridges at Treetops Adventure and the Cliffwalk path that snakes along the canyon's edge. For a free alternative, head to the hiking trails, waterfalls, and 164-foot suspension bridge of Lynn Canyon.
If you prefer something less active, but equally wobbly, take the Super Skyride up Grouse Mountain. The giant gondola departs every 15 minutes and saves you the two-mile, 2,700-foot climb up the mountain's big wooden steps, known locally as "Mother Nature's Stairmaster." Once you reach the summit, you'll have access to hiking trails, zip lines, paragliding, ranger talks, lumberjack shows, and of course, breathtaking views. Visitors can also head to Vancouver Lookout on the 55th floor of the Harbour Centre. The glass elevator takes you up 550 feet in 40 seconds flat.
11. Expand your mind.
Vancouver isn't all about natural beauty, incredible art, and special brews. The city is also a hub for scientific exploration. The ball-shaped Telus World of Science on the end of False Creek is a must-visit, especially for those traveling with kids. There are hundreds of interactive exhibits and displays throughout the museum's five galleries, covering a diverse range of topics from the environment and sustainability to life sciences and physics. The H.R. MacMillan Space Centre and Gordon Southam Observatory are also great science-centric options. Eager to learn about the city's roots? Check out the art, anthropology, archaeology, and ethnography exhibits in the Museum of Anthropology at UBC, which covers 10,000 years of history and culture.
12. Have a drink in Yaletown.
Gastown, Main Street, Commercial Drive, Olympic Village, and the West End are all full of hangouts, but Yaletown on the south side is the definitive late-night hot spot. Former warehouses have transformed into cool restaurants, lively dives, chic hotels, and sophisticated lounges as the area has grown in popularity over the years. It's often compared to Soho in New York City, and is the ideal place to grab a drink and recap your adventures. Just hop on the Canada Line SkyTrain to the Yaletown-Roundhouse station. For those who don't like wine or liquor, the Vancouver beer scene has been quietly catching up to the likes of Portland and Seattle over the last decade. Local brews from 33 Acres Brewing, Brassneck Brewery, Storm Brewing, Parallel 49, Strange Fellows, Four Winds, or Steel & Oak Brewing will surely satisfy. And if you like what you taste, why not go on a brewery tour the next day?
You'll Also Like:
All products are independently selected by our writers and editors. If you buy something through our links, Oyster may earn an affiliate commission.