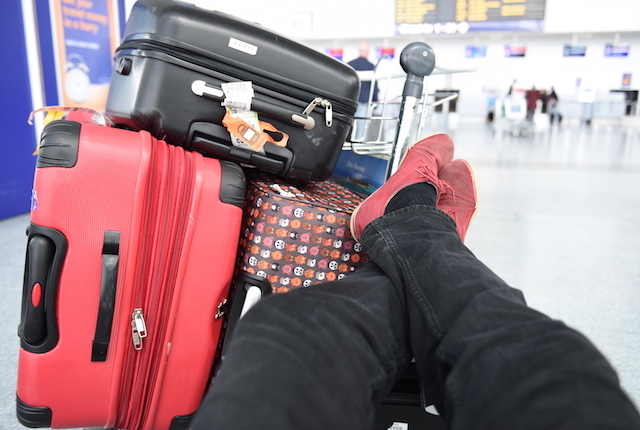 They say that there's an app for everything, and we found this to be true when we went in search of apps that would allow travelers to have a stress-free vacation. While we couldn't list every cool travel-related app on the market (trust us, we wanted to!), we brought together a mix of amazing ones that will make you worry less and enjoy your vacation without any hiccups.
Do you dread lugging your suitcase to and from the airport or hotel? Enter: Bringit. This travel app is like a personal concierge for your luggage. All you have to do is hop on the app and request a Bringit ambassador to come to you. They place a sensor on your bag, so you can track it on your phone. The luggage is then delivered to its destination within four hours ($25 for two bags), as long as it's within a 10-mile radius.
For travelers who don't like to plan in advance or those whose plans change unexpectedly, HotelTonight is a must-have. With this last-minute hotel booking app, travelers can reserve discounted rooms for that night, the next day, or even a week in advance. HotelTonight promises low rates because the accommodations available are usually unsold rooms in hotels. Plus, the more you book through their app, the higher the discount you receive. With HotelTonight available in many countries around the world, you never have to worry about finding a safe and clean place to sleep at the eleventh hour.
With one billion users, WhatsApp is one of the world's most beloved communication apps. It allows you to communicate with others through text, voice, and video by using your phone's Internet data or free Wi-Fi. This way you can keep in touch with people back home or those you meet on the road. You can also send photos, locations, and documents through the app. While it doesn't work off-line, it's the perfect way to converse with local drivers, restaurant waiters, and new travel friends, as there's no fees associated with messaging people whose numbers come from different countries. Last but not least, thanks to their end-to-end encryption, you don't have to worry about third parties or WhatsApp listening in or obtaining your messages or calls.
When it comes to traveling around a city with ease, Citymapper can be a lifesaver. Providing A to B directions, it helps users to navigate cities by bus, subway, bike, tram, and more. It also offers real-time updates on schedules and pricing for various modes of public transportation. Even better, it incorporates both Lyft and Uber, showing the estimated length and cost of a trip, so you can decide if it's worth calling the ride-share company or taking the subway.
5. PlanChat
Traveling within a group can be stressful as there's a lot to coordinate. Use PlanChat to make things easier. It allows you to add everyone to a group message, even those who don't have the app. Ask a question, send a picture, or poll the group, and you'll be able to see who has seen the message and who hasn't. You can search and add hotels, restaurants, and attractions, creating an itinerary for all to see, as well as book hotels through the app. Splitting tabs between travel friends is easier, too, as the app lets you upload receipts, split the bill instantly, and keep a tally throughout the trip so you know who owes what. So, go ahead and plan that bachelorette party stress-free.
Want to travel to an exotic locale, but don't know the native language? Google Translate allows visitors to communicate with the locals in a variety of ways. For starters, you can type or copy text in 103 languages and translate into your own. The app can even translate 59 languages off-line. You can also use your camera to translate text, like a street sign, in 37 languages. Or, you can have a two-way conversation translated in 37 languages, which makes meeting locals and asking for directions pretty easy. And if you get tired of translating the same thing over and over again, save it for future reference. Thanks to Google Translate, a language barrier won't stop you from seeing the world.
Looking for a good restaurant, attraction, or hotel shouldn't be stressful, and with the TripAdvisor app, it's not. Before your trip, you can search for hotels, bed-and-breakfasts, and vacation rentals to find the best place to stay within your budget. Numerous honest reviews left by users will help the decision process. Additionally, you can search for restaurants in the area by traveler ranking, fine-dining, cheap eats, and more, plus look through pictures and read reviews about the quality of food and must-have dishes. After you have lodging and dining squared away, you can search top sights in the area and tour operators, as well as book tickets when applicable. Save it all to your "My Trips" page for easy access to your ideal trip.
Globestamp's main purpose is to allow travelers to save travel memories, including photos, text, and location points, as well as help others interested in visiting those areas. Arguably the best feature on the app is the Wish Trip section, which allows you to plan an entire trip and refer to it while on the road. Add the city you want to visit, then look through the destination's dining options and attractions and save them to an itinerary. You can also add notes, gather accommodation options, and book a place to stay when you're ready. The app has some new features coming out soon, such as travel and hotel discounts that can be gained by being using the app.
While traveling to a new place, you may get lost, but Maps.Me won't let that happen. It offers free off-line maps with turn-by-turn directions as well as points of interest along the way. The app features maps for 200 countries, and allows users to create walking, biking, or driving routes. You can also call a taxi through the app. It even shows current traffic conditions and lets you and save points of interest, like restaurants or museums, that you might want to add to your route later.
Dufl was created to save you time on packing and the hassle of traveling with luggage. Here's how it works: When you register with a one-time payment or monthly plan, Dufl will send you a suitcase. Pack everything you might need for a trip — clothes, toiletries, chargers, shoes, swimsuits, and more, Next, you'll schedule a pick-up of the suitcase. All of the items in the bag will be cleaned and placed in inventory. From there, the clothes will appear in your virtual closet on the app. When you take a trip, you can choose items from your virtual closet to add to the suitcase, and then input your destination and the date into the app. When you arrive at your destination, the suitcase will be waiting for you. And when you're ready to go home, you schedule a bag pick-up. Beyond the first time, you don't have to pack a thing, do laundry when you return home, or strain your back from hauling your suitcase around.
The easy-to-use XE Currency Converter app is useful when traveling to countries that use a different currency. Although Belize makes it easy for Americans by having their money pegged two-to-one to the U.S. dollar, most countries have trickier conversions that can be hard to do on-the-go. Knowing that one dollar equals 154 Sri Lankan rupees or 31 Thai baht can help ensure you pay accurately for your meals and tuk-tuks, and withdraw $300 instead of three dollars worth at the ATM. It converts any currency to another, so all travelers can use it.
Roadtrippers is the ideal companion for a cross-country drive. After putting in the starting point and final destination, users can discover dining options, outdoor recreation points, top attractions, and nightlife venues along the way, plus save them to their trip. Hotels, vacation rentals, and camping sites are also listed, so travelers don't have to search for a suitable spot to rest after a long day of driving. Share your final, custom-made trip with friends, or check out popular trip guides to cut down on research time.
Everyone wants a good deal on a flight, but opinions on when to buy plane tickets at the cheapest price vary. That's where Hopper comes in. The app analyzes trillions of previous flight prices so that after you plug in your travel dates, it can tell you when it's the cheapest time to buy your ticket. If it tells you to wait, you can get a reminder when that date comes, and even book your tickets through the app. On average, users save $50 on their flight.
Have you ever arrived at your destination and realized you've forgotten something at home? To avoid buying high-priced necessities on the road, use the PackPoint app before you leave to make sure everything makes it into your suitcase. Users plug in their travel destination, date, and length of trip, plus the type of trip (business or leisure) and expected activities (swimming, hiking, and fancy dinners, for example), to get a customized list. From there, users can adjust quantities (two swimsuits, five shirts) and add specific items like a kindle. Check off the items as you pack, and share your list with family and friends so that no one has to do a shopping run before heading to the beach.
Duolingo is best utilized prior to a trip, as it's a free language-learning app that can help you speak the local dialect of a destination. While Google Translate is helpful for translating specific phrases on-the-go, Duolingo allows you to practice for weeks or months before a trip to get a handle on basic greetings and phrases, and even fluent with enough time and practice. Engaging lessons, fun games, and a choice of 23 languages — ranging from Spanish and Chinese to Swahili and Hungarian — are the reason Duolingo has over 200 million users.
Airbnb owns the vacation rental space with its easy-to-use app, search parameters, and review function that allows potential guests to feel safe when booking a property. Add in that many properties offer an exceptional value when compared to hotels and it's easy to see why it's so popular for single travelers and large groups. From an intimate apartment overlooking the Eiffel Tower in Paris to a vacation home in the Hamptons, there's an array of Airbnb properties across the globe.
Not having internet coverage in another country is a bummer and a little scary in the 21st century when we are used to being constantly connected. With WiFi Map, you don't have to worry about finding free internet while traveling. It allows you to search for places with Wi-Fi (free or otherwise) on and off-line, as well as provides you with passwords for the networks that require it. Though the app usually lacks off-line Wi-Fi maps for small towns or off-the-beaten-path areas, you will find Wi-Fi maps available for major cities within a country.
You'll Also Like:
All products are independently selected by our writers and editors. If you buy something through our links, Oyster may earn an affiliate commission.