Somehow, we've managed to get through not one, but two seasons this year and we are on well our way to the third -- fall. With fall comes a lot of changes: The air gets crisp and chilly, the sun sets earlier, and, perhaps best of all, the trees change colors. There are so many places in the United States that are wonderful for viewing fall colors, but we've manage to condense the list to eight great places that you just can't miss. They range from rural to city destinations, providing diverse experiences for your fall foliage adventures.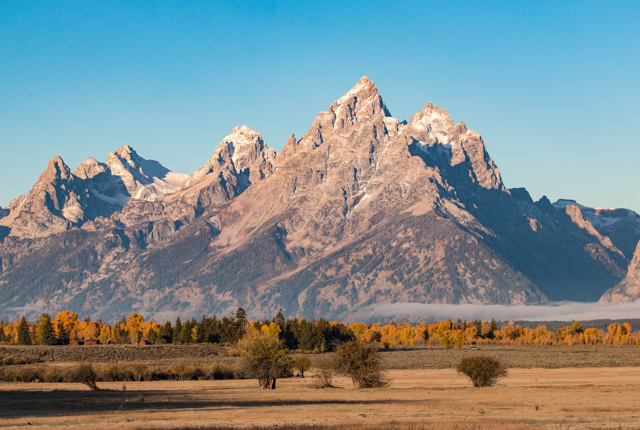 Enjoy a magical fall experience in the Grand Tetons. Peak fall colors in shades of oranges and yellows are generally seen during the third week of September. The Jackson Hole Aerial Tram from Teton Village allows for aerial views of the trees, not to mention rich wildlife, like elks, bears, and moose. A morning balloon ride or paragliding ride offers a more thrilling way to take in the colors. History buffs can experience the fall foliage like the early pioneers of the 1800s with a ride on horse-drawn wagons along the Oregon Trail.
A Luxury Hotel Pick:
2. Great Smoky Mountains National Park, Tennessee
Indulge in a sea of reds and yellows during the fall at the Great Smoky Mountains National Park. Trees in the higher elevated areas of the Great Smoky Mountains begin to turn in mid-September, however, the fall colors are generally in their peak between mid-October and early November. There are beautiful displays of color from the park's 100 species of trees, which include sugar maples, scarlet oaks, sweetgums, red maples, and hickories. Clingmans Dome Road, the Blue Ridge Parkway, and the Foothills Pathway are great driving routes to witness the fall colors. Take note that the Great Smoky Mountains National Park is so well known for its fall colors that there are a lot of visitors during the last three weeks of October, which causes delays and traffic on U.S. 441.
A Rustic Hotel Pick:
Situated in New England, Boston offers great fall colors with the added bonus of a thriving and vibrant metropolis. Boston Common and the Boston Public Gardens are by far the most popular areas of Boston to view fall-colored trees. You can also mingle with some of the brightest minds in the country as you enjoy fall colors in Harvard Yard, just across the river in Cambridge. If cemeteries don't give you too many chills, head to Mount Auburn Cemetery, which was founded in 1831 and has 5,000 trees (of more than 630 species) and some spectacular colors. Fall foliage is so popular among travelers to Boston during the fall that there's even a Fall Foliage Sightseeing Tour with Boston Discovery Guide.
A Luxury Hotel Pick:
4. Mount Mansfield State Forest, Vermont
A trip to Vermont in the fall can result in far more than lots of purchases of maple syrup — it's a great opportunity to be in awe of some of the most beautiful leaves. Mount Mansfield State Forest comprises 44,444 acres of forest and hiking trails that are perfect for a leaf peeping adventure in the fall. The fall colors of the forest mainly come from the sugar maple tree — the tree that makes the state a leading syrup provider in the nation. Head to Mount Mansfield or Camel's Hump for the best views. This can be done by driving, hiking, or taking the Stowe Gondola. Just be aware that these areas can be pretty crowded during the fall.
The western United States also has spectacularly colored leaves in the fall. One such place for great foliage views is Aspen, Colorado, thanks to the aspen tree, which turns a golden hue in the fall. The Maroon Bells draw lots of fall fans, as do Cathedral Lake, American Lake, and Crater Lake. For those who prefer a golden fall drive near Aspen, consider taking Maroon Creek Road, Castle Creek Road, or Independence Pass for a self-guided fall viewing tour.
A Luxury Hotel Pick:
6. Taos, New Mexico
For those who imagine endless deserts in New Mexico, think again. Taos, New Mexico, is a fantastic stop on your U.S. fall foliage adventure. Between September and October, the trees are a colorful gold. The Enchanted Circle is by far the most popular fall color driving route and includes an 85-mile circular route through mountains, canyons, a ghost town, many cities (including Taos), and the Moreno Valley. For those who want to see the colors up close and personal, we recommend hiking the Columbine Trail. If you'd like to sit back, relax, and take pictures, opt for the autumn chairlift ride at the Angel Fire Resort. It's a two-mile ride with colorful panoramic views.
A Luxury Hotel Pick:
7. Salem, Massachusetts
Salem, Massachusetts, was home to the famed Salem Witch Trials, and when the trees turn beautiful shades of orange, yellow, and red in the fall, it's hard not to feel be transported to the late 1600s. During autumn, Salem gears up for seasonal festivals and events, and the colorful foliage pairs nicely with the historic buildings of the city. Enjoy some time wandering through Salem and its neighborhoods with a coffee in hand, a camera in the other, and the gorgeous fall colors around you.
A Value Hotel Pick:
Leaf peepers shouldn't miss a chance to visit the Pocono Mountains in the fall. The region in Pennsylvania has 127 varieties of trees, shrubs, and plants that span over 2,400 square miles. It has three different color zones, which allows for three peak color times during the autumn season. The Pocono Mountains' official website offers a Fall Foliage Forecast from October through November that announces the peak times weekly. Route 507 and Route 6 are both popular driving routes for witnessing fall colors. Bushkill Falls combines fall colors with a waterfall for a great autumn-inspired shot. Shawnee Mountain has a chairlift that allows for great views of the colors, too.
A Value Hotel Pick:
NOW WATCH: 7 Best U.S. Destinations for Viewing Fall Colors
https://www.youtube.com/watch?v=muWdcSTNJCk
You'll Also Like:
All products are independently selected by our writers and editors. If you buy something through our links, Oyster may earn an affiliate commission.