While the Christmas markets of Nuremberg, Munich, Vienna and Strasbourg are some of the best known, there are many other European cities hosting yuletide markets at this time of year. What's largely a Germanic tradition has spread to cities across Europe in recent years with each one vying for the title of best Christmas market. Here are five fabulously festive European Christmas markets you might not know about that are definitely worth a visit this holiday season.
1. Advent in Zagreb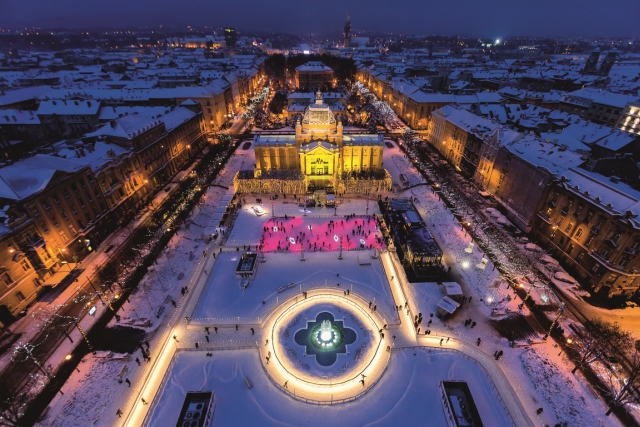 After winning the title of Best Christmas Market for two years in a row in 2016 and 2017, Zagreb's Christmas Market is even bigger and better this year. The whole city is celebrating Advent in Zagreb from December 2, 2017, to January 7, 2018, and this year there's an Orient Express theme and a number of new attractions. Visitors can see the largest railroad model in southeast Europe, street cars are bedecked in cheery holiday colors, and Grič tunnel, one of the city's several pedestrian tunnels, has been decorated like a street scene straight out of Charles Dickens' "A Christmas Carol." Also new this year is the opening of Villa Prekrižje and its gardens to the public for the first time in decades. Part of the presidential complex, it's usually only used for formal receptions and other events hosted by the president of Croatia.
As usual, King Tomislav Square in front of the train station has been transformed into a skating rink, and concerts are staged nightly at different spots in the city. Kids can also join creative workshops and make their own Christmas decorations, and a series of night walks take in the city's major Christmas sights and advent traditions.
A Luxury Hotel Pick:
Last year the Finnish capital's Christmas market broke records, and this year even more Christmas revelers are expected. At the heart of this year's Helsinki Christmas Market, running from December 3 to December 22 on Senate Square, is a Christmas sauna — a Finnish tradition with a yuletide twist. After sweating it out, sauna goers can enjoy a cool beer or a hot glass of mulled wine at the Sauna Bar, and food courts are dishing out traditional Finnish gastronomic delicacies like salted herring, pickled mushrooms, and homemade jams. Santa Claus is here welcoming the young and old, and there are over 100 wooden stalls to browse selling handicrafts, decorations and gifts like silver jewelry, candles, designer bird feeders, and silk pillow cases. An ever-popular attraction here is the old fashioned Dutch merry-go-round that offers free rides for all ages.
A Luxury Hotel Pick:
3. Skansen Christmas Market, Stockholm
Skansen on the island of Djurgården in Stockholm is only a 30-minute bus ride away from the city center. Skansen is a favorite with families because of its open-air museum of 19th-century buildings, including a complete replica of a traditional Swedish village. It's also the unique venue of the annual Skansen Christmas Market that dates back to 1903 and is the most popular of Stockholm's many Christmas markets. Running from December 2 to December 17, visitors can take in demonstrations of traditional crafts, make their own Christmas decorations by joining one of the many workshops, and enjoy indoor and outdoor concerts of live music. Of course there are also plenty of stalls selling traditional foods like sausages and cheese, Christmas goodies like sugared almonds and marzipan, as well as handmade decorations and other handicrafts.
A Boutique Hotel Pick:
4. Budapest Christmas
Budapest's annual yuletide celebration, Budapest Christmas, started early — on November 10 — and it runs until December 31 on Vörösmarty Square in the heart of the inner city. There's a lot more here than just the usual market stalls, skating rinks, and live music. The city's famous thermal baths will be hosting pool parties, its street cars are decked out with thousands of white and blue LED lights, and festive Christmas boats ply up and down the Danube River. A must-try is the traditional "kurtoskalacs," or chimney cake, a Christmas favorite in Hungary.
A Luxury Hotel Pick:
5. Ljubljana's Festive Fair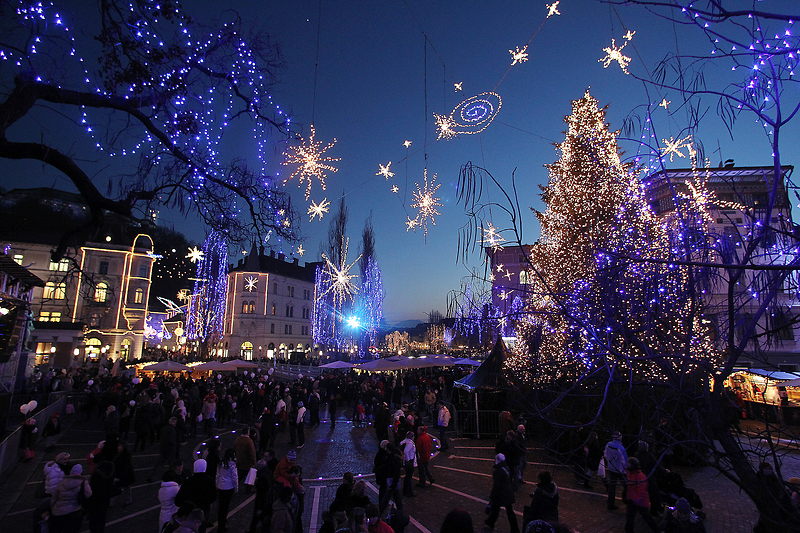 Another award-winning Christmas fest, the Slovenian capital's Festive Fair lasts a whole month long, starting on December 1, 2017, and going on until January 2, 2018. The market is set up in Ljubljana's picturesque old town with neat rows of wooden stalls showcasing not only the usual Christmas treats and drinks, but also creations by young Slovenian designers. Other highlights include Ice Fantasy, a 2,000-square-meter (21,527-square-foot) skating rink in the middle of Zvezda Park; creative workshops for kids; festive organ grinders dressed in historical costumes; and a parade by Grandpa Frost (Slovenia's Santa Claus) and his snowmen.
A Luxury Hotel Pick:
You'll Also Like:
All products are independently selected by our writers and editors. If you buy something through our links, Oyster may earn an affiliate commission.