Even if nude cruising doesn't sound like your thing, you have to admit -- sitting on your stateroom balcony in the buff, on the open sea, sounds pretty freeing. And isn't that the point of vacation? Total freedom from the mundanities of everyday life, like paying bills, tackling chores, and -- ahem -- getting dressed. While most cruises offer non-stop canasta, karaoke, and belly-flop contests, the activity aboard a chartered nude cruise tends to swing into steamier territory. Mario Cruz, Concept and Product Development Manager at Original Group (the company behind the clothing-optional Desire cruises and Mexico's adults-only Desire and Temptation resorts), reveals down-and-dirty details of nude cruising.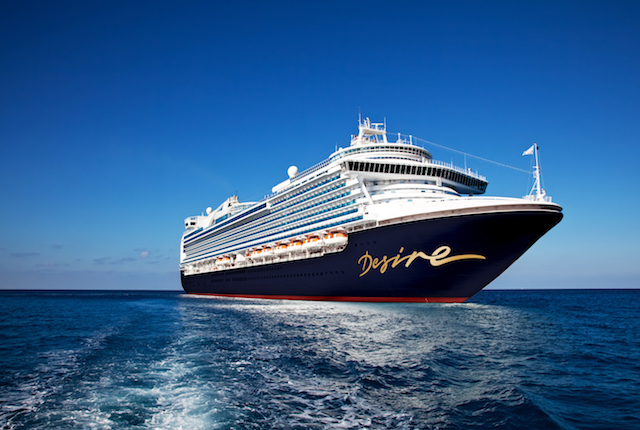 What is nude cruising exactly? Do you have to be naked the whole time?
"In practical terms, our Desire cruises are clothing-optional, meaning guests have the option to wear as much — or as little — clothing as they want in designated areas of the ship. For example, all restaurants require guests to be fully clothed, but the pools and sundecks do not. Our signature playrooms don't require clothing, either; this area is meant for mixing and mingling with other open-minded couples looking for an erotic adventure at sea. And while we require dressing for meals at the restaurants, room service can be enjoyed nude."
Who is the clientele? Are nude cruises strictly for couples, or are singles or groups allowed?
"Couples over the age of 21 are welcome on Desire cruises. The general age range of passengers is 40 to 55 and the majority of our passengers (up to 75 percent) come from the U.S., followed by Canada and Mexico. Desire cruises are specifically designed for couples. However, our first Temptation Caribbean Cruise sets sail in February 2020. While not a clothing-optional cruise, it will have topless-optional areas, and is open to singles and couples."
What should one pack for a nude cruise?
"Packing for a nude cruise seems easy, however there are fun theme nights and events that give passengers the option of dressing up. Theme nights are announced closer to the sailing date, but some examples of past theme nights include "Moulin Rouge" (women dressed in corsets and lingerie, while men wore suspenders and bow ties) and "Gods and Goddesses" (guests wore crowns, togas, and anything Roman- and Greek-inspired). The upcoming 2019 cruise will have a gala masquerade, a glow night, our classic lingerie night, and the very popular safari night." For more ideas on what to pack on a steamy nude cruise, take a look at Oyster's ultimate naughty packing list.
What other onboard events can be expected?
"Some specific activities that you won't find on any other cruise include pole-dancing lessons, couples' yoga, and couples' workshops."
Tell me about onboard etiquette. What is allowed? What is forbidden?
"The point is to provide an exotic and playful atmosphere, while also ensuring the utmost respect for all of our passengers. Our house rules on land and sea begin with the 'golden rule': No means no. All guests must follow that principle, plus the following:
Overt sexual activities are only allowed in guest staterooms and designated playroom areas. Sex is not allowed in the pools or other public spaces.
Appropriate attire is required in all restaurants and all areas not clearly marked as 'clothing-optional.'
After midnight, noise levels in the corridors should be kept to a minimum.
All staff members are strictly forbidden from interacting intimately or drinking with guests."
So, sex is allowed in the playrooms?
"Correct."
What are the playrooms like?
"The playroom is open 20 hours a day — the other four hours, it undergoes a deep cleaning. Because we don't own the ship, but charter it, the furniture is pretty basic, though we have special lighting and music to set the mood."
What about photos?
"Taking photos with cameras or cell phones in any public area is strictly prohibited. Guests are free to take pictures in the privacy of their staterooms, but they may not do so anywhere else."
Can guests go on their balcony nude?
"Of course. We only ask that our passengers practice discretion on their balconies when visiting various ports of call."
Any guidelines for grooming (down there)?
"Every passenger is different from their head to their toes and everywhere in between."
What nude sailings on are on the horizon?
"Our next sail, a Mediterranean cruise in September 2019, is already sold out! Our Desire Red Carpet Cruise sails on May 19, 2020 from Nice, with overnight port calls in Cannes and Villefranche, before disembarking in Barcelona a week later. On September 26, 2020, our Desire Greek Islands Cruise will sail from Athens and make port calls in Mykonos, Ephesus, Marmaris, and Santorini, before returning to Athens on October 3."
What advice do you have for a first-timer?
"Be prepared to make friends. People on cruises tend to be super-friendly, but there is something about a clothing-optional atmosphere where people just really connect with each other. Also, try to bring some sort of costume or prop to participate in the theme nights. Even a hint to the theme is a great conversation starter."
This interview was edited for clarity.
Have a burning question about nude cruises that you'd like answered? Let us know!
Though you may be packing a bit lighter on your nude cruise, the Carry-On from Away is always the best option.
You'll Also Like:
All products are independently selected by our writers and editors. If you buy something through our links, Oyster may earn an affiliate commission.