Once the heart of the ancient Aztec civilization, Mexico City has since grown into a vast metropolis with more than 20 million people living in and around the nation's capital. Interestingly, up until not so long ago, many travelers were wary of visiting the city, put off by warnings of rampant crime, crumbling infrastructure, and stifling pollution. Zip to the present, however, and D.F. -- as it's more commonly known -- is not only considered a fantastic destination for tourists, but has also eased itself into the position of one of the coolest cities on the planet. This is largely thanks to the regeneration and promotion of many of its barrios, from hipster-filled Roma to arty San Rafael. Each neighborhood has its own distinctive vibe, style, and even inhabitants. Visitors should still keep in mind that, like any big city, some areas can still be a little dicey and air quality is an on-going issue. But there has never been a better time to explore this sprawling destination. Here's a rundown of its coolest districts, what to do there, and where to stay in each.
Condesa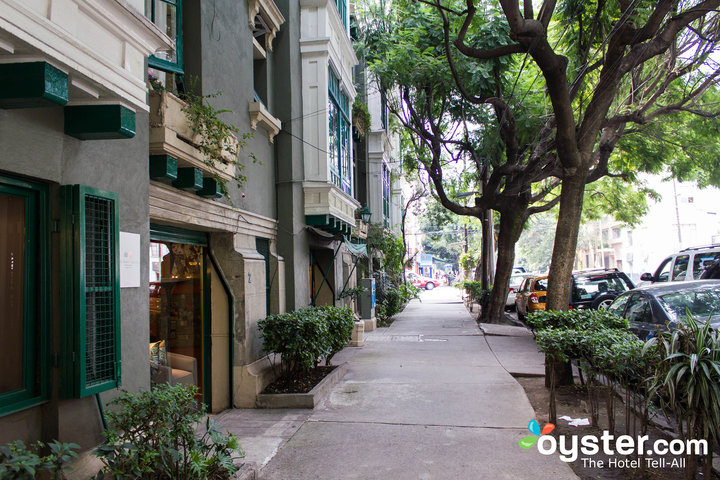 A magnet for the well-to-do at the turn of the 20th century, this neighborhood still proves its affluent origins with wide leafy boulevards and Art Deco mansions. The aftermath of the '85 earthquake saw in an influx of younger, more arty residents, who fueled the area's transformation, turning it into the stylish district it is today. The neighborhood also boasts one of best collections of buzzing nightspots, as well as some great dining, fashion boutiques, and art galleries to explore. The neighborhood skirts the southern side of city's largest park, Bosque de Chapultepec. It's often compared to New York's Central Park, though it is double its size. There's lots to do here, from boating to visiting the botanical garden to checking out several museums and even an archaeological site, Montezuma's Baths.
Where to Stay: Hotel Villa Condesa, a funky and eclectic retreat housed in a historic building with a secluded garden.
Roma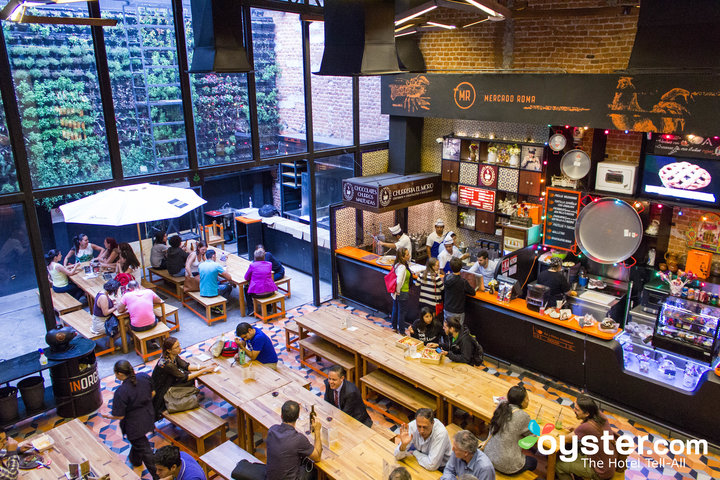 Neighboring Condesa to the east is the hipper, slightly scruffier barrio of Roma. You can divide this district into Roma Norte (which has an edgier vibe reflected in the higher graffiti and tattoo count) and the more traditional Roma Sur (which is home to working families and long-established locals). There are still plenty of lively cantinas and traditional restaurants to explore alongside the growing number of artisan coffee joints and bookstores.
You haven't properly experienced the area without strolling down the main boulevard, Avenida Alvaro Obregon, which is lined with artsy bars and cafes and dotted with fountains and sculptures. The Mercado Medellín is also worth a visit. Here, you can taste flavors from not only Mexico, but also all over Latin America. And art fans shouldn't miss Galería OMR, one of the city's most cutting-edge art spaces that hosts regular international names.
Where to Stay: Hotel Stanza, a modern hotel with Art Deco-style touches, right on Avenida Alvaro Obregon.
Zona Rosa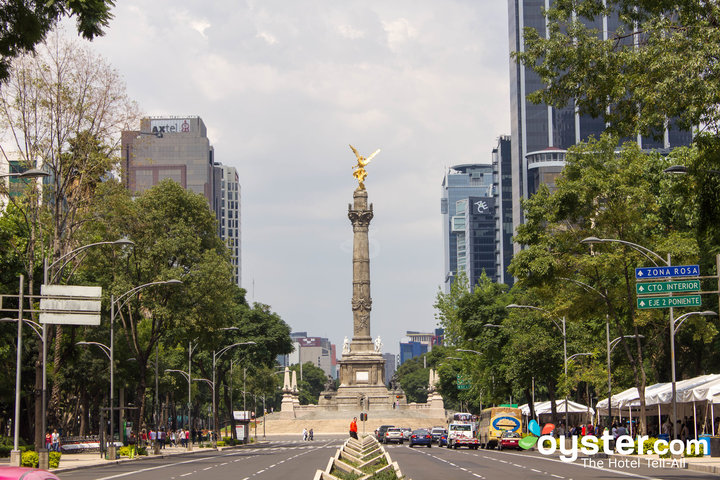 Located just west of the city's historic center, Zona Rosa is best known for its nightlife. But even by day, this lively and progressive barrio buzzes with its own inimitable energy, thanks in large part to the area's big native Korean population. Popular with the LGBT community, this area is also the epicenter of the city's annual Pride march. While the lively nightlife is not to be missed, for more tourist-friendly options, head to the Mercado Insurgentes (also known as the Mercado Zona Rosa). Here, you can browse and buy all manner of traditional handicrafts, including hammocks, colorful folk art, and Mexican silver. Zona Rosa was also originally a neighborhood for the well-to-do. These days, 1920s mansions add faded grandeur to the surroundings, while erotic shops and the proliferation of tacky bars assert an undeniably seedy tone.
Where to Stay: Room Mate Valentina, a colorful, value-oriented hotel with pop art-inspired guest rooms.
Coyoacan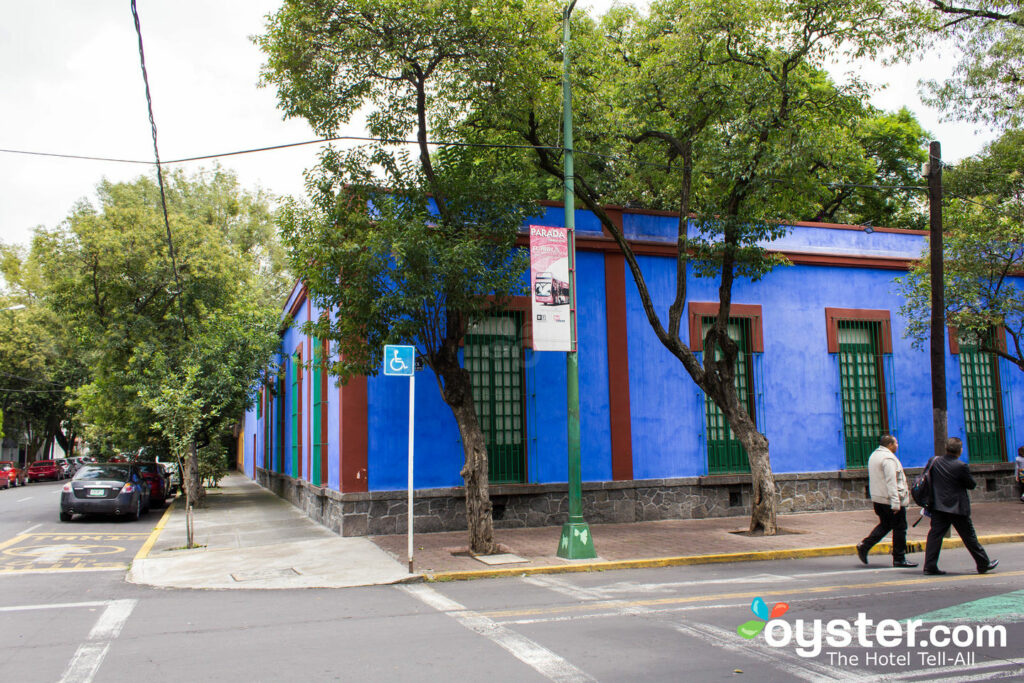 One figure looms large over the neighborhood of Coyoacan — that of Mexican painter and icon Frida Kahlo. Most tourists will only venture this far south to visit Frida's former home, La Casa Azul, now a wonderful museum dedicated to the world-famous artist. But take time to explore the rest of the barrio, and you'll find two fine central plazas — Jardín Centenario and Plaza Hidalgo — where locals and families stroll, sit, and chatter among leafy gardens. The atmosphere is distinctively mellow, making for a pleasant slice of tranquility away from the bustle of the city center. History buffs should also make their way to the Leon Trotsky House Museum, where the Russian exile lived and was assassinated. Much of the place is left untouched since his death.
Where to Stay: Fiesta Inn Periferico Sur, smart, contemporary lodgings with an indoor pool and some superb city views.
San Rafael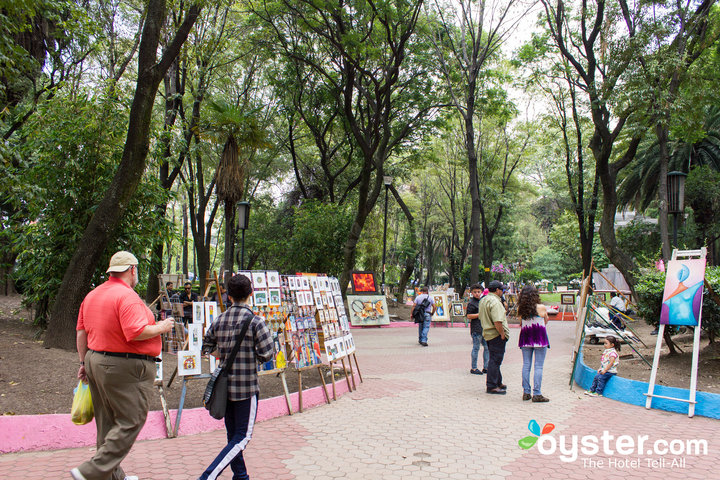 Once a favorite with creative types, the oft-overlooked San Rafael is certainly a barrio on the rise again. While it lacks the self-consciously hipster vibe of Condesa and Roma, edgy art galleries and hip coffee shops are starting to spring up as younger artists are priced out of the more gentrified areas. Some of the crumbling turn-of-the-century architecture is being restored, while other buildings — such as the iconic 1940s Cine Opera theater — still make for some great Instagram material. Set just west of the city's historic heart, the neighborhood has a convenient central location without the premium price tag. A tour of the neighborhood's independent art galleries is a must for art lovers. The manicured gardens of the Mexico City National Cemetery provide a pleasant spot to wander, while fans of street food should head to Mercado San Cosme for some great comida corrida.
Where to Stay: Housed in a 19th-century mansion, El Patio 77 is an eco-friendly B&B with fresh and funky interiors.
Juarez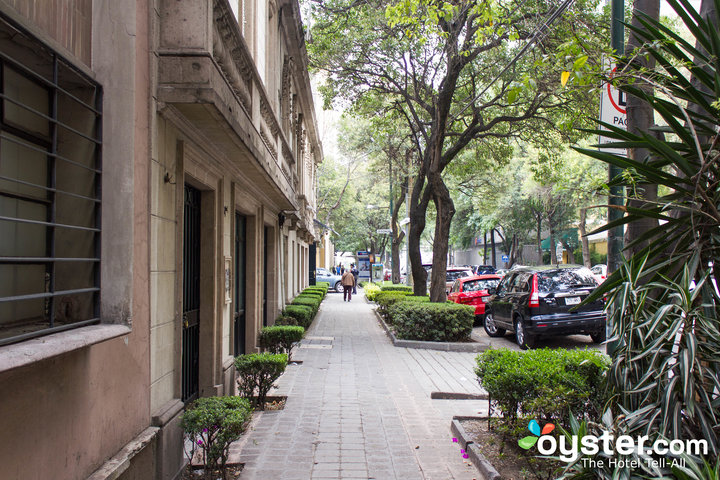 Set just north of Roma, Juarez comprises a long strip that practically connects the historic center to the east with the Bosque de Chapultepec to the west. Once the capital's grandest colonia, rents are nowadays low enough to support a thriving community of local independent businesses and struggling artists. Recent regeneration has also breathed new life into the area, exemplified by Milan 44 — a swish, contemporary market-cum-mall offering the likes of gourmet groceries and yoga classes. Rumor has it that Che Guevara and Fidel Castro planned the Cuban revolution over espressos and cigarettes at the 1952-opened Cafe La Habana. It's still a great place to grab a coffee (the beans are roasted and ground on-site). Plus, it also offers a great breakfast menu in surroundings that remain stubbornly old-school.
Where to Stay: Hotel Geneve Ciudad de Mexico, a plush landmark hotel with a colorful history and museum-like displays.
Polanco
Although it's about a 30-minute drive from the gritty, hip streets of Roma, the barrio of Polanco (a.k.a. the Beverly Hills of Mexico City) is a world apart. Stretching across the north of Bosque de Chapultepec, this upmarket neighborhood is home to a multitude of luxury boutiques, fine-dining restaurants, and high-end hotels. The area's world-class museums and contemporary art galleries also make it the most expensive place to live in the city. Though swathes of beautifully maintained Spanish colonial buildings house the city's elite, the area is one of the most diverse, with large Lebanese and Jewish communities. Other highlights include the Museo Nacional de Antropología, which charts the development and achievements of the people of Mexico with numerous fascinating Mayan and Aztec artifacts. Also worth a visit is Acuario Inbursa, the largest aquarium in Mexico with dozens of marine exhibits.
Where to Stay: Las Alcobas, a luxury boutique hotel with high-tech rooms and bath butlers.
You'll Also Like:
All products are independently selected by our writers and editors. If you buy something through our links, Oyster may earn an affiliate commission.