For many travelers, the allure of a cruise stems from the fact that nearly everything is paid for up-front. However, if you're not careful, it's easy to rack up a huge bill after just a few days onboard. How? While some lines or sailings include alcohol, many don't, leaving cruisers with heavy bar tabs. There are also specialty restaurants, the spa, and shore excursions that all typically cost extra. The sheer amount of add-ons and activities can make your head spin and your wallet thin, but there are a few tricks that can help you save a bundle. Here are 12 easy ways to save money on your next cruise.
1. Reserve an inside cabin on a cruise.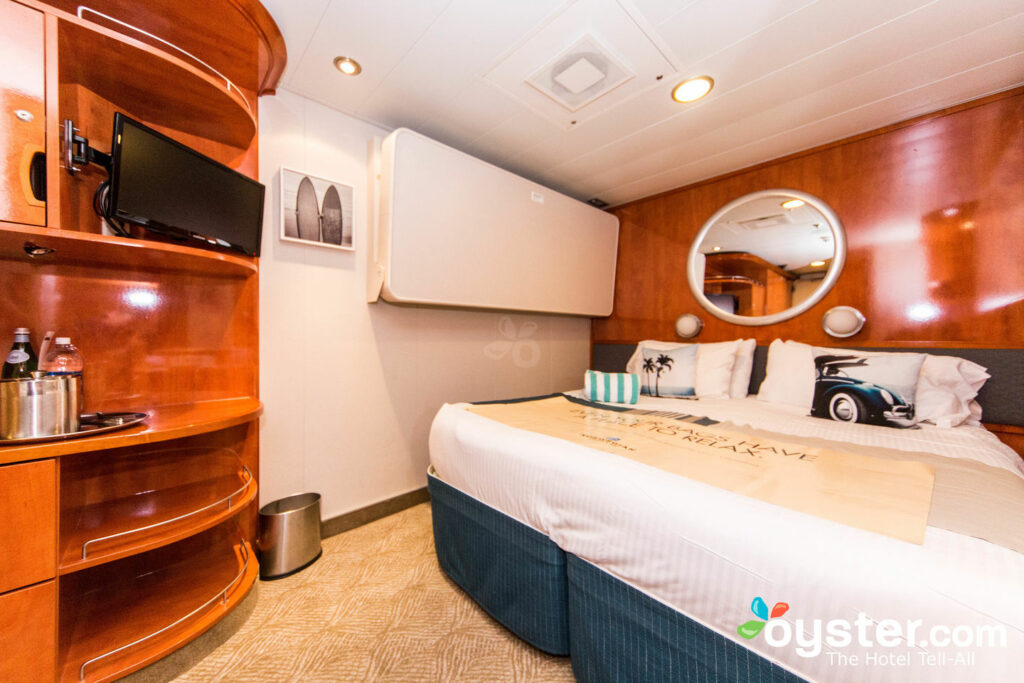 Inside cabins are not as bad as you might think. Before you groan, hear us out: Most cruisers won't spend a lot of time in their rooms, so splurging on an expensive cabin can be a waste. Plus, no windows mean no interruptions to your sleep from the morning sun.
2. Be savvy about booking spa treatments.
While several cruises include basic food and drink in the rate, almost none cover spa treatments. Because cruises make a lot of money through massages and other indulgences at the spa, rates can get high — unless you know when to book for the best discounts. Normally, we would never suggest pre-booking anything on a cruise since so many deals are offered only once you're onboard, but the spa is different. Discounts are sometimes offered for a short period before the cruise starts and during embarkation day — when the spa is likely to have slim to no customers. Another great day for discounts? Port days. Why? Because most folks are out exploring, leaving the spa to collect dust instead of money.
3. Drink for free (or cheap) on your cruise ship.
Don't want to shell out an arm and a leg for alcohol onboard? Most cruises have at least one (if not several) opportunities to get free or cheap drinks. Royal Caribbean has a mimosa happy hour — in the morning, at the casino — where you can snag mimosas for two bucks. Carnival offers free Champagne when you check out the art events. There are also some dedicated happy hours at ship bars to bring in customers during off-hours. Most ships also have a drink of the day that's offered for a discount. Check your daily cruise newsletter for any and all events where you can snag discounted or free drinks.
4. Know when to book your dining packages.
Like spa treatments, dining packages are available for a small discount if you book ahead of your sailing. While it can be tempting, don't do it. Hold out for the last few days (or last day, if your sailing is short), when you'll start seeing great discounts and deals come through. Much like the dining establishments on land, restaurants on cruises need to sell out of the food in their kitchens. It's also wise to hit up some of the for-fee specialty restaurants during lunch when both the menu and prices are truncated.
5. Pass on all cruise drink packages, except one.
While we recommend waiting it out for the dining packages, we say skip the drink packages completely — except soda for kids. Most folks we've spoken to regret this purchase and say they find themselves unnecessarily drinking booze, just to make their package worth the price. To break even, most people have to drink seven or so alcoholic beverages per day. A good rule of thumb is to wait until you're onboard, check the drink prices, examine the deals, and see if you think the package will be worthwhile. Keep in mind that some ships require that everyone of legal drinking age purchase a drink package even if they don't plan on boozing.
6. BYOB.
Cheers to another alcohol-related tip! Most cruise lines allow each guest to bring on a certain amount and type of alcohol. Some even permit a stipend of soda or water. Most Royal Caribbean sailings allow two 750-milliliter bottles of wine or Champagne per stateroom, while Carnival and Princess bump up the limit to one bottle per person on embarkation, as long as it's in their checked luggage. Disney has a slightly more lax rule that allows for either two bottles of wine or bubbly, or a six-pack of bottled beer, but all have to be kept in carry-on luggage. On Norwegian, guests can only bring on wine or Champagne, but there are no limits on how many bottles are permitted per person or stateroom. Don't forget the bottle opener.
7. Prepay for Wi-Fi on your cruise (or skip it entirely).
You'll likely want at least the most basic Wi-Fi package while onboard. If your ship doesn't include Wi-Fi — which most don't — you might not even be able to use the ship's app to communicate with fellow passengers in your party. Luckily, you can save some cash by pre-purchasing your Wi-Fi plan, with around 20 percent off. Once you're onboard, don't expect discounts. If you really want to save, forgo Wi-Fi entirely. A digital detox can really help reset the brain.
8. Know the best time to book a cruise.
Similar to other forms of travel, cruises offer discounts as the sail date approaches. Deals are also often available for off-season sailings or when booking well in advance. Basically, be flexible, and you will be rewarded with extra cash, onboard credit, and deep discounts. It also helps to book through a third-party vendor, who can sometimes offer lower prices than the cruise line.
9. Check your receipts.
Gratuities are usually included on most sailings, but the uninitiated may not realize that this also applies to food and drink services. Check your receipts to make sure an 18 percent gratuity hasn't already been added before you write in an additional tip. This can come as a real shock to first-time cruisers.
10. Skip the sales pitch for your next cruise.
Toward the end of the sailing, you'll notice that the sales team onboard will try and get folks to book their next cruise. For annual cruisers, this is great (though many seasoned cruisers will also pass). Folks who don't cruise often should skip the sales pitch. While they tout deals, it's not always the case, and sometimes, you can end up spending more money than if you waited to book.
11. Check out your other cruise excursion options.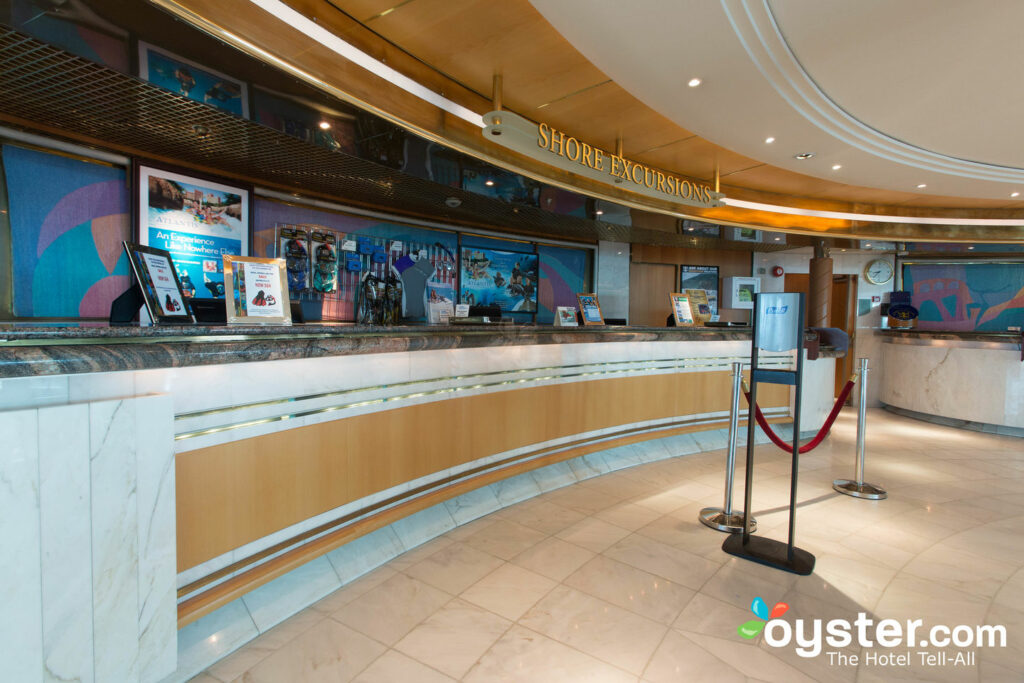 Shore excursions are easy enough to book, but that convenience will cost you a pretty penny. If you're looking to save some serious cash, check out some of the options offered at port that aren't available through your cruise line. It's a great way to contribute directly to the local economy as well. Or, skip the tour entirely and walk around, hit the beach, or make your own excursion. The only time we recommend booking through the ship is if your destination is notorious for scamming tourists or is unsafe.
12. Consider cruise loyalty programs.
Cruise lines have loyalty programs that reward returning and frequent cruisers. As points add up, so do the perks. Depending on your loyalty program level, you can get discounts on onboard drinks and activities, shopping deals, room upgrades, and welcome amenities. Returning guests also receive discounts on actual cruise rates, so it's a win-win situation.
You'll Also Like:
All products are independently selected by our writers and editors. If you buy something through our links, Oyster may earn an affiliate commission.