While there is almost too much to see and do in Mexico City to keep the even the most active tourist busy, it can sometimes be an overwhelming place. With that in mind, scheduling in a day trip or two -- and even a quick overnight jaunt -- outside of the city can be a great way to experience more of Mexico's amazing cultural landscape while taking a break from the city's frenetic pace. From the mountains of Morelos to charming Cholula and ancient pyramids, there are dazzling experiences within a one- to two-hour drive from Mexico City. Read on for a few of our favorites.
The Pyramids of Teotihuacan
Upon landing in Mexico City, it might be easy to forget that this region has been a major center of civilization for millennia. The pyramids of Teotihuacan are far and away one of the most spectacular ways to encounter Mexico's ancient history. Located an hour north of Mexico City by bus, Teotihuacan is easily accessible and 100 percent mind-blowing. According to UNESCO, which designated the pyramids a World Heritage site in 1987, Teotihuacan was one of the largest cities in the Americas and flourished for centuries before the arrival of the Aztecs, who were then followed by the Spanish invaders. Today, tourists from across Mexico and the world are able to climb the structures that dominate the landscape here. However, it's the Temple of the Sun that's the most spectacular. Views from the top are astounding and it is one of the largest pyramids to be found anywhere on earth. Buses to Teotihuacan depart from Terminal Central del Norte in Mexico City, which can be accessed by metro or Uber.
Puebla
About two hours from Mexico City by bus, Puebla feels much farther than that if you spend a day wandering its gorgeous city center. Here, in one of central Mexico's best-preserved historic districts, colorful buildings and ornate baroque churches sprawl in every direction along cobblestone streets. Old-school taquerias and torta shops sit side-by-side with fancier upmarket restaurants along the city's beautiful zocalo, while the striking cathedral towers overhead. When you're here, be sure to sample local fare like mole poblano and cemitas — massive sandwiches that are packed with all manner of delicious ingredients. Museo Amparo, right in the heart of the Centro, offers both cutting-edge contemporary exhibitions as well as an impressive collection of ancient artifacts highlighting the cultural contributions of Mexico's indigenous people to the nation's artistic history. Head up to the rooftop terrace for stunning views of the ornate churches and buildings that cluster all around. Still in town for the evening? See if there's a lucha libre match on at Arena Puebla.
UNAM and Coyoacan
Coyoacan and UNAM are technically part of Mexico City, but they're a haul from the city center and you can easily spend a day in one or the other. However, as they're both in the city's south, they can also be combined. Expect at least a 30- to 60-minute journey to get to either location (traffic is unpredictable), and then a 20-minute ride from one to the other. Don't worry, though — Uber is cheap to use. Coyoacan feels much like a village unto itself, with its own town square, gorgeous colonial architecture, coffee shops, street vendors, and a bustling local market. It's also the home of Casa Azul, which was the residence of Frida Kahlo (and Diego Rivera), plus the Leon Trotsky Museum, which documents the communist leader's life in the USSR and exile in Mexico (among friends like Frida Kahlo). Be sure to book your tickets to Casa Azul in advance of your visit. UNAM, to the west of Coyoacan, is home to MUAC, a contemporary art museum that regularly hosts cutting-edge exhibitions of Mexican and international artists. The university — constructed on sprawling, park-like land — has a long history within Mexico's political life as well. It's worth reading up on UNAM before your visit.
Iztaccihuatl Volcano
While we aren't trying to scare you, it's important to note that Mexico City and the surrounding region are located on top of active geological zones. The most recent 2017 earthquake is a stark reminder of that fact. The region also happens to be surrounded by massive volcanoes, both active and dormant. Popocatepetl is the largest to be found nearby and is constantly monitored for activity due to its destructive potential. As such, it cannot be hiked. However, neighboring Iztaccihuatl is a great alternative for travelers who like some nature alongside their urban escapes. It's a dormant volcano and therefore doesn't come with the same risks as climbing Popocatépetl might. Many tour agencies run day trips to Iztaccihuatl and the hikes generally suit a wide range of climbers. The hike up takes three to four hours depending on your abilities, and views of Popocatepetl (as well as the surrounding mountains) can be awesome. Keep in mind that this part of Mexico is high-altitude territory, so even if you're fit, you may find the trek more difficult than you would elsewhere in the world.
Cholula
While Cholula is only a 30-minute bus ride from the much larger city of Puebla, it feels entirely distinct. It's most famous for the pyramid that sits just north of its well-preserved historic center. However, don't expect anything like the Pyramid of the Sun or Chichen Itza. Despite being the largest pyramid in the world (by volume), the entire structure is essentially buried underneath a grass-and-tree-clad hill. Atop the structure now sits a church constructed by Spanish invaders in the 16th century to honor of the Virgin of Remedies. Over the centuries, the church — while revered — has experienced a series of calamities that are sometimes attributed to the vengeance of the Aztec gods. Most recently, the church was damaged in the September 2017 earthquake that struck the region. Even so, the tunnels of the pyramid can be toured, and in several spots, the ancient steps have been excavated to reveal some of the site's former glory.
The city itself is a diverse and energetic place, fueled in part by its large population of students. You'll find some of the region's best nightlife here, including trendy open-air spots like Container City, where a collection of shipping containers have been converted into lively drinking and dining spots. Closer to Cholula's historic center, there are numerous beautiful parks — including one at the base of the pyramid — touristy shops and markets, quaint cafes, and lots of restaurants. It also reportedly has 365 churches — one for every day of the year. Cholula can also be added to a trip to the city of Puebla for an overnight trip or long weekend. On it's own, Choula takes about two hours to reach from Mexico City by bus.
Tepoztlan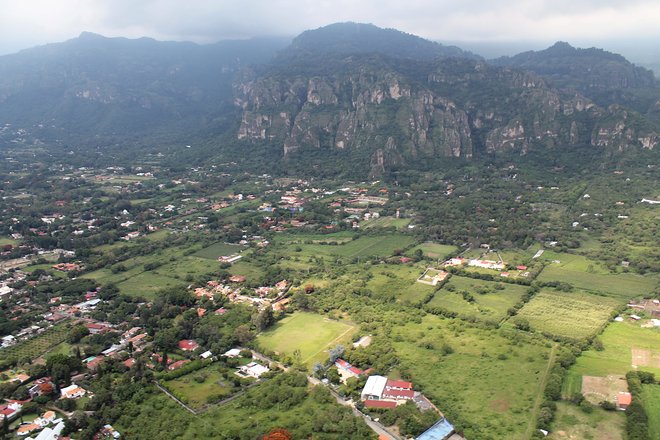 For fans of places like Sedona, Arizona — where the cosmic energy supposedly aligns in mysterious and powerful ways — Tepoztlan is a must-visit. The town is considered the birthplace of the Aztec god Quetzalcoatl and still holds a revered place among Mexico's Pueblos Magicos. Part of that appeal is, no doubt, due to its magnificent setting in the El Tepozteco National Park in Morelos, one of the states that borders Mexico City. You can still spot remnants of the area's indigenous Nahuatl culture among the traditions kept by locals, and the craft market is a popular tourist draw. The town's core is a well-preserved colonial district with lots of cafes and restaurants, while the surreal cliffs and mountains that surround the town are perfect for nature buffs. On the mountain above town sits the ruins of an Aztec pyramid, Tepozteco, while the Ex-Convent of the Nativity is in the city center and has been granted UNESCO World Heritage status. Tepoztlan is a 90-minute to two-hour drive from Mexico City.
Cuernavaca
Cuernavaca is a major weekend destination for residents of Mexico City — and that's for good reason. The largest city in the state of Morelos, it's packed with historic sights, ancient ruins, great food, and a young student population that keeps things lively and vibrant. When you add its perpetually spring-like temperatures to the mix, Cuernavaca has a lot to offer. If you're only visiting for a day trip, you'll likely be hitting up the most well-known destinations in the center of town, including the Teopanzolco ruins, the Palace of Cortes, and the city's cathedral. There are also numerous museums in Cuernavaca, including La Tallera, which was once the studio of famous Mexican muralist David Alfaro Siqueiros, as well as the Museum of Contemporary Indigenous Art, the Robert Brady Museum, and several smaller galleries and cultural centers.
If you can spend more than a day, you'll have time to explore the surrounding region a bit more, including the fascinating ruins at Xochicalco and the mountains, hills, rivers, and waterfalls that sit outside of town. They're great venues for adventure-sports enthusiasts. Cuernavaca is around two hours from Mexico City by car, and many organized tours will bundle a visit to the city with a trip to Taxco — a nearby Pueblo Magico that's famous for its silver and historic center — within one day. While you won't get the same local flavor by doing this, it's a decent enough way to check out a number of tourist sights in a short amount of time.
Hotel Picks in Mexico City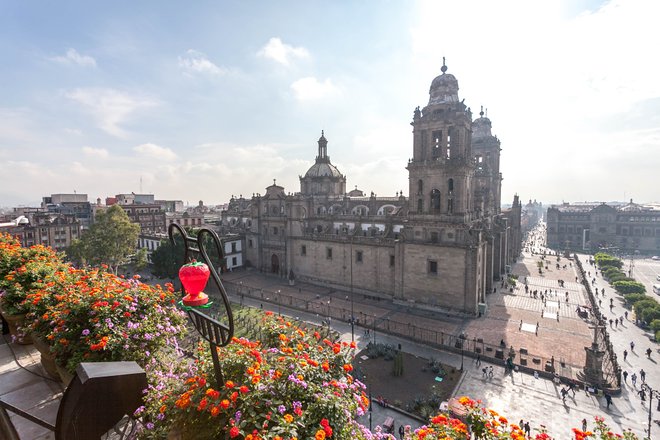 As one of the biggest cities in the world, Mexico City offers plenty of hotels to choose from. From humble hostels in the Centro to posh luxury digs in Polanco, the city has rooms available for every budget. If you're looking for proximity to the city's historic sights in the center of town, opt for Zocalo Central, a sharp little boutique property that has almost unbeatable views onto the Catedral Metropolitana and the Zocalo (though this is by no means a calm and quiet part of town). Want to cozy up with Mexico's elite? Then head to Polanco, which is packed with international luxury chains like the W Mexico City and the InterContinental Presidente. The St. Regis Mexico City has a prime location amid the businesses along Paseo de la Reforma — one of the most important thoroughfares in the city. Room Mate Valentina, in the lively and LGBT-friendly Zona Rosa, is a fine, contemporary option for those in town to party, while The Red Tree House is a great option for travelers wanting to live like a local and spend their days in trendy Condesa.
You'll Also Like:
All products are independently selected by our writers and editors. If you buy something through our links, Oyster may earn an affiliate commission.