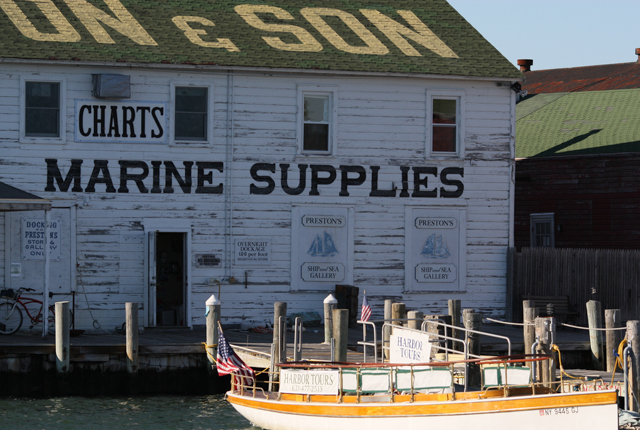 Pop culture divides Long Islanders into two big groups: suburban kids who ride around in souped-up muscle cars and well-to-do Manhattanites who jet off to the Hamptons for swanky, wine-filled weekends. While there may be some truth to those caricatures, many Long Islanders love to enjoy the region's quaint towns. These hamlets and villages are many miles away from the over-the-top lawn parties and bargain-hunting trips to the mall. Interestingly, Jackson Pollock, Willem de Kooning, and Chuck Close are just a few of the artists who moved to one of the getaways on the East End to be close to nature and a simpler life. Towns like Sayville and Northport have blocks that look like Jimmy Stewart should be strolling down them with his best gal. And don't forget: Queens and Brooklyn are also technically on Long Island, and both boroughs have sections that boast a charming, small-town vibe. Here, we rounded up a list of our favorite small towns on Long Island.
Originally settled in 1682, Greenport grew into a notable whaling and shipbuilding village in the 19th century. In 1844, the Long Island Rail Road made Greenport the last stop on its Eastern Line, which means you can get there without having to deal with the Long Island Expressway traffic that can get particularly stifling in the summertime. The Greenport Village Historic District has over 250 buildings that were constructed between 1750 to the 1930s, including an antique carousel and kindergarten schoolhouse (which was the town's first). During Prohibition, Greenport was a major hub for rum-running since sea captains who knew the local waters could give coppers the slip. More recently, Wine Enthusiast picked the area as a major destination because of its nearby vineyards and farm-to-table restaurants. The town regularly hosts gallery walks for art lovers, and in early December, is home to "Shellabration," a two-day festival of local shellfish dishes.
Hotel Pick:
Malverne
The town of Malverne often inspires comparisons to Andy Griffith's fictional home, Mayberry, and Norman Rockwell's early 20th-century paintings of rural America. Neatly manicured colonial and Tudor-style houses dot the town's tree-lined streets. Malverne's major attractions include Scooops ice cream parlor and soda fountain, which plays re-runs of "The Partridge Family" and "The Brady Bunch." San-Dee Lanes bowling alley features laser lighting and computerized scoring. And during Malverne's week-long Christmas celebration in December, you can "Bowl with Santa." In the warmer months, Grossmann's five-acre farm has planting fields and greenhouses where strawberries, peppers, and other vegetables are cultivated. All of this lies just a 25-minute drive from Manhattan.
Roslyn
A little over 20 years after pilgrims landed on Plymouth Rock, a couple sailed across the Long Island Sound to live in the area that eventually became Roslyn. Today, the village is known for a mix of historic buildings, several cozy museums, and New American restaurants. The Main Street Historic District includes about 50 buildings, mostly residential, that were built before the Civil War in the Federal and Greek Revival styles. The 18th-century Roslyn Grist Mill is one of the only Dutch colonial commercial buildings still in existence. The town's most recognizable structure is a 44-foot obelisk-shaped clock tower. It was built in 1895 to commemorate the life of one of Rosyln's most famous philanthropists. The Nassau County Museum of Art includes works by Rodin, Lichtenstein, and Rauschenberg. Locals also often get together for summertime outdoor concerts and winter sledding.
Merrick
Merrick, a South Shore hamlet located about a 40-minute train ride from Manhattan, has plenty to offer outdoorsy types and at least one attraction for fans of peculiar history. The main drag is within walking distance of the train, and many of the stores are still mom-and-pop outfits. Environmental conservationists may be particularly interested in Norman J. Levy Park and Preserve, which includes a 500-foot pier that extends into Merrick Bay, a kayak launch, and several hiking trails. The Blue Water Yacht Club has spaces for boaters to park and swimmers to do laps. AcQua, the club's waterside restaurant, serves a combination of traditional Italian dishes and clambake favorites. One of the most interesting parts of Merrick's history is a section known as "Tiny Town." All of the cottage houses here are smaller than average. Apparently, Methodists used to congregate in the area during the summer in the 1860s, and eventually turned the tent housing into permanent accommodations that resemble human-sized doll houses.
Sayville
Once named "the friendliest town in America," Sayville has tree-lined streets accented with historic Victorian houses and eclectic boutiques. In the 19th century, it was known for timber harvesting and fishing, but the destination eventually grew into a summer resort and several mansions were built, including one owned by John Ellis Roosevelt (Theodore's cousin). The Long Island Maritime Museum, housed on a local 14-acre estate, tells the story of the region's boating history and hosts events like the Pirate Festival in June and Fly a Kite Day in September. The hamlet is also known for its fairs. In October, the Sayville Apple Festival brings locals together for crafts and food. In December, Miracle on Main Street has ice sculptures and actors dressed up as characters from Charles Dickens novels.
Northport
Located on the North Shore of Long Island, Northport was once known as Great Cow Harbour because early inhabitants of the area grazed cattle on the pastures near the water. In the mid-1800s, the community shifted from a rural farming area to a center for shipbuilding. The harbor eventually grew into an industrial hub and was dilapidated by the early 20th century, when the town purchased a large tract of land and transformed it into Northport Memorial Park, which now hosts live music in the warmer months. Many of the seafood restaurants, antique stores, and clothing boutiques in downtown Northport are housed in buildings that date back to the early 1900s. In September, thousands of people come to Northport's Main Street to celebrate Cow Harbor Day, which includes floats, marching bands, and vintage cars.
Bay Ridge
Today, Bay Ridge is a neighborhood in Brooklyn, but in the 1600s, it was the Dutch settlement of New Utrecht — the last of the six towns that formed the New York City borough. Bay Ridge's small-town history hasn't been completely lost. New Utrecht High School opened in 1915 and still serves local students. Many of the Victorian homes and turn-of-the-century townhouses continue to have working gas street lamps outside. Those who love Arts and Crafts architecture can check out the stone-walled Gingerbread House — one of the best examples of the style in New York. Fort Hamilton, where Robert E. Lee and Stonewall Jackson were once stationed, now hosts numerous events for the military and community, including comedy nights and bowling. The Narrows Botanical Garden features a rose garden and monarch butterfly sanctuary. All you need to do to enjoy this small-town atmosphere is take a 40-minute subway ride from Manhattan.
St. Albans
Settled by the Dutch immigrants in the mid-1600s, the majority of St. Albans was farmland until the 1800s. While much of this Queens neighborhood displays a mishmash of architectural styles, the Addisleigh Park Historic District has more than 400 Tudor and Victorian homes that were built in the early decades of the 20th century. The neighborhood was originally planned to be segregated, but numerous African-American musicians made it their home after leaving Manhattan. At the height of the Jazz Era, this once-suburban enclave was home to stars like Lena Horne, Billie Holiday and John Coltrane. Plenty of other musicians, including Q-Tip and Phife Dawg of the hip-hop group A Tribe Called Quest, also grew up there. For any music fan, a walk through St. Albans is a must.
You'll Also Like: