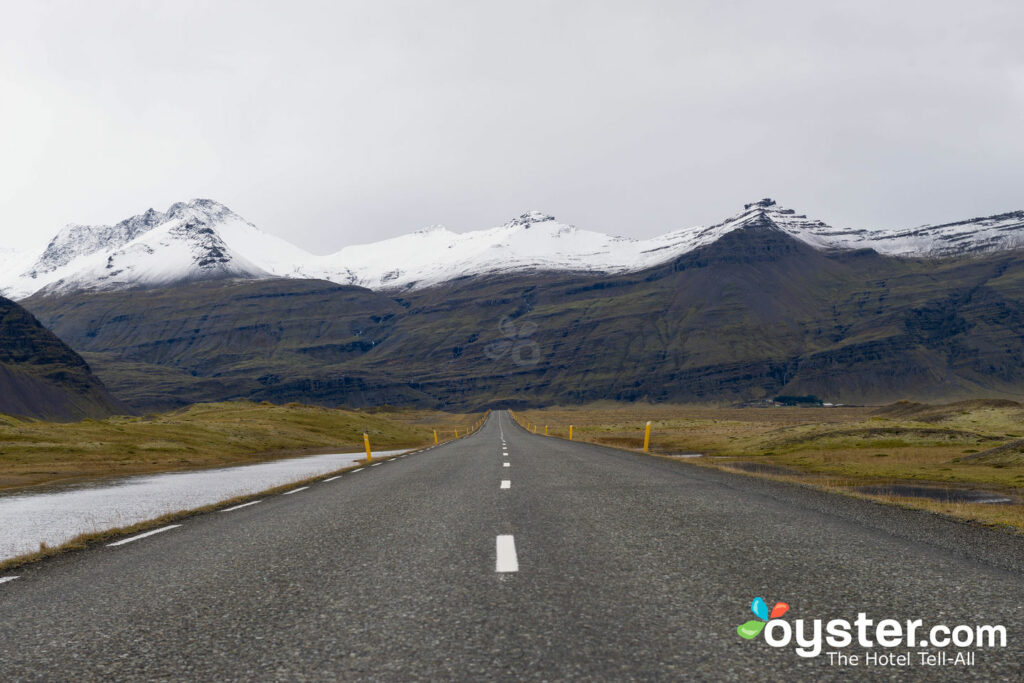 At exactly 828 miles, Iceland's Route 1 encircles the entire country. With an average speed limit of 55 miles an hour, you could technically drive the whole thing in less than 24 hours. But with all the incredible places along the way, we suggest you take at least eight days to soak it all in. Need some help planning your trip? It turns out there's much more to see than the famous Golden Circle. Check out the must-visit spots along Iceland's Ring Road, listed in order of appearance.
1. Fridheimar
If you like tomatoes, tomato soup, or freshly baked bread, the restaurant Fridheimar cannot be missed! It takes farm-to-table a step further and serves its guests inside a greenhouse. You'll get to see the plants grow as you enjoy a taste of the crop. And thanks to the setting, you'll get some warm and humid respite from the chilly Iceland air. The farm owners have accomplished a near-impossible task: creating a Mediterranean climate just outside the Arctic Circle using green energy, geothermal water, and organic pest controls. Pre-booked groups can enjoy a horticulture tour in the greenhouse or horse show in the adjacent equestrian center after their meal. They also offer pasta sauce, chutney, and tomato ice cream in their onsite shop if you want to take the tomato-y goodness to go. Just beware the restaurant is only open from noon to 4 p.m. daily.
2. Seljalandsfoss
Iceland is full of waterfalls, but Seljalandsfoss deserves a special shout out. Visible from the Ring Road, it's actually possible to walk behind the 213-foot falls because there is a cave behind them. You'll drive by another great waterfall (Skógafoss) en route, but we think Seljalandsfoss deserves the majority of your time. The falls are fed by melting waters from the Eyjafjallajokull volcano, which is capped by glaciers. Be sure to wear comfortable shoes and some waterproof outerwear because the path is slippery and you will get wet during your visit. Use flash for photos behind the falls or else you'll come out like a silhouette. Gljúfrabúi waterfall, which is nearly covered by a big rock, is very close by. You can't walk behind it, but you can walk right into it and stand under the spray. Just wade through the gorge or climb up said rock.
3. Sólheimasandur
This spot is Instagram gold: The twisted wreckage of a white U.S. Navy plane sits on an empty black sand beach. Everyone survived the 1973 crash, but the plane was left behind, surrounded by desolate beauty and cloaked in mystery. This surreal spot may owe its fame to starring roles in TV commercials, photo journals, Bollywood movies, and music videos. In fact, 395 million viewers (at the time of publishing) have seen Bieber skateboard on top of the crashed plane in his "I'll Show You" video. Locals have blocked vehicles from driving on the beach and it gets pretty cold on the water, so remember to bundle up for the walk.
4. Seljavallalaug
This "hidden" gem has been exposed, but it's still worth a stop. Built in 1923 to teach locals to swim, Seljavallalaug is rumored to be Iceland's oldest public swimming pool. Even though fishing is the main industry and swimming is now a required course in school, there wasn't anywhere to sharpen swimming skills at that time. It's built right into the rocks, warmed by a nearby hot spring, and surrounded by rolling green hills. There are changing rooms on site, but no other facilities. You'll also have to do a bit of hiking from the pool's parking lot.
5. Reynisfjara
You may think that once you've seen one black sand beach, you've seen them all. But Reynisfjara also has basalt columns, lava formations, towering cliffs, and caves. When volcanic lava reached the ocean, it cooled and formed small igneous rocks. In fact, the rugged beach would be more accurately described as a pebble and stone beach than a sand beach. The same flowing lava, which cooled and contracted on the seaside hill, shaped the incredible columns in a process called columnar jointing. The mythical Reynisdrangar lava stacks getting pummeled by Atlantic waves make for stunning panorama shots and the cave is a good spot for dramatic group photos. But you've been warned: There will be a crowd of tour busses working to get the same pictures if you arrive midday.
6. Dyrhólaey
Meaning "door hole island," Dyrhólaey is less of an island and more of a promontory or small peninsula. Its signature lava archway was created by a volcanic eruption thousands of years ago and formed from ocean erosion. Today, the nearby cliffs are a nesting site. If you time it right (summer, early morning), you could even see everyone's favorite Icelandic bird: the puffin! Since it's surrounded by Reynisfjara to the east, Mýrdalsjökull glacier to the north, and epic coastlines to the west, you'll have a great view no matter where you look.
7. Skaftafell
Skaftafell is one of the most popular campsites and wildernesss areas in South Iceland. Sitting inside Vatnajökull National Park, it is the starting point for the approximately 90-minute Svartifoss Sjónarsker Sel hiking trail, where you can see water tumble over basalt columns at the Black Falls, find a view dial that shows the names of the surrounding mountains, and get incredible views of the adjacent Skaftafellsjökull and Svínafellsjökull glaciers. Skaftafell is also a gathering place for glacier hiking and ice climbing companies. Once you sign up, they'll take you (and your new crampons!) by bus to your starting point. If all the action has you hungry, hit up the humble, hyper-local Glacier Goodies food truck. They serve delicious fish and chips platters and lobster soup sourced from the area. There are some picnic tables set up so you can make friends while you eat.
8. Hofskirkja
You know the turf roofs of Hobbit homes in "Lord of the Rings?" In Iceland, you can see real ones. For the chance to get inside, stop at Hofskirkja. Constructed in 1884, this is the last of the old churches built in turf. The sides are made of stacked rock and the roof is made of grass-covered stone slabs. Buildings were erected this way as a protective measure from the difficult climate conditions, and it's one of the best ways to trap warmth in the winter. Brightly colored wood panels line the interior of the small church, which is divided into a nave and choir. The church is now part of the National Museum's Historic Buildings Collection. You won't need to spend too much time here, but you will want to snap some pictures posing like your favorite Hobbit.
9. Jökulsárlón
The spectacular, shimmering Jökulsárlón lagoon, also known as Diamond Beach, is arguably the most incredible stop on our tour. Vatnajökull, Europe's largest glacier, looms overhead as deep, luminous blue icebergs float and bobble near the black sand beach. The area was a solid sheet of ice less than a century ago, but rising global temperatures have caused parts of the glacier to fall away. A river was soon formed, leading to the Atlantic. Some icebergs spend five years on the journey, melting and refreezing along the way. Every year, the lagoon gets bigger and more beautiful. Seals are often seen swimming in the lagoon or lounging by the coastline. To get a closer look, board one of the many boat tours that depart between May and October.
10. Grjótagjá
Some time in this lava cave will help you warm up from your trip to the glacier lagoon. The geothermal spring inside it was a popular bathing spot until eruptions in the 1970s and '80s rendered it too hot to enter. The shimmering green-blue waters are still wonderful to look at. Plus, there's a special restaurant nearby that you'll definitely want to try. Vogafjós, or the CowShed Café, serves homemade local food like trout and baked-in-the-geothermal-ground geyser rye bread. Best of all, you're surrounded by animals. You can watch the cows get milked and lambs frolic outside as you eat your burger or taste the famous smoked lamb. If you ask your waiter nicely, he may even take you to the barn so you can meet some of these adorable, delicious creatures.
11. Mývatn
If the Blue Lagoon was too crowded for your taste, Mývatn Nature Baths offers a welcome change of pace. Because the Mývatn basin sits right on the Mid-Atlantic Ridge, they baths are full of mineral-rich, naturally heated water that can heal your skin and your mind. Once you've relaxed, drive to the nearby Skútustaðagígar pseudo craters, Höfði promontory, and Kálfastrandavogar lava pillars for incredible photos. There are also tons of hiking trains and bird watching zones throughout the area. The information center in Reykjahlíð village can help you curate your visit.
12. Námafjall
Despite being so close to Myvatn, Námafjall will feel like another planet. Hveraröndor Hverir geothermal field is full of boiling mud pots, hissing fumaroles, and multicolored sulfur crystals. There is a rotten egg odor and almost no vegetation. With temperatures reaching 200 degrees Celsius, be sure you take caution on your visit. In the Krafla area, you can walk along the rim of a crater, which is filled by a beautiful blue lake known as Víti, or Hell. If you want to fit in more hiking, follow the trail to Namaskard pass and Namafjall Mountain. Note that the road conditions in Iceland vary greatly by season and this spot can be especially tricky to reach.
13. Goðafoss
We know, we know. But just one more waterfall. At only 40 feet high, it's not the height that makes the Waterfall of the Gods so impressive. At nearly 100 feet wide, the falls form a short, but expansive semicircle of striking rock formations and flowing glacial waters. You're almost guaranteed to see a rainbow on your visit. And Goðafoss's origin story is almost as magical as its otherworldly appearance. In the year 999, a holy man chucked Pagan statues into the waters as a symbol of the country's new official language. The Sagas show that even though he once revered Nordic gods, he decided all of Iceland should convert to Christianity.
14. Akureyri
This fjord-bound city would be a town in any other country, but it's quite lively by Icelandic standards. With 20,000 inhabitants, it's the most densely populated area outside Reykjavík. It's also the north's center for trade and culture. Full of cool cafes, quality restaurants, and galleries, there's even some late-night bustle. The city is also home to several festivals throughout the year, so check what's on while you're in town. The stained-glass windows of the Akureyri Lutheran Church portrays scenes from Icelandic history and the Akureyri Old Town is a pleasant walk, but a visit to the Akureyri Art Museum, Museum of Industry, Old Toy Display, or Aviation Museum will give you more clues to the area's past. The Icelandic Folk and Outsider Museum just outside the city is another informative spot. In need of nature after all that indoor time? Hit the Botanical Gardens, which contains nearly every plant found in Iceland, or the hiking and mountain bike trails of Kjarnaskógur Forest on the outskirts. Last but not least, be sure to get a cone of milky goodness at Brynja, the city's famous ice cream shop.
15. Snæfellsjökull National Park
As you make your way southwest, you'll have the choice to enter Snæfellsnes peninsula. The area's coastline is spotted with rocky coves full of nesting birds and the lowland is mostly moss-covered lava, which flowed from the glacier-capped Snæfellsjökull stratovolcano. Along with the volcano, you'll want to see the Vatnshellir lava tube, Lóndrangar bsalt cliffs, and Malarrifsviti lighthouse. The small fishing village of Arnarstapi beside Djúpalonssandur beach offers plenty of photo ops of the Gatklettur rock arch, and the Rauðafeldsgjá gorge two minutes away is fun to explore. Warm up with some hot chocolate from Fjöruhúsiðright seaside café and take a dip in the Landbrotalaug hot pot (mini natural spring) on your way out.
NOW WATCH: 6 Things to Know Before Visiting Iceland's Blue Lagoon
https://www.youtube.com/watch?v=kG0DQG9U0Ss
You'll Also Like: