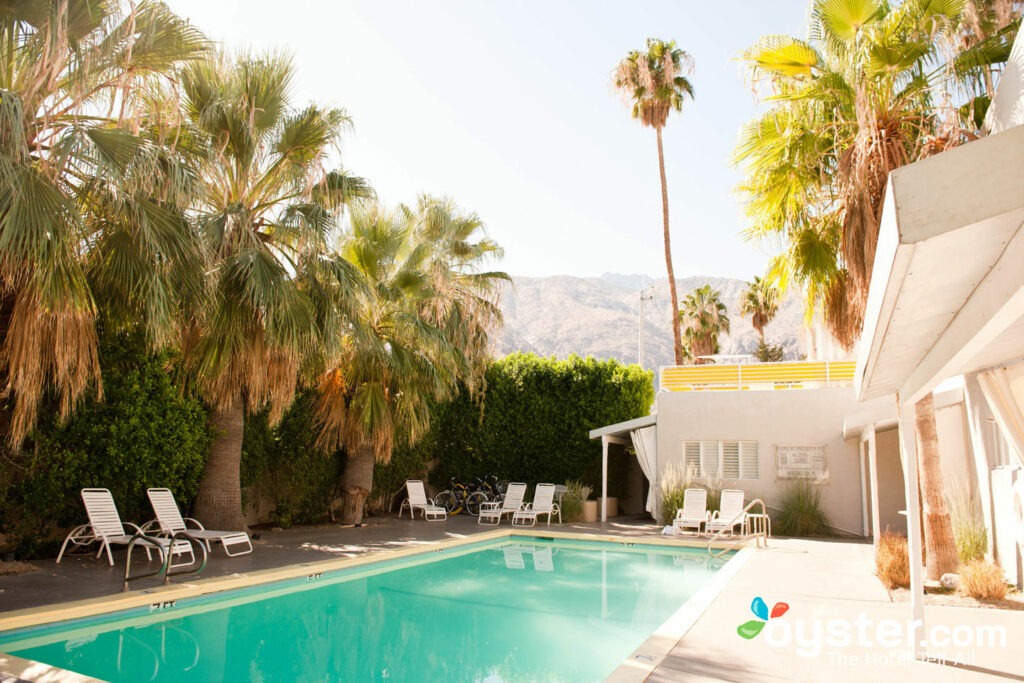 Palm Springs has been one of the most glamorous and fun places to visit in California since it served as an upscale escape for Hollywood stars in the '50s. Rumor has it that Hollywood actors were required to stay within 100 miles of Los Angeles (in case they were needed for publicity or filming), so Palm Springs was built as a desert getaway within those limits. Today, the city still serves as a retreat for the glitzy Los Angeles crowd, plus it's also the epicenter of Coachella, Stagecoach, and a thriving LGBTQI scene. But don't let the aquatic name mislead you -- Palm Springs is very much a desert city within the Coachella Valley. It's an easy place to visit, but there are some rookie mistakes you'll want to avoid. Read on.
1. Visiting Palm Springs in April
Unless you're planning on attending Coachella, Stagecoach, or the White Party, planning a visit to Palm Springs in April is easily the biggest mistake a rookie can make. These are three of the biggest events in the area and they're all held in April. Coachella alone drew over 100,000 visitors in 2018. Hotel rooms book out months in advance, rates soar, and traffic is a nightmare. Don't expect quiet by the pool or to walk into a restaurant without a reservation in April. Of course, if you're in Palm Springs to party, it doesn't get much better than April.
2. Staying in a Generic Hotel in Palm Springs
Palm Springs is home to some of the best examples of mid-century modern architecture in the United States. In the '60s, Albert Frey, a Swiss-born architect, changed the local landscape with his Desert Modernism architecture and hotels. Stepping inside The Monkey Tree Hotel (one of Frey's designs) is like going back in time to the glamorous '60s. The hotel features studied rooflines to maximize mountain views from the pools. Many of the area's hotels, like Holiday House, are stopping points on architectural tours. It would be a shame to visit Palm Springs and book the same generic contemporary hotel room that you can find everywhere else.
3. Bringing the Kids to Palm Springs
Palm Springs mostly draws active retirees, LGBTQI couples, and hipsters from Los Angeles and beyond. Kids are a pretty rare sight — and they're not entirely catered to. Not only do temperatures hit the triple digits during the summer months, but many hotels in downtown Palm Springs are adults-only properties. Plus, unless your little ones like early morning golf, desert hiking, and bar hopping, there isn't much for them to do besides swim in the hotel pool. Most restaurants don't have kids' menus and some restaurants offer penis-shaped cakes and confetti for bachelorette parties.
That being said, there are a few family-friendly exceptions. The Living Desert Zoo and Gardens is a kid favorite. You'll also find kids in the pools and taking selfies with the flamingos at the JW Marriott Desert Springs Resort & Spa. However, there are many more event-goers and business travelers than little ones.
4. Expecting a Beach Day in Palm Springs
Lots of people hear Southern California and think of beaches. That's a rookie mistake. Palm Springs is very much in the desert and the closest you're going to come to the water is a swimming pool or desert hot spring. The nearest Pacific Ocean beaches — Newport Beach, Dana Point, and Carlsbad — are all about a two-hour drive (without traffic) from the Palm Springs area. A better idea is to visit one of the area's hot springs, such as the almost 24-hour mineral baths with healing properties at Two Bunch Palms Hotel.
5. Driving to Palm Springs From Los Angeles
Los Angeles International Airport is a two-hour drive from Palm Springs — if you don't encounter any traffic. While this can be achieved at 2 a.m., most of the day is a traffic snarl. Plan on at least three hours, but probably four, to get to and from Palm Springs. Or, avoid the drive altogether and fly into the much smaller and more pleasant Palm Springs International Airport. It partners with JetBlue, United, and American Airlines, and the runways are about a 10-minute drive from downtown Palm Springs.
6. Not Booking Activities in Advance in Palm Springs
Palm Springs has a relatively small population of about 50,000 people, but some estimates show that the greater Palm Springs area sees well over one million visitors per year. That's a lot of tourists. Expect the most popular activities to book up fast. The Integratron Sound Bath (a relaxing sensory experience) often fills up two or three months in advance. Some people make their camping reservations in Joshua Tree a year in advance. Dinner, drinking, and dancing at Pappy + Harriet's (way out in Pioneertown) requires at least a week's notice for a reservation, but much longer in busy months like April or if there's an especially popular band playing.
7. Only Packing Shorts for Palm Springs
You might think that a visit to the California desert only requires tanks and tees. While it's true that temps soar into the triple digits in the summer months, things cool down at night. The lows in the winter hover around the high 30s, especially after sunset. So be sure to pack socks, light layers, and a jacket. This is especially important if you plan on hiking or visiting Pioneertown. You're also going to need more water and sunscreen than you'd normally pack, thanks to the intense sun and arid climate.
You'll Also Like:
All products are independently selected by our writers and editors. If you buy something through our links, Oyster may earn an affiliate commission.