Aaaah, fall. The time of year that's all about enjoying the cool, crisp air, watching the world transform into a canvas of brilliant colors, and of course, indulging in pumpkin spiced lattes. There's no better place to see the pageantry of the great outdoors than aboard a scenic excursion train, which often goes where cars can't. From coastal Alaska to rural Georgia, here are our favorite train rides for incredible fall foliage views.
1. Conway Scenic Railroad's Notch Train, New Hampshire
New Hampshire's White Mountains region is one of the prettiest areas to see New England's fall colors. The Conway Scenic Railroad's Notch train excursion, departing from an 1874 train station in Mount Washington Valley, follows tracks dating to the 1870s on its climb into the region's dramatic mountains. Throughout the five-hour trip, the conductor provides narration as the train crosses historic bridges and passes sheer cliffs, gorges, waterways, and vast mountain vistas. Open-air and dome car seating are available, but the latter often sell out well in advance.
Daily through October 28.
2. Arcade & Attica Railroad, Western New York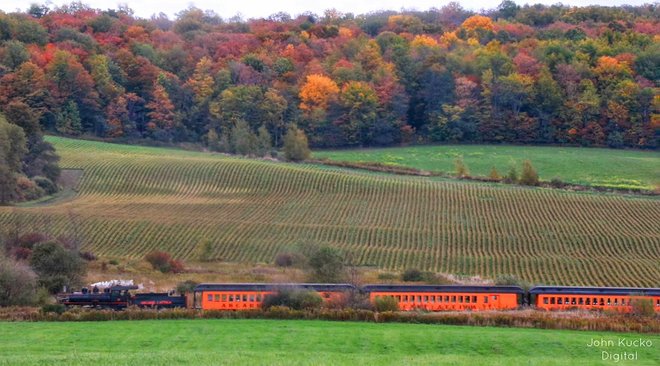 Come fall, the countryside of Western New York is blanketed in brilliant yellows and russets. Over the course of two and a half hours, Arcade & Attica Railroad's mid-century diesel locomotive leisurely rolls through hills and valleys, pulling vintage cars and a gondola caboose for those who want to see the passing farmland en plein air. The train stops at the historic Curriers station, where travelers can get a snack, pop in the small museum, and see the train's coal boiler in action.
Fridays-Sundays (plus a Columbus Day Monday ride and two Wednesday rides for seniors) in October.
3. Durango & Silverton Narrow Gauge Railroad and Museum, Colorado
The Wild West is alive and well on the Durango & Silverton Narrow Gauge Railroad, which follows an 1882 mining route along the Animas River originally used to bring silver and gold down from the mountains. A National Historic Landmark, the line's coal-powered steam trains weave through the canyons and woodland areas of the San Juan National Forest, which was created by Teddy Roosevelt in 1905. The spectacular panorama includes gushing creeks, pristine lakes, dramatic rock faces, and dazzling yellow aspens in the fall. Past passengers have reported seeing elk, deer, bighorn sheep, eagles, and even moose. The all-day, round-trip excursion begins and ends in Durango, with a two-hour stop in the old silver-mining town of Silverton.
Days vary; train operates year-round.
4. Delaware & Ulster Railroad, Upstate New York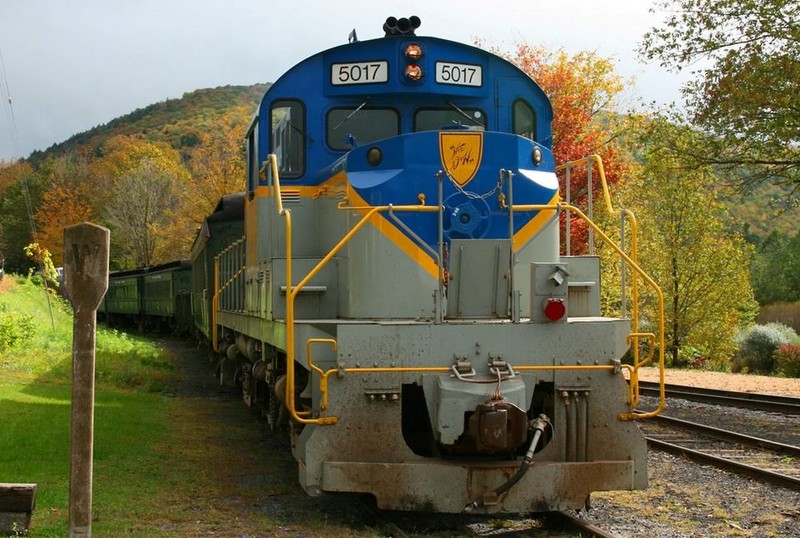 The Catskills region lures travelers year-round with its peaceful scenery, but in the fall, when the mountains are flush with blazing colors, the storied New York area is really something special. Delaware & Ulster Railroad takes visitors on two-hour diesel-train tours of the beautiful backcountry, trailing a branch of the Delaware River. Rides originate at an 1870s depot in Arkville, and head to the small town of Roxbury, where guests can stretch their legs before returning to Arkville. (Be sure to check out the cute red cupola caboose.)
Weekends through October.
5. Adirondack Scenic Railroad, Upstate New York
The gorgeous colors of the season are on full display in New York's legendary Adirondack region. Departing from Utica's Union Station, Adirondack Scenic Railroad's Fall Foliage excursions wheel past rivers, ponds, and forests gleaming with red, yellow, and orange hues. Trips with or without a stopover in Thendara, a sleepy little hamlet near Old Forge, are available. Passengers with layover tickets can head back on the same day, or stay the night in Old Forge and return on the Utica-bound train the following day.
With layover: Thursdays and Saturdays through October; without layover: Fridays and Sundays through October.
6. Cumbres & Toltec Scenic Railroad, New Mexico and Colorado
Rolling over 1880-built tracks, the Cumbres & Toltec Scenic Railroad threads through the deserts, prairies, and mountains between Chama, New Mexico, and Antonito, Colorado. In the autumn months, brightening aspens surge the magnificent Rocky Mountains landscape. The National Historic Landmark offers Victorian-style, mahogany-paneled parlor cars for adults only, kid-friendly first-class cars with tables, and coach cars with cushioned benches. All passengers can visit the open gondola car throughout the trip.
Daily, through October 21.
7. Cuyahoga Valley Scenic Railroad, Ohio
Winding next to and over the Cuyahoga River in Ohio's Cuyahoga Valley National Park, the two-hour, nonstop Fall Flyer takes passengers through a beautiful oak-hickory forest aboard historic railcars. Nesting bald eagles, white-tail deer, and woodchucks are often spotted along the way. Travelers can purchase table-top tickets or seats in the dome-observation car or first-class car, which has cushioned seats with headrests. Private sleeper-car suites are available for groups of three or four.
Weekends in October; departures from Akron and Independence, Ohio.
8. White Pass & Yukon Route Railway, Alaska
The harrowing journey faced by Klondike Gold Rush miners and prospectors and their pack animals brought an urgent need for this narrow-gauge railroad, which was built in 1898 over punishing terrain. The route begins in Skagway, Alaska, and culminates in Whitehorse in the Yukon Territory. Passengers can travel the full distance (via train and bus) between the two one-time boomtowns or opt for shorter excursions. The most popular of these is the three-hour round-trip journey between Skagway (now a popular cruise port) and White Pass Summit, which carries passengers past glacier-topped mountains, rivers cutting through ravines, and abandoned wooden trestles.
Daily, through October 3.
9. Great Smoky Mountains Railroad, Western North Carolina
https://www.instagram.com/p/Bnr2vNglcb1
Lovely views of the Tuckasegee River can be expected year-round from the Great Smoky Mountains Railroad's steam and diesel trains. In autumn, the peaceful rural backdrop comes alive with canary-yellow poplars, coppery oaks, and blazing red sugar maples. The trains offer old-fashioned open cars with ceiling fans and either window-facing or groups-of-four seating, as well as air-conditioned cars with assigned table or group seating.
Days vary; train operates year-round.
10. Durbin & Greenbrier Valley Railroad, West Virginia
Departing from four mountain-town depots, this heritage line runs several excursions through the beautiful West Virginia wilderness. One favorite is the four-hour tour aboard the vintage diesel train, New Tygart Flyer. The 46-mile, round-trip journey runs close to the side of the Cheat River (and through a scary S-curve tunnel) on its way up to an 18-foot waterfall, the High Falls of the Cheat. Ticket prices include a picnic-style lunch with tea and lemonade.
Tuesday through Sunday, September 14-October 27.
11. Osceola & St. Croix Valley Railway, Wisconsin
This historic rail line's Fall Color Express whisks along the banks of the St. Croix River, providing picturesque views of the river (a National Scenic Riverway and the border between Wisconsin and Minnesota), the sandstone cliffs, and the wooded valley flecked with bursts of crimson and gold. The 20-mile journey takes an hour and a half, departing from and returning to the charming village of Osceola.
Days vary, September 27-October 14.
12. Blue Ridge Scenic Railway, Georgia
Passengers board vintage enclosed or open-air cars at the 1905 depot in downtown Blue Ridge, a cute mountain town in Georgia's Chattahoochee National Forest. The 26-mile, two-way trip goes through the forest and beside the Toccoa River, crossing turn-of-the-last-century iron bridges and passing locals fly-fishing on the lake. The train stops for two hours in the sister towns of McCaysville, Georgia, and Copperhill, Tennessee, where riders can poke around the small-town shops and grab a down-home lunch.
Daily, September 28-November 5 (no rides October 28); Friday-Monday, November 9-November 12.
13. Wilmington & Western Railroad, Delaware
Based in Wilmington, Delaware, this volunteer-run leisure line offers 90-minute picnic trips to Red Clay Creek and two-and-a-half-hour trips to the historic clay-mining town of Hockessin and back. Both trips leave from Greenbank Station, where a one-dollar fee will upgrade you to the open-air car, which has open windows and side-facing seats. You can also purchase boxed lunches or bring your own. The trains pass an iron rolling mill, a stone quarry, an open rock tunnel, and one of three covered bridges in the state.
October 13-14, 20-21, 27, and November 3-4 (steam); October 17-24 (diesel).
14. New England's Fall Foliage Express
And finally, a bucket-list train excursion for the most dedicated of leaf peepers. This eight-day train/bus tour from Vacations By Rail kicks off in Boston and ventures all across New England, from the rural mountainous splendor of New Hampshire and Vermont to the legendary coastal enclaves of Kennebunkport, Maine; Mystic, Connecticut; Newport, Rhode Island; and Cape Cod, Massachusetts.
Departures September 28 and 30, October 5 and 7.
You'll Also Like:
All products are independently selected by our writers and editors. If you buy something through our links, Oyster may earn an affiliate commission.