Every year, New York City plays host to over 50 million visitors. And almost every one of them comes armed with a list of must-see sights and must-do experiences. Given the city's status as a world capital -- and as a hub of entertainment, fashion, art, and culture -- it can be a little overwhelming deciding just where to spend your hard-earned vacation days. That's why we've broken down just what's worth seeing in this city that we call home. While places like Times Square only get a passing mention on the following list, we aren't saying skip big-ticket destinations entirely. Instead, it's worth taking a more measured approach, incorporating some great local finds into your itinerary. Check out the guide below for 10 of the best things to do on your next trip to NYC, and we guarantee that your experience will be the perfect mix of in-the-know secrets and bucket-list dreams.
1. Get Really, Really High Up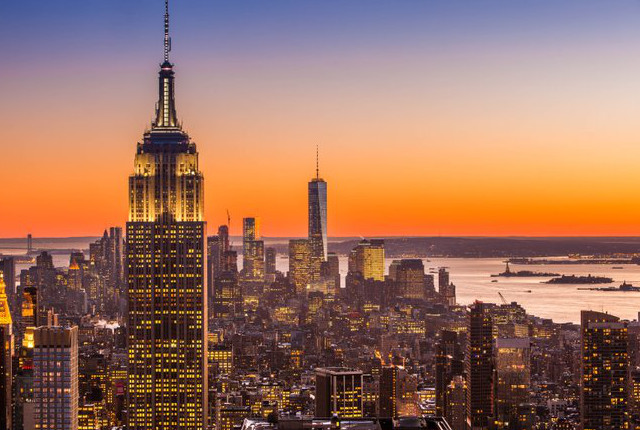 New York City doesn't have the world's tallest skyscrapers any more, but its skyline still glitters with a little extra magic that makes it something to behold. It's worth dropping a pretty penny to get above it all for the best views, and there are observation decks at the Empire State Building, Rockefeller Center, and One World Trade Center. Keep in mind that if you want the Empire State Building in your pictures – and who doesn't? – you'll have to opt for Top of the Rock or One World Observatory. We'd choose the latter, as the vantages of Midtown Manhattan and New York Harbor are astounding. For travelers who don't want to pay the price to reach these heights, head to Brooklyn Bridge Park, the Williamsburg waterfront (ideally during the outdoor Smorgasburg food festival), or Gantry State Park in Long Island City. Manhattan's skyline from any of these spots is a marvel.
2. Enjoy the Great Outdoors
We aren't kidding when we say that one of the best things about New York City is its wealth of outdoor spaces. In fact, during the summer, the city's parks come alive with runners, walkers, cyclers, and skaters. Central Park is one of the world's largest urban green spaces, with 174 species of trees across the equivalent of 153 city blocks. It's also home to photo-ready sights like Strawberry Fields, Sheep's Meadow, and Bethesda Fountain. Certain parts of the park can be crowded, and you best bet for peace and quiet will be north of 72 Street. Keep in mind that Central Park isn't the city's only stunning option. For amazing water views, Hudson River Park – along the city's west side – has renovated piers, playgrounds, dog parks, and summertime concessions slinging everything from sangria to Belgian waffles. Of course, for a more urban take on outdoor pursuits, the High Line – a converted industrial railroad that's now a buzzing park – is a must-see.
3. Eat the Best Pizza in the World
No, Chicago, your deep dish abomination is not pizza. In fact, New Yorkers are 100 percent certain that no other place in the world can top their pizza. We aren't talking Neapolitan-style pizza spots like Motorino, Lil' Frankie's, or Roberta's — though each of those are certainly worth a visit for tasty, locals-only grub. Instead, to eat like an everyday New Yorker, grab a couple of slices at one of the city's ubiquitous pizzerias. Expect lines out the door at popular spots like Joe's Pizza, on Carmine Street, though if you're feeling adventurous, we also like Patsy's in East Harlem and sLICe in Long Island City. If you want a classic New York pie and prefer waiter service, check out John's of Bleecker Street in the West Village, or Arturo's on Houston Street. Looking to explore deep-in-the-boroughs, old-school New York on your culinary adventures? Then head to Di Fara in Midwood, Brooklyn. While pizza is a New York staple, there is one caveat: Steer clear of any parlor with the words "one dollar" or "Ray's" in its name — your taste buds will thank us.
4. Become an Art Aficionado
New York can overwhelm you with art. The Guggenheim, The Met, The Whitney, and MoMA all draw hordes of visitors every year, and all four are worth a day each. MoMA has heavy hitters like Van Gogh, Monet, Kahlo, and Warhol; the Met's antiquities collections are jaw-dropping; and the Guggenheim and Whitney are focused more squarely on the present. However, the art scene in the city goes way deeper than these big-ticket institutions. The free galleries in Chelsea host everyone from wild installation artists to established portraitists like Chuck Close, while MoMA's PS1 outpost in Queens mounts some of the city's most socially relevant retrospectives. Uptown, the Museo del Barrio focuses on amazing Latino, Latin American, and Caribbean art. Don't feel like being cooped up indoors? The Bushwick Collective, which curates the walls of that neighborhood's warehouses every summer, draws some of the world's best street artists.
5. Embrace Your Flair for the Dramatic
If you're coming here for the first time, the chances are high that you'll want to see Times Square. And while we won't tell you to give it a pass, don't say we didn't warn you: This part of New York is like Dante's "Inferno" for locals, even if the neon lights do have a certain wow factor. Still, New Yorkers are nothing if not dramatic, and most of us will admit that Broadway — whose epicenter is Times Square — is a pretty special thing. While you're unlikely to score tickets for "Hamilton" any time soon (though you can always try the daily lottery), amazing new shows open every few months, and old standbys like "Chicago" are still going strong. The TKTS booths in Times Square, Downtown Brooklyn, and the South Street Seaport offer discounted same-day tickets and accept credit cards. For smaller lines, opt for the latter two options. Or download Today Tix on your phone.
6. Return Home With One-of-a-Kind Finds
When most people think of shopping in New York City, their minds go straight to Fifth Avenue and SoHo, or major department stores like Macy's, Sak's, and Bloomingdale's. For truly unique finds, though, you'll have to look elsewhere. Chelsea Market is a fine place to start for travelers who don't want to leave Manhattan — the ground floor is home to artisanal food purveyors and retailers of all kinds, plus a local bookshop, and an Artists & Fleas outpost selling all things bespoke (and made in New York). However, those willing to travel will be rewarded with even more envy-inducing finds. Check out Brooklyn Flea on weekend days, or the Brooklyn Bazaar, where booze, live music, and local vendors come together on weekend nights.
7. Travel Around the World Without Leaving the Five Boroughs
We've already told you that Queens is one of 2017's most underrated places that demands a visit – so allow us to explain a little more. This New York borough is the most diverse community in the country, with more languages spoken here than anywhere else in the United States. And while that translates to all sorts of cultural riches, it also means amazing food. Jackson Heights, a 20-minute subway ride from Times Square, almost perfectly embodies the best of this borough's dizzying array of customs and traditions. You can sample authentic eats — without any pretensions to fusion-cuisine — from India, Pakistan, Bangladesh, Tibet, Nepal, Colombia, Ecuador, Venezuela, Uruguay, and the Philippines. And that's all within a 12-block radius. Aside from the jewelry and sari shops, you're also like to spot: Ramadan fast-breaking celebrations, various nations' independence day parades, authentic street-side henna tattooing, haggling for exotic produce, shops selling Bollywood movies, and the Queens LGBT Pride celebration, which takes place in June.
8. Party with Nightclub Legends
If you're not faint of heart and like staying up late, New York's party scene is one of the world's greatest. And what's even better? It's incredibly diverse. You can play beer pong with frat bros in Murray Hill, while on the other side of town the Gucci-clad locals are throwing back expertly mixed cocktails while overlooking the city from Top of the Standard. This is to say nothing of hipster dives in Bushwick, cozy wine bars in the West Village, and the mega-clubs of Chelsea. But for a real only-in-New-York experience, follow the Club Kids. Nightlife legends like Amanda Lepore – a newly minted memoir author and oft-photographed David LaChapelle muse – can be spotted at parties like Battle Hymn every weekend. Keep in mind that what's hot one month is often old news the next, though, and you'll have to do some digging to find out which clubs are hosting the new "it" crowd.
9. Hit the Beach
New Yorkers aren't used to pretty — the city is loud, dirty, and smells horrid in the summertime. So while our beaches aren't the clear-water, white-sand wonderlands found elsewhere in the country, it's still a feat that for the cost of a subway swipe, you can be soaking up the sun and playing the in the surf. Coney Island — with its iconic boardwalk, Nathan's hot dogs, and Cyclone coaster — draw tens of thousands of visitors every year, but locals will tell you to head to The Rockaways. Here, a long boardwalk buzzes with bikers, joggers, rollerbladers, and skaters all summer long, while the beach is thronged with locals of all stripes. You can score everything from lobster rolls to vegan tacos and locally brewed beers at the beachside concession stands, some of which host DJs and live music on select days.
10. Be Part of New York's History
As the self-professed media capital of the world, New York City is home to a whole lot of fame and infamy — and a ton of history, as well. We recommend signing up for one of the Tenement Museum's themed tours for a window onto how locals truly lived in New York's earlier, far-less-gilded age. If you want to get in touch with the city's more recent past, though, check out PopSpotsNYC.com. The website, run by Robert Egan, is dedicated to tracking down the still-existing locations in New York where famous album artwork was photographed. "Fortunately, there are still many places around that look practically the same as when the musicians and groups were photographed there," Egan tells us. His finds include locations graced by Bob Dylan, Billy Joel, Patti Smith, and Neil Young — among hundreds of other musical acts and films. Egan also gives walking tours of Central Park and Greenwich Village, both of which played a huge part in New York's music and movie history.
Where to Stay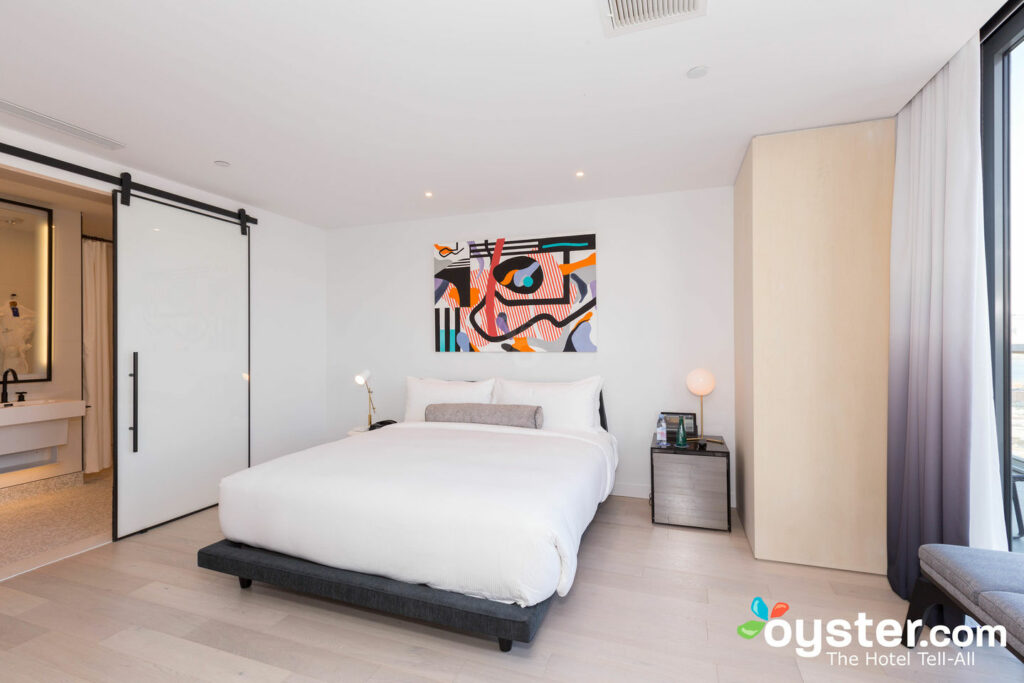 New York's hotel scene is as epic as everything else here, and be prepared: Your money isn't going to go nearly as far as it might anywhere else in the United States. That being said, there are rooms for all budgets here depending on what you're willing to indulge in or sacrifice. If you want to feel like the king or queen of cool, opt for The William Vale, a Williamsburg property that opened in 2016. It has stunning retro-contemporary interiors, an amazing outdoor pool, and 360-degree views of Manhattan, Queens, and Brooklyn. For easy access to both the High Line and wild nightlife, The Standard High Line is a sharp and trendy pick. Travelers who have a little less to spend but want to be in Manhattan might head uptown to Harlem, where the Saint Nicholas Inn provides an authentic bed-and-breakfast experience and has owners who are more than willing to pass along some local insight.
For even more New York City content, follow us on Flipboard.
You'll Also Like:
All products are independently selected by our writers and editors. If you buy something through our links, Oyster may earn an affiliate commission.