Bursting with history, crammed with iconic cuisine, and blessed with some of the East Coast's most important cultural attractions, Boston is a city that caters to many interests. From the cobblestone streets of Beacon Hill to the trendy enclave of Jamaica Plain, this city of revolution, academia, sporting tradition, and contemporary culture has enough to keep you busy for months, which is why a list of the best things to do in Boston might come in handy. Check out our list below, which takes into account food, sports, museums, breweries, and historic institutions.
1. Walk the Freedom Trail.
There's no better place to start than where it all began. Get clued up on hundreds of years of history as you walk the two-and-a-half-mile-long Freedom Trail. Kicking off from Boston Common, the tour takes in 16 historical monuments and makes for an organized way to learn about some of Boston's (and America's) history. You can walk the trail yourself, but we'd recommend taking a tour where a Bostonian will lead the way and regale you with historic facts.
2. Visit the Institute of Contemporary Art.
Founded in 1936, the Institute of Contemporary Art is the place to see all forms of modern visual art. Hovering above the harbor, the cantilevered building is as much of a sight as the works inside, where the permanent collection includes masterpieces from Louise Bourgeois, Cindy Sherman, and Shepard Fairey. Entry is free on Thursday nights, plus DJ nights and other events are held frequently.
3. Eat clam chowder at Legal Sea Foods.
If it's good enough for every president since 1981, then it's good enough for you. Served at Ronald Regan's inauguration in 1981 and at every inauguration since, the clam chowder from Legal Sea Foods is must-try when you're in Boston. "If it isn't fresh, it isn't Legal" is the company slogan, but the proof is in the pudding, so go on and sample a bowl of Boston's culinary history.
4. Picnic on Boston Common.
Once a thriving cow pasture back in the 1600s, Boston Common has swapped its bovine grazers for locals and tourists, who come for the wide open green space that's ideal for picnics. The world's first public urban park, Boston Common is equally beautiful when blooming in the summer or impressing with its golden foliage come fall. Right next door, the Public Garden has more intricate landscaping to admire, plus the perfect statue of George Washington for nailing that iconic Boston selfie.
5. Watch baseball and eat hot dogs at Fenway Park.
Hot dogs and ball games go together like, well, hot dogs and ball games, and Fenway Park is the place to go to watch the sport. Love them or hate them, the Boston Red Sox are an iconic American institution, and visitors should take the opportunity to enjoy a game when in the city.
6. Check out the Boston Public Library.
Established in 1848, the Boston Public Library became the first publicly supported free municipal library in the world. Stop by for a guided tour of the impressive structure, where the grand stacks, beautiful antiques, and artwork evoke the building's history.
7. Admire the masterpieces at the Museum of Fine Arts.
If you prefer your galleries to showcase a wider range of the history of art, opt for a visit to the Museum of Fine Arts. America's fourth-largest museum, this space holds over 450,000 works from artists like Van Gogh, Cezanne, Degas, and Monet. The huge building can easily swallow up a whole day, if you're serious about seeing all of what's displayed here.
8. Drink your way through the Samuel Adams Brewery.
The cheapest way to drink in Boston is with the free tour of the Samuel Adams Brewery. Samples are handed out along the way, and if you want to show your appreciation, you can offer a $2 (or more) donation. The international beer brand still brews a large portion of its ales in the city, and a tour of the facilities is a must for any beer fan. The biggest beer lovers can even tie the knot in the brewery's beer garden on the one day a year when the company releases its limited-edition Brewlywed Ale.
Fun facts: You can also drink a Sam Adams beer at the Beantown Pub opposite the Granary Burying Ground, where Samuel Adams is buried.
9. Take a retro bowling excursion to Somerville.
Sacco's Bowl Haven in Somerville offers a stellar combination of pizza and bowling in a retro atmosphere. Not your traditional ten-pin bowling lane, Sacco's is all about the wooden balls, paper scoring, and candle pins. Located in tandem with the Flatbread Company, this spot offers a guaranteed good time — and full stomach.
10. Visit the world's largest walk-in globe.
Yes, it sounds a little obscure, but the Mapparium, the world's largest walk-in globe, is a strangely satisfying attraction to visit. Three stories high, the spherical structure features a glass bridge that runs through the middle of it, allowing visitors to see the entire globe from inside. After all, every trip needs a little quirky in it.
11. See how Paul Revere lived.
Paul Revere, the man who alerted the militiamen of the arrival of the British in 1775, a silversmith by trade, and the rumored real face of Samuel Adams beer, is an all-American patriot buried alongside other notable Bostonians in Granary Burying Ground. Revere resided in a house on 19 North Square that still stands today in all of its colonial glory. Visit to see the exhibits, marvel at the architecture, and delve a little deeper into one of the most captivating figures of the Boston Tea Party.
12. Eat Boston baked beans at an iconic restaurant.
You can chow down on tasty burgers, pizza, ribs, and donuts in plenty of American cities, so when you're in Boston, try one of the city's special delicacies: Boston baked beans. Eat the salty-sweet beans at either the Union Oyster House or Durgin-Park, two of the city's oldest, most evocative eateries.
13. Take an alternative Boston tour.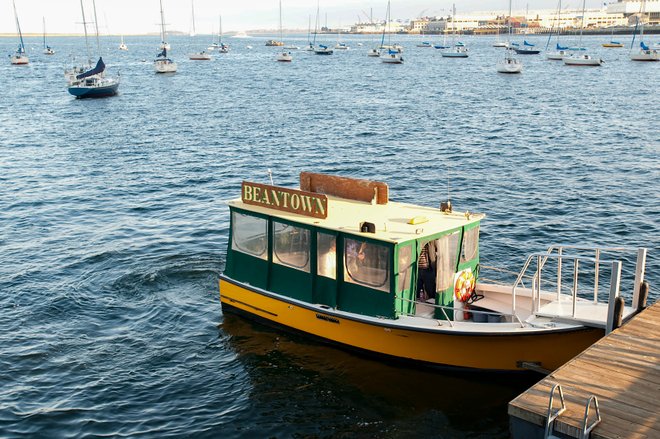 Tours on black history, Irish history, lobster boats, and the Chinatown market are just a few of the alternatives to walking the Freedom Trail. These options present a different perspective of Boston's history and its people. Plus, you might even get to incorporate an activity like lobster trawling in the lobster boat tour.
14. Hang out in Jamaica Plain.
Jamaica Plain is the place to hang out if you appreciate the trendier, artsier side of things. Full of independent shops, restaurants, and small galleries, the hip, contemporary area is unlike any other in Boston. Shop for vintage goodies at 40 South Street or Boomerangs, eat at El Oriental de Cuba, and drink Guinness at the nearly 30-year-old Brendan Behan Pub.
You'll Also Like:
All products are independently selected by our writers and editors. If you buy something through our links, Oyster may earn an affiliate commission.