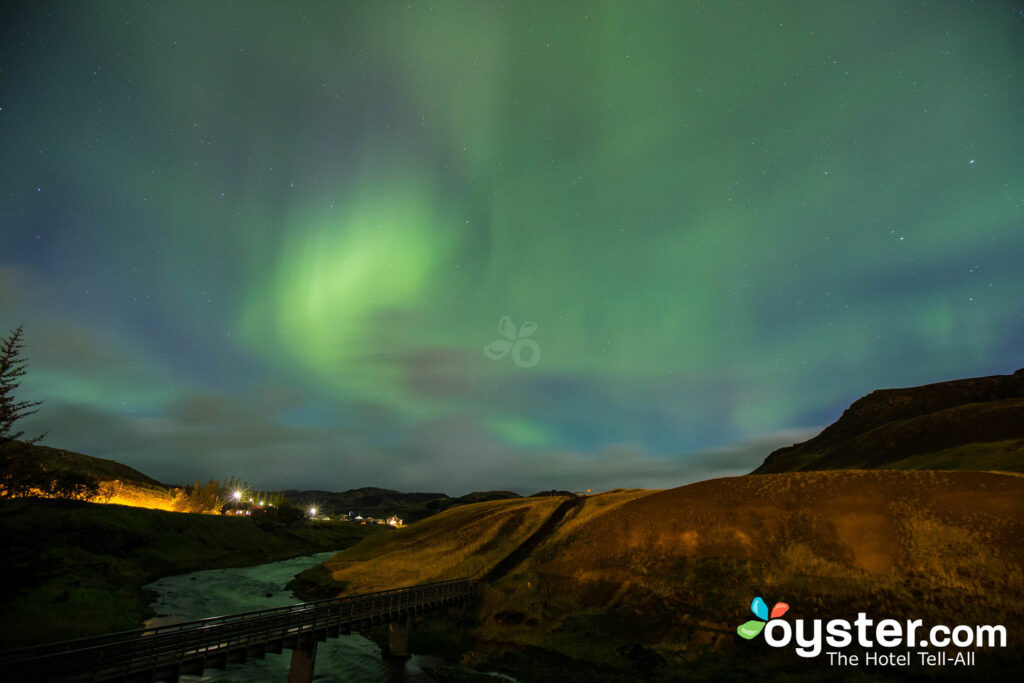 If it seems like everyone and their mom has been to Iceland these days, that's because they have. And for good reason. From the country's picture-perfect landscapes, ethereal lava fields and geothermal natural hot springs, roadside waterfalls and gushing geysers, Iceland is well deserving of its proverbial "hot spot" title.
Even Hollywood royalty has cashed in on the trend of late. Who can forget the plunging bathing suits and selfie toting Kardashian clan's unbridled dip into the Blue Lagoon or Justin Bieber's tighty-whitey polar plunge into glacial waters in his music video for "I'll Show You." Most recently, it was reported that the cast of "Game of Thrones" was seen filming on the black sand beaches in Southern Iceland.
As glam as it all sounds, this portrait of celebrity perfection wasn't always the case. In 2008 Iceland was rocked by a massive economic recession that left the country close to bankruptcy. The hits kept on coming in 2010 when a volcanic eruption of epic proportion stunted international air traffic for nearly a week.
Today that seems all but a distant memory thanks in large part to Iceland's Tourism Board, who together with Wow Air and Icelandair are offering some of the most competitive flight deals in the friendly skies. Most notably, Wow Air was the first airline to release $69 one-way transatlantic flights. Comparably, Icelandair's stopover program allows you to take a free layover in Iceland for up to seven days.
A word to the wise. While flights may be cheap, Iceland itself is not necessarily a budget-friendly destination, so it's best plan accordingly. From puffin watching in the East to strolling black beaches in the South to whale spotting in the North, there are a lot of activities to choose from, depending on your interests and the time of year. For the uninitiated, this itinerary will help get you started.
It's roughly a 40-minute drive from Keflavik International Airport (KEF) to Reykjavik, and the $22 Flybus is by far the most economical option to get to the city center. You can check the schedule here, but Flybus runs daily every 15 and 45 minutes on the hour, and for an extra $4.50 you can even arrange to have the bus drop you off directly at your hotel. If you're planning a self-guided tour of the Golden Circle (more on this later) car rentals are available at the airport and parking lots are well marked in Reykjavik. Cabs are also on hand, however, they are the most expensive option and range in price from $120–160.
Another option, depending on what time you land, is to book a transfer through The Blue Lagoon. One of Iceland's most popular attractions, you can book directly through their website or make arrangements once you land. Due to the lagoon's close proximity to KEF, this is a good way to spend a relaxing couple of hours soaking in the geothermal hot springs when you land. If you do want to spend more time here, consider staying at the Silica Hotel nearby.
Check In
There are all sorts of places to stay for every kind of traveler, from boutique properties to luxury stays to budget options. We recommend choosing a hotel near the main attractions in the city center—Laugavegur, a street known for its shopping, eateries, and pubs; Harpa Concert Hall and Convention Center; and Reykjavik Harbor—but Reykjavik is a small, walkable city, so staying a little farther out shouldn't be any problem.
Explore Reykjavik
Home to 120,000 people (roughly two-thirds of country's total population), Iceland's capital city of Reykjavik is not only one of the smallest capital's in the world, but it's also one of the most charming. Downtown Reykjavik is where most of the shops, bars, restaurants, and boutiques are concentrated, mainly along Laugavegur and Skólavörðustígur streets.
A great place to start your walk is around beautiful Reykjavik harbor, once the lifeblood of fishing and commerce in Iceland. Make your way towards City Hall. Conveniently located downtown on Reykjavik Harbor, City Hall features a small art gallery and information desk, as well as a 3D map of Iceland that features geographical points of interest, including the locations of both active and dormant volcanoes, mountains, craters, fjords, and glaciers.
Lunch at Loki
For a truly local Icelandic lunch experience, head to . Located on the top of Lokastígur street, directly across from Hallgrímskirkja cathedral, Loki's locally baked rye bread, jams and cakes along with their traditional meat soup and Icelandic plate options are some of the best in town.
Take Me to Church
Perhaps Reykjavik's most notable landmark, Hallgrímskirkja Church is a national monument dedicated to the most renowned poet of Iceland, Hallgrimur Petursson. Among the church's most notable features is the 50-foot tall pipe organ designed and constructed by German organ builder Johannes Klais. Climb to the top or take the elevator up for amazing views of the city from the church's observation tower.
Dinner
Dinner at is the hottest ticket in town of late. Recently earning Iceland its first Michelin star, the restaurant serves such popular dishes as the arctic char, langoustine, and organic lamb and pork belly.
Bar Hopping
Reykjavik's nightlife is not to be missed. Located along a side street off the main drag, is one of the best places to get a bit of local flavor. Most recognizable by the London Underground logo adorning its red façade, this bar is as dark and cozy as it is casual. Word to the wise: This is most definitely a beer bar, and while there are cocktails on offer, the menu is limited.
If you're looking to kick things up a notch, is one of the trendiest spots to see and be seen in Reykjavik, with an assortment of high-priced cocktails, whiskeys, and beer. There is a dress code to imbibe here.
End your night like a local at . Literally translated to Icelandic Bar, this bona fide local spot offers a wide variety of locally produced beers including Gull, Einstok, Kaldi and Borg, as well as a curated menu of local offerings including traditional meat soup, fin whale, and fermented shark.
Late night snacks
Something of a right of passage when traveling to Iceland are the famous Baejarins Bezty Pylsur hot dogs. Be sure to order "the works," which includes a sweet yellow mustard, raw and fried onions, and a brownish mayonnaise-based remoulade with sweet relish.
Day 2: Road Trip Around The Golden Circle
There's no better way to see and experience some of the best Iceland has to offer than taking a drive through Iceland's Golden Circle. While you could easily spend two of three days doing this trek alone, it is very doable to see some of Iceland's greatest hits including the black sand beaches of Vik, Gullfoss waterfall and the hot springs and fumaroles in Pingvellir National Park in a single day. Word to the wise, there's a lot to discover along this route and driving times may vary depending on weather conditions.
Seljalandsfoss and Skógafoss Waterfalls
With hundreds of waterfalls scattered across the country, Skogafoss and Seljalandsfoss are not only two of the most beautiful waterfalls in Iceland, but they are also both conveniently located just off the Ring Road. While some of you might recognize Seljalandsfoss from Justin Bieber's music video for "I'll Show You," what really make it so unique is that you can actually walk in a cave behind the falls. It's worth the vantage point, but be prepared to get wet, especially if the winds pick up. Continuing along the Ring Road, you will probably see the hoards of people before you see Skógafoss waterfall itself. It's one of the most visited waterfalls in Iceland.
Black Sand Beach in Vik
With miles upon miles of beautiful black sand, jagged coastal cliffs, and remarkable rock formations in the middle of piercing blue ocean, Reynisfjara black sand beach is truly something that needs to be seen to be believed. Located on the southernmost point of Iceland just outside of Vik, Reynisfjara is as beautiful as it is windy, so be prepared with an extra set of layers to stay warm.
Lunch in Vik
There's not a wide variety of restaurants to choose from in Vik. In fact, the restaurants you will find will mostly be filled with other visitors like yourself. Sudur Vik is a good option if you're eager to sit and take a breather. Don't miss the soup of the day with homemade bread and pan fried local char served with sunflower seeds and potatoes.
Drive to Gullfoss Waterfall
The drive from Vik to Gullfoss waterfall is just under 2.5 hours. If you do want to stop, or if you're eager to learn a little bit more about Iceland's agriculture, it's well worth a visit to Solheimar Ecovillage along the way.
Gullfoss, or Golden Falls, is not only the largest waterfall in Iceland, it's one of the most impressive waterfalls in the world. With thousands of tons of icy water thundering into the deep canyon below, it is not to be missed on your Golden Circle drive.
Þingvellir National Park
Designated a UNESCO World Heritage Site, with numerous hot springs, fumaroles, and geysers, Þingvellir National Park is not only a remarkable geological site, it's a historic site as well. It's home to the oldest existing parliament in the world dating back to the year 930. From here, it's only a short drive to the geyser area, where you can see Iceland's famous Strokkur geyser spew out a 30-foot tower of water.
Check in
Not far from Thingvellir National Park and nestled among lava fields and a now dormant volcano, Ion Adventure Hotel is the perfect place to post up after a long day of sightseeing. Take a much-deserved dip in the hotel's outdoor pool followed by a steam and possibly indulge in a spa treatment at the aptly named Lava Spa.
Dinner
Have dinner at , which serves up a nice variety of new Nordic cuisine (try the lazed lamb shank, cauliflower, grilled scallions, mustard glaze, or the steamed cod served with cabbage, roasted onions and creamy mustard sauce).
After your meal, grab a drink or two at the Northern Lights bar to round out the day.
Day 3: Outdoor Adventures and Spas
Check Out
From Ion there are a number of activities at your fingertips. One of the most unique you can choose from in Iceland is snorkeling the Silfra fissure. Float through four distinct areas including Big Crack, Silfra Hall, Þingvallavatn, and Silfra Cathedral. Tours are offered year round.
If you'd prefer to stay on dry(ish) land, glacier treks and ice caves are one of the most interesting ways to experience the true meaning of Iceland. It's highly advised to book these activities in advance of your travels, however, it is possible to book directly through the hotel as well.
Spa Time
You've had an active morning and an afternoon at the spa is well deserved. Laugarvatn Fontana Geothermal Baths is the perfect place to spend the day soaking in one of Iceland's most picturesque hot springs. Just note that you should bring a bathing suit and towel, otherwise you will have to pay to rent them.
Lunch at the world's only geothermal bakery is an experience you definitely don't want to miss. This area is rife with hot springs, and you can even try bread that's been baked underground on property at 212 degrees Fahrenheit.
If You Have a Few Extra Days…
Day 4–5: Head West
Home to Viðelmir cave (the largest lava tube in Iceland), Kirkjufell (or Church Mountain), and Langjökull (Europe's second largest glacier where, as of 2015, visitors can see and explore the glacier from the inside through a series of man-made ice cave and tunnels), Iceland's western region has a lot to see.
One not to be missed experience is a boat ride out to Breiðafjörður bay between Snæfellsnes peninsula and the Westfjords. While puffin colonies are most prominent in southern parts of Iceland, this location is home to its own population of puffins, and the scenery is amazing.
Day 6–7: Go North
Dubbed the capital of the Shining North, Akureyri is the biggest town outside of Reykjavik. A good base for exploring north Iceland, you can go whale watching, relax in geothermal pools, or play on the northernmost 18-hole golf course in the world. Less than an hour's drive will take visitors to Goðafoss waterfall, Lake Mývatn, the Nature Baths, and the islands of Hrísey and Grímsey.
NOW WATCH: 6 Things to Know Before Visiting Iceland's Blue Lagoon
https://www.youtube.com/watch?v=kG0DQG9U0Ss
You'll Also Like:
All products are independently selected by our writers and editors. If you buy something through our links, Oyster may earn an affiliate commission.