Rooftop infinity pools are a definitely thing among Bangkok's swankiest hotels -- which is no surprise, as temperatures here surge upward of 80 degrees Fahrenheit year-round. Staying at a property where you can take a dip is a major perk, but there are pools...and then there are pools. Many have posh sundecks, swim-up cocktail bars, and sweeping views of the skyline at their edge. We sussed out the best of the best, from expansive lap pools to intimate, lagoon-style oases that will beckon you to laze away the afternoon.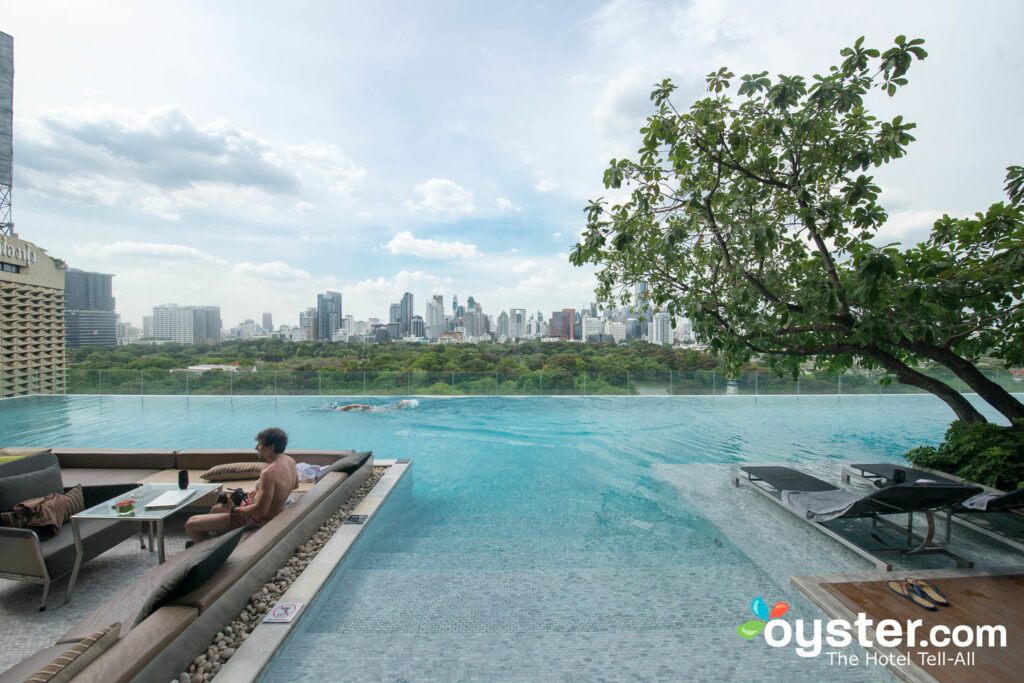 Fashion icon Christian Lacroix designed the interiors of SO Sofitel Bangkok, and the hotel's 100-foot-long infinity pool is equally fabulous. It overlooks picturesque Lumpini Park from the 10th floor, and it has a hot tub, in-pool loungers, and poolside drink and snack service. The hotel tends to attract the party set, so naturally there's thumping music piped in and a rainbow of LED lights illuminating the water at night. There's also an adjoining deck with tables and banquettes where groups gather to eat and chit-chat in between soaks.
The Continent Hotel Bangkok's infinity pool wraps around the building's 37th floor and offers spectacular views of the city's skyline. At one end, H2O serves cocktails at a swim-up bar, and inside, eats like burgers and club sandwiches are available until late in the evening after the pool closes. Cushioned, cobalt-blue lounge chairs are on the opposite side, along with private cabana-style sunbeds set on a mini lawn. White stones edging the pool's perimeter pulls together the upscale look.
The 14th-floor infinity pool at Eastin Grand Hotel Sathorn is ideal for swimming laps, as it spans almost 100 feet. There's no plexiglass partition, so you can wade right up to the edge to take in views of surrounding skyscrapers. A row of black pod-like sunbeds are set between the pool and the minimalist-chic bar and lounge, with clusters of low tables and sofas. There's a deck with lounge chairs at the shallow end, and scattered palm trees and low shrubs add greenery to the sleek, urban setting.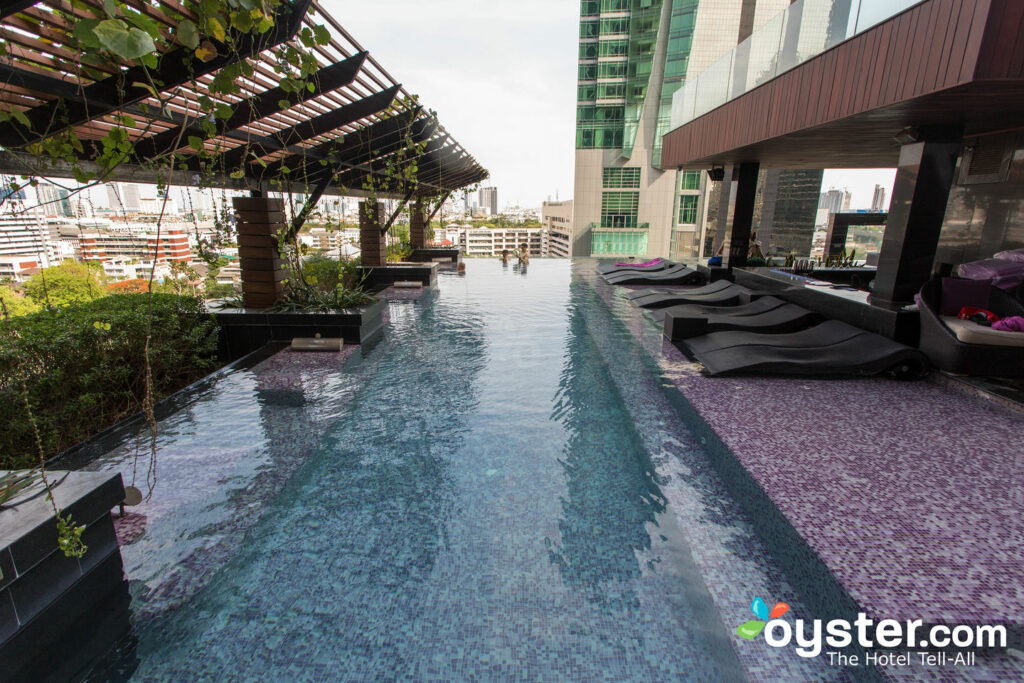 Mode Sathorn Hotel's infinity pool wins the prize in our roundup for design and style. Mini tiles in range of serene aqua and purple hues line its bottom, curvaceous ebony loungers are set in the water, and there's a long, pretty trellis covered with leafy vines. Tall hedges enclose patches of grass and decks to create private spaces, and flowering trees shade the patio and gardens, where guests lounge on circular wicker sunbeds. An attractive, open-air bar sheathed in black marble anchors the space, and there are upscale outdoor rainfall showers. But it's the posh details, like hot-pink towels and a row of trendy magazines for the taking, that make this pool a standout.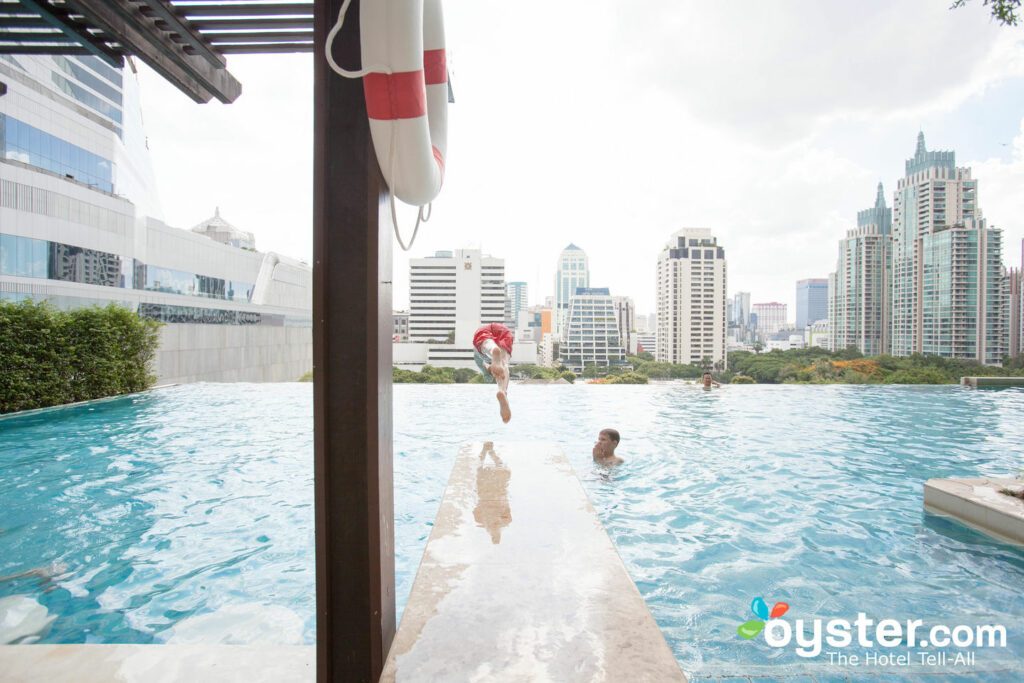 What's great about the infinity pool at Sivatel Bangkok is that at nearly 75 feet long, it's perfect for swimming laps — and it has relaxing areas with sun loungers in the water. There are plenty of deck chairs on the surrounding patio, as well as a poolside bar for drinks and snacks, and inflatable rafts are available to borrow. Sections are separated by a line of fairly large trees on their own grassy islands. At night, they're festooned with twinkling fairy lights, and the water looks like a sheet of glass against the city's colorful skyscrapers.
You'll Also Like:
All products are independently selected by our writers and editors. If you buy something through our links, Oyster may earn an affiliate commission.