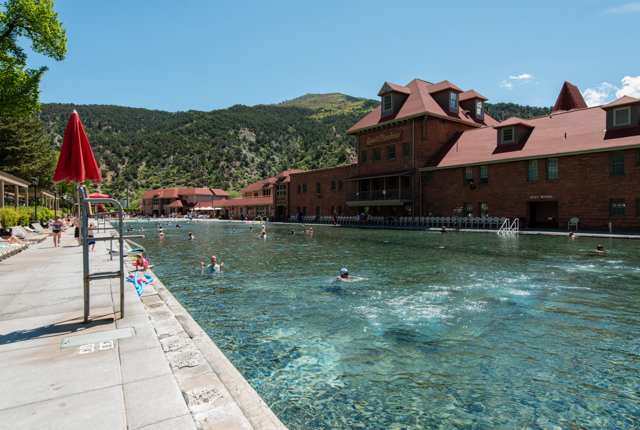 While everyone loves a swimming pool, there's nothing more galling than trying to enjoy a relaxing soak elbow-to-elbow with a swarm of other bathers. But dive into one of these monster-size pools and, with so much space to yourself, you're more likely to lose your way than lose your temper.
Citystars Sharm El Sheikh, Egypt
Opened in 2015, the Citystars Sharm El Sheikh lagoon is officially the largest man-made body of water in the world. And beyond its size, this vast pool is remarkable for its location in the middle of the Sinai desert — three miles inland from the famous Sharm El Sheikh resort town. The saltwater supply comes from otherwise unusable desert aquifers, and takes several weeks to fill up. The $5.5 million beach-fringed lagoon is part of an exclusive gated community, and while it's declared at 30.9 acres, Guinness World Records' official measurement puts it at 23.9 acres — still comfortably taking the crown from the next biggest pool.
At an eye-popping 20 acres, the pool at San Alfonso del Mar is now the second-largest in the world. It was the official world-record holder from 2007. Created by the same company as the Citystars Sharm El Sheikh (Crystal Lagoons), it holds a whopping 66 million gallons of filtered sea water and spans the length of 20 Olympic-size swimming pools. Part of the popular Chilean resort of Algarrobo, the lagoon skirts a natural beach overlooking the Pacific Ocean, while maintaining a water temperature that's significantly warmer than the sea.
MahaSamutr, Thailand
This 17-acre pool was completed in 2015 as the shimmering centerpiece of a $450-million luxury villa and country club complex — another Crystal Lagoons project. MahaSamutr means "The Ocean" and its lagoon mimics the picturesque local sandy beaches of Hua Hin. Although not particularly deep at eight feet, it offers a range of water sports, including paddleboarding, kayaking, and sailing.
Las Brisas, Chile
https://www.instagram.com/p/BN2s7MCgonc/
For another colossal pool overlooking the Pacific Ocean, head to Las Brisas. Measuring around five acres, it is certainly dwarfed by some of the larger pools on this list, but is still huge by any normal standards. Its sparkling, clear saltwater makes for a stunning spot to swim, and is part of a high-end condominium and golf course complex.
Laguna Bahía, Chile
https://www.instagram.com/p/BMMO8tVDq87/
At approximately 3.5 acres, the pool at Laguna Bahía is unlikely to ever feel crowded. In fact, there's plenty of room for water sports, including windsurfing, without having to set foot outside this vacation complex. There's also a separate shallow section for kids, and a beach where visitors can relax on golden sand under palm trees.
Dreamworld Fun Lagoon, Pakistan
At approximately two acres, the Dreamworld Fun Lagoon can claim the title of the largest freshwater swimming pool in the world. It opened in 2008 on the edge of Pakistan's largest city, Karachi, and contains approximately two million gallons of water drawn from local wells. Part of the sprawling Dreamworld theme park, this pool also features waterslides and an artificial sea with waves up to four feet.
Piscine Alfred Nakache, France
Named after a famous Olympic swimmer, Piscine Alfred Nakache is situated on an island in the middle of the Garonne River in Toulouse. There's fancy gimmickry here — an approximately 1.8-acre body of water that's open to the public and hugely popular in the summer. Built in the 1930s, it also qualifies as one of the world's oldest, still-functioning pools, and features some fine Art Deco architecture.
Hansen Dam Recreation Center, California
Part of the Hansen Dam Recreation Area, this huge public pool is located in the San Fernando Valley region of Los Angeles. The pool has a zero-entry ramp, two waterslides, and a depth of just five feet, and its one-and-a-half acres of water can hold nearly 3,000 bathers. There's also a neighboring recreation lake for boating and fishing, plus grassy areas for picnicking and barbecues.
As well as being one of the largest pools in the world, this body of water in Glenwood Springs, Colorado, also qualifies as the world's biggest hot springs pool. Dating back to the end of the 19th century, it holds mineral-infused waters that have been bubbling up from underground for millions of years. Containing more than a million gallons of water, the pool covers over 30,000 square feet. The water is also known for its therapeutic properties and kept at a balmy 90 degrees Fahrenheit.
You'll Also Like:
All products are independently selected by our writers and editors. If you buy something through our links, Oyster may earn an affiliate commission.