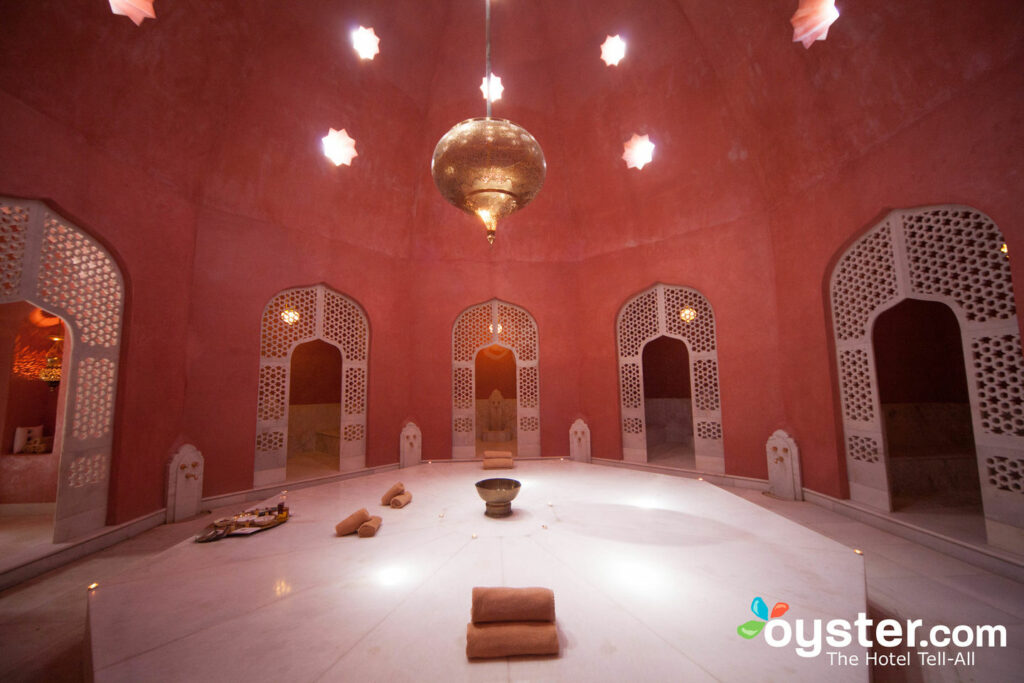 Visiting the hammam is part of daily life in the Islamic world, as it's a place to perform purifying ablutions prior to prayer. But they're also a central gathering spot for socializing within a community. It's no wonder, then, that a city like Marrakech should have some of the world's most lavish hammams solely for the purpose of pampering. If you've never been, it's good to know the basics in advance: Expect to strip down to your skivvies -- or go full commando -- and sit on a hot marble bench in a steam-filled chamber for about as long as you can stand it. Then, there's a vigorous full-body scrub with black olive-oil soap and a kessa mitt, followed by a bracing douse of ice cold water via plunge pool or bucket. Spas add an assortment of high-end treatments and extras, like mud wraps and mint tea and mini pastries served in extravagant lounges. Herewith, our picks for hotels where you're sure to have an over-the-top hammam experience.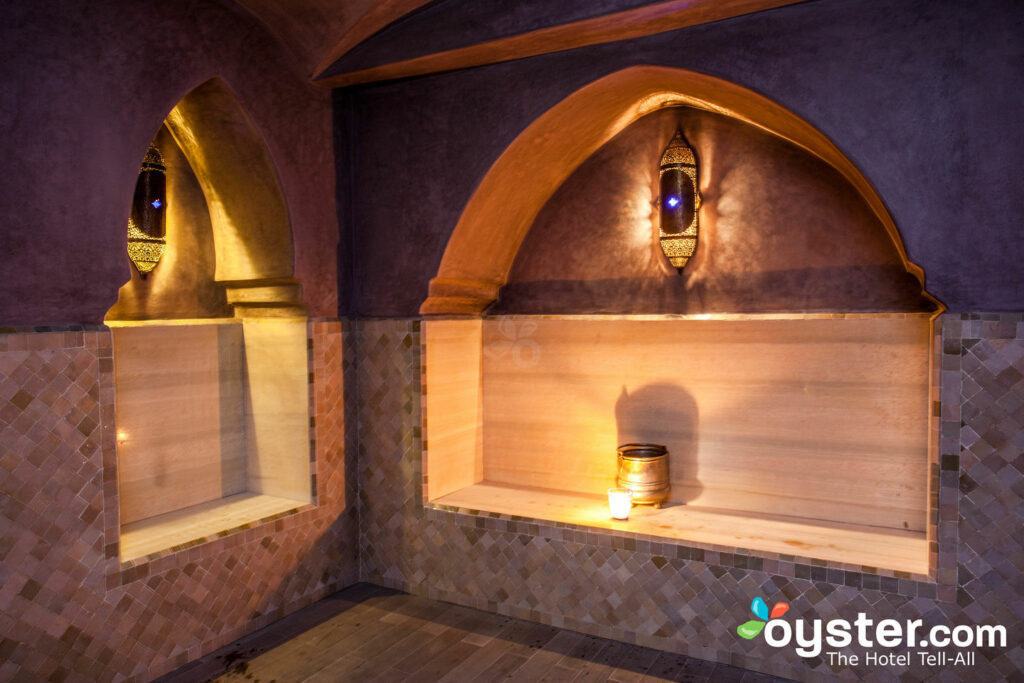 The Pearl Marrakech is a posh boutique hotel located in the quiet and upscale residential neighborhood of Hivernage. The property's hammam is housed inside the spa, in a space with a small central plunge pool that's illuminated with ruby and emerald green spotlights. Dark wood floors, lanterns on walls with glowing purple gemstones, and scattered votive candles intensify the dramatic effect. The hammam has traditional Moroccan arches with inset benches and attractive lavender tiling. Deep cleansing skin treatments followed by body scrubs are standard, with a variety of massages and mud or clay body wraps as add-ons. Other spa amenities include an 82-foot-long heated indoor swimming pool and 13 treatment cabins, plus a sauna and a Jacuzzi.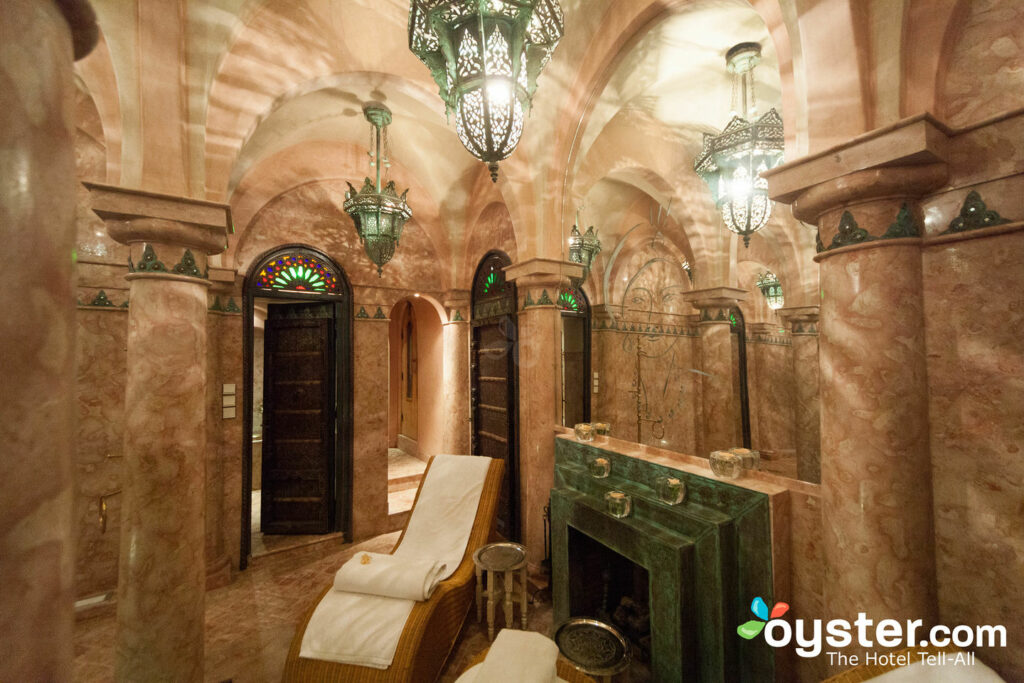 This four-and-a-half-pearl hotel is housed in a compound of five riads, and boasts two hammams in its spa. They're done in pretty pink marble, with decorative scrollwork and tiling above wash basin fountains, and handsome painted wood doors with elaborate hardware. The central lounge is an opulent space worthy of Moroccan royalty, with vaulted ceilings and marble pillars, stunning teardrop lanterns, a central plunge pool surrounded by curvaceous loungers, and a green marble fireplace. La Sultana Marrakech's spa has a hot tub, sauna, balneotherapy baths, open-air massage cabins, and a full menu of treatments and services.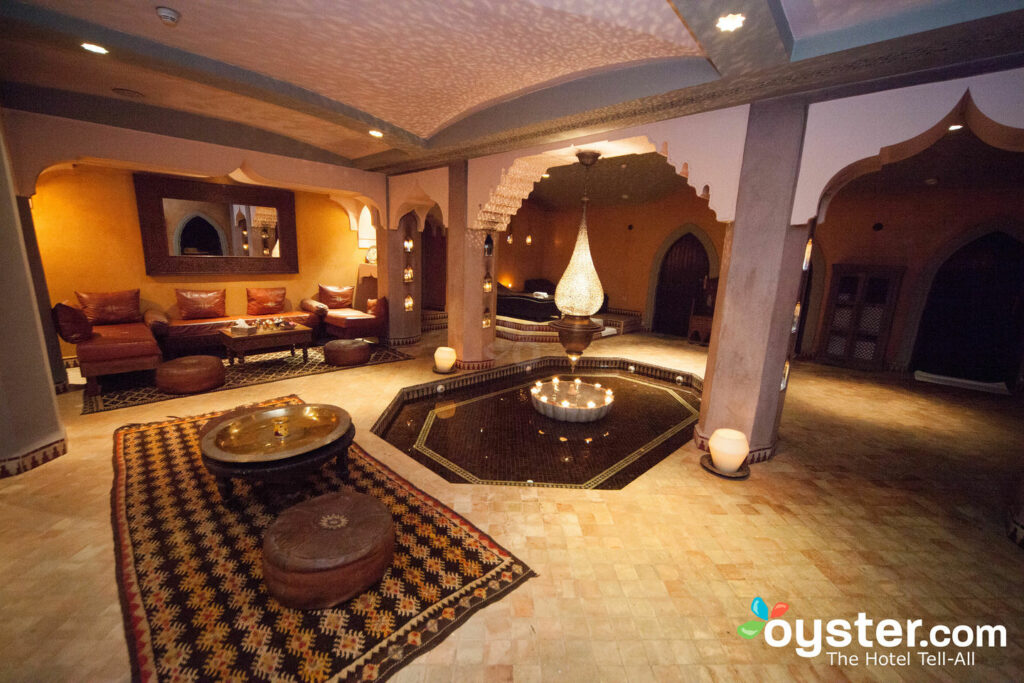 La Maison Arabe also has two hammams, connected to the spa's central lounge. The dark and tranquil chamber has plush seating arranged around a decorative pool, and a teardrop-style lantern hanging above handmade metalwork. Scattered votives cast a golden glow, creating an alluring and soothing ambience. Hammams here aren't communal — they're booked for private sessions that can be paired with spa treatments — and feature elegant sink fountains with inlaid emerald green and maroon tile.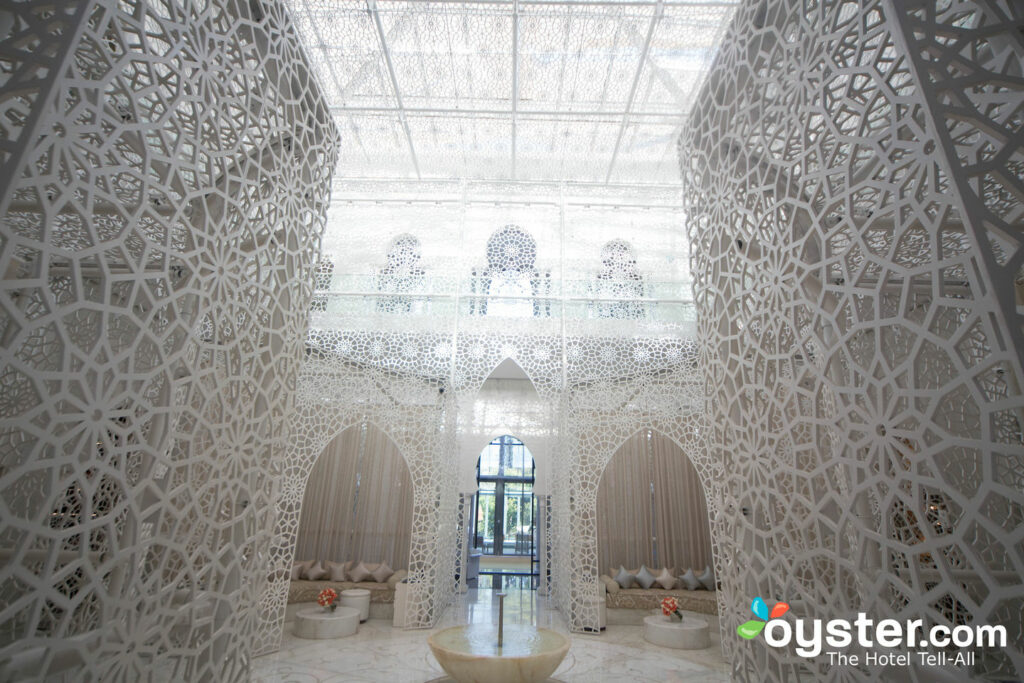 The setting for the hammam and spa experience at Royal Mansour Marrakech is truly heavenly, with ethereal white latticework in the soaring central atrium. The intimate, light-pink marble hammam accommodates six people, and there are three treatments, all of which include a full body scrub using a traditional kessa mitt and black soap. There are also private hammams in each of the three spa suites, which include terraces and plunge pools. Le Spa Royal Mansour has an indoor heated pool, sauna, and fitness center. The hammam is included in all spa services, and guests are treated to mini traditional pastries and Moroccan tea.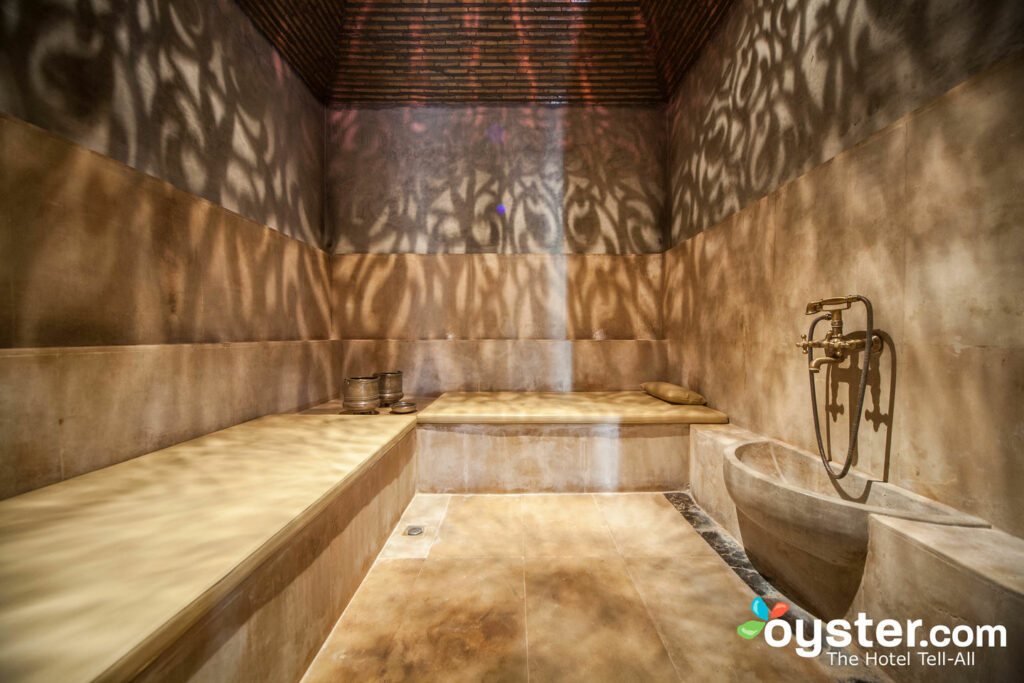 Palais Namaskar has a minimalist-chic take on a traditional hammam, with upscale details like a contrasting dark marble border on the floor and a modern vaulted ceiling with a single, shimmering pendant that resembles a refined version of a disco ball. It casts a dizzying light pattern on walls, and there's a simple basin sink fountain with brass hardware. The hammam is housed in an elegant spa, with a relaxation room that mixes Moroccan architecture and Victorian decor. The spa has four private suites, one of which has its own private hammam, with a fireplace and a Jacuzzi.
You'll Also Like:
All products are independently selected by our writers and editors. If you buy something through our links, Oyster may earn an affiliate commission.