The tiny island nation of Mauritius lies in the southern Indian Ocean, about 700 miles to the east of Madagascar and more than 1,000 miles south of the Seychelles. It's a long way from anywhere (connecting flights through Dubai and Paris take about six and 11 hours, respectively), but those who make the journey are rewarded with beautiful reef-fringed beaches, turquoise lagoons, boundless water activities, vibrant villages with local markets, and hiking trails through rainforests and past waterfalls. There's even some nightlife to be had, if you know where to look. In all, the island is heaven for honeymooners, and also one of the . Read on for our list of the best things to do in Mauritius.
Enjoy the Lagoon Beaches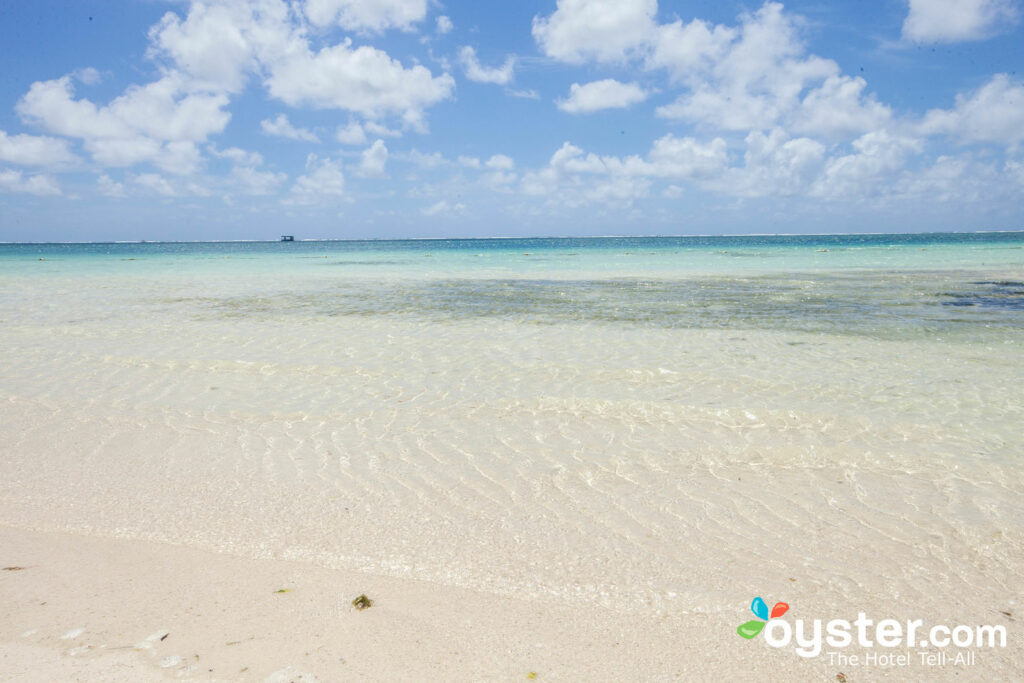 Nearly 100 miles of picturesque beach and calm lagoon surround Mauritius. The island's shoreline has crystal-clear shallow water protected by barrier reefs, making it . With this territory comes a bevy of water activities for all ages, from diving, snorkeling, and kayaking to catamaran sailing and submarine safaris. A big advantage of staying at a beachfront hotel is that most offer free non-motorized water-sports equipment, like pedalos and stand-up paddleboards, and even free daily glass-bottom boat trips to snorkeling sites. (To protect the reefs, Jet Skis are banned, and water-skiing isn't particularly common.) Many upscale beach hotels offer water excursions like deep-sea fishing trips, parasailing, and catamaran cruises for a fee.
All beaches in Mauritius are public, and travelers staying at hotels without free water sports can find rental equipment and boat-tour operators on popular beaches. Blue Bay Marine Park, in the southeast near the airport, is one of the island's top snorkeling destinations, and the strong southeast winds of La Cote Sauvage, Mauritius' "wild" east coast, make it one of the world's best spots for wind-surfing. Swimming with the dolphins in the southwest (especially in the village of Tamarin) is a favorite activity, but if you choose to do this, please research outfitters beforehand. Some tour companies get unreasonably close to the animals. Also be aware that the sand on Mauritius beaches often has a gravelly texture on account of dried broken-up coral. Water shoes are a good idea.
Hike and Kite-Surf on Le Morne Peninsula
A UNESCO World Heritage Site at the southwesternmost corner of the island, Le Morne Brabant is a rugged mass of volcanic rock jutting up 1,800 feet out of the Indian Ocean. The craggy mountain is a must for hard-core hikers, whose steep journey is paid off with extraordinary views of the land and lagoon from the summit. Down on sea level, Le Morne's two-and-a-half miles of empty, pristine beaches form a haven for newbie and expert kite-surfers alike. One Eye at Le Morne Point is considered one of the world's premier kite-surfing sites.
Explore Black River Gorges National Park
This 26-square-mile chunk of misty mountain terrain is a designated safe haven for Mauritius' endemic plants, mammals, and birds, including the flying fox and the extremely rare pink pigeon. Hiking trails lead through rainforest, shrubland, and dry forest to dramatic lookout points over deep, jade-colored ravines and waterfalls shooting off of vertical cliffs. After a Black River trek, refuel at one of the many roadside foodie spots in the mountain town of Chamarel. We recommend the family-run, inexpensive Creole restaurant Palais de Barbizon; you might have to wait a while for a parking spot, but the wild boar, stewed vegetables, banana flambe, and rum punch are worth it.
See the Sites of Chamarel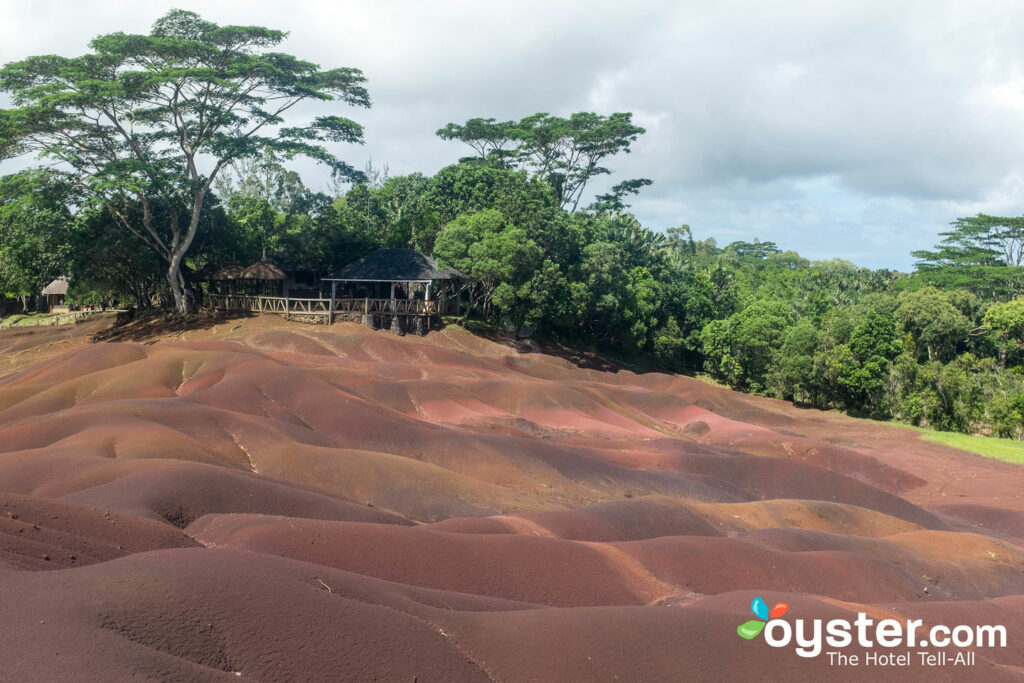 While in Chamarel, stop by the spectacular 312-foot Chameral Falls en route to the famous Seven Colored Earth. Don't walk into the latter imagining a vast sweep of dazzling rainbow colors. Instead, expect a somewhat small, enclosed tract of surreal-looking sand dunes. Though it's compact and not as vivid as it is marketed (especially on cloudy days), this roadside attraction is very much worth the detour and small admission fee. The geological phenomenon consists of trenches of volcanic rock that has turned to clay in seven distinct shades of brown, red, purple, yellow, blue, green, and violet. The Ebony Forest Reserve features hiking trails through restored indigenous forest, including canopy walkways and a ridgeline trail with jaw-dropping views of Le Morne and the bay.
Wander Through Sir Seewoosagur Ramgoolam Botanic Garden
SSR Botanic Garden has the distinction of being the oldest botanical garden in the Southern hemisphere. It began in the 1730s, when the French governor Mahe de Labourdonnais (Mauritius was then known as Isle de France) started a vegetable patch for his residence, Mon Plaisir Château, a double-wrapped-porch manor house and masterpiece of tropical colonial architecture that still stands to this day. Whereas most botanical gardens are manicured to perfection, SSR Botanic Garden has an alluringly wild, slightly overgrown feel. It's home to endemic and imported tropical plants, including sugar canes, numerous varieties of palms, ebony and fish poison trees, and the giant waterlilies that have become iconic. Keep an eye out for the deer, giant tortoises, and several species of birds that inhabit the garden, plus the midcentury replica of an oxen-drawn sugar mill, which were once common on the island. We recommend hiring one of the guides hanging around the main gate for a one-on-one tour.
Tour a Historic Sugar Plantation
Uninhabited when it was discovered by Arab traders in the late 900s, Mauritius was invaded and colonized over the centuries by the Dutch, British, and French. A sugar-based economy took off in the 1700s, with enslaved people from mostly India working the estates. To this day, the island remains carpeted in emerald green fields of sugarcane, sprinkled with old lime kilns, smokestacks, and other relics from its thriving-sugar-colony past. An 18th-century sugar factory-turned-museum, L'Aventure du Sucre, gives visitors a deeper understanding with the island's relationship with the crop. The hands-on museum looks at the island's history, slave trade, and sugar manufacturing through interactive displays and vintage machinery. Tours include sugar tastings, as well as honey, jam, and rum samples.
Party and Shop in Grand Baie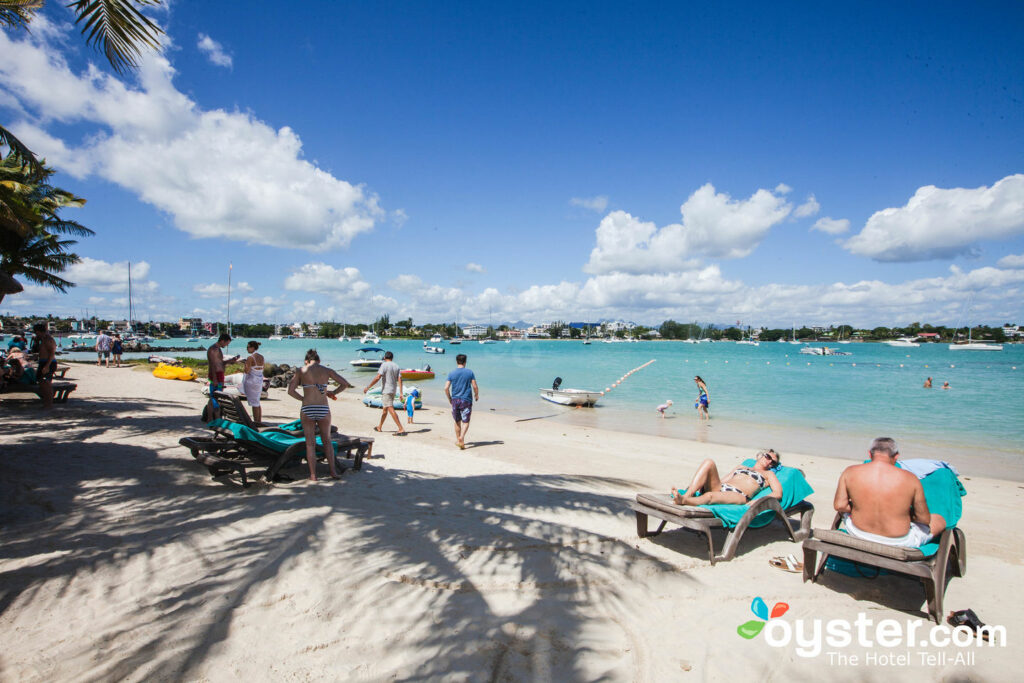 Whereas most of Mauritius' coastline is dreamy lagoon-scapes occasionally interrupted by lively beach towns (like Trou aux Biches and Flic En Flac), Grand Baie in the north is a bustling nerve center for tourists. Here, the main coastal road is choked with restaurants, boat-tour operators, diving centers, tattoo parlors, bars, and nightclubs (the Banana Beach Club is a local favorite). Motorbikes weave through the crawling cars, trucks, and buses, and vendors park on the sidewalk, selling Chinese dumplings and dholl puri (grilled pancakes filled with curries and veggies).
Shopping options range from a waterfront village with designer and duty-free boutiques to generic malls to the touristy Grand Baie Bazaar, where you can buy everything from straw hats to fresh vanilla. Le Rendez-Vous, in the La Croisette mall, sells 100 percent Mauritian-made products, like banjara bags, clothing, and toys. This is about as developed as Mauritius gets, but it still has the feel of a rowdy beach town and not a major metropolis. Travelers wanting to stay in a quieter section of Grand Baie should look at hotels in the charming Pointe aux Canonniers neighborhood, located on the same peninsula as the sweeping, sandy arc that is Mont Choisy public beach.
Snap a Shot of Notre-Dame Auxiliatrice
Notre-Dame Auxiliatrice de Cap Malheureux is one of the most photographed sites in Mauritius, and it's easy to see why. The red-roofed seaside chapel and bell tower is located at the very northernmost tip of the island, in the traditional fishing village of Cap Malheureux. The site affords spectacular views of the sea and Coin de Mire, a majestic rocky island to the north. The church is set right along the main road that rings the coast, and is easily accessible by car or public bus.
Stop By Port Louis
For a peek into Mauritius city life, visit the capital of Port Louis for a half-day excursion (four hours suits most travelers, and the town shuts down after dark). The historic Caudan waterfront offers beautiful views of the port and is home to the Blue Penny Museum, which chronicles the island's three distinct colonial periods. In town, countless street-food stands peddle samosas, chicken biryani, roti chaud (curry-filled flatbread), and gateaux piments (fried chili cakes). Weaving through the colorful, colonial-era Chinatown ward, visitors will find Sino-Mauritian snacks, baked goods, and herbal tinctures. In the multi-floor, Victorian-era Central Market and the jumble of shops in its vicinity, shoppers and souvenir hunters can buy fruits and vegetables, spices and teas, and textiles and chintzy keepsakes. Speaking of markets, the twice-a-week market in Flacq on the east coast and the Monday bazaar in Mahebourg (near the airport) are essential shopping and eating destinations.
You'll Also Love:
All products are independently selected by our writers and editors. If you buy something through our links, Oyster may earn an affiliate commission.