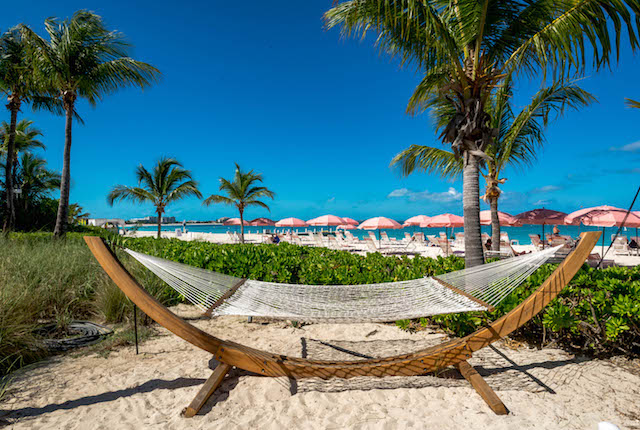 Many people who visit Turks and Caicos want to do little more than walk on the beach, lounge by the pool, go snorkeling, and eat at the resort's buffet. And while that's a perfectly acceptable way to spend an island vacation, we'd be remiss if we didn't point out that there's much more to do and see on the islands. Turks and Caicos consists of seven main islands and about 40 small islands and uninhabited cays. Providenciales and Grand Turk hold the majority of the country's population. Both of these islands host nearly all of the infrastructure and tourism, but almost the entire country is loaded with fun, if you know where to look. Check out our list of the best unexpected things to do in Turks and Caicos and start your beach vacation the right way.
1. Fly over the ocean.
Maybe you've seen pictures of celebrities jumping (or flying) on the Flyboard trend, but you're still not sure what it is. Essentially, it's a hydrolifting device that supplies water propulsion to shoot the Flyboard, which the rider is attached to by boots, into the air and over the ocean. The board is connected to a watercraft by a long hose. Feeling brave enough to try it? Turks and Caicos Flyboard offers lessons for folks ages 13 to 70, and has group rates. It's located on Blue Haven Marina in Providenciales.
2. Frolic with a pup on the beach.
You might hear the word "potcake" around the islands. The term refers both to a mixed-breed dog and the mixture of rice and peas that residents traditionally fed them. Stray dogs are a common sad sight, but there's something you can do to help. Potcake Place, in Saltmills Plaza in the Grace Bay area of Providenciales, offers a fun program that allows tourists to take a needy pup to the beach for some TLC. Staff provides visitors with leashes and treats. Even better, the dogs are available for adoption in the United States and Canada, if you can't part with your temporary pooch. How's that for a souvenir of a lifetime?
3. Watch for baby whales.
January, February, March, and April are prime months for spotting humpback whales, which migrate from the northern Atlantic to warmer Caribbean waters, where they often give birth — giving spectators an opportunity to see whale calves. The best place in the country for witnessing these magnificent creatures is in the Turks Island Passage near Grand Turk and Salt Cay. Accessible via ferry or prop planes, Salt Cay is tough to access, but the trek is worth it. Depending on the conditions, and the whales, snorkeling may be a possibility, too. Crystal Seas Adventures prides itself on using small boats and respecting marine life.
4. Splash out at a water park.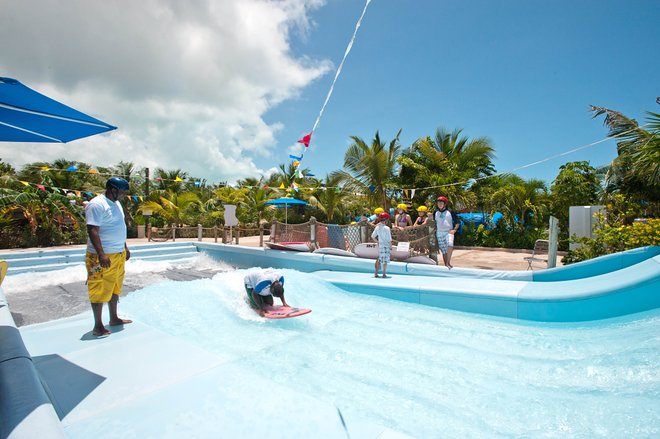 Beaches Turks and Caicos Resort Villages and Spa is one of the most popular all-inclusive resorts for families — but prices are high. If your family really loves water parks and wants to visit the resort's fully loaded Pirate Island Waterpark, there's a work-around: the day pass. Prices for adults aren't cheap, but the pass does come with all-inclusive drinks and food, plus it's still cheaper than booking a room. Kids' passes are much more affordable. The water park features a surf simulator, several waterslides, a pirate ship, lazy river, and tons of interactive ways to get wet with water cranks and cannons. Food options include a '50s-style diner, ice cream machine, and swim-up bar.
5. Visit a conch farm (and eat conch).
Caicos Conch Farm (located at Heaving Down Rock, at the end of the Leeward Highway, on the island of Providenciales) is one of the few conch farms in the world. It allows visitors to learn how Caribbean queen conchs are raised, from veliger to adult. The small snail is an incredibly popular and delicious part of the Caribbean diet, and you'll see it on menus throughout Turks and Caicos, prepared fried and fresh. The farm visit includes a biology lesson, hands-on learning, and some great photo ops. You'll also get a chance to shop for conch pearls. Pro tip: It's pronounced "conk."
You'll Also Like:
All products are independently selected by our writers and editors. If you buy something through our links, Oyster may earn an affiliate commission.