Traveling with kids can be tricky, but factor in the excitement of the holidays and the experience can be even tougher. Of course, the benefits of vacationing with the family far outweigh the potential turbulence and tantrums, but good preparation is key, especially when leaving behind your holiday traditions for something new. To help you have a stress-free vacation, here are nine tips for traveling with kids during the holidays. And if you're searching for some inspiration on where to go, check out our list of the best holiday destinations for families.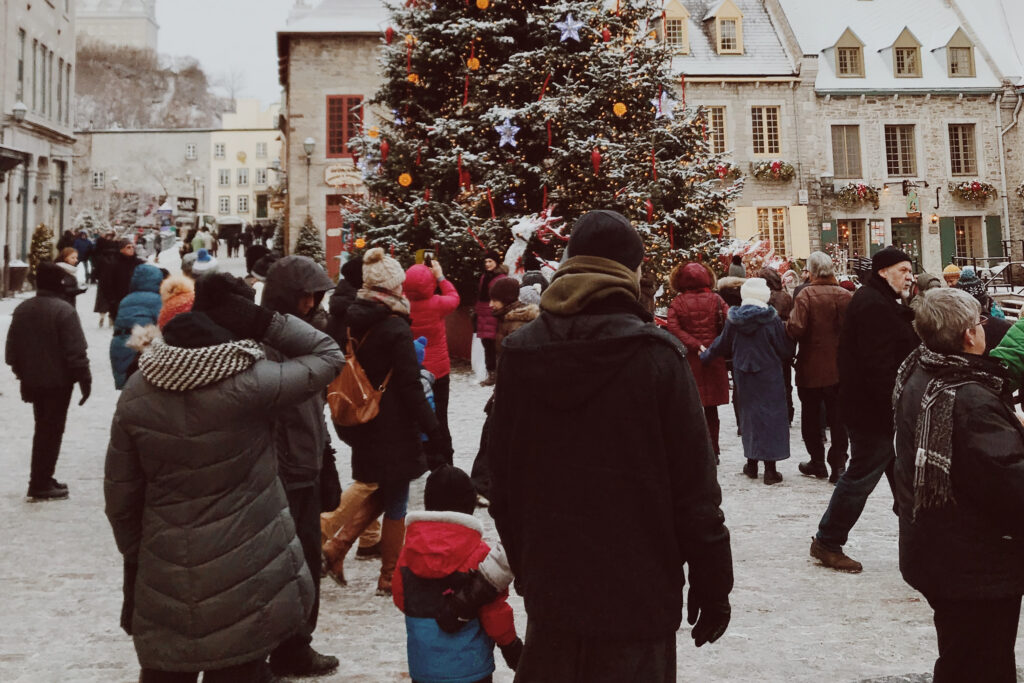 Cloé fontaine/Unsplash
1. Decide what to do with holiday gifts.
When it comes to traveling with kids, one of the trickiest problems is how to handle presents. Do you take them with you, buy them there, or save them for when you get back? Obviously, squeezing a brand-new bike, dollhouse, or scooter into your suitcase isn't plausible, so we suggest a partial compromise. Bring some gifts with you, but get your little ones excited about opening them at home — always a good bargaining chip for the return trip.
2. Pay for extra baggage in advance.
No matter what you decide to do with your presents, you're likely going to need some extra baggage allowance. Don't assume you can squeeze your belongings into a regular bag — you're traveling during the holidays, so there'll be plenty of unexpected extras to pack. With that in mind, we recommend paying for extra baggage in advance. It's guaranteed to save you stress and money.
3. Wrap presents once you arrive at your holiday destination.
If you've ever watched your bags being tossed onto a plane or tumbling onto the carousel at baggage reclaim, you know that wrapping presents in advance isn't a good idea. Buy the wrapping paper when you arrive at your destination, and save yourself from having to do it all over again (or handing over a ripped present).
4. Plan holiday-themed crafts for fun.
Keeping kids entertained is an important aspect of any trip, but indulging in themed arts and crafts is especially perfect for the holidays. Creating homemade decorations is a fun way to add a little festive spirit to your vacation. Also, make a big deal of sending Santa a letter with the address of your hotel to reassure kids that they won't miss out.
5. Bring your own holiday decorations.
In addition to the homemade decorations you have your kids create, bring some favorite pieces to dress your hotel room. Depending on where you're going, the hotel will likely have some festive adornments, but hanging fairy lights, twinkling stars, or stockings around the room will add a sense of fun for children worried about missing their traditional holidays celebrations at home.
6. Choose the right hotel.
Some hotels go all out for Christmas with overblown decorations and an in-house Santa, while others provide lavish holiday feasts and host events that cater to all types of religious denominations. That being said, choosing the right property for you and your family is key to enjoying the holidays away from home. It's important to do your research and book in advance. If you want to avoid the holidays entirely and treat the break as an escape, there's also a property out there for you.
7. Make sure you have insurance if traveling during the holidays.
Getting travel insurance is generally a good idea, but it's especially important to be covered during the holidays should plans go awry. Because the holidays are a popular time to travel, the usual issues of delays and cancellations are more likely. While insurance isn't going to placate a child facing up to a five-hour wait in an airport, the fact that you're covered for costs incurred means a lot less stress while you devise a fun way to kill time.
8. Embrace the local traditions.
While you might equate the holidays with cozy, snow-blanketed scenes, this is not the case for everyone. Depending on your destination, traditions are bound to be different. From barbecues on the beach in Australia to Christmas pickle festivals in Germany, there are wonderful customs to embrace all over the world. Who knows, you might even enjoy a tradition so much that you bring it back home with you to celebrate for years to come.
9. Fit in some FaceTime and phone calls.
If you're jetting off and leaving behind friends and family, then kids may miss all the sloppy holiday kisses and bear hugs that they've come to expect. They're sure to miss seeing relatives, so make time for phone calls to keep the presence of family and friends.
You'll Also Like:
All products are independently selected by our writers and editors. If you buy something through our links, Oyster may earn an affiliate commission.