It's tough deciding where to stay in a city as sprawling and with as many distinctive neighborhoods as Tokyo. Some areas are posh and shiny, while others are edgy, creative, or nightlife-driven. It helps to know what you want, of course, whether it's great restaurants, quiet streets, or proximity to cherry blossoms. Below, check out our picks for the top hotel in six Tokyo neighborhoods that run the gamut in terms of personality and features.
Mitsui Garden Hotel Ginza Premier is situated in the elegant — and very upscale — neighborhood of Ginza in the Chuo district. Occupying floors 16 to 25 in a high-rise building, the hotel includes the highest point in the neighborhood. After business meetings or a morning of shopping at one of the many nearby luxury designer boutiques, return to enjoy spectacular views from the rooms, restaurant, and sleek bar. Rooms aren't huge, but are larger than usual for Tokyo, and may overlook sights such as Rainbow Bridge, Tokyo Tower, Tokyo Skytree, and Gate Bridge. The priciest rooms, on the top floor, have specialty cloud-like mattresses. All guests have access to the hotel's lounge, Karin, which serves drinks until 2 a.m. and hosts live performances, such as jazz.
Located in Shibuya, a youthful neighborhood of the Shinjuku ward, Hotel Sunroute Plaza Shinjuku transcends the typical upper-middle-range chain hotel. The 624 rooms, while a bit small, are warmly decorated in a ryokan-inspired style that features tatami mat floors. Generous amenity kits as well as sleepwear and slippers are also a hit with the families, solo vacationers, and business travelers who stay here. There's a stylish cocktail bar, which has natural wood furnishings and serves cocktails, whiskey, and Japanese izakaya-style dishes (small plates). A sleek Italian restaurant serves pizza and pasta, and the on-site spa offers massages.
If you're traveling to Tokyo in March or early April for the cherry blossoms, then Ueno, in Taito ward, is a good place to stay. The Ueno Touganeya Hotel is just a 10-minute walk from Ueno Park, home to the famed blossoms, as well as Tokyo National Museum and the National Museum of Nature and Science. Another location bonus: Ueno Station is five minutes away on foot. The hotel itself is a simple yet fresh and modern budget property. It's great for travelers who plan to be out exploring all day and just want a comfortable place to rest. Although rooms are quite small, they are attractively decorated and include LCD TVs, free Wi-Fi, and mini-fridges. A self-service laundry room and breakfast service that includes steamed rice and hot baked fish (for a fee) are additional features.
In the hectic ward of Shinjuku, entertainment, shopping, and business collide around the busiest railway station in the world. Amidst the excitement and chaos is Kabukicho, a thriving nightlife and red-light district filled with restaurants, clubs, adult bars, and so-called "love hotels." The upscale Shinjuku Granbell Hotel is in the heart of Kabukicho and features stylish decor throughout with a fresh contemporary vibe. For example, colorful murals and chic fashion prints decorate the hip lobby. Rooms have luxury bathrooms and amenities like iPod docks and espresso machines. Upgrade to a higher-end room for a kitchenette, terrace, and outdoor shower. There's also a rooftop bar with scenic city views that draw a crowd of young locals and hotel guests.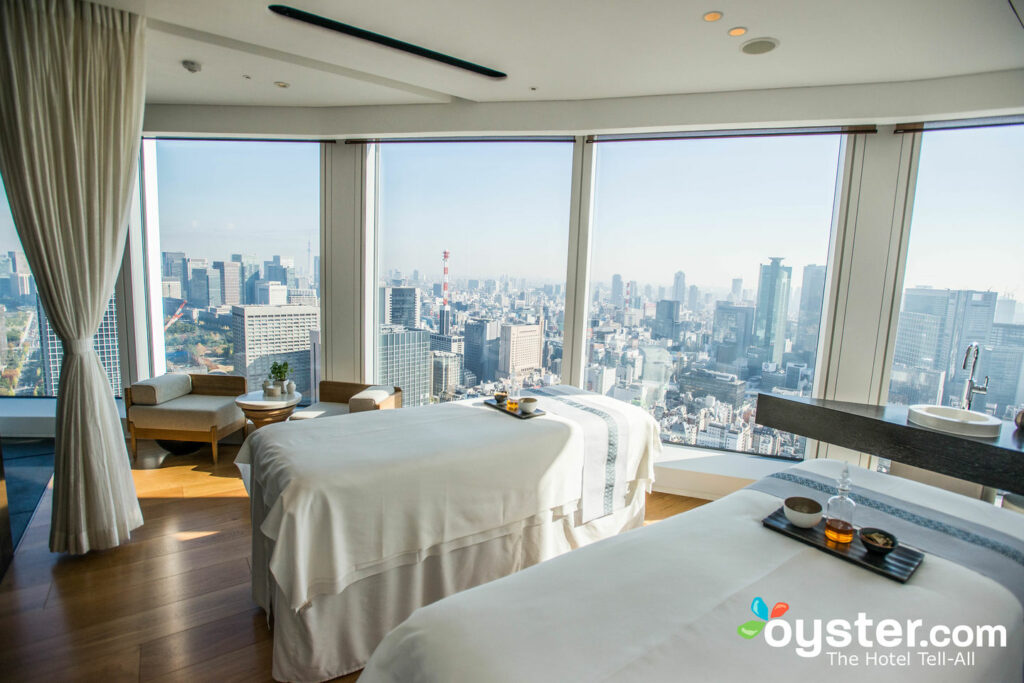 Corporate travelers flock to Toranomon, the business district of Minato. But the area also offers advantages for tourists, like being within walking distance to sights like Tokyo Tower and Imperial Gardens. Occupying the top floors (47 through 51) of the Toranomon Hills skyscraper, the Andaz Tokyo Toranomon Hills is another neighborhood draw. You can expect jaw-dropping views here as well as interesting design details such as washi paper in the elevators, rich wood, and ceramic rabbits (a nod to a Japanese fairytale about rabbits on the moon). The enormous rooms and suites have soaking tubs and huge windows overlooking Tokyo Bay and Rainbow Bridge. A gorgeous spa with an organic blend bar, an indoor lap pool, and a chic rooftop bar are other standout features at this luxury property.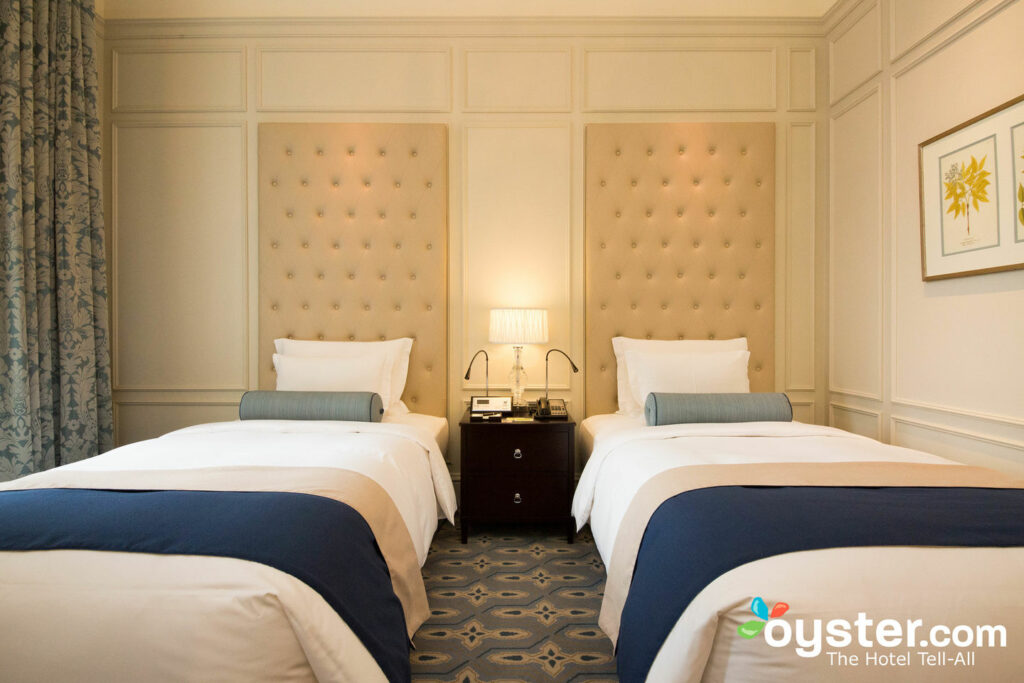 The Tokyo Station Hotel is situated within historic Tokyo Station in Chiyoda's small commercial district of Marunouchi. This means you can walk directly into the station to access public transport around the city. The trip to Narita International Airport by public transport takes about an hour and 15 minutes. Since the station was built in 1915, the hotel also offers a sense of Tokyo's pre-war architectural past — but with contemporary features. Rooms feel classically European, with high-molded ceilings, elegant chandeliers, and plush patterned carpets. The JBL iPod docks, stemware-stocked minibars, and deep soaking tubs ensure a thoroughly modern luxury experience. Among the several restaurants is a fine-dining French eatery with a 1,000-bottle wine cellar. At night, head to leather- and wood-clad Bar Oak for cocktails.
You'll Also Like:
All products are independently selected by our writers and editors. If you buy something through our links, Oyster may earn an affiliate commission.