From the grand dames with their famous zip codes and park views to the historic icons with their signature cocktails, London's luxury hotels have been attracting a well-heeled crowd since the Victorian era. These days, there's a luxury style to suit all tastes, whether it's laid-back splendor, classical opulence, or contemporary chic. And yes, there are even hotels that have the royal stamp of approval, so you can doze off to sleep knowing that Will and Kate approve. Below, check out our list of top luxury hotels in London for various high-end tastes.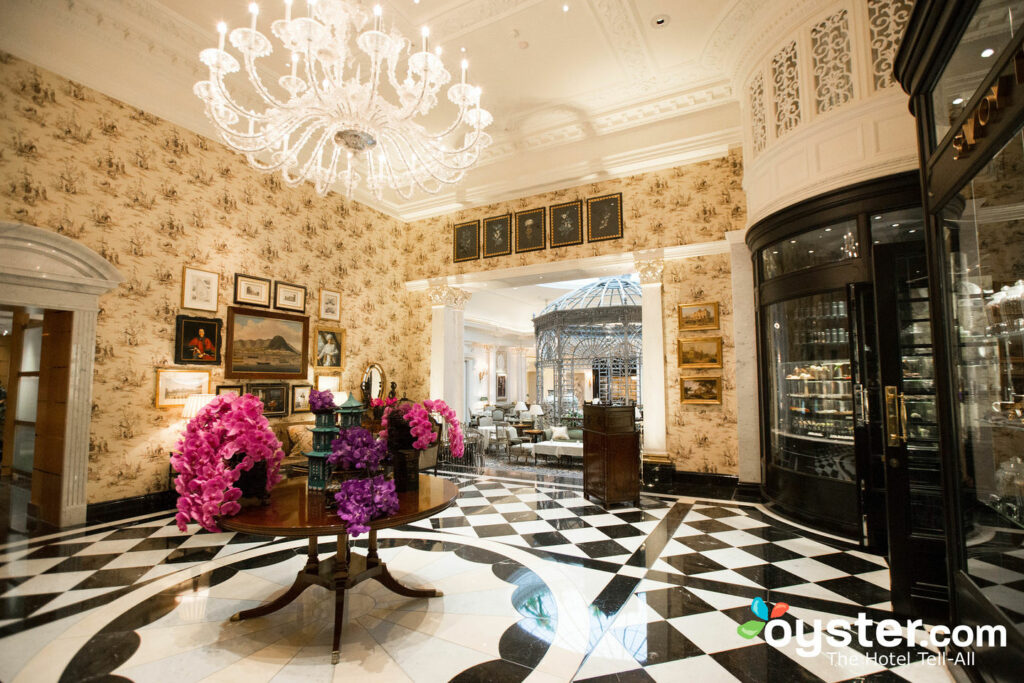 The Savoy is the standard against which all other luxurious hotels should measure themselves. The opulent hotel, which boasts a mix of Art Deco and Edwardian decor, has been attracting notable guests since it opened in 1889. The excellent restaurants and bars — including the famed American Bar, which Marilyn Monroe frequented — are destinations unto themselves. Rooms are a grand, sophisticated affair marked by understated luxury. Marble tile, Murano chandeliers, and antique-style furnishings fill them; some also overlook the Thames. Fun fact: The Savoy's short driveway is the only street in the country where cars drive on the right as they enter and leave the grand hotel.
While casino hotels are not the norm in London, those who want the convenience of gaming tables in the same building as their bed need not look further than the May Fair Hotel. Centrally located in the heart of Mayfair, the prestigious hotel attracts a celebrity clientele, thanks in part to the high-profile Hollywood screenings hosted at its private theater. Luxurious without the stuffy pomp of similar hotels in the area, the May Fair exudes a sultry, relaxed atmosphere. Housed in the hotel's former grand ballroom, the Palm Beach Casino is open 24 hours a day and features one of the largest gaming rooms in London, with everything from blackjack to punto banco.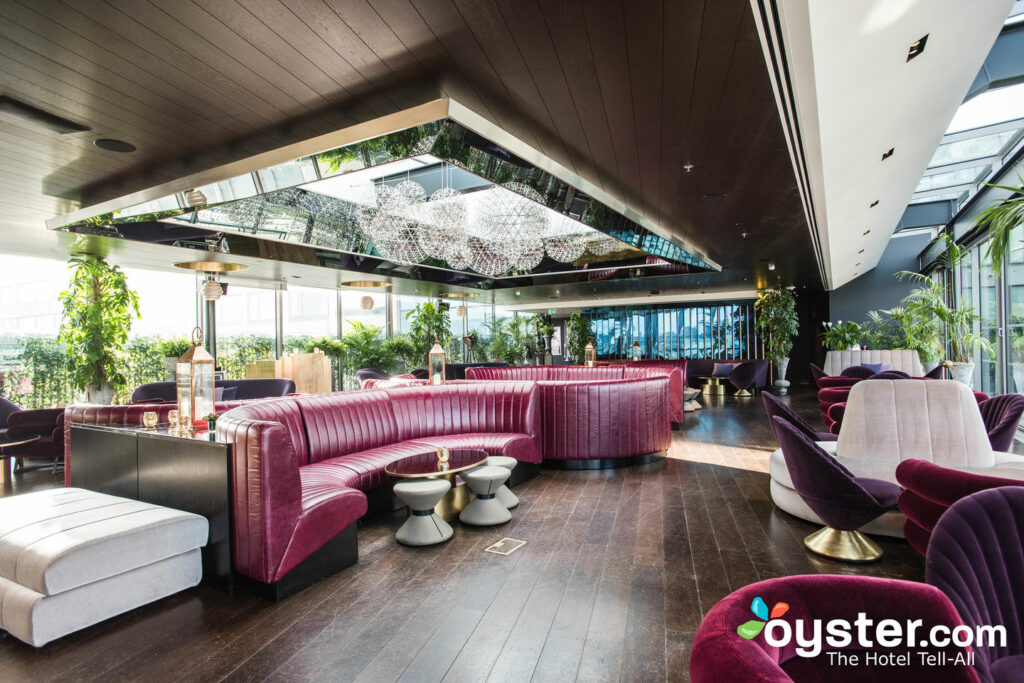 The Mondrian London at Sea Containers is a design-focused hotel where guests are made to feel comfortable amid the splashy interior decor. The restaurant and bar boasts river views, the cinema room screens new releases on weekends, and the spa offers a range of treatments to help guests unwind. The rooms vary in size, but all have been designed by Tom Dixon and feature a sleek, trendy atmosphere with stylish decor that's elegant and artsy. Ambient, low lighting fills the hallways, bars, and restaurants, creating a sexy, intimate overall vibe.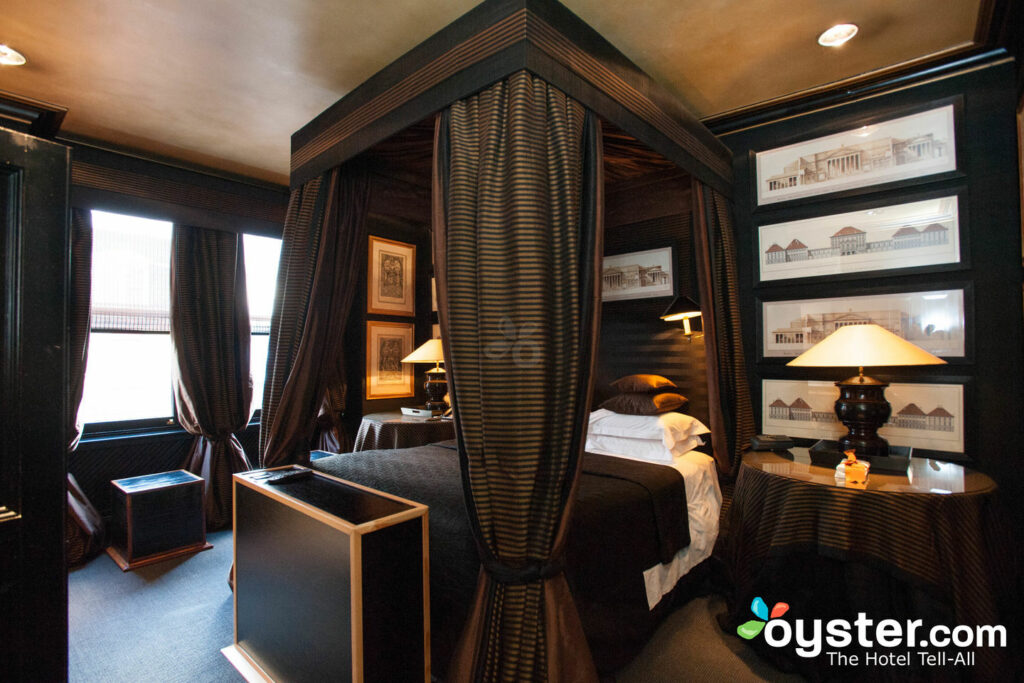 The Blakes Hotel is a boutique property designed by actress-turned-designer Anouska Hempel. Located in residential South Kensington and known for both its opulence and discretion, it draws a famous clientele and those looking for a quiet respite. In a word, the hotel's aesthetic is theatrical. The lobby is outfitted in dark walls, gilded bird cages, and bamboo chairs. It even has its own patented signature scented candles, which waft a citrusy perfume through the lobby. The decor varies in the rooms, but it's generally dark, grand, and eclectic.
A stately luxury property, The Lanesborough occupies a coveted and convenient location right by Hyde Park and a tube station. Aside from the free high-speed Wi-Fi, extensive in-house digital music library, and free movies on demand, the hotel is old-fashioned to the core. It offers 24/7 butler service, high-end formal dining, and afternoon tea service that comes with the expertise of a tea sommelier. Interiors feature posh and elegant Regency-style decor, exuding an aristocratic feel. Rooms have marble bathrooms, and some lavish suites come with living rooms, dining rooms, and multiple bedrooms.
Historic charm is undoubtedly a common theme running through most of London's luxury hotels, but the ME London is something different. Located directly on The Strand, near Covent Garden, the hotel has a cool design with opulent, daring decor. After all, it was designed by world-famous architect Norman Foster. Tech-savvy rooms have cool and functional bedside lighting controls along with luxurious bathrooms and minimal design touches. Plus, great skyline views extend from some rooms as well as the popular rooftop bar. Music, lighting, and aromas throughout the hotel's public spaces are curated by an Aura Team, taking luxury to the next level.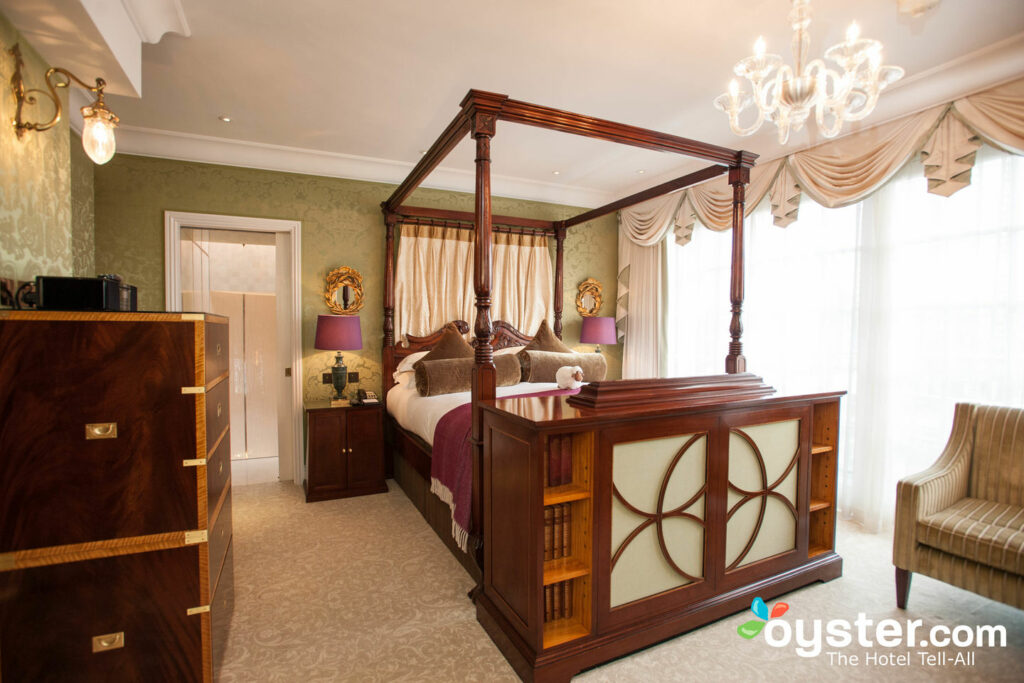 The Goring is a classic English boutique hotel with ample royal heritage. This is where the Duchess of Cambridge — a.k.a. Princess Kate — stayed the night before her wedding, and capacity overflow from private events at Buckingham Palace is regularly accommodated. It's also the only hotel to have received a Royal Warrant for hospitality services. Featuring bespoke silk wallpaper, gilded ceilings, and impressive Edwardian architecture, The Goring is all about refined elegance. Each of the 69 rooms is individually styled with handmade carpets, marble-lined bathrooms, and flat-screen TVs that can be hidden away into desks.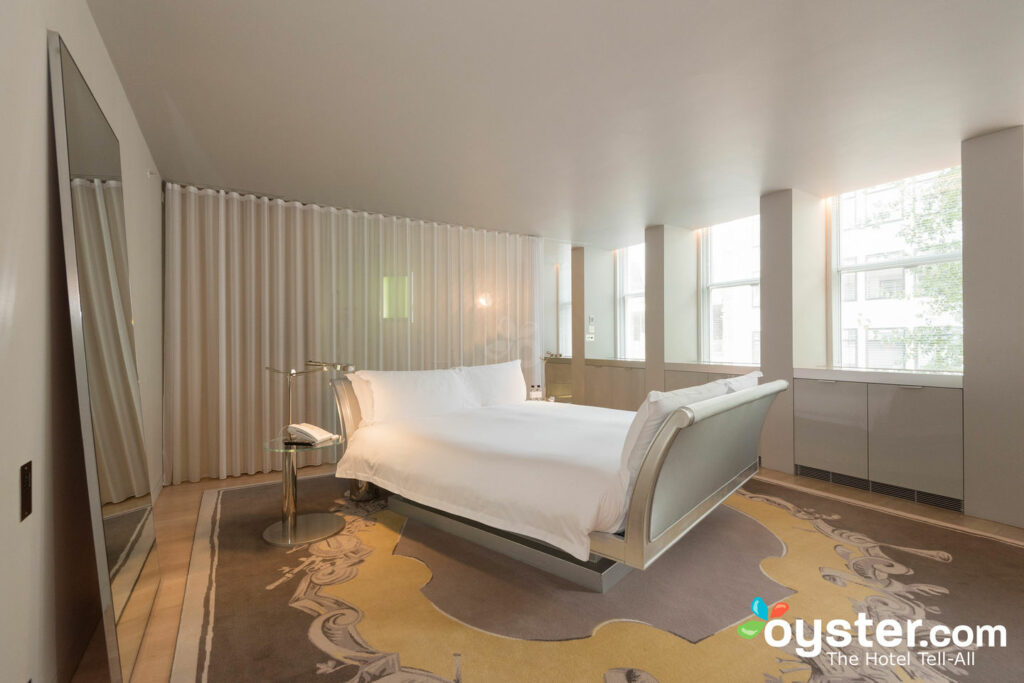 Behind the gray, corporate face of a landmarked 1950s office building lies the eccentric interior of the Sanderson Hotel. Originally designed by Philippe Starck, and updated by designer Tim Andreas in 2014, the hotel is a fantasy playground that is equal parts minimalist and extravagant. Rooms feature a mostly all-white color palette, layers of sheer curtains that divide different areas of the room (in lieu of interior walls), and luxurious bathrooms, some with separate walk-in showers and freestanding soaking tubs. All in all, the hotel is for those who like their luxury with a loud personality.
NOW WATCH: The Best Things to Do in London
https://www.youtube.com/watch?v=WHURZ1CwVeA
You'll Also Like:
All products are independently selected by our writers and editors. If you buy something through our links, Oyster may earn an affiliate commission.