River cruising has truly come into its own over the past few years. While previously targeting retirees, cruise companies have made great strides to freshen their ships and itineraries to appeal to younger couples, and even families. Whether you want to step inside a fairy-tale and visit Europe's incredible castles and vineyards, see the wildlife of the Amazon, or get a peek at Asia's most ancient sights, there's a river cruise itinerary that will accommodate you. Here are the top river cruise itineraries around the world.
Europe
River cruising was born in Europe, where meandering waterways connect a web of countries that are rich in history, culture, and regional cuisine. Europe's riverside towns and villages are especially atmospheric in late spring, early summer, fall, and during the holiday season when Christmas markets pop up. Travelers wanting to sample a river cruise for the first time often begin on one of Europe's most famed rivers. Here are the options.
Danube
Most first-timers select a Danube River cruise due to the incredible array of destinations packed into the itinerary. The river, which stretches from the North Sea to the Black Sea, cuts through Austria, Bulgaria, Croatia, Germany, Hungary, Moldova, Romania, Serbia, Slovakia, and Ukraine. The river is actually segmented into three sections — the Upper, Middle, and Lower Danube — and cruise lines offer explorations of all. Expect to see voyages between Budapest and Vienna, but — depending on the length of the cruise — you could transit between Nuremberg and Passau in Germany. Lower Danube itineraries often begin or end in Bucharest, Romania.
Top Ports of Call: Nuremberg, Regensburg, Passau, Melk, Vienna, and Budapest
What to Look For: Budapest's Castle District, Wachau Valley, vineyards, and riverside bike paths
Who to Sail With: AmaWaterways, APT, A-Rosa, Avalon, CroisiEurope, Crystal River Cruises, Emerald, Gate 1 Travel, Grand Circle, Riviera, Scenic, Tauck, Uniworld, Vantage, or Viking
Rhine
Cruising the Rhine affords the opportunity to visit German ports, but you may also stop in France, the Netherlands, and Switzerland (depending on the itinerary you select). If you want to pull out all the stops, look for itineraries that are marked "Grand Voyage." These combo tours offer a route along both the Rhine and Danube, adding Austria, Hungary, and the Czech Republic to the mix. Note that the Rhine can have high water levels in May and June — particularly between Vienna and Cologne. This may require transferring to a bus to reach certain ports.
Top Ports of Call: Amsterdam, Basel, Cologne, Koblenz, Heidelberg, Strasbourg, and Rüdesheim am Rhein
What to Look For: Rhine Gorge (a UNESCO World Heritage site), Black Forest, Marksburg Castle, vineyards, and riverside bike paths
Who to Sail With: , Avalon, CroisiEurope, , Gate 1 Travel, Emerald, Riviera, Scenic, Tauck, Uniworld, or Viking
Moselle
As one of the longest tributaries of the Rhine, the Moselle offers itineraries of its own. Some stretches of the river have a more industrial feel, but cruisers are rewarded with winding banks where medieval villages are tucked away.
Top Ports of Call: Koblenz, Trier, Traben-Trarbach, and Zell
What to Look For: Ehrenbreitstein Fortress (Koblenz), Upper Middle Rhine Valley (a UNESCO World Heritage site), Reichsburg Castle (Cochem), and wine festivals
Who to Sail With: AmaWaterways, APT, A-Rosa, Avalon, CroisiEurope, Crystal River Cruises, Emerald, Riviera, Scenic, Tauck, Uniworld, or Viking
Rhone
Many river cruises bring you to a variety of countries. However, if you select a Rhone River cruise, you'll only explore destinations in France. That can be a plus or minus, depending on how you look at it. While the cruise itself isn't as scenic as the voyages on the Rhine or Danube, the ports have lots of culture and history. The food served onboard is also delectable, as it borrows from French cuisine. One thing to note: Summer can be windy along the Rhone.
Top Ports of Call: Lyon, Arles, Avignon, Viviers, Tournon, and Vienne
What to Look For: Les Halles food market (Lyon); Arles, Avignon, and Pont du Gard (UNESCO World Heritage sites); the French Riviera (Cote d'Azur); "Village Day" in Viviers; vineyards and wine tasting in Burgundy and Beaujolais; and riverside bike paths
Who to Sail With: AmaWaterways, Avalon, CroisiEurope, Emerald, Riviera, Scenic, Tauck, Uniworld, or Viking
Volga River
Despite recent political events that cast a shadow on U.S.-Russia relations, the country continues to beguile visitors with its onion-dome buildings, incredible palaces like Peterhof, and art museums, including the Hermitage. Itineraries run between Moscow and St. Petersburg and nearly all cruise lines schedule an overnight in both cities so passengers can really dig into the destinations. While these cruises are labeled as Volga River explorations, you'll also sail along some other waterways, including lakes and canals.
Top Ports of Call: Moscow, St. Petersburg, Yaroslavl, and Kizhi Island
What to Look For: St. Petersburg, Moscow, Open-Air Museum of History, Architecture and Ethnography (Kizhi Island), Yaroslavl (UNESCO World Heritage Site), Monastery of St. Cyril on the White Lake (Kuzino), and rural villages
Who to Sail With: CroisiEurope, Emerald, Gate 1 Travel, Scenic, Uniworld, or Viking
Lesser-Known Rivers
There are other rivers throughout Europe that are building their reputations for river cruises. If you've done all of the above voyages and are looking for something new, check out the Elbe, which transits through the Czech Republic and Germany. Italy's Po and Portugal's Douro are also solid picks.
Asia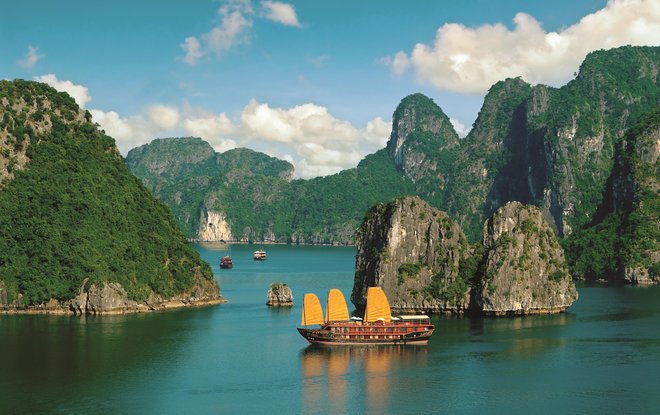 Ten years ago, China's Yangtze was the river cruise darling of Asia. Today, travelers have many more choices, including the popular Mekong, which travels through Cambodia and Vietnam.
Yangtze River
It is not possible to explore the entire length of the Yangtze in one trip, since it begins in the Tibetan Plateau and traverses the entire country before joining the East China Sea near Shanghai. Instead, most lines focus on the Three Gorges region, where you can see traditional villages, forests, gorges, and mountain landscapes. You'll find plenty of cruise and land tour combinations that allow you to explore a few major Chinese cities, like Shanghai, Beijing, and Xi'an, before boarding the vessel.
Top Ports of Call: Chongqing, Yichang, Lijiang, Guilin, Chengdu, and Wuhan
What to Look For: Three Gorges Dam, Shibaozhai Temple, pandas at Chongqing Zoo, Chinese opera, Peking duck, Terracotta Army, and Great Wall
Who to Sail With: Avalon, Sanctuary Retreats, Scenic, Tauck, Uniworld, Victoria, or Viking
Mekong River
The ever-popular Mekong River itineraries allow you to visit bustling cities and rural villages in both Vietnam and Cambodia. And, if you've ever dreamed about seeing the fabulous Angkor Wat temple complex in Siem Reap, Cambodia, this is the easiest way to do it. You may also be able to add on a pre- or post-cruise extension to visit Vietnam's Halong Bay.
Top Ports of Call: Hanoi, Ho Chi Minh City, Kampong Cham, Cai Be, Phnom Penh, Tan Chau, Siem Reap
What to Look For: Angkor Wat and Halong Bay (both UNESCO World Heritage sites), Phnom Penh, Sa Dec, Tonle Sap River, floating markets, and stilt villages
Who to Sail With: AmaWaterways, Aqua Expeditions, Avalon, CroisiEurope, Emerald, Pandaw, Scenic, Uniworld, or Viking
South America
Adventure seekers and wildlife enthusiasts need not look further than South America to find their next river cruise vacation. The Amazon River was previously out of reach due to its remote location, but now several cruise companies have top-of-the-line ships (oceangoing and riverboats) that sail this waterway and its tributaries. The Amazon stretches 4,000 miles through Brazil, Peru, and Ecuador. Which part of the river you explore will depend on the season you travel and the ship you pick. Brazilian cruises start in Manaus or Rio de Janeiro and end in Macapa; Ecuador trips actually sail the Napo River, a tributary of the Amazon; and Peruvian itineraries go to and from Iquitos and may include pre- or post-cruise visits to Machu Picchu and/or Lake Titicaca.
Top Ports of Call: Iquitos City, Nauta, and Pacaya-Samiria national Reserve
What to Look For: Pink and gray freshwater dolphins, monkeys, black jaguars, and giant lily pads
Who to Sail With: Aqua Expeditions, Avalon, International Expeditions, or Lindblad Expeditions
North America
When you want to stick closer to home, a Mississippi River cruise could be just the ticket. These voyages, which take place aboard a traditional paddle wheeler or modern riverboat, are infused with American history. The Mississippi River, spanning about 2,300 miles, is too long to explore in one cruise. That's why the two operators that ply this river offer segments that explore the Lower Mississippi (between New Orleans and Memphis), the Middle Mississippi (between Memphis and St. Louis), and the Upper Mississippi (between St. Louis and St. Paul).
Top Ports of Call: Lower (Baton Rouge, Louisiana; Natchez, Mississippi; Helena, Arkansas), Middle (Cape Girardeau, Missouri; Paducah, Kentucky; Chester, Illinois), and Upper (Hannibal, Missouri; Davenport, Iowa; La Crosse, Wisconsin; Red Wing, Minnesota)
What to Look For: Plantations like Oak Alley and Nottoway, New Orleans' French Quarter, the Civil War battlefield of Vicksburg, Mississippi, and Memphis' Graceland
Who to Sail With: American Cruise Lines or American Queen Steamboat Company
Africa
Africa's river cruise industry is in its infancy, with limited options. AmaWaterways offers a short, multiday Chobe River cruise between Kasane, Botswana; Namibia; and Victoria Falls on the 28-passenger Zambezi Queen. Folks can explore Chobe National Park and take a land tour that includes South Africa's Cape Town and Victoria Falls, which can be viewed from either Zambia or Zimbabwe. CroisiEurope also offers an African river cruise that explores Lake Kariba on the 16-passenger African Dream, plus throws in a cruise along the Zambezi River for good measure.
Nile River
Egypt has always been a bucket-list destination, thanks to its ancient history and well-preserved pyramids and artifacts. However, political turmoil has softened demand for Nile River cruises. For travelers willing to make the trip, incredible sights await. While you can book a cruise for as short as three nights, you may as well go for a weeklong option since you've come all this way. Visit between October and April when temperatures are more manageable. Most itineraries travel between Aswan and Luxor, but nearly all operators sell a pre- or post-cruise land component in Cairo so you can also explore the Egyptian Museum and take an excursion to Giza to see the Great Sphinx.
Top Ports of Call: Luxor, Aswan, Karnak, Kom Ombo, Edfu, and Esna
What to Look For: Temple of Philae, Unfinished Obelisk, the High Dam, the Valley of the Kings, Valley of the Queens, Temple of Queen Hatshepsut, Karnak Temple, Luxor Temple, Edfu Temple, Kom Ombo
Who to Sail With: Avalon, Emerald, Sanctuary Retreats, Scenic, Uniworld, or Viking
You'll Also Like:
All products are independently selected by our writers and editors. If you buy something through our links, Oyster may earn an affiliate commission.