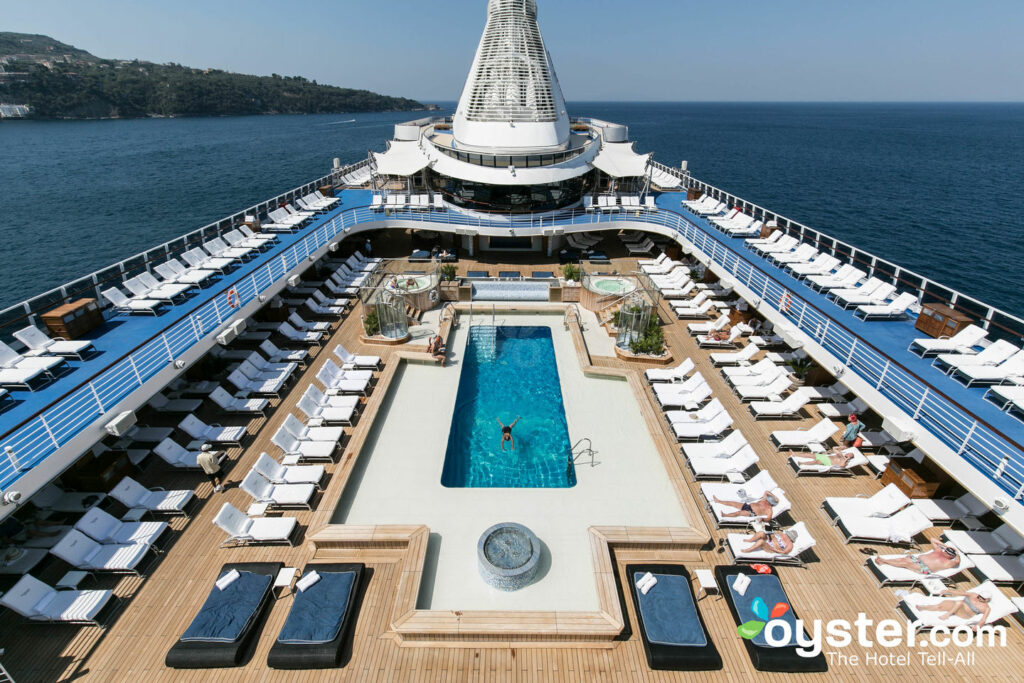 Once you've decided where to cruise, it's time to pick which ship will take you there. If you're in the market for a mainstream vacation, deciding between, say, Carnival Cruise Line and Royal Caribbean International can be easy, thanks to the abundance of amenities available on each. Differentiating those in the upscale cruise category, however, is a much more detailed process. Such is the case when comparing Oceania Cruises' Riviera and the Viking Star. Both are excellent options, but there some subtle differences worth noting. Read on and discover which ship is best for you.
Atmosphere and Design
From a distance, the Riviera and Viking Star are architecturally quite similar. Both feature sleek raked bows with gleaming white superstructures crowned by forward observation lounges. Only upon closer inspection is it clear that the Riviera (66,084 tons) is a bit larger than the Viking Star (47,800 tons). And although the Riviera has more space overall, it accommodates 1,250 passengers, compared to Viking Star, which can carry 930 travelers. This means there are fewer fellow travelers to contend with on the Viking ship.
The ambience aboard the Riviera is classically elegant, whereas the vibe on Viking Star is more starkly Scandinavian. Both offer comfortable environments, but Viking Star feels approachable and homey while Riviera leans toward regal and posh. Meanwhile, grand interior spaces, such as the soaring atriums, make both seem like much larger vessels. As for which ship has a better style, it all comes down to personal taste.
Accommodations
Oceania has some of the most plush beds at sea, while those on Viking are stiffer, but spongy. In fact, as inviting as Viking Star's stateroom and suite furnishings appear, much of it is a bit harder than expected. Viking bests Oceania in cabin categories overall, though, thanks to the fact that they all include private balconies. The Viking Star also foregoes tubs in their bathrooms, except for in Explorer Suites, and features oversized showers instead. They are spacious enough to turn around in and bend over without making contact with the side walls. Meanwhile, the Riviera ups the luxury ante with butlers for suites — not present on the Viking Star.
The Viking Star and Riviera offer guests many complimentary drinks, specialty dining options, and spa facilities. Soft drinks are always available for free on the Riviera, but alcohol is extra. House beers and wine, as well as soft drinks, are free on the Viking Star at lunch and dinner. The Viking Star also includes a shore excursion at nearly every stop and Wi-Fi access — neither of which are complimentary on the Riviera. However, the Riviera does provide free city shuttles in many ports of call.
Activities
Viking also prides itself on purposefully leaving out what it considers distractions. Besides no butlers, the Viking Star omits a casino, photo gallery, art auctions, and accommodations for children. Alternatively, kids — albeit infrequent — and gambling are still present on the Riviera.
More than anything, Viking emphasizes the destination, and the Explorers' Lounge on the Viking Star proves it. The observation venue stretches across two decks, and features an attached bar and deli as well as scenic views, outshining Riviera's single-story Horizons. Viking does not present a dedicated library like the Riviera because it has a sizable collection of books available to peruse all across the ship. Both also feature cultural enrichment programs.
There seems to be a relatively even number of things to do onboard the Riviera and Viking Star. The two feature world-class spas: Canyon Ranch on the former and LivNordic on the latter. And their sports decks encompass the likes of croquet, bocce, shuffleboard, putting greens, and paddle tennis. It's worth noting that the Viking Star also features an infinity pool cantilevered high off the stern for incredible views.
Even without such a place to take a dip, the Riviera's list of activities is enough to keep passengers occupied. The ship features a non-smoking casino, as well as an Artist Loft and Culinary Center. The latter includes a state-of-the-art demonstration kitchen.
Dining
From the main dining room to the specialty restaurants, food on the Riviera and Viking Star is a very inclusive affair. Only The Kitchen Table on the Viking Star costs extra, as it incorporates a special market visit ashore. Comparably, Oceania's exclusive culinary programing and tours also incur a surcharge.
Viking has quickly made a name for itself as a leader in cuisine with a mix of traditional and creative flavor profiles crafted by Anthony Mauboussin, the Director of Culinary Operation & Development. Meanwhile, Oceania touts its own celebrity chef, Jacques Pepin, who serves as the Executive Culinary Director. The Viking Star boasts The Restaurant (main dining), World Cafe (buffet), The Chef's Table (set tasting menus) and Manfredi's Italian Restaurant as its primary eateries, but the larger Riviera has even more: the Grand Dining Room (main), Terrace Cafe (buffet), Red Ginger (Asian), Jacques (French), Toscana (Italian), Polo Grill (steakhouse) and La Reserve (wine pairings at cost).
Both ships' cuisine is decidedly gourmet — even at their pool grills and for room service. However, the Riviera's abundant options and consistently high quality makes it the benchmark for the best overall dining on a cruise ship, beating even true luxury lines. The Viking Star is just a hair behind the lead.
Entertainment
There's less of a neck-and-neck comparison when it comes to the entertainment offered on both ships. While Viking Star's stage presentations are currently being retooled, productions have been lackluster. Canned music and corny narrative attempts did not do service to the naturally talented singers and dancers on the ship. The live music from string ensembles, pianists, guitarists, and party bands is much better. Cinema screenings and expert lectures are also available.
The Riviera has a similar repertoire of offerings, but its production shows are much better than those on Viking Star. Traditional revues seem to benefit from corporate cousin Norwegian Cruise Line's entertainment influence. Travelers who enjoy a mix of music, from Elvis to Sinatra, will find their toes tapping, but perhaps less so during sets from guest entertainers who skew corny in their audience-participation approach. Its simply-titled Lounge is not massive, but it's still slightly bigger than the Star's theater. However, the layout of the Viking Star's venue is creative for featuring two side-wing cinemas that can either be closed off to themselves or opened up to farther extend the theater for high-capacity presentations. Not unlike Martinis piano bar on the Riviera, Torshavn on the Viking Star is another delightfully moody haunt to catch live tunes.
In the end, Oceania's Riviera and the Viking Star are both fantastic ships. The cruise you choose will depend on the details you value most as well as your budget and departure dates.
You'll Also Like:
All products are independently selected by our writers and editors. If you buy something through our links, Oyster may earn an affiliate commission.