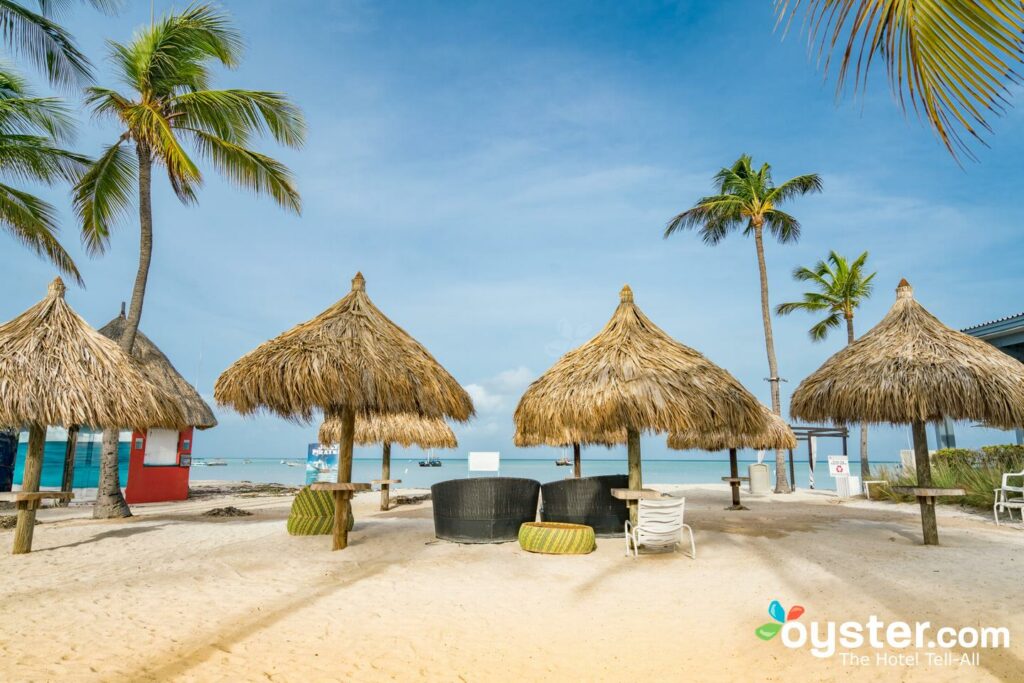 You may think if you've been one to Caribbean island, you've been to them all. But that's definitely not the case when it comes to Aruba. This Dutch Caribbean island is so close to South America that you can see Venezuela on clear days. Aruba offers a wholly unique experience that combines Caribbean chill, Dutch efficiency, and South American charm. It's no wonder, then, that Aruba has earned the nickname "One Happy Island." But before you make your first trip, read on for our top tips on how to avoid looking like a rookie.
1. Don't plan your trip to Aruba around hurricane season.
Many a nervous traveler has Googled "hurricane season in Aruba" before booking their trip. But Aruba is south of the Caribbean's hurricane belt, meaning you can confidently book a tropical vacation year-round without worrying about major storms. In fact, Aruba remains a pleasant 82 degrees Fahrenheit throughout the year — minus a few drizzly days that keep the island's divi-divi trees and cacti alive. Plus, trade winds provide a nice breeze.
2. Don't stay only on Eagle or Palm Beaches.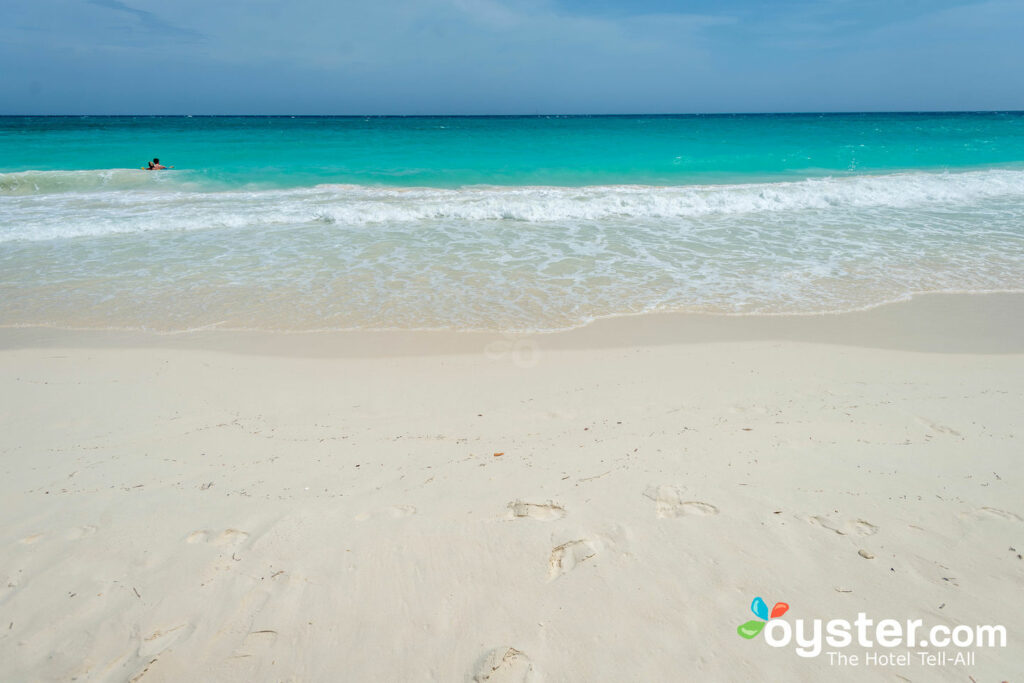 Eagle and Palm beaches are two of the most beautiful stretches of sand in the Caribbean, and they host most of Aruba's hotels. You should absolutely spend some time on both, but don't be afraid to get out and explore other top beaches in Aruba. The northern side of the island (only a 30-minute drive or less) is home to stunning scenery that includes everything from rock bridge formations to a natural swimming pool. Snorkeling expeditions to off-shore islands are also well worth your time.
3. Don't just stick to bottled water in Aruba.
Aruba has some of the cleanest water in the world. It's completely safe — and even encouraged — to drink the tap water here. The island's H2O comes from a saltwater desalination plant and meets the World Health Organization's highest standards for drinking water. So skip the bottled water and save some plastic.
4. Don't think flamingos are native to Aruba.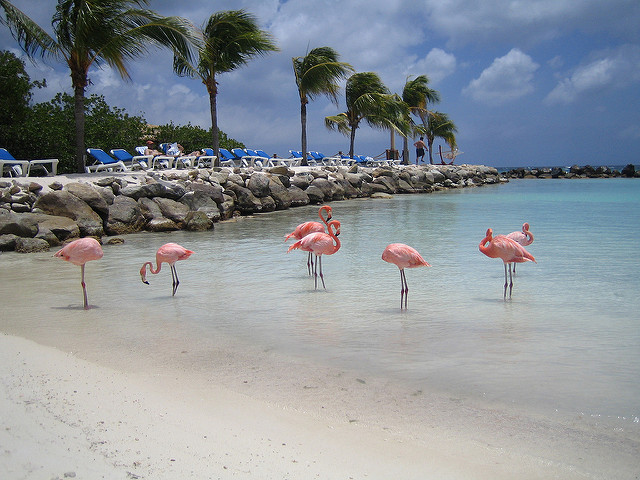 You may have noticed an influx of flamingos on your Instagram feed. That's thanks to Renaissance Island, which is privately owned by the hotel Renaissance Resort & Casino, and lies about a 10-minute water taxi ride from Oranjestad. The main draw? A bright pink flock of flamingos on the beach — the perfect backdrop for your selfies. It's worth a visit, but know that the flamingos are not native to the island and were brought there specifically for publicity (and fun).
5. Don't pack formal clothing for your Aruba getaway.
Aruba is a very relaxed island. Of course, you should pack a nice dress or button-down shirt and chinos for dinner, but leave the formal attire at home. You won't need high heels, dress shoes, a tie, a sports coat, or slacks. Instead, focus on packing beachy separates and lightweight fabrics.
6. Don't ignore Aruba nightlife.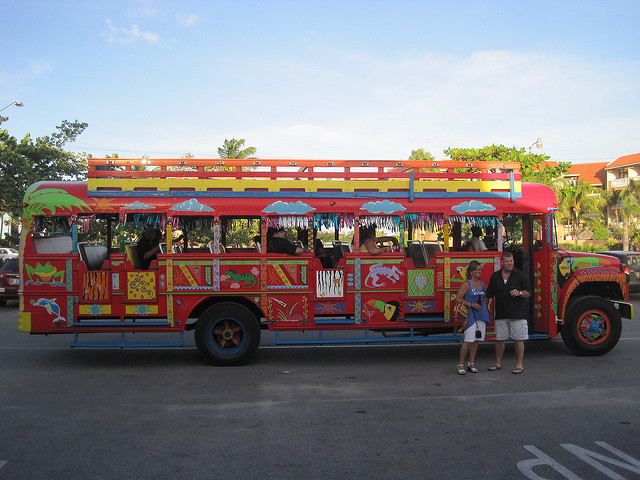 On a lot of islands, the nightlife dies down after sunset cocktails, but Aruba keeps the party going. Most all-inclusive resorts feature dancing or live music. There's a long line of fun clubs and sophisticated cocktail lounges on the main drag of Palm Beach, just outside of the Barcelo Aruba. Or, book your ticket on the Kukoo Kunuku party bus. The loud and ramblin' red bus, which makes dedicated stops on its Pub Krawl and wine tour, is a great way to meet fellow party lovers. Tickets can include freebies like shots and dinner, plus hotel pick-up and drop-off. And don't forget: Gambling is legal in Aruba. Even smaller hotels often have a casino, but head to Palm Beach for the flashiest options and largest variety of gaming tables.
7. Don't hide your sexuality in Aruba.
Unfortunately, discrimination against LGBTQ vacationers can happen anywhere. However, Aruba is one of the most gay-friendly destinations in the Caribbean. As part of the Kingdom of the Netherlands, Aruba recognizes same-sex marriages registered in the Netherlands as valid. Gay destination weddings are popular here and several beachfront resorts (The Ritz-Carlton Aruba and the Divi family of resorts) are part of the International Gay and Lesbian Travel Association.
8. Don't convert your currency from USD to Afl.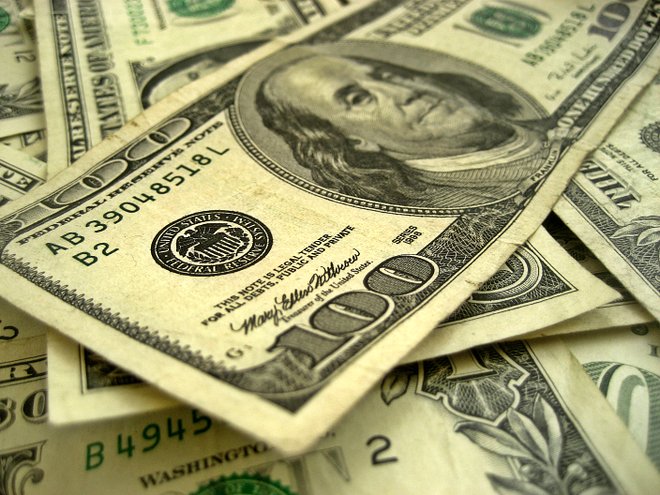 Aruba's currency is the florin — mostly known as 'Afl.' However, U.S. dollars are widely accepted and prices are often listed in American currency, especially around Eagle and Palm beaches. That said, Aruba isn't the cheapest island, particularly if you're hitting up the luxury shopping at the Renaissance Mall. Restaurants are also a bit pricey, since most of the food has to be imported. Still, there are deals to be had, namely at all-inclusive resorts on Eagle Beach.
9. Don't skip a visit to Zeerovers.
Aruba is a cosmopolitan destination and there are plenty of international restaurants to enjoy. But the best seafood on the island comes from a humble, waterfront shack: Zeerovers. Guests (locals and tourists) line up at a window to place their order. The menu offers a fresh catch of the day (staff pulls the fish right out of the fridge in front of you) plus a few sides like plantain, fries, and corn bread. It's then fried and served in colorful baskets to guests waiting on picnic tables overlooking the Caribbean. The food is best enjoyed with a dash of Hot Delight papaya hot sauce and a cold local Balashi Chill beer. Only cash is accepted.
10. Don't learn Dutch.
Officially, Aruba has two languages: Dutch and Papiamento, a Creole language that combines words from African tribes, Spanish, Dutch, and even English. Most Arubans are fluent in several languages, and one of them is English. You'll have no problem getting around the island while only speaking English, but also expect to hear quite a bit of Spanish, thanks to the many visitors from Colombia and Venezuela.
The Best Hotel Picks in Aruba: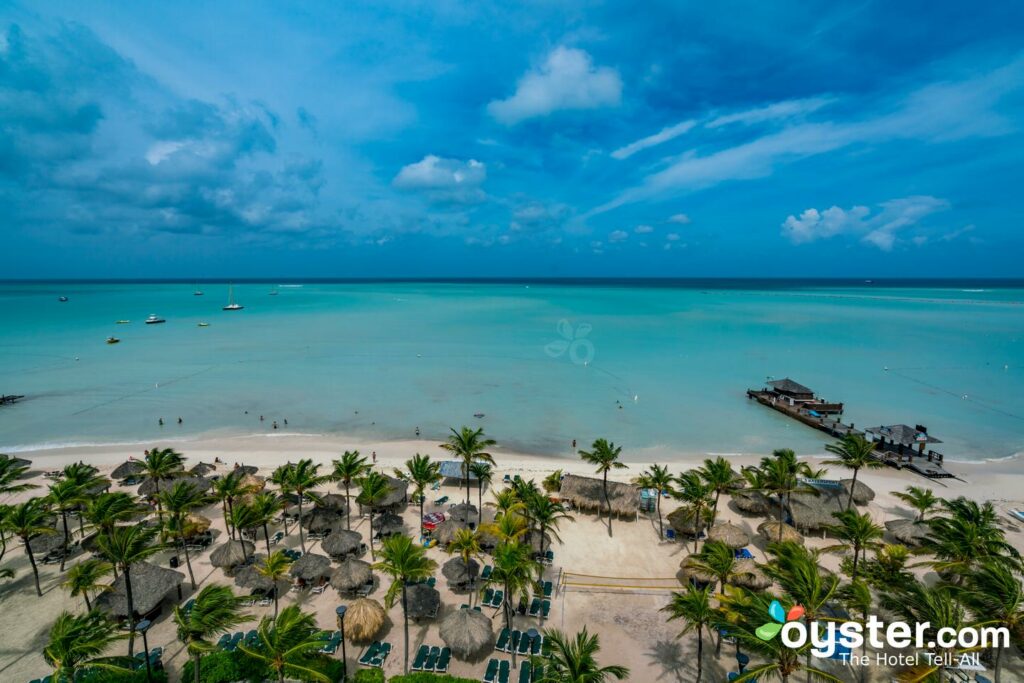 If you're after a simple, vacation-ready all-inclusive resort, the Barcelo Aruba is an excellent pick. Situated right on Palm Beach, the resort includes a casino, a wide variety of dining options, and an excellent lagoon-style pool. The kids' club helps make this a resort with wide appeal, from families, to friend groups, and even honeymooners.
For an off-the-beaten-path boutique property, check out the high design at OCEANZ Boutique Hotel. This chic little gem packs a lot of upscale appeal into a more intimate package than you'll find on the shores of Palm or Eagle Beaches. Rooms all have there own individual style, and the nearby beach is blissfully uncrowded.
If you're after an attractive, contemporary resort with plenty of pampering extras, then the Aruba Marriott Resort & Stellaris Casino is your pick. Situated right on bustling Palm Beach, this handsome hotel has it all: large balconies in all rooms, direct beach access, a great spa, fun casino, and plenty for kids and adults alike. Not enough? The on-site gelato shop might just seal the deal.
Fashionable yet casual, Summersalt caters to every kind of woman, no matter your shape or size. Ranging from sizes 2-24 and with a color range out the wazoo, the options are literally endless.
You'll Also Like:
All products are independently selected by our writers and editors. If you buy something through our links, Oyster may earn an affiliate commission.