Bali is one of the world's most popular destinations -- and with good reason. Jungle-clad mountains, beautiful beaches, and a thriving ancient Hindu culture combine with warm temperatures, wild nightclubs, and yoga retreats for an epic vacation. However, there are several mistakes you can make that can either ruin your trip or prevent you from seeing the island's best offerings. With that in mind, read on for our tips on what not to do on your first (or fifth) Bali adventure.
1. Failing to Brush Up on Local Culture and Holidays
Bali's Hindu traditions are apparent and active — you'll spot a temple, shrine, or sacred spot seemingly every few feet across the island. With that in mind, it's worth noting that the island isn't open for business during the holy season. That's particularly true on Nyepi, a day of silence in which Bali's Hindus take stock of their year and prepare for the year to come. Everything is closed on this day, including the island's airport, and tourists are not allowed to leave their hotel. Most hotels go out of their way to make sure travelers have everything they need if they're visiting during this time. Overall, it's a fascinating glimpse into Bali's culture. Just expect the pace of life to be a little different this time of year — usually in March or April.
2. Confusing High Season and Rainy Season
While much of the sunbelt comes to life during the Northern Hemisphere's winter months, Bali is a bit different. As a playground for Aussies, Bali is busiest in July and August, when Australia endures their winter months. Hotel occupancy increases, beaches become packed, and rates for rooms and flights soar during these months. In addition, Bali has a distinct rainy season that translates into cloudy, wet days that can ruin a vacation. Climate change is contributing to this, lengthening the island's rainy months. If you'd like the best, driest weather, time your visit from May through September.
3. Hitting Up the Wrong Beach
Not all beaches in Bali are created equal. In fact, the island's shoreline is incredibly varied and diverse. There are volcanic black-sand beaches, shallow tidal flats, surfer beaches with massive waves, party beaches, and — yes — those picture-perfect tropical stretches. The beaches of Sanur are the least crowded of the region around Denpasar, though the tide is far out for much of the day and not great for swimming. West from there, Kuta's beaches are lined with lounge chairs and young travelers throwing back drinks. Heading north from Kuta, Legian and Seminyak are better for surfers, particularly at Double Six Beach. The beaches that line the western shores of the Nusa Dua Peninsula also cater to surfers. Up north, the island's shores are more prominently lined with dramatic black-sand beaches. If you're looking for turquoise waters and white sand, take the fast ferry to Nusa Lembongan.
4. Skipping a Sunrise Hike Up Mount Batur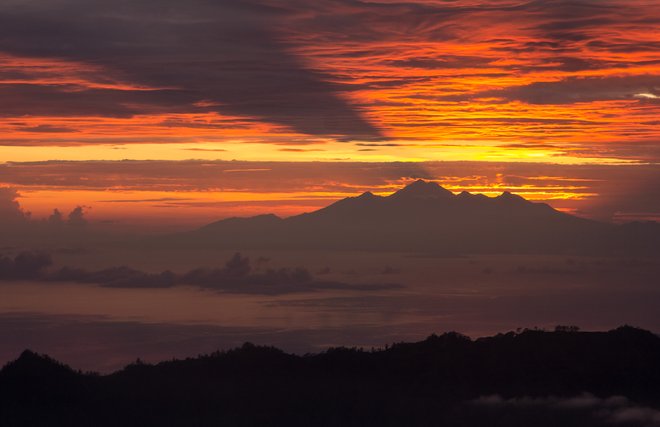 It's on nearly every itinerary for first-time Bali visitors: A sunrise hike up Mount Batur. Not for the faint-hearted, the hike begins well before dawn and passes through some fairly dense jungle, with terrain that gets trickier the higher you climb. Bali's steamy climate also makes the trek less than comfortable, and the top can be downright chilly. However, if you're lucky and have a cloud-free day, the views will be nothing short of breathtaking. Stuck with a cloudy day? Even travelers who have had the same bad luck consider this to be a worthy way to start their day.
5. Not Researching Your Hotel's Location
Bali is a big island and its towns all have very distinct vibes, from loud bar-packed areas to more serene sections. With that in mind, do some advanced research to find the spot best suited to your travel style. Partiers should head to Kuta, where bars are filled with young revelers. Expect blaring music well into the night and often lively hotels. Seminyak is a bit more grown-up, though its beach clubs definitely draw a crowd, while Canggu has Brooklyn vibes with casual beach bars, cafes, and cool boutiques. Sanur, on the other side of the island, is the quietest of the Denpasar-area towns. Ubud is your go-to for all things spiritual and artsy, though hotels in the center of town will be plagued with intense daytime traffic noise.
6. Skipping the Temples of Northern Bali
While plenty of travelers come to Bali to party the days away, post up at luxury villas, or lay on the beach, skipping the island's cultural side would be a major mistake. Bali's ancient Hindu temples are amazing places to explore, and all of them are still active with worshippers. You'll find some of the most spectacular ones to the north and east of Ubud. These include the stunning Tirta Empul, where tourists can don traditional robes and take a dip in the sacred springs, plus Goa Gajah, Gunung Kawi, and Pura Besakih — the island's holiest temple. Always respect locals as they are praying and performing rituals, particularly when you're taking photographs. Also make sure to observe the rules and norms when participating in rituals yourself. For any temple visit, cover your legs with a sarong (or pants) and leave more revealing tops at home.
7. Forgetting That Bali Has Stunning Landscapes All Around
You'd do well to spend more than a day trip exploring the less developed regions of Bali, particularly its volcano-packed north, where steep rice terraces cling to hillsides and rivers crash through jungle ravines. The Tegalalang Rice Terraces are a fixture on most itineraries from Ubud, but other less-visited rice fields like Jatiluwih are just as stunning. In the northeast, you'll find numerous active volcanoes, like Mount Agung, the most recent to erupt and Bali's most sacred mountain. To the south, around the Nusa Dua Peninsula, expect spectacular oceanside cliffs and the aptly named Water Blow, where seaside rocks force dramatic sprays of water high into the air.
8. Underestimating Traffic Around Major Tourist Areas
Much of southern and central Bali has, unfortunately, become an epic traffic jam. This is partially due to unchecked tourist development, where buses, tourist vans, cars, and motorcycles all cram onto roads designed for little more than one-lane car traffic. That means crisscrossing the densely populated southern stretches of the island — where Kuta, Seminyak, and Sanur are found — can be a challenge. It also means that popular activities, like visiting Tanah Lot Temple at sunset, take far longer than Google Maps might indicate. Excursions to Tanah Lot and Uluwatu (another popular temple to visit at sunset), as well as navigating the roads between southern Bali and Ubud, can eat up a good chunk of your day despite the best planning. Likewise, the central roads in Ubud are a loud, traffic-packed mess most of the day, shattering any peaceful yogi dreams you might have.
9. Steering Clear of Street Food and Night Markets
Like much of Southeast Asia, Bali's casual street food scene is part of the culture and choosing to only eat in resort restaurants means missing out on a big part of the experience of being here. It's also a major way for budget travelers to save cash, as food at the resorts can be particularly expensive. These markets crank out everything from nasi goreng to sate, plus plenty of fresh fruit shakes and chewy sweets. The whole vibe is convivial and social, making the night market experience something you shouldn't skip. And if you stick to typical food consumption rules — choose only piping-hot items and avoid garnishes and anything sitting in water — you'll likely be fine.
10. Trying Your Moped Chops on Bali's Roads
As we've already mentioned, traffic in Bali — particularly south of Ubud — is a nightmare. And while it's popular to rent mopeds and motorcycles to get around, travelers who have never used these vehicles might want to reconsider. Bali's roads are not well-kept and twist and turn in wild ways. Plus, they're plied by everything from trucks to buses to tractors. Adding in a lack of knowledge of the local road networks, as well as unfamiliarity with operating a moped or motorcycle, can be dangerous. If you've handled either before, you should be fine, but we'd warn against trying this out for the first time in southern Bali especially.
Looking for that only-in-Bali jungle paradise? Then the Hanging Gardens of Bali should be your property pick. Situated on a steep hillside, this luxury resort has one of the world's most stunning pools, where infinity edges seemingly drop into the lush forests all around. Suites are equally attractive, with lots of local hardwood plus romantic details like canopy beds and jungle-view terraces. Some even have private pools.
You'll Also Like:
All products are independently selected by our writers and editors. If you buy something through our links, Oyster may earn an affiliate commission.