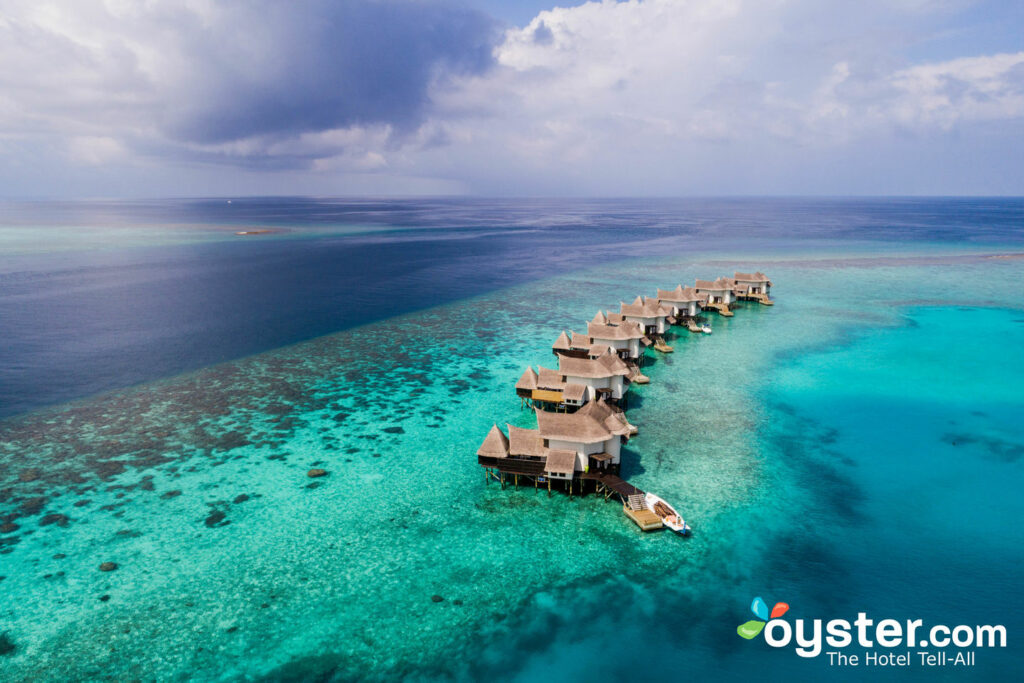 For many, the Maldives is a dream destination. Clear turquoise waters, stunning islands, soft-sand beaches, and the far-flung location are all huge draws. Its dreamy overwater bungalows, incredible snorkeling opportunities, tropical temperatures, and picture-perfect sunsets only add to the appeal. Flights from the U.S. clock in at over 20 hours, and the cost of the airplane ticket alone can match the full price of a week-long vacation in less distant, but similarly tropical, locations. Still, this gorgeous archipelago in the Indian Ocean beckons travelers from around the world. If you're going to take the plunge, pack your bags, and head to this screensaver brought to life, do your research. We at Oyster always say, you can't return a bad vacation, so it's best to be prepared, especially when there's so much money, time, and memories at stake. With that in mind, here are our top 10 mistakes to avoid when traveling to the tropical paradise known as the Maldives.
1. Not Budgeting for Transportation to Your Resort Island
Forgetting to factor in the cost of transportation from the airport to your resort island might just be the biggest economic mistake you can make when planning a visit to the Maldives. As it goes, there's usually one resort per island, and some are up to (or even over) a two-hour flight from Male International Airport. Other resorts, like the Sheraton Maldives Full Moon Resort & Spa, are close enough to jump on a bumpy speedboat, but either way, it'll likely cost extra. While speedboat rides can clock in at just over $100 per ride (or more), seaplane flights can easily be as much as your original intercontinental ticket. Be sure to check with your hotel on what is and isn't covered in order to avoid any surprise punches to your wallet.
2. Settling for the Cheapest Resort
Sure, you may have seen the gorgeous images of overwater bungalows and white-sand beaches in the Maldives, but not every resort here looks as beautiful. There are budget options in the Maldives, but this also means that you'll need to manage your expectations. Why spend thousands on a flight only to find that you're stuck in a hotel with terrible food, activities that cost extra, and a musty room? Since most resorts here are the destination, it's imperative that you know what you're getting before you arrive. Luckily, we've visited many of the Maldives' more affordable options, so you can choose the best property for the best price.
3. Not Packing Appropriate Clothes
The Maldives is a 100-percent Muslim destination, and there are general rules and customs that should be respected while visiting, including dressing properly — particularly for women. Resort islands tend to follow looser rules, and it's commonplace to see shirtless men, women in bathing suits or sundresses, and couples showing affection (which is also a no-no on the local islands). However, since you'll be arriving on a local island, it's courtesy to alight from the plane properly covered. This means long-sleeved shirts and pants for women — and absolutely no bikinis. Male International Airport and a few surrounding hotels are a little more lax, but since you are a guest in the country, we recommend adhering to the rules (of the dress code and beyond), especially in local areas. This is particularly important if you are planning to visit or even stay on a local island as part of an excursion from your resort.
4. Carrying Forbidden Items in Your Suitcase
One of the biggest mistakes people make when traveling to the Maldives is packing something that's forbidden in the country. Again, this is a strict Muslim country, so you'll want to be respectful of what you're bringing in, lest it be legally confiscated upon arrival. Some items to leave at home include pork products, booze (drinking or even touching alcohol is prohibited), anything that could be construed as pornographic, and religious paraphernalia that isn't Islamic. This includes crosses, bibles, and menorahs.
5. Not Bringing Extra Cash for Tips
Many of the resorts in Maldives are all-inclusive, but we still recommend bringing U.S. dollars or exchanging cash for the local currency, rufiyah, at the airport. For any purchases, a 10 percent service charge is typically added, but since you don't get a bill for housekeepers and bellhops, not everyone working hard on your island will receive an automatic tip. It's recommended that you tip about $10 per day for tour guides and about two dollars per day for staff members who clean your room.
6. Being Unaware About Ramadan
The holy month of Ramadan is observed in the Maldives, and it is something you should be aware of and possibly plan your trip around. During this period, Muslims are not allowed to eat, drink, smoke, or chew anything from sunrise to sunset. If you're on a local island, it's courtesy to avoid doing the same, though folks do understand that you are not abiding by the same religious laws. On resort islands, you'll likely see changes in office and service hours, so that staff members can attend their prayers and, in the evening, break their fast. Please be courteous to your resort staff during this time, as they are often working in triple-digit temperatures without water or food.
7. Worrying About Water Safety
You don't have to worry about water safety on the resort islands. There will always be bottled water on hand, and some resorts even have drinkable water from the taps (though this is rare). Skip the water purifying tablets and charcoal filters. Thanks to a severe drinking water shortage in 2014, all islands now use water processed through reverse osmosis. We suggest checking with your resort if free bottled water is included in the room rate, if you can drink from the tap, or if you'll have to purchase your own bottled water on the island (which can be expensive).
8. Not Bringing Electrolyte Pills or Powders
Speaking of water, reverse osmosis strips the H2O of any minerals and vitamins. This means that there are no rehydrating properties in the water. If you think this might be a problem (hangovers or longs days in the sun, anyone?), then we suggest bringing rehydration sachets or buying them from the pharmacy at the airport. The Maldives is hot, so you'll not only sweat out a lot of electrolytes, but you'll also be hard-pressed to find Gatorade.
9. Thinking You Will Just Island Hop
The Maldives is composed of over 2,000 islands, and you'll typically find one resort per island. Transportation between them is expensive and sometimes complicated due to scheduling and seasonality. Staying on several different islands — perhaps starting out at a more budget-friendly resort and finishing up with a luxury hotel splurge — might be pricier than holing up at the luxury pick the entire time. Seaplane rides are costly and tend to operate on an as-needed basis without regularly scheduled flights, particularly during the slow season. Most flights are designed to take passengers to and from Male, making stops at other islands on the way. It's not impossible, but it can be a hassle, so unless you have your heart set on island-hopping or have room in your budget, we recommend sticking to one island and just doing an excursion to cull the island fever.
10. Picking a Resort Without Many Activities
Resorts offer different types of experiences. If you're looking for a more active vacation that includes snorkeling, scuba diving, fishing, or dancing the night away, make sure to check out the activities offered at your resort before booking. Remember, since most islands are just home to a resort, you won't have many options outside of what's offered on-site. This also works the other way around: If you know you only want to soak up the sun on a gorgeous beach, there is no need to pay extra for activities that you won't be partaking in.
You'll Also Like:
All products are independently selected by our writers and editors. If you buy something through our links, Oyster may earn an affiliate commission.