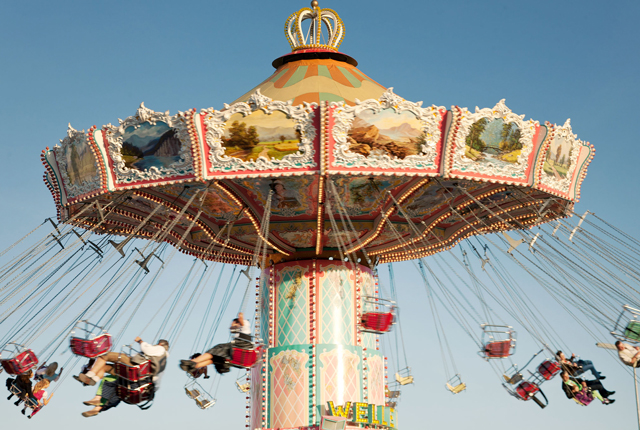 Oktoberfest 2017 is soon approaching, with the festivities kicking off on September 16th and running through October 3rd in the Bavarian capital of Munich. (Yes, Oktoberfest is mainly in September.) Millions will descend upon the city for what has become one of Europe's most popular festivals, inspiring international celebrations paying tribute to the tradition. Despite a reputation for drunkenness and rowdiness, Oktoberfest offers experiences for the whole family, as well as a comfortable atmosphere for drinking Munich's finest brews -- assuming you've done your homework. Here's our must-read guide for surviving and making the most of Oktoberfest.
History
The festival's history dates back to 1810, when it originated as a wedding celebration for Prince Ludwig I and Princess Therese of Saxony-Hildburghausen. The citizens of Munich were invited to take part in the royal wedding festivities, spurring the event to grand size. The original event did, in fact, take place in October, hence the name, and the celebration itself was centered around a horse race instead of beer. Due to its popularity, the race and its celebrations were repeated every year afterward. As time went on, though, the delicious amber-colored beer and accompanying Bavarian feast for spectators became the Oktoberfest event itself.
Oktoberfest Today
Oktoberfest has grown substantially since its founding, receiving upwards of six million visitors each year. The festival grounds (called Wiesn, in German) are now a permanent Munich installation, though many tents, rides, and stalls are only set up and open during the two-plus week festival. This year's festival will open at noon on Saturday, September 16th, following a 12-gun salute and the Mayor of Munich tapping the first keg of Oktoberfest beer (only beer brewed in Munich can be served at Oktoberfest). The Mayor then gives the first liter to the Minister-President of Bavaria. Although no festival goers will be served beer until after the tapping of the keg at noon, it is advisable to show up early, since both opening day and weekends are especially crowded.
Those looking to avoid the worst of the drunken revelry will be glad to know during the day, the scene is much calmer. Folk and classical music fill the tents, creating a much more low-key drinking environment. For those looking for a wilder festival experience, the evenings pick up substantially — sometimes with clubby pop music blasting from the speakers. You might want to consider obtaining a pair of shoes from this timely new line of "beer- and vomit-proof" footwear by Adidas, as profiled in the Independent. (But note that anyone too unruly will immediately be kicked out by security.)
Speaking of attire, many Bavarians will be sporting traditional garb, known as lederhosen for men and dirndls for women. Lederhosen range in length from above the knee right down to the foot. Most pairs include suspenders, unless they're full-length pants. Female lederhosen are making a comeback from milkmaid attire centuries ago, but the dirndl is more common — a traditional dress with full skirt, apron, and tied bodice. Cheap imported versions will be flaunted at shops around downtown Marienplatz, but the real thing will set you back some Euros.
The Tents
With 14 main tents and 20 small tents available, the choice of where to start can be overwhelming. First off, these main "tents" have evolved into permanent, hall-like structures, though some still maintain a cozy atmosphere, despite seating several thousand people. All tents allow walk-ins, but a reservation can be made well ahead of time to reserve superior seating. The largest, most international, and arguably the biggest party tent is Hofbräu Festzelt, which serves liters of Hofbräu alongside Bavarian cuisine. Another large, but more manageable option is the Winzerer Fähndl tent, serving up Paulaner beer in what the proprietors call "gemuetlichkeit" (a relaxed, fun feeling). Marstall, the newest large tent, joined Oktoberfest in 2014 and welcomes guests to drink Spaten-Franziskaner-Bräu while musicians play on its carousel-style stage, with plastic horses and all. Those who aren't the biggest beer fans need not despair, since Weinzelt offers over a dozen wines and champagne along with Paulaner beer in a comparatively more intimate tent (capacity 1,920). After the first seating and a couple liters, people begin to move between tents throughout the day, so fret not if showing up to drink at 10 a.m. (the opening time after opening day) isn't your objective.
Outside the Festival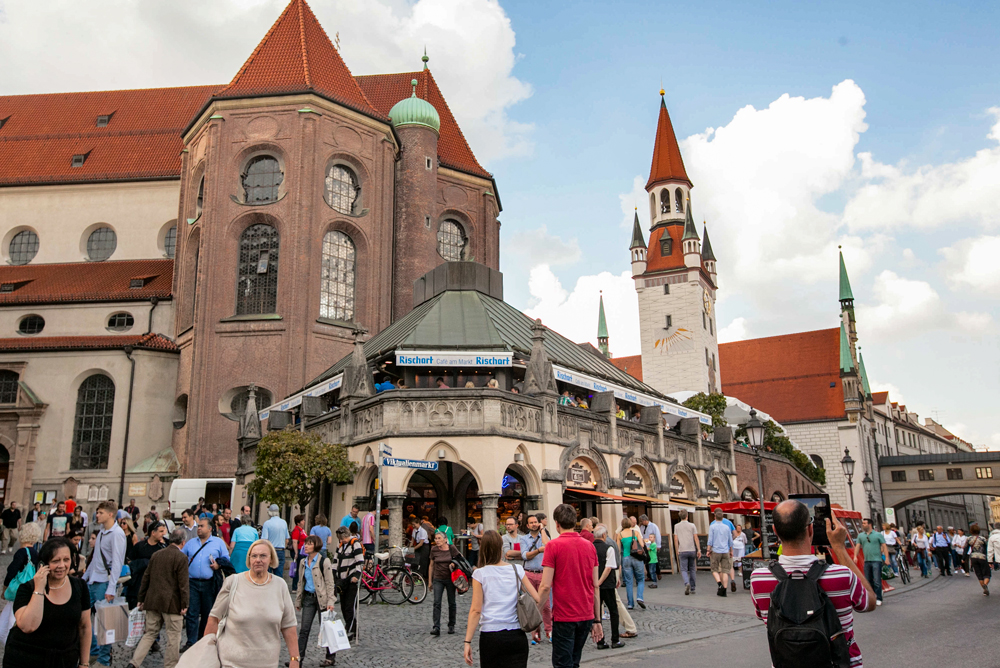 For many visiting during this time, Oktoberfest itself is the main draw to Munich. However, Bavaria's capital has plenty going for it besides this grand festival. If visiting during Oktoberfest, consider allocating a day or two to venture outside the Wiesn mayhem. The city boasts incredible architecture, which is especially amazing considering how much was damaged during World War II bombings. The city center holds many of the main architectural sites, notably the famous Glockenspiel of New City Hall, the opera house, and the Hofräuhaus on Marienplatz (which can get rowdier than Wiesn at times).
To get a glimpse into Munich's more livable quarters, head north from the City Center into Maxvorstadt and Schwabing, two of Munich's hippest neighborhoods bordering the English Garden. Both areas are filled with cafes, boutiques, galleries, and charming tree-lined streets. The English Garden puts New York's Central Park to shame with its beer gardens, swimmable creeks, and surf spot on the Eisbach river — all right in the city center! For those visiting during times outside of Oktoberfest, head to Chinesischer Turm (Chinese tower) or Seehaus (lake house) for excellent outdoor beer gardens right in the English Garden.
Getting away from the beer, Munich's charming markets — Vikutalienmarkt, Elisabethmarkt and the seasonal Christmas markets — merit exploring for Bavarian treats and delicacies. For some traditional fare, take a breakfast of weisswurst (white sausage), pretzel, and beer (okay, we couldn't resist) at Vikutalienmarkt. Afterwards, head over to the Kunstareal museum quarter, located in the Maxvorstadt neighborhood, which houses over a dozen museums and even more galleries. The Pinakotheken incorporates three museums showing works ranging from 15th-century Madonna and Child paintings to cutting-edge modern art and design. Nearby, the more somber, but incredibly informative NS-Dokumentationszentrum shows (in a remarkably neutral fashion) how and why Nazism was able to take hold in Munich, and ultimately Germany. The minimalist cubic structure was built at the site of the former Nazi headquarters, standing in sharp contrast to Königplatz and the surrounding neoclassical museums. It's seriously well worth the visit, even for non history buffs.
Need a place to stay in Munich? Check out our reviews and photos of 60 hotels.
You'll Also Like:
All products are independently selected by our writers and editors. If you buy something through our links, Oyster may earn an affiliate commission.