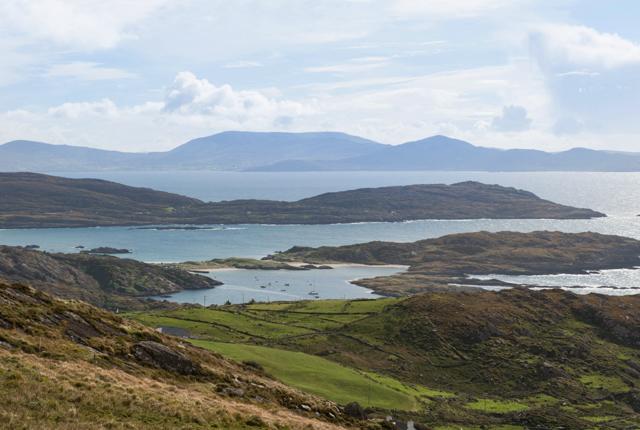 Ireland is made up of castles, quiet inlets, warm people, wild and windswept beaches, vibrant cities, quaint towns, hole-in-the-wall pubs, trad music, and seemingly endless gorgeous landscapes. However, the sheer volume of must-see sights and places can boggle the mind and make planning a trip here a challenge. It's a relatively tiny country, but unless you have months on end to spend traversing its winding roads and countryside, you're going to have to accept a bit of FOMO, as packing it all in is impossible. With that in mind, we've broken down the major must-see destinations, including buzzing cities, quaint towns, stunning scenery, centuries-old abbeys, and everything in between. Whether you only have a long weekend or a couple weeks to spare, our cheat sheet is sure to help you hit everything on your Ireland bucket list.
Dublin doesn't get the best rap on the international tourism circuit, but you'd be missing out big time if you skipped this dynamic city. You'll likely have to pass through Dublin on your trip to Ireland, as the majority of wallet-friendly international flights land in the nation's capital. We recommend making the most of it and spending three or so days wandering this historic city.
Without a doubt, the most famous sight in central Dublin is Trinity College, which is home to the oft-photographed Long Room, a beautiful library that also holds the Book of Kells. Head west from Trinity College toward the nighttime party hub of Temple Bar, an area where you'll find tourists and locals day and night. Dublin Castle is another must-see, and is the scene of "Dracula"-themed events around Halloween in honor of Bram Stoker, who was just one of Dublin's famous residents. You'll also want to scope out the striking Christ Church Cathedral when you're in this part of town.
There are tons of shopping and dining options, plus traditional pubs and quaint cafes, lining the streets south of Dame Street, and the pedestrianized Grafton Street is a people-watcher's delight. It's also worth stopping by beautiful St. Stephen's Green, a pretty park that has origins in the 17th century. North of the Liffey River, along O'Connell Street, are several historic sights commemorating the struggle of the Irish Republic. This area is also home to the Dublin City Gallery, The Hugh Lane, which has a replica of Francis Bacon's studio — another one of Dublin's famous former residents. Insider tip: Check out the trendy restaurants, cafes, and bars that continue cropping up just north of the Liffey River, between Grattan Bridge and O'Connell Street.
If you're willing to hop on the Luas — Dublin's tram system — you can reach destinations like the Guinness Storehouse, Phoenix Park, and the Irish Museum of Modern Art with relative ease (and a bit of walking). It's also worth visiting the Dublin Flea Market on weekends for awesome antiques, hand-crafted designer goods, and great food stalls.
Hotel Pick: The Morgan, amid Temple Bar's nightlife, is a solid bet for modern digs and a prime location, though the decor here can be a little over the top. It's popular with bachelor and bachelorette parties in town for the weekend. If you're willing to stay north of the Liffey, the North Star Hotel is an excellent simple hotel that's close to the Luas system in a quiet corner of the city.
If you're heading to Ireland, you'll likely hear the name of this small city from anyone who has already visited the country. Galway is packed with character and happens to be incredibly easy on the eyes, too. Rows of colorful houses and businesses line up along the city's bustling wharf, and cobblestone streets seem to wind in every direction. The hub of activity is in the Latin Quarter, a largely pedestrianized area that's loaded with shops, alfresco dining spots, and art galleries. Tourists and locals pack the streets almost any day of the week, though the area comes to life on the weekends and on weekday nights.
This part of town is also filled with pubs, many of which overflow with the city's young college students studying at the historic National University of Ireland, Galway. Lots of these bars have live traditional and contemporary music on many nights of the week, so check for flyers posted around town. For great views, head down around the wharf and Spanish Arch, then make your way across the Wolfe Tone Bridge into South Park, which has great sea and city vistas across wide green expanses.
Galway has undergone a gastronomic renaissance in the past decade, and much of that exciting activity is concentrated on the west side of the River Corrib. William Street and Sea Road are lined with trendy coffee shops, gastropubs, and high-end hipster dining venues slinging everything from fresh seafood to Mexican-Irish fusion cuisine. On your way back into the Latin Quarter, stop by for a glance at the gorgeous Galway Cathedral.
Hotel Pick: The House Hotel is a charming boutique property that's between the Latin Quarter and Galway's wharf. It has an upscale finish, though only a few features. The convenient location, however, is ideal for sightseeing. Keep in mind that this hotel is wildly popular and can book out many months in advance.
Ireland's west coast is packed with visual delights — and County Clare is home to the most famous of them all. The main attraction here are the Cliffs of Moher. No matter how many photographs you've seen of them, the sight of these sheer rockfaces as they plummet into the roiling waters of the Atlantic Ocean cannot fail to overwhelm the senses. The cliffs tower anywhere from nearly 400 to 700 feet over the water below, and the vertigo-inducing views — often accompanied by Ireland's simultaneously shimmering and stormy skies — inspire plenty of awe (and then some).
County Clare — a mostly rural landscape that feels almost perpetually blown by winds off the Atlantic — is very much what many visitors to Ireland have in mind when they come here. It's packed with tiny towns, miles of uninterrupted coast, and local traditions that are still thriving. If you're visiting the Cliffs of Moher, it's smart to bed down in Doolin, a speck of a town to the north of the cliffs. From there, you can take the Doolin Cliff Walk to the cliffs, a trip that's about two hours in each direction. The town has a handful of tiny inns, guesthouses, and hostels, but it's most famous for its pubs, which put on trad music shows on most nights of the week.
Hotel Pick: For a cozy pick that's also more modern than some of the other local options, the Hotel Doolin is hard to beat. It has a prime spot in the center of town, and Fitz's Pub, located on-site, hosts some of the town's most famous trad performances.
County Kerry, located to the south of County Clare, just might give its neighbor to the north a run for its money when it comes to mind-blowing beauty. While the county is a big place, we recommend heading straight to the town of Killarney. It's a great home base from which to explore the region's gorgeous landscapes. Killarney packs a lot of cool into a tiny package, and though it's not as prototypically quaint as Galway, you'll find pubs with live trad music, funky boutiques, hipster cafes, lively bars, and old-school Irish restaurants in spades. It's a fascinating place to wander for a couple days, though make sure to get out to Ross Castle early in the morning on one of your days here. Watching the fog clear over this 15th-century fortification on the shores of Lough Leane, as swans paddle in the water and the purple and green hues of the mountains become visible, is something you shouldn't miss.
The town sits just below Killarney National Park, which is home to gorgeous lakes, forests, and mountain peaks. There are also numerous trails to explore throughout the park. Many travelers opt for the Lough Leane boat cruises, which take in many of the historic sights that ring the biggest of the park's lakes, as well as waterfalls and various other scenic spots. You can also drive through the park, though this is best done as part of a Ring of Kerry itinerary (see below).
Without a doubt, the most stunning draw in this area is the Gap of Dunloe. This relatively easy hike should be tackled as early in the morning as possible in order to take in the magical way Ireland's light changes throughout the day. The hike is paved the entire way, making it relatively simple for even novice trekkers. It starts at Kate Kearney's Cottage (where you can fuel up on snacks and coffee — or beer). The trip up to Madman's Seat passes lakes, stunning rock formations, sheer cliffs, rushing streams, and shepherd tending their flocks. Budget two hours for the walk up and a little over an hour for the return journey. More ambitious hikers can reach Lord Brandon's Cottage, a 19th-century hunting lodge, in three to three-and-a-half hours one way.
Hotel Pick: Keep it simple when in Killarney, as you'll likely be out exploring for most of your time in town. We like The Fairview, a central boutique-sized property with lots of classic appeal. It also happens to be around the corner from Murphy's Bar, where trad performances take place in the cozy pub's wood-hewn interiors.
The Ring of Kerry
We told you that County Kerry was packed with sights, and Killarney isn't the only thing to see here. In fact, if you're staying in Killarney, you're at the starting point of one of the world's most famous scenic drives: The Ring of Kerry. Depending on what kind of traveler you are, the drive is either lovely or a bit tedious. That's because it is, of course, a drive. You'll be spending most of your time in the car, making stops here and there to take in the stunning scenery and quaint villages along the way.
A car is the best and most independent way to navigate the ring, though bus tours are also available. The local government strongly encourages those with their own cars to make the loop in a counter-clockwise fashion. There are all manner of side trips and jaunts off the main route, with sights including the Bog Village — a replica of a traditional village life — as well as Rossbeigh Beach, which has gorgeous and often moody views out over the Atlantic Ocean. Farther along the ring, Valentia Island has a quiet and laid-back pace plus a handful of quaint restaurants. The ring also has its own cliffs at Portmagee, though they're a little underwhelming if you've already seen the Cliffs of Moher (and the vantages aren't nearly as viewer-friendly). Historic sights are dotted among the hills along the south coast of the ring, and the quaint town of Kenmare is packed with colorful architecture and lovely cafes for an early evening coffee.
The most dramatic part of the drive comes at the end, as the road climbs into Killarney National Park and descends along its lakes, with stunning viewpoints set here and there. The prettiest of these is Ladies View, which looks down across Upper Lake and the dramatic mountainous landscape. For travelers who don't want to make the journey in one long day, there are numerous guesthouses throughout the area. Most travelers, however, choose to retreat to Killarney for the evening.
The Rock of Cashel
When it comes to castles in Ireland, none is perhaps as well known as the Rock of Cashel. Technically, however, this isn't a castle, but a series of religious ruins. As a former site of royalty, the Rock of Cashel practically swims in history — both mythological and factual. According to legend, the rock is linked to St. Patrick, who possibly moved the mountain on which the castle sits. It's also possibly where he converted Aengus, the King of Munster, to Christianity in the fifth century. Since then, the rock has changed hands and became Catholic property, and much of what currently occupies the site hails from the 12th century or later. Nonetheless, the setting is stunning, and the grounds are basically tailor-made for only-in-Ireland photographs. The nearby town of Cashel has a small group of historic and cultural sights, though the nearest major city is Limerick, which has its own share of impressive castles and cathedrals.
Aran Islands
While Ireland is a study in contrasts — ancient sites sit side-by-side with hyper-modern city conveniences in many corners of the country — the Aran Islands are almost literally stuck in a bygone era. This is the Ireland of yore, and it tops many travelers must-see lists. The easiest way to get here is by taking ferries that depart directly from Doolin (in County Clare) or Rossaveal (in County Galway), which takes about 45 minutes. However, the journey depends on weather conditions — meaning you can get stranded there if storms hit in this part of the country.
Once you make the journey, though, you may not want to return to the real world. The bulk of travelers spend time on Inishmore, which is the largest of the islands and home to the most development. Here, the town of Kilronan serves as something of a hub, and has a castle that serves as a hotel and spa. Dun Aengus fort is another major draw here, and is one of the oldest standing structures within Ireland, dating back to at least 1,000 B.C. The Seven Churches are another must-see, with striking religious ruins strewn amid an emerald green landscape. Biking is a popular way to get around the island, and a stay here is mostly about exploring the miles of pristine landscape, complete with colonies of seals, towering cliffs, winding roads, and rolling hills.
Part of the appeal of the Aran Islands are how untouched they feel. In fact, Gaelic is still widely spoken on the islands. The two smaller islands are even less developed, and home to traditional farms and authentic trad music. You should pick up a few handwoven sweaters when you're on the Aran Islands, as the woolen creations are famous around the world.
The Northern Wild Atlantic Way
Heading north from Galway leads to a world that can look entirely unlike the Ireland you may be expecting. The gentle and green rolling slopes of the island's eastern and central areas are replaced with jagged peaks, high mountain lakes, and rocky landscapes peppered with shrubs and wildflowers. On your way out of town, swing by Ashford Castle, one of Ireland's most famous castle-hotels where you can fly hawks and sip a traditional English tea. Afterward, check out the striking lakeside setting of Kylemore Abbey. From there, catch the Wild Atlantic Way. This designated scenic route actually follows the entirety of Ireland's west coast, but its northern fringes are particularly delightful.
Here, you'll find few people, plenty of tiny towns, and limitless stunning vistas. Along the coast in County Sligo — about two-and-a-half hours northeast of Kylemore Abbey — the stunning landscape of Mullaghmore Head towers over the sea in dramatic fashion, flanked by Classiebawn Castle. Beyond that, the town of Donegal feels authentically Irish, with a majority of the population speaking Gaelic. The town includes a 15th-century castle, and outside of town, you'll find ancient forts and dramatic coastal scenery. The farther north you go, the more likely you'll also be to spot the Northern Lights. On certain nights, this typically Scandinavian sight is visible along the horizon from spots like Malin Head, Fanad Head, and Sliabh Liag.
Hotel Pick: Why not bunk up like royalty as you're touring this sometimes chilly part of the country? We love Lough Eske Castle, a Solis Hotel & Spa, which sits along the shores of Lough Eske and provides luxury amenities to match its setting. Rooms blend classic and modern styles, and the hotel's spa is a Victorian wonder. It's a 10-minute drive from Donegal town.
We expect that some readers will take issue with our focus on Ireland's western reaches — though part of that is simple geography. You see, there's way more space and land to explore out west. But that's not to say that Ireland's eastern reaches are without their charms. In fact, for travelers with short itineraries based out of Dublin, there's plenty to see within striking distance of the nation's capital. Just head to County Wicklow, which has connections to Dublin by train, bus, and highway. The town of Wicklow, which sits along the coast, includes pretty gardens, historic sights like Wicklow Gaol, and plenty of Old-World charm. It's also on the nation's rail network, making it an easy day trip from Dublin.
To explore the county's stunning natural gems, though, you'll want a car. These include Wicklow Mountains National Park, Wicklow Way, and Great Sugar Loaf Mountain. Even with this wealth of nature, man-made creations are still County Wicklow's biggest draw. The Powerscourt Estate, which dates back to the beginning of the 14th century, is a sprawling display of wealth strewn across nearly 25 square miles. The equally magnificent Powerscourt Waterfall is only a 15-minute drive from here and well worth the side trip.
You'll Also Like:
All products are independently selected by our writers and editors. If you buy something through our links, Oyster may earn an affiliate commission.