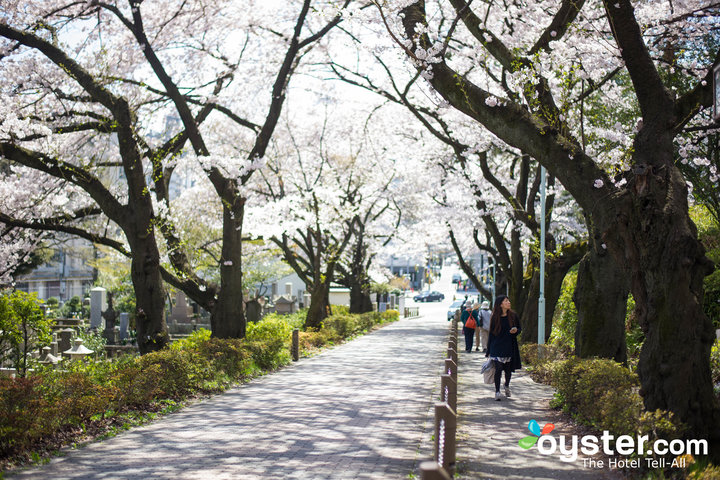 Think of Japan and images of cherry blossoms, Buddhist temples, and a Shinkansen train zooming past Mount Fuji probably come to mind. But this is a country of diverse landscapes and seasons, 30 national parks, 21 UNESCO World Heritage Sites, avant-garde design and architecture, and one of the most refined cuisines in the world. With so much to see and do in the land of the rising sun, it's hard for first-time visitors to decide where to go. That's why we've compiled a handy round up of some of Japan's top destinations to help you out.
Tokyo is a city that's often described with plenty of superlatives: This is one of the world's most populous, most modern, safest — and most expensive — cities. This fascinating megapolis offers an eclectic mix of the modern and traditional. Any tourist itinerary will include ancient temples and palaces like Senso-ji Temple, Meiji Shrine and the Tokyo Imperial Palace as well as modern architectural marvels like the Tokyo Sky Tree and Tokyo Tower.
Tokyo is also known for its many vibrant neighborhoods. Kabukicho is its infamous entertainment district that never sleeps, Ginza is known for its luxury shops and restaurants, Akihabara's arcades and gaming palaces are where anime and manga fan congregate, and Shinjuku's urban landscape is made up of a forest of skyscrapers. At the heart of Shinjuku is its train station, the busiest in the world with over 3.5 million passengers passing through it each day. Meanwhile, the world's busiest intersection is in Shibuya: Known as Tokyo's "Times Square" because of its billboards, famous "Shibuya Crossing" is swarming with pedestrians at all times of the day.
Once you've had enough of urban landscapes head to one of the city's many beautiful parks and gardens, like the 140-acre Gyoen National Garden or Yoyogi Park, or plan a day trip to one of the many enticing destinations within easy reach of central Tokyo.
A Luxury Hotel Pick:
Atmospheric Kyoto is one of Japan's most romantic cities. A walk through the narrow lanes of Gion lined with wooden houses and lit by the atmospheric light of paper lanterns is like stepping back in the time of the samurais. You may even spot a geisha or "maiko" (geisha in training) scurrying off in her kimono and wooden sandals to an evening rendezvous.
Kyoto is home to over 1,000 Buddhist temples and 17 UNESCO World Heritage Sites. The most famous of its temples are probably Kinkaku-ji (popularly known as the Golden Pavilion) and Ginkaku-ji Temple (the Silver Pavilion) whose vast gardens are also a big draw for visitors. Other must-visits are Ryoan-ji Temple and its famous zen garden, and the sprawling Nijo-jo Castle.
When you're all templed out, head to Nishiki Market in downtown Kyoto for some local colors and flavors. Here you'll find over 100 stores and stalls selling all kinds of food, as well as specialty shops: Aritsugu is famous for its handcrafted knives, Ichihara Heibei Shoten is specialized in chopsticks, and at Terakoya Hompo you can sample a variety of different types of "senbei" (rice crackers).
A Luxury Hotel Pick:
Hiroshima doesn't need much introduction. Not surprisingly, its most visited attraction is the iconic A-Bomb Dome, the bombed out shell of the only building that was left standing after this city in western Japan was bombed on August 6, 1945. Known as the Hiroshima Peace Memorial, it's a central landmark in Hiroshima's Peace Memorial Park, which is also home to a cenotaph in memory of the victims of the explosion. Another poignant memorial among the many here is the Children's Peace Monument in memory of the children who died after the bombing. The park's Peace Memorial Museum tells the story of this day in 1945 through photos and exhibits of objects that belonged to Hiroshima's victims.
A Luxury Hotel Pick:
At 12,389 feet, Mount Fuji is Japan's tallest mountain and its towering cone-shaped form is probably one of the country's most iconic images. The mountain has been an inspiration for artists, poets, and photographers through the centuries and is an important pilgrimage site. For this reason it was recognized by UNESCO as a cultural heritage site and not a natural one.
Mount Fuji is actually an active volcano that last erupted in 1708 and is capped with snow for about five months a year. The peak of the climbing season is July and August, but a visit to its base is popular at any time of the year to take in the views of the mountain. The five scenic lakes (Fuji Go-ko) at the northern foot of the mountain are a favorite hiking spot and offer a great vantage point for vistas of Mount Fuji. Photographers take note: Lake Kawaguchi is the best spot to catch a shot of the reflection of the majestic mountain in the lake's waters.
A Luxury Hotel Pick:
This coastal city in central Japan is best known for its famous garden. Seventeenth-century Kenroku-en is one of Japan's three great gardens — along with Kairaku-en in Mito, and Koraku-en in Okayama. Kenroku-en has over 25 acres of landscaped gardens filled with flowering trees, several ponds, winding streams spanned by wooden bridges, stone lanterns, and a number of well-known landmarks, like the 18th-century Shigure-tei teahouse, the Kaisekito pagoda, and a fountain said to be Japan's oldest.
Just next to the garden is the exquisitely restored Kanazawa Castle, and other local sights to take in include the charming cobblestone lanes and canals of the Nagamachi district. Here you can see historic samurai houses built with mud walls and tiled roofs and visit the ones that have been converted into museums. Art buffs will appreciate a visit to the circular shaped 21st Century Museum of Contemporary Art and its permanent collection of international art works.
A Luxury Hotel Pick:
Miyajima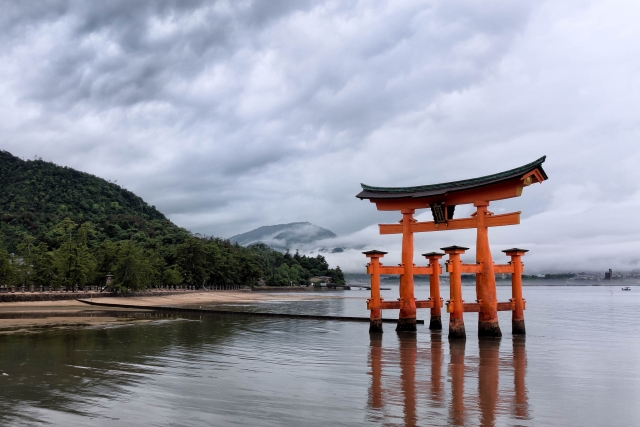 Miyajima is one of Japan's most popular day trip destinations with four million visitors each year. This UNESCO World Heritage Site is actually a small island and its official name is Itsukushima but is more popularly known simply as Miyajima, meaning "shrine island". Its bright red torii gate is one of Japan's photographic icons: It seems to be floating on the water during the high tide when its base is submerged, but during the low tide visitors can walk to it. Miyajima is easily accessible by train from Hiroshima — the town's wild deer will be there to meet you at the station.
Japan's former capital is another heritage hot spot, with eight UNESCO World Heritage sites to keep tourists busy (only Kyoto has more). Of these eight sites, five are Buddhist temples, one is a Shinto shrine, one is a palace, and the last is a primeval forest. Most of these sites are situated close to each other and can all be seen in one day in a pinch, though quite a bit of walking will be involved.
Todai-ji is Nara's most famous site. This Buddhist temple complex is known for its gigantic 49-foot-tall daibutsu, or Great Buddha — the world's largest Buddha statue made of bronze. Some of Japan's largest and oldest temples are also found here, like Horyuji Temple. Built in 607 it is also one of the world's oldest wooden structures.
A Luxury Hotel Pick:
Kumano Kodo Trail
This age-old pilgrimage route is one of Japan's most enchanting walks that follows the paths that were once trod by emperors and samurai as part of a sacred pilgrimage. Kumano Kodo is yet another Japanese attraction to have UNESCO status, and is one of two pilgrimage routes to have such recognition — the other being Santiago de Compostela in Spain.
This network of hiking trails that wind through forests and mountains doesn't really have a starting or end point. Walkers can join the trail anywhere on the route and follow it for a few hours or a few days, passing ancient trees, age-old shrines and temples, and scenic waterfalls on the way.
Many pilgrims make it a point to visit the three main shrines on the route that are collectively referred to as "Kumano Sanzan." These are Kumano Hongu Taisha, Kumano Hayatama Taisha and Kumano Nachi Taisha. A natural highlight is Nachi-no-taki, Japan's tallest waterfall at 436 feet, that can only be reached after a grueling uphill climb.
Kurashiki
Kurashiki's historic district of narrow canals fringed with weeping willows are reminiscent of Amsterdam. Of course, the best way to explore it is by taking a trip on one of the many flat bottomed punts that ply the canals. Making up the city's old merchant quarter are the characteristic black tiled roofs and white washed walls of the 17th-century wooden storehouses. These were once used to store rice, but today some of these have been converted into boutiques and cafes, as well as museums and galleries showcasing contemporary art and Japanese crafts.
Kinosaki Onsen
No trip to Japan is complete without the experience of bathing in a traditional onsen, the Japanese hot spring. Onsen are found all over the country and are often a feature at traditional Japanese inns called ryokan. Kinosaki Onsen in western Japan is one of the best-known centers for onsen — a type of hot spring resort town. You'll see people strolling around in their "yukata" bathrobes and traditional wooden sandals on their way to or from the onsen. A scenic tree lined canal runs through the town, and traditional Japanese-style houses, shops, and restaurants complete the picture of a rural Japanese idyll.
NOW WATCH: 9 Things You Should Never Do in Japan
https://www.youtube.com/watch?v=S5uNDGBGHz8
You'll Also Like:
All products are independently selected by our writers and editors. If you buy something through our links, Oyster may earn an affiliate commission.