Portugal is becoming increasingly popular with international tourists -- and it's a small wonder why. The country is one of the more affordable European destinations, and it has a wide variety of attractions for all types of travelers. Its popularity has also risen as travelers are forgoing other destinations, like Turkey and Morocco. Located on the southwestern portion of the Iberian Peninsula, bordering the Atlantic Ocean to the west and south, Portugal has been gifted with rugged coastline, delicious seafood, and a temperate climate. It's also home to superb wines, historic architecture, and rugged landscapes. The question is, which part of Portugal should you visit? We've outlined Portugal's most alluring destinations.
Portugal's capital, Lisbon, is a dynamic and lively city, blending the old and the new. Like Rome, Lisbon is also set atop seven hills. Cobblestone streets and stairways wind up and down these hills, offering breathtaking views — and making for a reasonable workout. The extra exertion is quite fortunate, as there are plenty of Portuguese treats you'll want to indulge in. One of the most delicious and well-known delicacies is pasteis de nata, a egg custard pastry sprinkled with cinnamon and sugar. The original recipe was mastered over 300 years ago by monks at a monastery in Belém. You can enjoy the pastry at the famous Fábrica de Pastéis de Belém, which has been serving pasteis de nata since 1837.
If you're stuffed with pastries or tired from navigating the steep stairways, you can hop on a tram and take in the city sights at a leisurely pace. Tram 28 meanders through much of Alfama, the oldest district in Lisbon, which is teeming with quaint alleyways and cafes. It is also home to the Fado Museum. (Fado is a Portuguese music genre, featuring a Portuguese guitar and mournful-sounding vocals.) For an intimate performance and delicious meal, we recommend heading to Maria da Mouraria in the Socorro neighborhood, which is made up of hilly streets and town squares near the Castelo de Saint Jorge. It has a more local feel compared to the popular Alfama district. The Portuguese tend to dine late, so don't make a reservation before 9 p.m.
After a fantastic meal, you can visit the bustling bars in Bairro Alto or seek out some emerging music venues in Lisbon's industrial outskirts. The Village Underground Lisboa, constructed out of shipping containers in a tram yard on the west side, offers performances by Portugal's top Afro-house musicians. It also serves as a gallery space and coffee shop.
A Boutique Hotel Pick in Lisbon: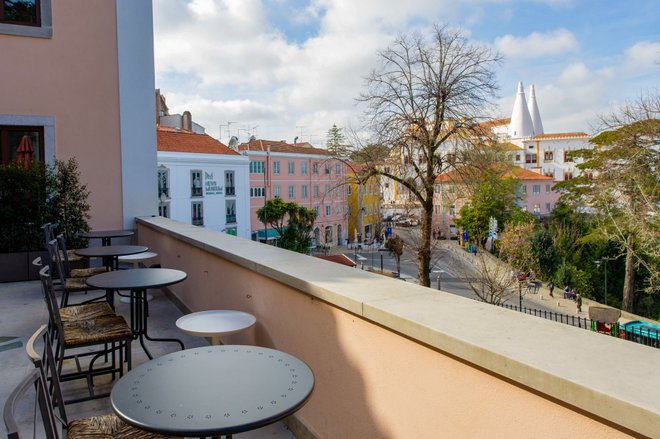 Many travelers only come to Sintra on a day trip from Lisbon to visit the Pena Palace. This elaborate structure — which is certainly worth a visit — blends multiple architectural styles to a unique effect. Visitors might even be reminded of Park Güell in Barcelona. In fact, it's thought that Gaudí drew inspiration for the park from the eclectic colors and romantic styles used in Pena's architecture. The palace was built as the Portuguese royal family's summer residence, and its grounds incorporate lovely walking paths through the surrounding forests and gardens.
However, the Pena Palace is just one of several remarkable and unique palaces and castles in the Sintra region. The Castel dos Mouros, constructed in the 10th century, is within walking distance of Pena Palace's gates. This fortification was built by the Moors to protect Sintra. The castle walls are open for visitors to explore, and they offer remarkable views of the town below and across to Pena Palace on a clear day. Heading downhill back into town, villas dot the forested windy roads, some of which have been converted into museums. Two impressive palaces are Monserrate and Quinta da Regaleira. The former was the estate of an English textile baron, and it mixes Portuguese, Arabian, and Indian architectural styles and features a botanical garden on site. Quinta da Regaleira was built in a bold Gothic style with gargoyles, pinnacles, and towers. The surrounding grounds were designed by Italian architect Luigi Manini, resulting in an elaborately eclectic garden featuring renaissance sculptures, masonic symbols, hidden tunnels, grottoes, and lakes. Although Sintra lies just thirty minutes from Lisbon, spending a couple full days in town allows for intimate exploration of all these magnificent palaces and gardens.
A Luxury Hotel Pick in Sintra:
Portugal's second city, known as a center of commerce and trade, is, in many ways, a contrast to bustling Lisbon. Porto's city center features mainly granite buildings — Lisbon has more colorful baroque facades. It might likely be no surprise that Porto is known for, well, port wine. The wine derives its name from the city and is stored here in warehouses and cellars. Many of the grapes are grown at vineyards to the east along the Douro River, which Porto is scenically perched above.
Historically, the grapes were sent down the river to be kept in warehouses in Vila Nova de Gaia, which is across the Douro River to the south from Porto. (It can easily be reached by crossing any of the six bridges, but travelers should note that some of the best views of the city are from the soaring Ponte de Dom Luis Bridge.) On this side of the river, the port houses, including the popular Cálem and Sandeman, line the banks and beyond, down winding alleys. You can combine a tasting at one of theses famous port houses with a smaller cellar, such as Croft, to get a wide range of experiences. It's not just port that makes the Douro Valley/Porto region stand out — the area also specializes in vinho verde, a light white wine made from young grapes, whose flavors complement seafood brilliantly.
After all that drinking, you can head to Matosinhos for some of Porto's most renowned eateries. Another regional culinary specialty? Tripe. Porto residents are nicknamed Triperios, reportedly due to their increased consumption of tripe during a city-wide meat rationing in the 15th century. It remains a speciality cuisine there today.
A Historic Hotel Pick in Porto:
Portugal's university city is conveniently located on the train line between Lisbon and Porto. The riverside locale has maintained a well-preserved old town full of quaint cafes, pastry shops, and spots to hear live fado music. Coimbra's fado differs from what you'll hear to the south in Lisbon — it's characterized by a more poetic, serenading style, unlike Lisbon's sorrowful variety. After strolling the city streets, you can head up University hill to visit the University of Coimbra, which has expertly preserved its baroque library, the Biblioteca Joanina. Guided tours of the library are available, while the rest of the courtyard and campus can be explored on your own. Located at Coimbra's highest point, the university offers a spectacular view of the Mondego River below. There are several castles and museums nearby, most notably the Castle of Montemor-o-Velho, the Museu da Ciência, and the Museu Nacional. Coimbra is not chock full of famous sites and attractions like some of Portugal's other cities, but the history and charm is palpable.
A Romantic Hotel Pick in Coimbra
The southernmost region of Portugal is home to some of the country's most beautiful landscapes and scenic coastlines. The Algarve is quite popular with Portuguese and European tourists looking to soak up the sun on a stretch of the region's 100-plus beaches. If you're searching for a more active holiday while escaping the crowds, the Algarve can offer that, too, with excellent hiking. Trails allow exploration into the coastal Ria Formosa Natural Park, the cliffside Sagres Cape, and the forested Serra da Monchique. One particular path, the Via Algarviana, connects Cape St. Vincent to the eastern town of Alcoutim via a 180-mile trail. The hike is easily divided into single- or multi-day hikes for those not cut out for the entire 14-day journey.
Another inland escape awaits in the high reaches in the village of Monchique. Outdoor activities and spas offer visitors both excitement and relaxation in this picturesque setting. However, the beaches and coastal towns are what draws millions of tourists annually. Much of the crowd stays within the hotel hubs along the south coast, where resorts and beach bars descend towards the inviting waters. In stark contrast, the west coast prioritized nature conservation in its tourism development. Remote beaches can be accessed from villages, such as Carrapateira and Odeceixe, among several others. This swath of coast is popular with surfers for the big waves, so casual swimmers should be cautious if braving the tumultuous surf.
An All-Inclusive Hotel Pick in the Algarve:
This autonomous region of Portugal consists of nine volcanic islands in the North Atlantic. The Azores are incredibly remote, lying 850 miles west of Portugal and nearly 1,200 miles southeast of Newfoundland Canada. There has been little volcanic activity in modern history, but the volcanoes make for impressive views, from above and below. Mount Pico, on the island of the same name, reaches Portugal's highest elevation of 7,713 feet. The views of the neighboring islands and surrounding ocean on a sunrise or sunset is am unforgettable experience. Pico is also home to Gruta das Torres, a three-mile long lava tube, which can be explored via guided tours.
The main airport is in Ponta Delgada, located on the island of Sāo Miguel. Sāo Miguel is also home to several crater lakes, notably Lagoa do Fogo (lake of fire). This crater lake lies with the Agua de Pau stratovolcano, which is also a protected nature reserve. The lakes shores can be reached via an eight-mile hike, but the views of the rugged mountains and turquoise waters will be well worth it. Swimming from the lake's shore is also possible, and who wouldn't want to take a dip in the waters of a fire lake within a volcano? If pressed for time, Sāo Miguel, the archipelago's largest island offers an array of activities and attractions for any traveler.
If you have more time to spare, you should consider a trip to the island of Terceira, where a unique swimming experience awaits in the town of Biscoitos. Here, bathers can relax in sheltered rock pools formed in eroding lava rocks that protect swimmers from the rough Atlantic waves. Terceira is also home to the Azores' oldest city, Angra do Heroísmo, which is also a UNESCO World Heritage Site noted for its charming old town and fortress. The island of Faial merits a boat ride across the rough Atlantic for a chance to see the planet's largest mammal, the blue whale. It is also possible to see humpbacks and the elusive sperm whale here. If you head further west, you'll reach Flores, where you can explore the glorious landscapes that are part of a UNESCO Biosphere Reserve. Truly, you can't go wrong with any of these nine spectacular islands.
A Boutique Hotel Pick on Pico:
You'll Also Like: