Just-about-perfect weather and staggeringly diverse scenery -- from spectacular Saharan-sand beaches to snowy volcanic peaks -- make the Canary Islands a delight for lovers of the outdoors. Since the 1960s, the seven Spanish-governed islands have been a major travel destination predominantly for Europeans, and recently, their already-infinite appeal has soared due to Europe's shaky geopolitical climate. Travelers who might have vacationed in Turkey or Egypt a year or two ago are now opting for a trip to this balmy archipelago instead. (Spain's Balearic Islands have also seen an increase in bookings for this same reason, though some argue that the Balearics have not absorbed their newly inflated tourist numbers as well as the Canaries, which have a solid tourism infrastructure, including sound roads, airports, ferries and ports, bus systems, car rentals, and hundreds upon hundreds of hotels for every budget.)
What's more, dangerous wildlife and weather are practically unknown in this part of the world. There are no native predators or insects -- not even mosquitoes -- and the air is healthy, clean, and high-quality. The seven islands are paradise for adventurous types and water-sports enthusiasts. Incredible beaches and hiking are a certainty, and pursuits like kayaking, catamaran cruises, paragliding, surfing, diving, snorkeling, and kite-surfing are popular across the Canaries.
So which Canary Island is for you? The seven islands have quite a bit in common -- they all feature pleasing temps, little annual rainfall, and world-class water-sports conditions. But they are vastly, wildly different. Here, we hone in on some of the islands' key distinctions.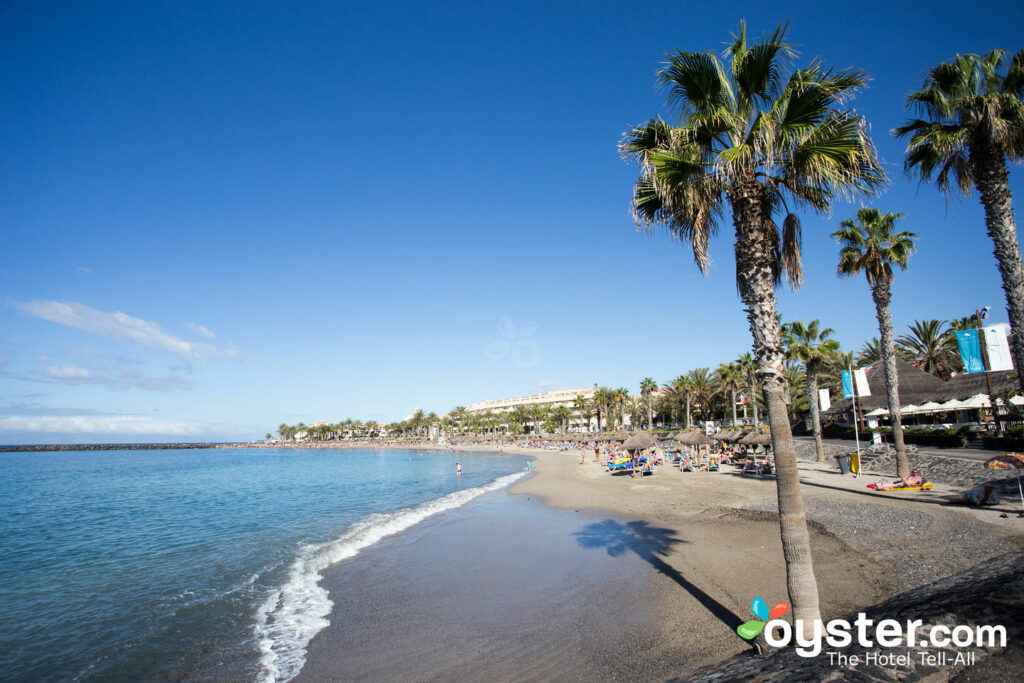 What you'll find: Tenerife is the largest, most populated, and most visited of the Canary Islands, with five million annual tourists joining the roughly one million full-time inhabitants. A huge concentration of Tenerife's visitors stay in — or at least pass through — Playa de las Americas, a tourist-ready beach resort in the island's southwestern corner. (Tenerife's climate varies drastically. The south is warmer, drier, and sunnier than the cool, forested north.) Towering, tacky oceanfront resorts line Playa de las Americas' man-made beaches, which are packed with people playing volleyball, camping out under palapa umbrellas, basking on the jetty rocks, and suiting up to surf. Breakwaters keep the waters calm, making the beaches popular with families. An epic paved beach promenade runs for miles, from Los Cristianos in the south to Costa Adeje in the north, and is filled with a seemingly never-ending chain of open-air bars, souvenir shops, fish spas, excursion kiosks, and cafes catering almost exclusively to British tastes. (Nearly all of the restaurants along the beach walk would be completely forgettable, were it not for their magnificent ocean and sunset views.) Travelers who venture off the beaten track will be greatly rewarded with beautifully preserved villages and volcanic hiking trails.
Do not miss: There is more to Tenerife than just rampant development. Teide National Park, far above the tree line, is home to one of the largest craters on the planet as well as Spain's highest point — Mount Teide — which can be reached by way of a thrilling cable-car ride. Teide is the largest of the Canary Islands' four national parks, and offers amazing hiking. Hell's Canyon and Roque del Conde in the south are popular hiking areas. Serious trekkers should go for the strenuous trails around Masca, in the northwest.
Where to stay: For the prototypical Playa de las Americas experience, try a beachfront all-inclusive, like H10 Conquistador, or a self-catering complex, like Aparthotel Parque de la Paz.
La Gomera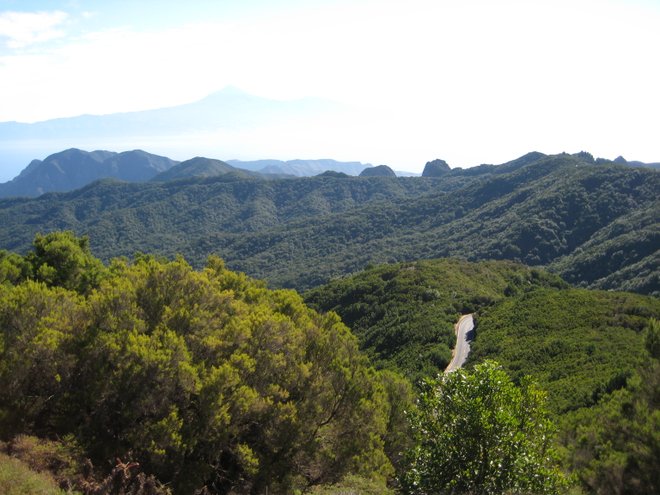 What you'll find: Though it's just a 50-minute ferry ride from Tenerife, La Gomera feels worlds away. The shamelessly touristy stretches found across the channel and on other Canary Islands' tourist meccas are happily absent here. The second-smallest of the Canaries, La Gomera is covered in a dense, enchanting laurel forest filled with leafy banana trees, vining greenery, tropical flowers, and mossy rock formations. The lush landscape, especially in the mist-shrouded Garajonay National Park, stands in stark contrast to the arid topography of Teide and southern Tenerife. La Gomera's sloping terrain is intersected every which way with walking trails, making it a wonderland for walkers.
Do not miss: Exercising your sea legs is also essential here. Around 300 pilot whales live permanently in the waters between Tenerife and La Gomera (as do dolphins, sea turtles, orcas, bluefin tuna, and swordfish), so a whale-watching boat tour is an absolute must.
Where to stay: The clifftop Hotel Jardin Tecina delivers sublime views of the Atlantic Ocean from its perch above Playa de Santiago.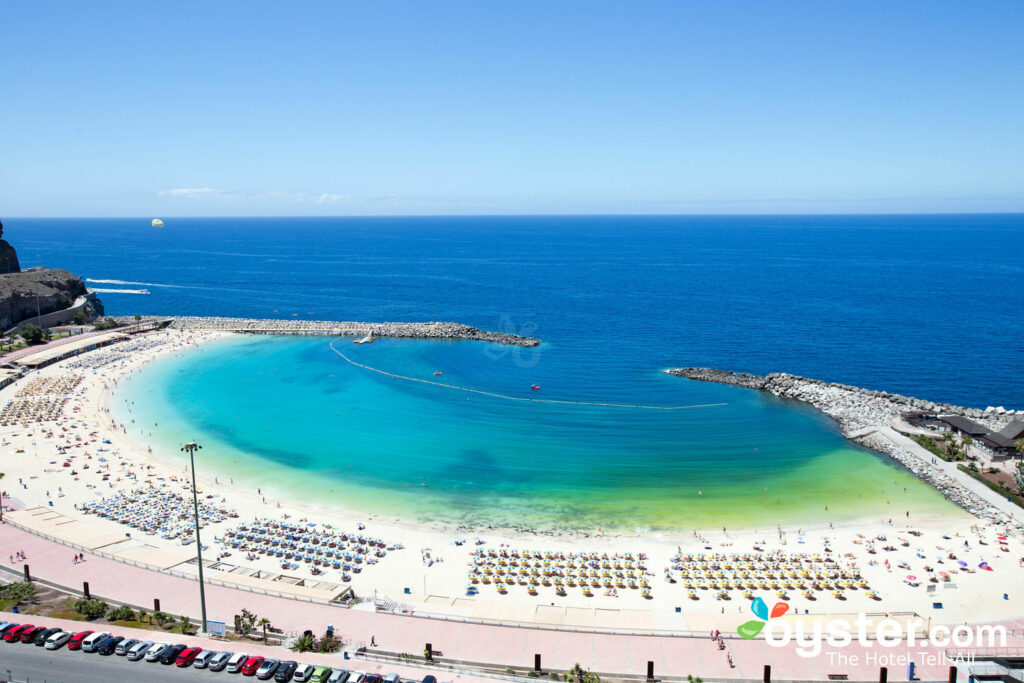 What you'll find: In geographic terms, Gran Canaria pretty much has it all: craggy mountains, Sahara-like deserts, primitive forests, lush canyons covered in wild olive and almond trees, and the glorious, golden-sand beaches for which the archipelago is known. In fact, Gran Canaria is often called a "continent in miniature" due to its dozens of microclimates and remarkable range of terrains. (No wonder the entire island is a World Biosphere Reserve.) Gran Canaria is the perfect destination for travelers who want to see a lot, but its marvels aren't just of the natural variety. The island is also a cultural knock-out, harboring quiet, 16th-century villages, ancient cave sites, and a food scene that's more exciting than what's found on other Canaries. The stunning desert landscape of the Maspalomas Dunes sweeps down to the Atlantic, culminating in long, sandy Maspalomas Beach, where a boardwalk offers restaurant and bar after restaurant and bar. The wide swath of sand dunes makes for amazing photographs (and draws plenty of nudist sunbathers). Nearby Playa del Ingles is known for its sandy, nightlife-laden beaches. Gran Canaria and Tenerife both offer an unending parade of purpose-built mega-resorts as well as celebrated golf courses and kid-friendly water parks (Aqualand here, Siam Park in Tenerife).
Do not miss: The Canary Islands' archeological heritage is evident throughout the archipelago; Gran Canaria's Painted Cave museum, in the northwestern town of Galdar, offers a taste of the island's indigenous culture.
Where to stay: Located on a cliff overlooking the beautiful Amadores beach, the sprawling Gloria Palace Royal Hotel & Spa is idyllic. It also has beach access and ocean-facing balconies in all rooms.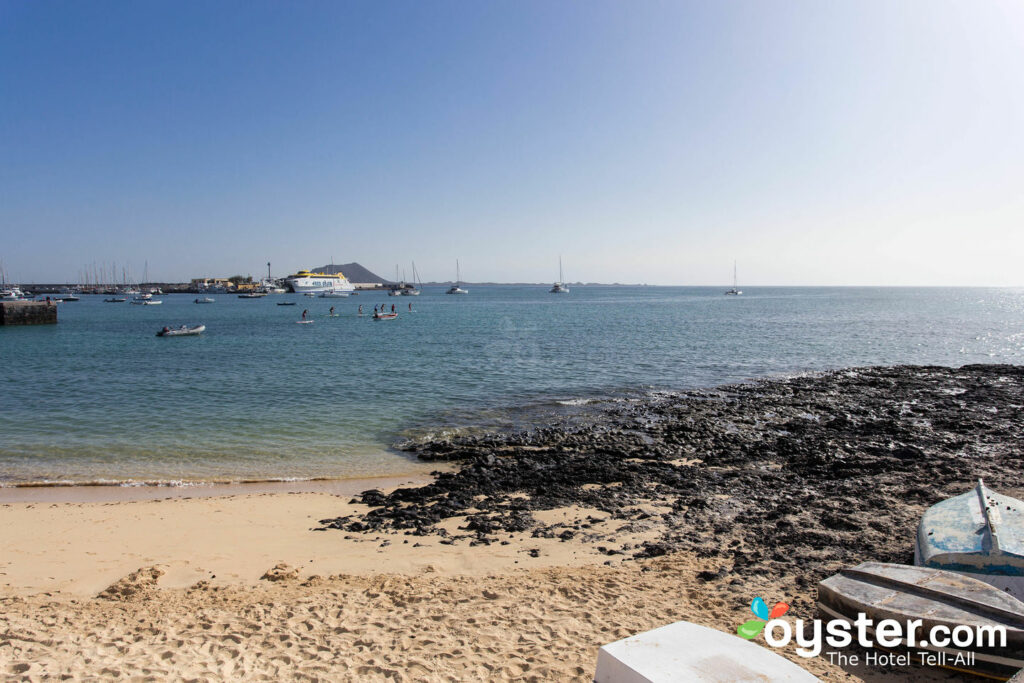 What you'll find: All Canary Islands have incredible coastlines, but the big sand-dune and black volcanic beaches of Fuerteventura are arguably the most impressive on the archipelago. The island's shore is perfect for surfing, wind-surfing, and kiteboarding (especially in the northwestern part of the island), and outfitters for diving and water-sports excursions are seemingly around every corner in the laid-back beach towns. Moving inward from the coast, Fuerteventura has desert plains that surround a tropical, mountainous core. It's the second-largest island in the chain, and a UNESCO Biosphere Reserve.
Do not miss: Off of the northern tip of the island lies Isla de Lobos, one of Fuerteventura's best surfing sites. For the less aquatically inclined, the nature preserve has plenty of beautiful walking trails, including a vertigo-inducing caldera walk.
Where to stay: For travelers that want to be close to everything, Avanti Hotel Boutique Fuerteventura's location can't be beat. It's just a block off the commercial main street in the center of Corralejo, which boasts loads of restaurants, bars, shops, nightclubs, and other diversions.
What you'll find: Lanzarote is truly unlike anywhere else on this planet. The easternmost Canary Island is a curious realm of lava fields, green lagoons, and intense teal sea. "Out of this world," "lunar," and "martian" are often uttered when visitors describe Lanzarote's dramatic lavascape. Hiking through Timanfaya National Park is non-negotiable, but to counter all of that hot, reddish, windswept earth, your itinerary should leave plenty of time for exploring local fishing villages and relaxing on cliff-framed crescent beaches. The famous beaches of Costa Papagayo are especially beautiful, and are renowned for their kitesurfing. Most of the Canaries have excellent surfing, but Lanzarote has the very best conditions for it. The buzzing tourist town of Costa Teguise resembles Playa de las Americas in that it has little true Canarian spirit, but it does feature the golden-sand Las Cucharas Beach, a seafront promenade, and the lively Plaza Pueblo Marinero — a square with a quaint selection of Spanish restaurants, cafes, bars, and evening market stalls.
Do not miss: For a better sense of traditional Lanzarote life, venture inland to Teguise, which was founded in the 15th century. There, Castillo de Santa Barbara holds court high above the Lanzarote countryside. The historic castle was built — on a volcano, naturally — to protect Teguise from pirates.
Where to stay: Located in the beach town of Puerto del Carmen, the adult-only Lani's Suites de Luxe stands out for its polished design, top-notch services, and thorough attention to detail. Many of its sleek, high-end rooms have private outdoor whirlpools, and all have terraces and ocean views.
La Palma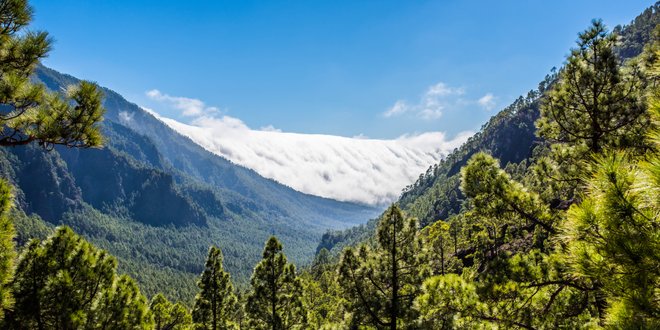 What you'll find: Travelers willing to swap crowded yellow-sand beaches (as well as rasping tour-operator buses and '70s-era cookie-cutter all-inclusive resorts) for immaculate natural beauty would do well in rugged, remote La Palma. Sightseers can spend their days quietly trekking across lava fields in the interior and south of the island (an afternoon in Caldera de Taburiente National Park is obligatory). In the north, you'll find waterfall-laced laurel forests so green that even the lush woodland of La Gomera seems infertile in comparison. Nights are for stargazing, a welcome change of pace from the after-dark pastimes of nightclubs and beach bars on other islands. Like Fuerteventura, La Palma is a UNESCO Biosphere Reserve.
Do not miss: High above the clouds, on the summit of Roque de los Muchachos, sits one of the biggest telescopes on the planet. Reservations are strongly encouraged. UNESCO named La Palma the world's first Starlight Reserve in 2012, meaning that its exceptionally clear skies (and distant position in the Atlantic Ocean) are ideal for spotting constellations and other astral wonders.
Where to stay: Teleport back to 17th-century La Palma at Hotel Hacienda de Abajo, a 32-room hotel that was originally built as the private residence for a noble family.
El Hierro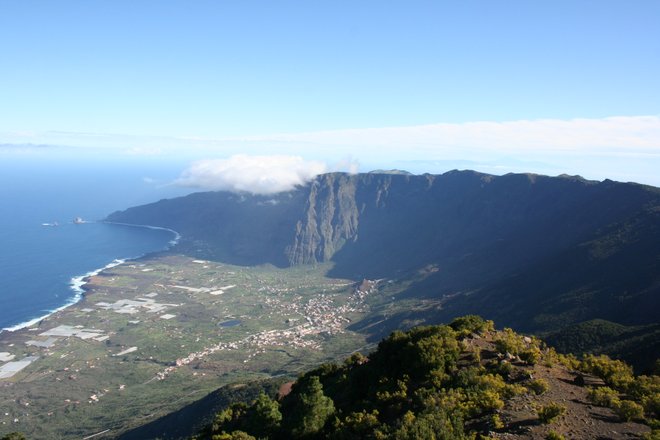 What you'll find: "The Island at the End of the World," El Hierro holds many Canary Islands superlatives. It is the smallest, the least populated, and the farthest away (it is the westernmost and southernmost of the Canarian landmasses). And for nature lovers, it is perhaps the most seductive of the islands. The UNESCO geopark (El Hierro is the only Canary Island with this designation) is a tiny, wild world of wonderful walking paths, giant lizards, soaring pines, and fields blanketed with wildflowers. The shoreline is mostly rocky, ragged cliffs and pebble beaches; these aren't great for swimming, but the waters around La Restinga provide some of the very best scuba-diving and snorkeling in the archipelago. Like La Gomera and La Palma, El Hierro is blissfully free of the commercialism that has swept parts of Tenerife, Gran Canaria, Lanzarote, and Fuerteventura.
Do not miss: Even if you tried, you couldn't miss the massive crater, which was the result of a giant landslide thousands of years ago. The majestic El Golfo commands the entire northwestern edge of boomerang-shaped El Hierro. Hiking through the valley provides up-close looks at wind-whipped juniper trees (called sabina trees here) and spine-chilling views of the Atlantic Ocean.
Where to stay: Burrowed between giant cliffs and the sea, Parador Hotel El Hierro is a government-run hotel with a stunning location on the eastern coast of El Hierro.
You'll Also Like:
All products are independently selected by our writers and editors. If you buy something through our links, Oyster may earn an affiliate commission.