Hostels may be the typical go-to accommodation option for budget-minded travelers, but if the rise of Airbnb is any indication, many people on vacation are not only looking for cheap digs, but also somewhere that offers a homey atmosphere. If that sounds like you, couch surfing may offer a home-away-from-home vibe at a low cost. Despite some people's qualms that couch surfing isn't safe, lacks privacy, or is just downright uncomfortable, it's an increasingly popular choice for a reason. In fact, Couchsurfing.com, which was created in 2004 and connects travelers with hosts, has 12 million users across more than 200,000 cities. So what makes it so great?
It's free.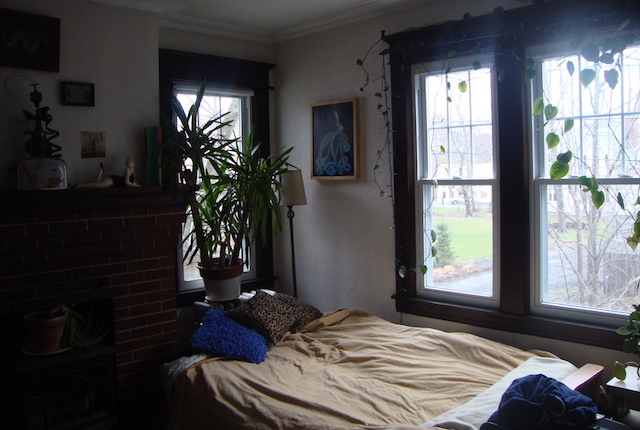 Given that competitors like Airbnb and hotels can cost anywhere from $50 to $500/night (average is between $100 to 200, according to Quartz.com), the most alluring feature of Couchsurfing.com is the fact that it's free. Though you'll be giving up hotel comforts like turndown service, concierge offerings, and bathrobes, many hosts are generous with their kitchen facilities, bedding, and common space. It's also not uncommon for hosts to volunteer to drive those who lack cars, or let their guests borrow a bike.
Plus, while the site's name implies that you'll be sleeping on a couch, travelers can actually filter results for private rooms. That said, many are also relegated to living room couches, air mattresses, or sleeping bags on the floor. I've only used Couchsurfing.com in two cities, but both times I lucked out with a very comfy private bedroom. Considering that some properties on Airbnb offer couches or shared rooms, finding the same thing for free on Couchsurfing.com is quite a deal.
It's safe.
When I told my mom I was crashing on a stranger's couch, she was openly concerned about safety — an apprehension that many would deem justifiable. But fear not, as hosts and surfers are largely easygoing people with a shared love of travel, human connection, and adventure. My first host was a bubbly female artist living outside of downtown Nashville, while my second hosts were a friendly couple with two cats in a residential area of Seattle. Plus, cautious users can research potential guests and hosts, decline requests, and filter by certain parameters to find someone they're 100 percent comfortable sharing a space with.
Many opt to have their profile verified for $50, which lets other users know they have an active bank account, valid phone number, and verified home location. Additionally, references can be left by friends — helpful when just starting out — as well as after each Couchsurfing.com experience. Both the host and guests leave a note about the interaction and mark it as either positive or neutral/negative. Not only can travelers filter hosts by verification and whether they have references, but gender, age, and language can also be filtered to find the most compatible person. Surfers with any trepidation should stick to staying with verified users that have ample detailed references.
You can get an insider's guide to the city.
In December 2014, family-style bowls of Southern fare like fried chicken, mac and cheese, buttery biscuits, and green beans were being passed to me by strangers in a stunning, historic colonial mansion in Nashville. My lunch at Monell's at the Manor would end up being one of my favorite meals from a road trip across America with my boyfriend, and I owed it all to our Couchsurfing.com host who recommended it.
Six months later, I was marveling at the architecture of The Seattle Public Library, which my other host had suggested. And it's not just the host you're staying with that offers up insider info. Someone who couldn't host me during my stay took the effort to list several of her favorite spots around town, including Golden Gardens Park for sunsets, which remains a fond memory of mine today.
You can meet fellow like-minded travelers.
Even those who aren't quite comfortable with couch surfing can use the app to meet fellow travelers via the Hangout function. It allows people to post whatever activity they want to do — drink at a bar, surf on the beach, tour a museum — so others with the same to-do list can connect. Or, they can search other people's requests to find something that sparks their interest. Both locals and travelers can use this function, which has led to many groups of Couchsurfing devotees meeting weekly or monthly and organizing various events.
Talk to any of the more active members on Couchsurfing.com and you'll find that they view it as more of a lifestyle, where free-spirited individuals can connect with like-minded travelers. While some may have first started using the site to find a budget-friendly spot to crash in Paris (over 178,000 hosts available), Seoul, or Mexico City (58,000 hosts), it has often led to lifelong friendships, and even some marriages. The instant gratification of a hotel bellman or toiletries may be lost, but the personal touch and memories of couch surfing are hard to recreate.
You'll Also Like:
All products are independently selected by our writers and editors. If you buy something through our links, Oyster may earn an affiliate commission.