On August 21, 2017, the U.S. will host a rare astronomical event -- and no, it's not another supermoon. For the first time in nearly 40 years, a total solar eclipse will grace the continental U.S. skies (the last one occurred in 1978, though a solar eclipse was visible from Hawaii in 1991). And while many planned their trips a year in advance, it's not too late to make arrangements to what's being touted as "the largest astronomical event in U.S. history." Below, we compiled a guide for everything you need to know about this spectacular event.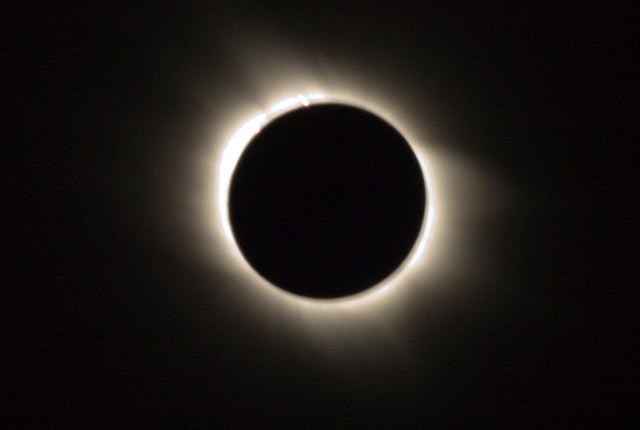 What is a total solar eclipse?
Picture this: You're basking in the summer sun and suddenly, the daylight turns into twilight and the temperature drops quickly. This rare natural occurrence, also known as a total solar eclipse, takes place when the moon passes between Earth and the sun. As the moon blocks the face of the sun, it casts a shadow on Earth and we are able to see day as if it were night. All the light that remains is a ring that surrounds the moon's pitch-black disk, known as the sun's corona.
Where can you see the solar eclipse?
Although the total solar eclipse will dazzle across the continental U.S., you can't simply look up from anywhere. In fact, being in the right place at the right time is crucial. Unlike a lunar eclipse, you must be within the solar eclipse path, which spans from Oregon to South Carolina, in order to see it in all its glory. When it comes to picking a location, consider weather predictions — clear skies can make or break the experience. The eclipse path, which they're calling a "path of totality," includes cities in Oregon, Idaho, Wyoming, Nebraska, Missouri, Kentucky, Tennessee, and South Carolina. The prime viewing spot is in Madras, Oregon, as the weather conditions are dry and clear here. Other top weather prospects also include Casper, Wyoming and St. Joseph, Missouri.
Nashville is the largest city in the the path, while Carbondale, Illinois is the point for the longest eclipse duration. Some places are even hosting eclipse-focused events before and after the main attraction. (Madras, Oregon is hosting a Solar Fest, featuring music, food, shopping vendors, and more, for example.) NASA maps out the time the eclipse will take place up to a tenth of a second, and help you stake out a prime front-row seat.
How long will it last?
It's short, but sweet. The whole thing is known to last anywhere between a few seconds up to two minutes and 40 seconds. But it all depends on your location. As you move towards the edge of the approximately 70-mile eclipse path, the duration of the eclipse will decrease. People who plan to catch this spectacle at the end of the route may only witness it for a few seconds.
Where should you stay?
Given the event's rarity, hotels started selling out as far as a year in advance, but some cities outside the eclipse path are a fairly short drive away and still have space. For example, in and near Carbondale, there are some available lodging options.
Spring Creek Ranch, set in a wildlife refuge more than 700 feet above the Jackson Valley, also provides unobstructed views of the sky for optimal viewing (Jackson Hole will experience approximately two minutes and 20 seconds of totality). The hotel is also hosting a Total Eclipse Sky Party, which will feature a brunch buffet, complimentary beverage service (think mimosas and a Bloody Mary station), custom solar eclipse glasses, and an exclusive eclipse presentation by a PhD Wyoming Stargazing astronomer. To top it off, guests will have the opportunity to enter a silent auction for the hotel's telescope (all proceeds benefit Wyoming Stargazing).
Kansas City will also put on quite a show, as the sky turns into twilight. Those who choose to witness the remarkable event from this place can check in to the Sheraton Kansas City Hotel at Crown Center. Watch the eclipse from the hotel's Skies event space located on the top floor.
Just keep in mind that many hotels are marking up their prices for this special weekend.
Can you look directly at the sun?
The short answer is no — unless you have special solar safety glasses. (And no, regular shades won't do.) These special accessories are made from special-purpose solar filters that are much darker than regular sunglasses. The only time it is safe to look directly at the sun without eye protection is when there is a total eclipse (partial eclipses don't count).
What happens if you miss this solar eclipse?
Mark your calendars: The next total solar eclipse will occur on June 2, 2019. The solar eclipse will fall over the Pacific Ocean, and some folks in Chile and Argentina will also spot the natural occurrence at sunset. Until then, NASA, along with online video platform Stream, will livestream this year's total solar eclipse from over 50 high-altitude balloons that will be set up throughout the country.
You'll Also Like:
All products are independently selected by our writers and editors. If you buy something through our links, Oyster may earn an affiliate commission.