Best Hotel Restaurants in Boston
A team of Oyster reporters spent weeks exploring 48 top hotels in Boston. We slept in the beds, ate in the restaurants, tested the service, and scoped out the neighborhoods, all with an eye toward selecting the most distinguished properties. Here's a list of our favorite hotel restaurants.
See All Boston Hotels
1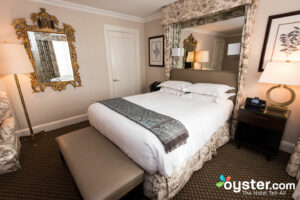 James-Beard-Award-winning-chef Ken Oringer helms the Eliot Hotel's two adjoining restaurants: Clio and Uni. Clio serves artfully prepared French-inspired food, like fricassee of Burgundy escargots and crispy pork belly and cassolette of sea urchin and lobster. Innovative, even playful, the elements on Clio's menu include yogurt bubbles, rose dew, and lily bulb. But the chic, 21-seat Uni restaurant is not entirely overshadowed -- it's considered one of Boston's top sushi spots, offering more adventurous concoctions like uni (sea urchin) with quail egg and Osetra caviar. But in keeping with Boston's pub culture, Oringer doesn't take his restaurants too seriously -- Tuesdays at Uni are "sake bombing" nights.
2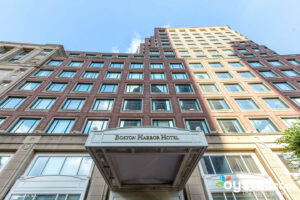 Helmed by Chef Daniel Bruce, Meritage is a vino-focused restaurant serving small and large plates from a menu organized by type of wine. Under the "fruity reds" heading, recommended dishes include pan-roasted New York foie gras and strawberry-glazed Bobwhite quail, while full-bodied whites are recommended with Vermont pheasant and fricassee of sweetbreads and wild mushrooms (every dish on the menu can be ordered as either a small dish or large dish). Prices are the same regardless of which dish you order. Meritage's custom-made wine fridges store 850 varieties of wine in 13,000 bottles, fitting for a restaurant that is home to the Boston Wine Festival.
3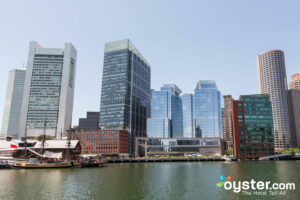 Open for breakfast, lunch, and dinner, Miel serves excellent Provencal brasserie fare in a charming, country-inspired dining room overlooking Boston Harbor. Ivory-colored furniture, an iron-and-crystal chandelier, toile fabrics, and decorative honey jars make Miel feel cozy, yet sophisticated. Miel incorporates Cote D'Azur ingredients like lavender, olive oil, and honey into its menu of classic French dishes: la bouillabaisse, vanilla bean creme brulee, and a prosciutto, spinach, and garlic tart, to name a few. For the best view of the Harbor, guests can ask to be seated on Miel's outdoor terrace.
4
With its clubby, heavily wooded decor, the Bristol Lounge at the Four Seasons hotel is a fine spot to grab tea, a cocktail, or some upscale comfort food. The menu features hand-rolled pasta (nutmeg tagliatelle; short rib ravioli), locally inspired seafood (New England striped bass; Atlantic sea scallops, and old American favorites like New York strip steak or a more low-key Vermont cheddar-topped burger. Floor-to-ceiling windows give diners views of the Public Garden across the street. And the Sunday breakfast buffet and the Viennese dessert buffet on Friday and Saturday nights are exceptional.
5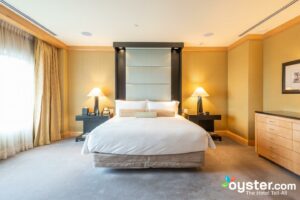 Ebony and granite tables, bamboo floors, and limestone accents set the mood at Asana, which offers Asian-inspired contemporary fare that incorporates local New England ingredients. The local favorite, lobster bisque, is paired with coconut curry flan and the Nova Scotia halibut is served with bamboo rice and a red curry coconut broth. Lunch is also a mash-up of Asian and local influences, like a Wagyu beef French dip sandwich.
6
An ironically named steakhouse, Moo serves all the classics, with an added focus on presentation -- from the bread served in individual mini skillets to the blueberry pie that arrives as an entire mini pie. Chef Jamie Mammano, who grows the kitchen's herbs on the hotel's roof, offers all the usual beefy suspects (plus a 6 ounce Kobe sirloin for top dollar) and serves them with his signature bone marrow butter. Although steaks take center stage, Kobe beef dumplings, Maine lobster bisque, and bananas foster are standout dishes at this modern, dimly-lit spot outfitted in neutral tones.
7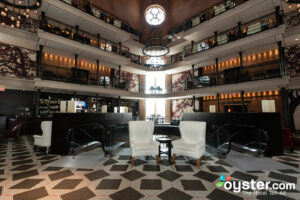 Housed inside the Liberty Hotel, the former Charles Street Jail, the restaurant takes its name from the sound of a jailer's jangling keys and remnants of the original jail cells -- namely barred cell doors -- form cozy dining nooks. Chef Joseph Margate and his staff cook modern American cuisine with a focus on seasonal, sustainable ingredients, and the dinner menu is full of classics (pappardelle pasta with lamb ragu, organic chicken, striploin steak, but many have a fresh twist, such as the tuna tartare appetizer prepared with jalapeno and fried yucca. The hotel's adjoining lobby bar, Liberty Bar, is a hot spot for locals who stop by for fancy, expensive cocktails.