Best Kid-Friendly Hotels in Cabo San Lucas
Even though it's known for being party-centric, Cabo San Lucas has stunning beaches, historic sites, and activities like snorkeling that make it fun for the whole family. But being that it's a haven for spring breakers and honeymooners, there are a few things to consider before booking a hotel if you're traveling with children or teenagers. Some hotels are geared toward traveling families with large suites, kiddy pools, kids' clubs, and sports facilities. We visited the area's top hotels to see how they stacked up against the competition, keeping the 18-and-under crowd in mind. Take a look at the best kid-friendly hotels in Cabo San Lucas, and start planning your getaway!
See All Cabo San Lucas Hotels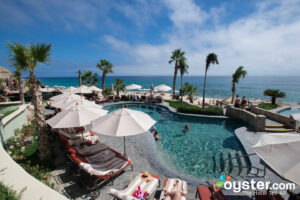 This 273-unit family-oriented resort, as its name suggests, is a hacienda-style property containing 20 individual buildings resembling a Mexican Colonial village. Located outside the thick of Cabo's action, the complex -- part of a quieter golf resort development called Cabo del Sol -- offers spacious studios and apartments with beachy Mexican decor, flat-screen TVs, kitchens, and spacious bathrooms. Most guests tend to hit Costco for groceries, but there's a great store on site that sells fruit and vegetables, as well as clothing, beachwear, sunscreen, and bathroom essentials. This main pool area draws mostly adults, while the more kid-friendly pool on the other side of the resort has a mushroom fountain and a small waterslide (but no ocean views). Kids also can spend time in the kids' club with bright indoor space and a lawn with a shaded trampoline.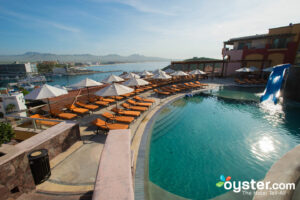 This 98-villa property is ideally located in downtown Cabo San Lucas. It's within walking distance to the marina, and guests are only a few minutes from local shopping and cuisine, as well as fishing and water activities, such as sailing and surfing. The resort, which sits in between beautiful natural rock formations, has sweeping views from nearly every angle, including from the private balconies off each villa. The one- and two-bedroom villas feature nicely equipped kitchens (no ovens though), spacious bathrooms with walk-in showers and soaking tubs, and a streamlined modern decor. Perks here include an on-site spa, three restaurants, a fitness center, and three lovely pools that feature a swim-up bar, water slide, and two hot tubs.
Families with big budgets can stretch out in these pinch-me-now, three-bedroom, three-and-a-half-bathroom cliffside villas overlooking the Pacific Ocean. The luxury development is a few miles outside of Cabo San Lucas within a gated community under the umbrella of Pueblo Bonita, with sister resorts here and closer to town. Montecristo, for its part, offers 151 bi-level houses that can sleep eight guests each. Villas are similar in design with high-end amenities such as infinity pools, gourmet kitchens, and stainless steel Weber grills, to name a few. Guests are granted free access to Montecristo's own facilities, as well as Pueblo Bonito's beach, pools, and restaurants (all-inclusive packages are available). Free shuttle service is provided to key points around the resort and to town, though a car will come in handy.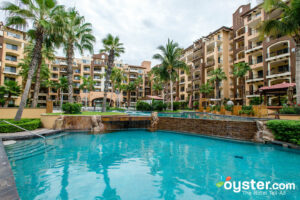 The Villa del Arco is a well-kept beachfront property featuring 220 spacious studios and suites, with kitchenettes and balconies. The massive pool, complete with pirate ship, is kid-friendly, and parents might enjoy the top-notch spa. The hotel calms down after dinnertime; partiers may want to try a downtown location. As long as guests can avoid the pushy timeshare sellers, the hotel has a Zen-like vibe -- not to mention four-pearl amenities such as 24-hour room service and pristine grounds.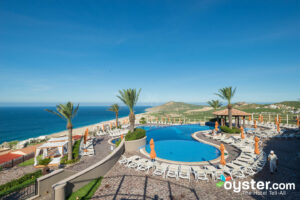 This 635-suite Pueblo Bonito is an all-inclusive optional mega-resort with direct access to a gorgeous beach. The family-friendly alternative to its adult-only sister resort -- the nearby Pacifica -- Sunset Beach has tons of kid-friendly amenities: a kids' club, six gorgeous pools, a playground, tennis courts, a beach volleyball court, and novelties such as flamingos roaming the property. The suites at the hotel are average, featuring simple Mexican-inspired decor, as well as fully equipped kitchenettes. Most guests choose to go with the all-inclusive option; those that don't have to deal with pesky fees for simple amenities such as Wi-Fi and access to the fitness center.