Best Party Hotels in Las Vegas
In Sin City, guests are no strangers to high heels and hedonism. But not every hotel can offer the same quality or quantity of clubs and bars as its competitors. We've watched the swimsuit competitions by day and partied hard by night. This is the list of hotels that we've deemed best for dancing, drinking, and general debauchery in the city. Read on for the best party hotels in Las Vegas.
See All Las Vegas Hotels
1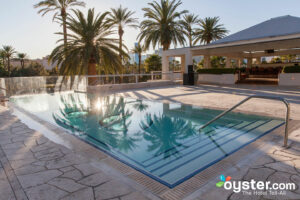 Hard Rock is one of the most unapologetically hedonistic hotels in Las Vegas, which is a hard trophy to come by in this town. On Sunday, the Beach Club Pool hosts Rehab -- a pool party so raucous, they turned it into its own reality TV show. The hotel's nightclub, Vanity, just opened on New Year's Eve 2010 and promises to have the same celebrity cachet as its predecessor, Body English. And true to its Hard Rock name, big-name bands regularly play the recently renovated Joint, a 4,000-seat venue attached to the hotel.
2
The Palms is well-deserving of its reputation as a party kingdom. In the Palms Tower, Rain is the quintessential nightclub, complete with go-go dancers. The Playboy Club, a gambling area with another dance floor, is staffed by card-dealing Bunnies. Above the Playboy Club is Moon, another nightclub with live DJs, multiple bars, and a retractable roof. Guests can buy a pass to all of the hotel's clubs, but beware that entry lines can be time-consuming.
3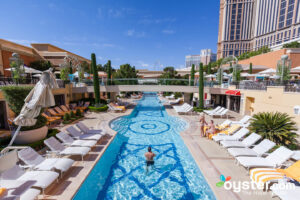 The Wynn is home to two of the Strip's most popular nightclubs -- one intimate, the other a full-on party. Tryst is a 12,000-square-foot club with a 90-foot waterfall, go-go dancers on tables, waitresses with prepared shots (tequila and lemon drops), and a very danceable club mix draw scantily clad twentysomethings. The lounge, where there are sitting areas for bottle service, looks out on the surreal Lake of Dreams. Next door, the Encore hotel has another esteemed nightclub, XS.
4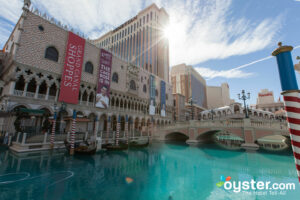 At the Venetian Resort, after the dinner guests have left, Tao restaurant becomes Tao nightclub, one of the hippest party scenes on the Strip. The trendy, modern space pulls in a young crowd that you can spot waiting for entry for an hour or so inside the hotel's mall. By day, Tao Beach is an adults-only scene where the waitresses wear little clothing and the customers let loose.
5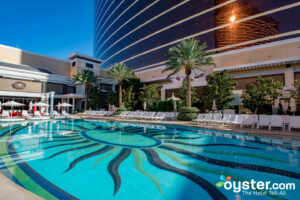 XS nightclub surrounds the Encore's sexy European Pool and Island Bar, which means guests can party inside or in chic outdoor cabanas. A 10-foot rotating chandelier and nude mannequin torsos are part of the decor. For those who want to splurge, bottle service is offered, as is the $10,000 Ono cocktail. Next door at the Encore's sister hotel, the Wynn boasts the popular 12,000-square-foot Tryst.
6
MGM Grand is the second largest hotel in the world (and it only lost the first spot recently), so it stands to reason that this hotel would be a perfect place to unleash one's party animal side -- right alongside the lions. Studio 54 is a 22,000-square-foot nightclub with four dance floors and go-go dancers that purports to be a wilder version of the New York City original. The six other bars and lounges include Tabu Ultra Lounge, Centrifuge, and Rouge. When the sun is shining, the Wet Republic pool scene can get out of control with live DJs, swimsuit competitions, and the like.
7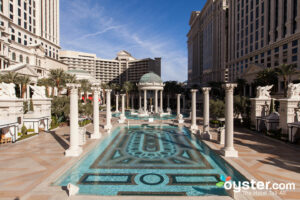 Omnia nightclub at Caesar's Palace is a huge 75,000-square-foot space with rotating DJs and striking state-of-the-art technology. Guests can enjoy Strip views and party outside on an oversize Terrace. The Venus Pool is the adults-only pool area. It's generally much more laid-back and less obnoxious than some of the more notorious pool parties in Vegas, such as those at the Palms or Hard Rock.
8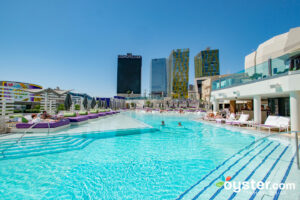 The Cosmopolitan has quickly established itself as one of the trendiest spots on the Strip. All types of travelers seem to come here, from frat boys to gambling grandmothers, but the nights decidedly belong to the younger crowd at BOND and Marquee -- as do the days, during Marquee's seasonal "dayclub" party poolside. It also enjoys a plum location in the center of the densely packed three-and-a-half-mile-long stretch of hotel-casinos known as the Strip.
9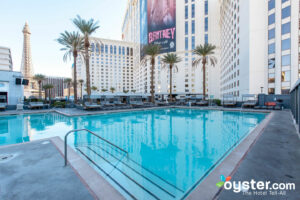 Located in the center of the Strip, the 2,496-room Planet Hollywood offers movie-themed rooms, hot nightlife, and a sexy atmosphere -- think lingerie-clad blackjack dealers. The resort's swank nightlife provides much of the appeal. EXTRA Lounge and Heart Bar draw a crowd for their live music and scantily-clad dancers. Famous faces have also appeared at Koi, a Japanese-fusion restaurant with popular outposts in both New York and L.A.
10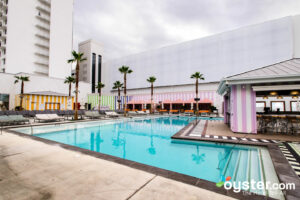 The SLS Las Vegas opened in 2014 after a $415 million renovation of the former Sahara Resort & Casino, a former favorite spot of The Beatles and The Rat Pack. Owned by SBE Entertainment, which is a leader in the nightlife scene in Los Angeles, SLS Las Vegas blends the old Vegas world of Sahara with strikingly modern features. The outdoor pool area is a relaxed spot with lounge chairs, a bar, and rubber ducky theme. For a more lively scene, guests can head to one of the three nightclubs -- Foxtail is connected to the pool; The Sayers Club features live music; LiFE/Beach LiFE is open Friday and Saturday and has DJ-led music, aerial performers, and state-of-the-art lighting.
11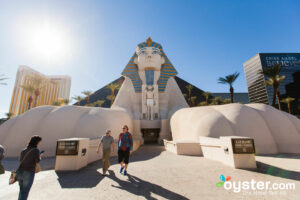 Los Angeles megaclub LAX has landed at Luxor Hotel & Casino, making it a safe bet for a night out on the town. LAX has 26,000 square feet spread over two floors, and with red leather, mirrors, and bottle service everywhere, you can be sure you'll be fist-bumping with the best of them. LAX is the main affair at Luxor, but there are several other bars, including Flight and Aurora.
12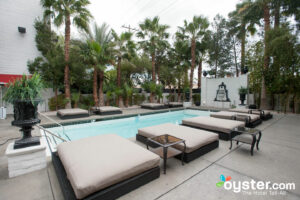 The 64-room, mid-range Artisan Hotel is tiny by Vegas standards, appealing to a niche market as a real party hotel with an erotic edge -- strictly for those 21 and over. There's a topless outdoor pool scene, with live entertainment often. Rooms here are dark and a little shabby, combining classical art reproductions with erotic touches, but few guests complain as most are here purely to party. The major downside here is the lack of dining options; food is served around the pool or in the lounge bar, but only five days per week, and there isn't anywhere to eat within walking distance. The Strip is less than a mile away though, and easily accessed by taxi. The hotel's nightclub really gets going in the early hours and is still hopping after the sun has risen, so those wanting a peaceful, desert retreat should try somewhere like the Hilton Garden Inn Las Vegas -- Strip South.
13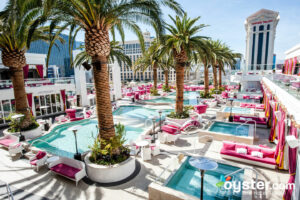 Situated in the heart of the Las Vegas Strip, The Cromwell is a boutique hotel with vintage-style interiors and its own casino. There are 188 rooms and suites, many with views out over the Strip. Amenities are geared toward leisure travelers and include Drai's Beachclub Nightclub, an indoor/outdoor club with long hours and multiple pools, but it's restricted to guests 21 and over and there's a fee. There are also a couple of restaurants, namely a 24-hour snack bar and an elegant Italian joint, created by celebrity chef Giada De Laurentiis. Overall, it's a great place for young partygoers.
14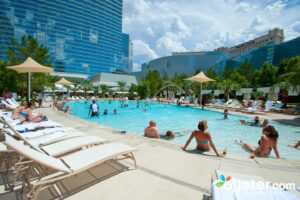 A 4,004-room mega-resort, the Aria stands as the shiny centerpiece of the $11 billion City Center complex, a massive hotel that aims to outdo the famous Strip giants with its 16 restaurants, seven bars, 150,000-square-foot casino, five pools, and a nightclub that's shaping up to be one of Vegas' hottest. The property leaves behind the kitsch that many Vegas hotels are known for, instead opting for a clean modern design with neutral colors. (You won't find any flashing lights, artificial canals, or dancing fountains here.) Size and beautiful design aside, Aria keeps up with luxury hotels like Encore and Bellagio by offering a slew of amenities expected from a mega-resort, including retail shops, an adults-only party pool, and more. There's something for everyone here, and in turn the clientele is as varied as Vegas itself.
15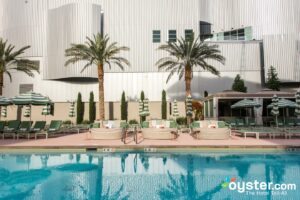 Formerly the Monte Carlo Resort and Casino, the upscale Park MGM Las Vegas opened in 2018 after a multimillion-dollar renovation, providing a sleek and relaxed atmosphere for a crowd of largely younger travelers. The whopping 2,700 rooms and suites are hip and well-outfitted with Bluetooth, sitting areas, and free Wi-Fi, plus some have wellness amenities or stellar views. As with most Vegas properties, features are extensive, consisting of a casino, a theater with renowned entertainment, a plethora of casual and gourmet dining options, a cool speakeasy-style nightclub, an outdoor pool, and full-service spa.