Best Value Hotels in Downtown Las Vegas
Two-and-a-half miles north of the Strip, Downtown Vegas — where the city first started to develop its hotel-casinos back in the early 1900s — consists of mostly vintage properties that are more about value than all-out razzle dazzle. Here are the best of the bunch.
See All Las Vegas Hotels
1
With one of the oldest casinos in the city (first opened in 1946), the 1,914-room Golden Nugget has endured in the face of overwhelming competition from the Strip. Though not exactly Strip-caliber, The Golden Nugget holds its own in terms of amenities and atmosphere. If guests can make is past the smoke-choked lobby, they'll find a modern 45,000-square-foot casino, an array of bars and restaurants, a small spa, and some pretty awesome pools (one has a waterslide through a shark tank). But guests should be forewarned: booking rooms is a crapshoot, as some are smokey, some are dated, and some are subject to late-night noise. The nearby D Casino Hotel Las Vegas has a similar vibe, with nicer rooms and a less exciting pool for cheaper nightly rates.
2
Main Street Station molds itself into an archetype of the old American West, incorporating Victorian-era railcars and a collection of 20th-century antiques throughout the hotel, such as a snooker table once owned by Winston Churchill and even a large chunk of the Berlin Wall. The lobby, casino, and buffet boast vaulted ceilings, huge gold chandeliers, stained-glass windows, and antique slot machines. But there's no pool, no fine dining, no fitness center -- nothing that one might expect of a typical Vegas hotel. Still, most guests are plenty satisfied by the clean rooms and no-frills casino.
3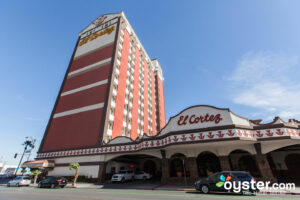 With cheap rates and a one-block distance from the Fremont Street Experience, El Cortez is a great pick if you can snag one of the funky Cabana Suites for about as much as a standard room elsewhere. The 1941-constructed property is a throwback, for sure -- the hotel is the longest continuously operated hotel/casino in town, and that fact comes as no surprise based on the interiors.
4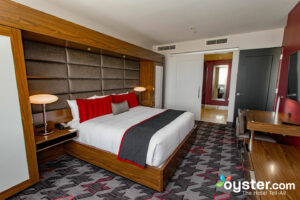 Located in the middle of Downtown Vegas on Fremont Street, The D has a front-row seat to the Fremont Street Experience, the kitschy party artery of Downtown Las Vegas. A long bar along the outside of the building draws in Fremont Street passerby with scantily clad waitresses (who dance on top of the bar at night), flair bartending, and yard-long drinks. The 638-room mid-range hotel pays homage to its Old Vegas heritage with a vintage casino upstairs (you'll find penny slots and a rare original toy horse racing track), but the main casino is more contemporary. Red-and-white-themed rooms are great for the price, if not luxurious.
5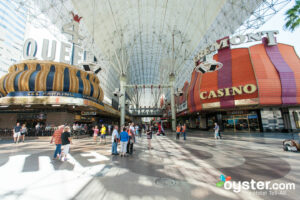 Proximity to the Fremont Experience, a huge street fair of sorts offering all kinds of entertainment -- from light shows to LED screens to ziplining to live bands -- is the biggest draw here. There is no fitness center, spa, business center, or even a pool (though guests are allowed to use the rooftop pool at the nearby California Hotel). Options for eating, drinking, and partying are everywhere in the area, and there are several restaurants on the premises. The 447 rooms on the small side (and bathrooms are tiny), but for those just wanting a clean place to sleep in between rounds of hitting the town, they're fine, especially for the price.
6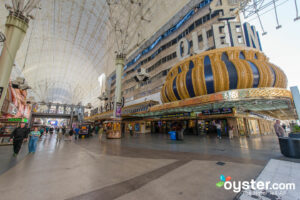 The biggest draws at the Four Queens are its casino, low room rates, fabulously old-school steakhouse, and prime location in the heart of the Fremont Street Experience. The 690 rooms are basic and dated, despite renovations throughout 2016 that added new bathrooms with walk-in showers. Guests in want of a pool, fitness center, or spa (Four Queens lacks all three) might prefer the Golden Nugget.
7
A few blocks from Old Vegas' main drag, the 781-room California Hotel and Casino is all about inexpensive but clean rooms, a relatively quiet gambling environment, and few frills: no spa, no fitness center, and a small, little-used pool. Compared with other Vegas hotels, the aesthetic is minimal. Thrift, not excess, appears to be the guiding philosophy. On-site restaurants keep prices low, furthering the impression that gambling is the near-exclusive draw. But travelers looking for a rambunctious or luxurious Vegas vacation should look elsewhere.