Best Manuel Antonio Boutique Hotels
Though Manuel Antonio, a small peninsula on Costa Rica's Pacific, is built up with hotels catering to international travelers, it was developed in a careful way that focuses on the environment, biological diversity, and unrestricted ocean views. To that end, many of the area hotels are small operations that give guests an up-close-and-personal look at Manuel Antonio's incredible natural beauty. Here are the best of those small boutique properties.
See All Manuel Antonio Hotels
1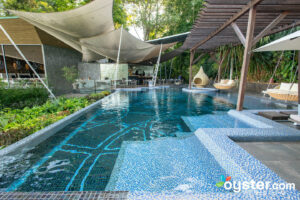 Makanda by the Sea is an intimate and secluded property built on a hill overlooking a Pacific Ocean harbor and lush rain forest grounds (it's difficult, if not impossible, to see the neighbors from the hotel). Steps are a theme here, and some of the 27 Villas and Studios are closer to the hotel's few common areas than others. All of the rooms have ocean views and come with a free daily delivered breakfast, and some have perks like private infinity-edge pools and modern kitchens. The communal pool and adjacent Sunspot restaurant get high marks from past guests -- but there are complaints about the uncomfortable hike to a small beach. Kiddos under age 16 aren't allowed, so the majority of visitors here are older couples or honeymooners.
2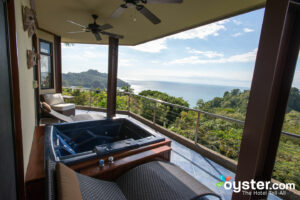 The private and pristine Tulemar Bungalow & Villas seamlessly combines the seclusion of bungalow living with the convenience of full hotel services, without any sense of pretension. The 33-acre resort features a few dozen luxury residences, four infinity-edge pools, two restaurants (one provides room service), and exclusive access to a gorgeous and isolated sandy beach -- a rarity in Manuel Antonio. Rooms range from three-pearl Bungalows to five-pearl Villas. The one-bedroom Bungalows are the oldest rooms on the property, but they also have the best ocean views and are well-maintained. Villas offer one to five bedrooms and can include ocean views, private pools, and jaw-dropping architecture. One of the villas, Casa Las Nubes (cloud house), has an indoor/outdoor infinity-edge pool dividing the living room. All units come with free Wi-Fi and a personal concierge. But while some of the rooms here look a bit dated with tube-style TVs, all of Makanda's rooms are newly built or freshly renovated.
3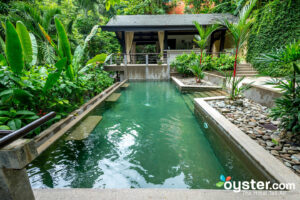 Tulemar Resort shares the 33-acre grounds and all of the facilities with Tulemar Bungalows & Villas -- it's essentially just a different rental company for the units. Tulemar Resort's 38 rooms are located in the bungalow-style villas that dot the property. All feature a kitchenette or full kitchen (with a microwave, coffeemaker, and stocked minibar); casual, contemporary decor (think wood, wicker, and bold color accents); and great views from floor-to-ceiling windows. Most rooms have large terraces.
4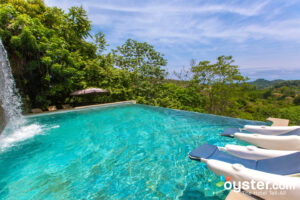 Perched on a hillside, Gaia Hotel & Reserve sits on the former site of Jardin Gaia, a center for native orchid conservation and endangered wildlife rehabilitation. While its three gleaming white guest-room buildings contrast markedly with their natural surroundings, the hotel still somehow feels part of the jungle. Greenery edges every pathway, and iguanas, monkeys, and other wildlife can often be spotted. The hotel's 22 rooms, which include suites, studios, and villas, are stylishly decorated with lots of natural materials like stone, wood, and wicker. Jungle and ocean views claim the spotlight from almost every corner -- highlighted by the multi-tiered infinity pool and open-air restaurant. But while both Tulemar properties have on-site beach access, Gaia does not, and there's nothing within walking distance.
5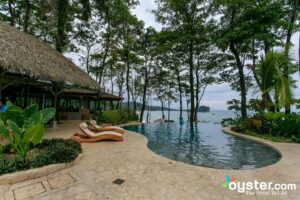 Arenas del Mar Beachfront & Rainforest Resort is an upscale, eco-friendly hotel with lush surroundings, located on the outskirts of Manuel Antonio National Park. It's almost impossible not to spot exotic wildlife while dining at one of the resort's restaurants or lounging by the pools. Not only is it one of the few hotels in the area located on the beach, it has access to two different beaches. The resort's 38 guest rooms are chic and minimalist, decorated with colonial-style tile flooring, muted color palettes, and attractive wooden furniture. Many have distinctive artwork by Costa Rican artists. Soft king-size beds have 400-thread count organic cotton linens. All rooms include free Wi-Fi, flat-screen TVs, coffeemakers with organic coffee, and minibars overflowing with free snacks. Bathrobes are provided, along with the resort's own brand of organic soap, shampoo, conditioner, and body lotion. One drawback here is that it's pricey compared to similar properties -- Arenas' rates can be double Gaia's.
6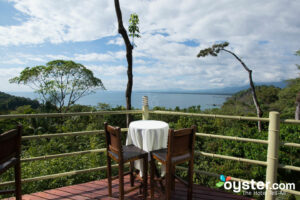 Issimo Suites Boutique Hotel and Spa is an all-suites boutique hotel with gorgeous ocean views. It caters exclusively to couples (kids under 16 aren't allowed), so the overall ambiance is sophisticated, quiet, and serene. All of the rooms are suites and include jetted tubs, ocean views, and minibars. Issimo Restaurant serves a free, luxe breakfast buffet and Italian favorites for lunch and dinner, overlooking the thick green jungle and the mighty Pacific Ocean. But while Arenas offers two splendid beaches and two picturesque pools, Issimo is a seven-minute trek to Biesanz Beach (uphill on the way back) and only has one small pool (though it is open 24 hours and has an adjacent bar for sunset cocktails).
7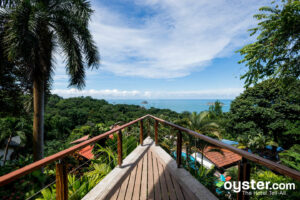 Hotel Si Como No is a relaxed hillside resort that's as fitting for adults as it is for families. Supposedly, only one tree was felled during the hotel's construction, and the open-air lobby is seamlessly incorporated into the surrounding nature. Sloths, parrots, and monkeys run wild among the trees and overgrown walking paths, and the property's steep layout reveals a breathtaking expanse of distant ocean and nearby jungle. All of this ensures guests are keenly aware they're in Costa Rica. The two outdoor pools -- one for adults, the other open to all guests -- serve as twin social hubs situated on opposite ends of the property. The 58 rooms feel rustic, bordering on dated. All intentionally omit a TV, but otherwise offer modern amenities like minibars (fee), wet bars, and free Wi-Fi. Upgraded rooms add private hot tubs and water-view balconies.
8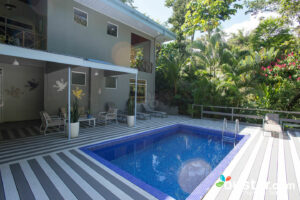 It's all about the Suites at Hotel Plaza Yara, an intimate, mid-range boutique hotel located off of Route 618, the road to Manuel Antonio National Park. Each of the 14 units here is a spacious Suite decorated in hues of soft gray and white. Kitchens are stocked with a microwave, sink, coffeemaker, refrigerator, and little extras like a bag of microwavable popcorn and local coffee. Huge bathrooms have some of the strongest water pressure in the area. The lobby shares its space with a local art gallery and there's a small pool that overlooks the neighboring rain forest. Made-to-order breakfast is included in the room rate, but there's no full restaurant or bar affiliated with the hotel (Si Como No has two open-air restaurants with a free hot breakfast buffet, plus a charming full-service spa/salon and THX-certified movie theater). Those who want easy beach access should check the Tulemar properties, Arenas, or even Si Como No, which offers free beach shuttles throughout the day.
9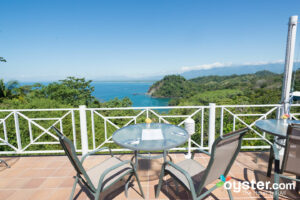 La Mansion Inn is an upper-middle-range boutique hotel that's a hit with honeymooners and offers decor and features not usually found in Manuel Antonio. The owner was a friend of famous undersea explorer Jacques Cousteau and the underwater theme is evident in the lobby aquariums. Rooms are spacious and pleasant, with ample natural light and flat-screen TVs. (Rooms here are a little on the plain side, which is also true for Plaza Yara.) The dimly lit and ambient Bat Cave bar is built into a natural cave. Outside, the Terrace Restaurant and pool offers panoramic, uninterrupted views of both Manuel Antonio Beach and the harbor. Kids under the age of 12 are discouraged from staying.
10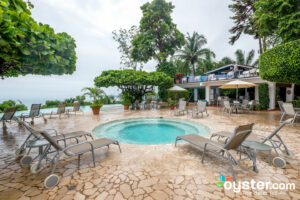 Perched high above the Pacific Ocean, the highlight of the 58-room La Mariposa is the breathtaking coastal views from the restaurant, pool deck, and guest rooms. A beautifully designed (if small) pool and a warm staff add to the appeal. Rooms are nothing special and the restaurant is mediocre, but guests don't seem to mind at all. Although it's generally pricier, Si Como No offers similar amenities plus a spa and a nature preserve rich with wildlife.
11
Las Cascadas The Falls is a mid-range option for travelers who want to be close to the marina or downtown Quepos. The kinda quirky hotel can be a bit hard to find; it's situated in a working class Costa Rican neighborhood high on a hill, which makes for excellent views of the surrounding rain forest and distant Pacific Ocean, but steep steps to some of the rooms. Guest rooms range from a Penthouse with marina views and an artificial rock fountain to smaller condos with full kitchens. There's a cute outdoor swimming pool and adjacent restaurant with a la carte breakfast, lunch, and dinner. Note that Las Cascadas charges for breakfast, while La Mariposa offers a free daily breakfast buffet.