Best Kid-Friendly Hotels in Adeje, Tenerife
Take a look at the best kid-friendly hotels in Adeje.
See All Adeje Hotels
1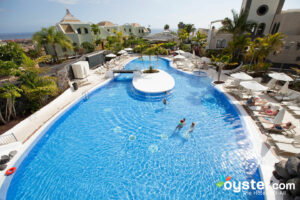 Hotel Suite Villa Maria is a secluded, upscale family-friendly hotel surrounded by golf courses in Costa Adeje. The hillside location provides great views and golf access, but it's about a 15-minute walk to the beach and there is little to do off-property in the immediate area. The resort is arranged like a small village, with a main square and 78 two-floor villas with simple decor, full kitchens, and furnished, south-facing verandas that get sunlight all day. The villas are positioned around a peaceful pool complex with three pools (one for kids), an enclosed playground, and a pool bar with barbecue. Freebies like Wi-Fi, private underground parking, and round-trip shuttle service to Playa del Duque, one of Costa Adeje's best beaches, are nice extras. Travelers looking for a livelier, beachfront setting could consider Sheraton La Caleta Resort & Spa, whose rooms have balconies, but no kitchens.
2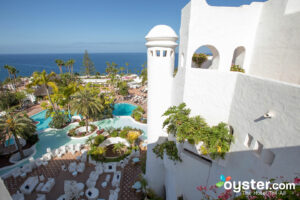 Hotel Jardin Tropical is a gorgeous four-pearl resort housed in a beautiful white-stucco complex overlooking the sea. The 390 air-conditioned rooms and suites here feature marble bathrooms and furnished balconies, and while they all have mini-fridges and air-conditioning, entry-level units lack coffeemakers and kettles. At the heart of the hotel is a gorgeous lagoon pool with a waterfall feature and lots of sunbeds, and guests are free to take advantage of the property's on-site Beach Club, which features a saltwater pool and an elegant restaurant, not to mention loungers, Bali beds, and spectacular sea views. While children are welcome and the hotel gets lots of families, there are certainly fewer facilities for little ones than at other comparable properties, such as Hotel Suite Villa Maria nearby.
3
Roca Nivaria is a huge four-pearl resort located in a quiet area of Tenerife, overlooking the Atlantic Ocean. The 289 elegant rooms and suites have large bathrooms with separate showers and tubs, plus balconies with lounge chairs, but fees for kettles and minibars are notable downsides, especially for a hotel of this caliber. Features include a fantastic buffet restaurant and two a la carte dinner options that are included with meal plans, as well as a lovely spa with a fitness center, two pools (including a heated saltwater infinity pool), a small beach, and tons for kids, including kids' clubs catering to children as young as 10 months. Travelers looking for something even quieter and a tad more luxurious may want to also consider Gran Melia Palacio de Isora Resort & Spa.
4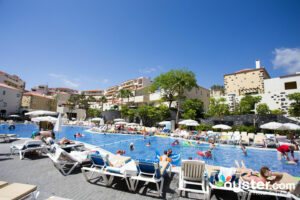 Built to resemble a traditional village, the 389-unit mid-range Hotel Isabel is a good choice for couples, groups, and families. The cobbled streets and sets of stairs throughout the resort may present a problem for some guests, but the secure, small-town setting helps ensure privacy and peace of mind. Accommodations include apartments, bungalows, and villas; all are plainly decorated with muted oranges and yellows and feature kitchens and balconies or patios. Two pools with pool bars, a lobby bar, spa, fitness center, vast dining hall, and ample kids' amenities (from the supervised kids' club to kids' treatments at the spa) all reinforce the community feel, and the beach is a 15-minute walk away. It's worth comparing Hotel Isabel's rates with Bahia Fanabe Suites, which more stylish rooms, but no kids' club.
5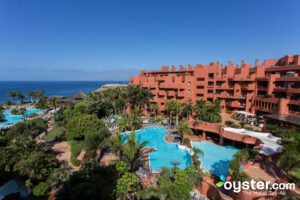 Sheraton La Caleta Resort & Spa is an upscale, business and leisure resort located in a quieter part of Costa Adeje, with views out over the beach (but no direct coastal access). Its 284 rooms and suites are contemporary and sleek, with streamlined decor that adds to the overall business hotel ambience, plus they have terraces or balconies, many with sea views. Along with two bars and four restaurants (including dinner-only Spanish and Japanese options), this Sheraton offers a gorgeous spa with a thalassotherapy circuit (included in some bookings), fitness facilities, a kids' club, and extensive event space, along with dedicated business facilities and lots of room for weddings. While it's a lovely place to stay, it's business vibe may detract from the feeling of being on vacation. Hotel Suite Villa Maria may be a better option for vacationers, though it lacks a spa and is a little further from the nearest beach.
6
Royal Sunset Beach Club is a three-pearl time-share property with apartment-like suites. The 126 units have a minimal design and amenities like kitchens, flat-screen TVs, air-conditioning, and balconies. Note that daily housekeeping is not provided. The environment is often busy with a vacationing English clientele, especially around the outdoor pool, hot tub, and children's pool, making loungers a hot commodity here. A gym, restaurant, bar, and spa are lovely, but many amenities like gym access, Wi-Fi, and breakfast incur charges. The hotel is just a three-minute walk from the beach. Travelers might want to consider the beachfront Iberostar Bouganville Playa as an alternative. It doesn't have pesky fees for Wi-Fi or the gym, and features a large kids' club and multiple dining options.
7
The three-pearl Regency Torviscas Apartments and Suites is a contemporary, self-catering complex set a 20-minute steep uphill walk from the beach in Costa Adeje. The 95 well-maintained Studios and apartments have full kitchens, furnished terraces, and modern bathrooms, but Studios only have pullout sofa beds. On-site features include an attractive freeform pool with a bar and sea views, an all-day restaurant serving regional and international cuisine, small spa, and entertainment for kids and adults. The hotel also provides free shuttles to the beach, Playa de las Americas, and Los Cristianos. Note that some guests have complained of limited pool loungers and the lack of in-room air-conditioning. Travelers looking to stay closer to the action might want to try the Sol Sun Beach Apartments, which is along the boardwalk in Costa Adeje.
8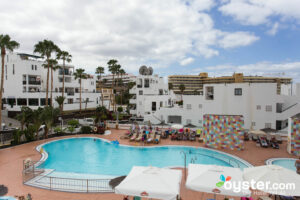 Sunset Bay Club is a three-pearl property with apartment-like suites. It's centrally located with several restaurants, bars, shops, and both Puerto Colon Beach and Fanabe Beach within a 10-minute walk. The 206 apartments have a minimal design and amenities like fully-equipped kitchens, flat-screen TVs, and balconies (some have been renovated). Jamie's Place restaurant serves breakfast, lunch, and dinner (not included in room rates). Kid-friendly features include the shallow kids' pool and popular Creature Club with indoor and outdoor play areas. Additional features include an outdoor swimming pool (which can get quite crowded), a small fitness center, and game room. Both Wi-Fi and parking incur an additional fee. Travelers looking for somewhere even closer to the beach should consider Sol Sun Beach Apartments, which also has apartment-style accommodation without the pesky time-share pitches; plus free and fast Wi-Fi.
9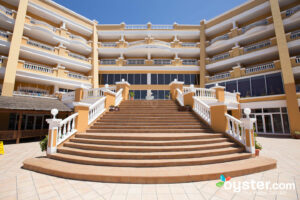 Thanks to a 2015 through 2016 renovation, the mid-range Hotel Chatur Playa Real offers an updated spin on the typical Tenerife all-inclusive hotel template. Its 178 rooms are light, airy, and minimalist, with a fresh color palette of white, bright orange, and cool gray. One- and two-bedroom Family Rooms feature kitchenettes and all rooms come with flat-screen TVs and furnished balconies -- some with ocean views -- but in-room Wi-Fi incurs an extra fee. Multiple pools, two restaurants, an Irish pub, a disco, and a nightly live-entertainment calendar keep the clientele (mostly families and pensioners) happy, though guest grumblings about the uninspired food and brisk pool water are not uncommon. For an all-inclusive right on the beach and with free Wi-Fi, compare prices with Hotel Troya, which overlooks Playa de Troya and Playa del Bobo.
10
Sol Sun Beach is a busy mid-range apartment hotel consisting of 135 Studio, One-, and Two-Bedroom Apartments, plus a handful of private rentals. All units have small kitchens with Nespresso coffeemakers and terraces with tables and chairs, and many look out onto Costa Adeje's busy-by-day, quiet-by-night boardwalk. Standout features include a 2000-meter sunbathing deck with lounge chairs, a large pool area, and a restaurant serving quality food at breakfast and dinner. Wi-Fi is free throughout the property and remarkably fast, but the lack of on-site parking options and limited area street parking is inconvenient for those with rental cars. Hovima Jardin Caleta is a better choice if you have a car, as there's lots of free street parking as well as fee parking in the hotel's basement.