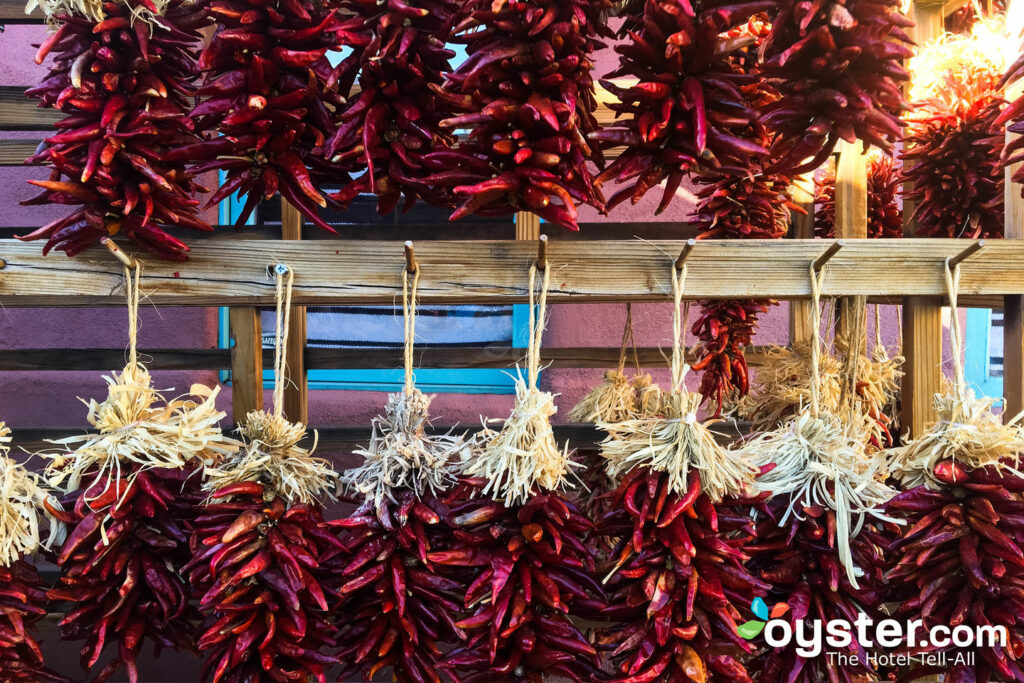 There's no one right way to describe Santa Fe. It's the capital of New Mexico, the oldest state capital in the U.S., and the country's third-largest art market -- behind New York and Los Angeles. Spanish for Holy Faith, Santa Fe might be better known, though, for its self-proclaimed slogan, the "City Different." And the destination, which is perched 7,000 above sea level, irrefutably does things differently.
It's certainly historic -- visitors can get a glimpse into its storied past while stopping by several neighborhoods, especially the downtown Plaza area and Railyard District, seeing its museums, tackling its nature trails, and simply by chatting up the friendly locals. It packs in flavor, too -- you may be asked more than once if you pledge your allegiance to the red or green chile that tops many a dish. And it's undoubtedly vibrant, with a thriving art and architecture scene that includes a myriad of galleries, events like the Santa Fe International Folk Art Market, landmarks like the Cathedral Basilica of Saint Francis of Assisi, quirky installations (see Meow Wolf below), and of course, earthy adobe buildings set against the backdrop of dramatic mountains and striking blue skies. This is all a roundabout way of saying the creative flair shines through in every nook of this city -- even down to the strings of chile ristras that hang from the doors. With so much to do and see, we narrowed it down to a few of our favorite arts and culture highlights below.
Meow Wolf's "House of Eternal Return"
In a city that's packed with art from end to end, it takes a lot to stand out. Perhaps the best example of this is Meow Wolf's "House of Eternal Return," which makes itself noticeable, starting with the puzzling giant robot out front. In simplest terms, this attraction is an immersive multimedia art installation created by more than 100 artists for all ages. But that would be selling it short. Entering the colorful 20,000-square-foot space, which was purchased with funding from "Game of Thrones" writer George R.R. Martin, is more like navigating a psychedelic dream. There's a science-fiction narrative that involves a fictional family, though it's open-ended, as guests are encouraged to explore freely and create their own experience. And it won't take long before discovering the wildly imaginative, maze-like space has plenty of surprises up its sleeve. The seemingly alternate reality reveals a color-changing, xylophone mastodon skeleton one minute, and a spiral staircase inside a tree trunk that leads to a spaceship the next. Other mind-bending details in the fantastical funhouse include a kitchen refrigerator that acts as a doorway to a teleportation station, and a clothes dryer, pulsing in flashing blue lights, that houses as a chute that visitors can slide down.
Canyon Road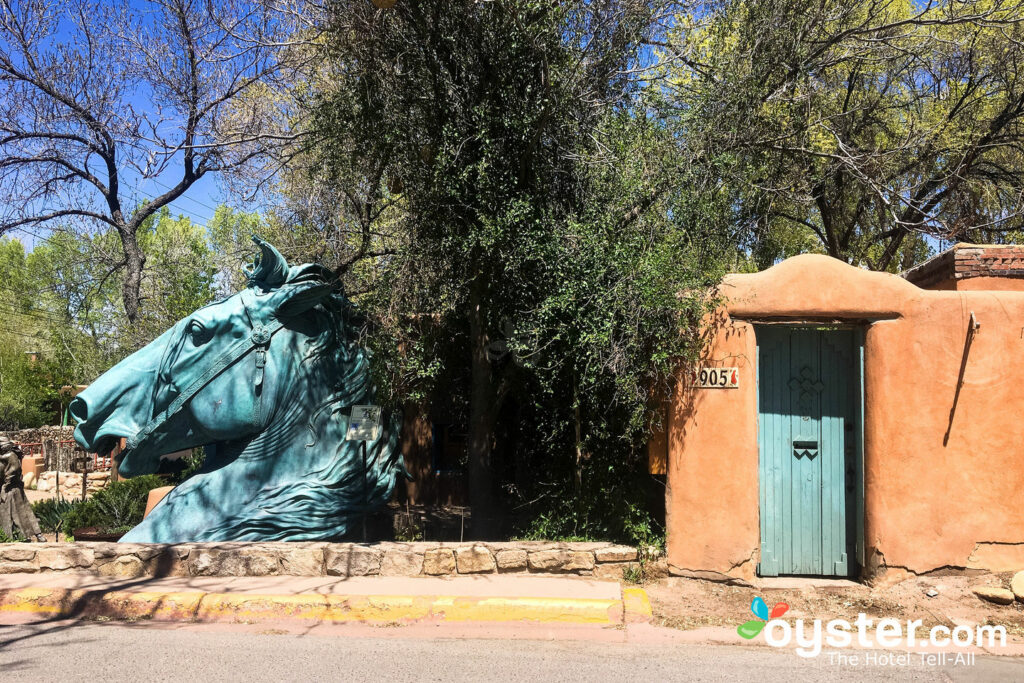 There's a reason why everyone who visits Santa Fe makes it a point to visit Canyon Road. Once a footpath used by Pueblo Indians, today, the charming stretch — or "magical half-mile" as it's called — is teeming with creativity. Behind every door lies an art gallery, jewelry shop, or restaurant — but mostly the former. In fact, Canyon Road is home to more than 100 art galleries, curated with everything from Native American to modern masterpieces. (Waxlander Gallery, Zaplin Lampert Gallery, Bindlestick Studio, and the non-profit Thoma Foundation, which shows curated exhibits from both New Mexico-based and international artists, are a few of our favorites.) For those who need a bit of guidance (there is a lot of digest, after all), Santa Fe Art Tours offers knowledgeable staff who can walk you through the galleries and help you experience the art in a deeper way.
Not the artsy type? The outside, which is lined with adorable adobe architecture and hidden gardens and courtyards, still offers plenty to marvel at. When you need a breather from browsing the high-priced artwork, stop into one of the restaurants. The Compound is an upscale affair, with artfully crafted dishes from chef Mark Kiffin. For something a little more casual, head to The Teahouse, which features more than 150 teas on its menu, alongside grub like sandwiches, soups, gluten-free baked goods, and pesto lasagna. Tip: Set aside a few hours to really get a taste of Canyon Road, though one could easily spend a full day experiencing every nook and cranny.
Georgia O'Keeffe Museum
Located in downtown Santa Fe, the Georgia O'Keeffe Museum is significant for several reasons. Opening its doors in 1997, the museum was the first one to be dedicated to a single female artist in the U.S. Today, the 5,000-square-foot space displays a collection of her drawings, oil paintings, and sketches, including recognizable subjects like Manhattan skyscrapers, New Mexico-inspired landscapes, and of course, her famous blossoms.
Heidi Loewen Porcelain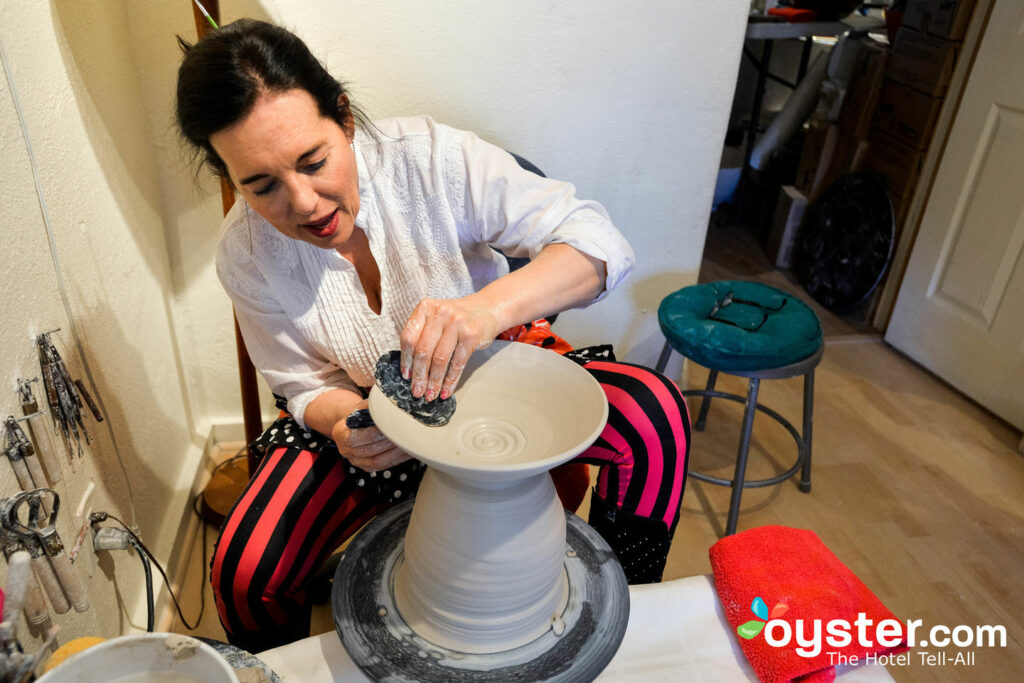 While visiting the City Different, you'll encounter plenty of intriguing characters — the established gallerist, the emerging artist, and the restaurant owner who left behind his big-city life as a lawyer to pursue his passion in food — and you'll be charmed by all of them. Among the captivating Santa Fe locals we crossed paths with is ceramicist Heidi Loewen. Her resume is rather intimidating — she has shown her work in Art Basel Miami, taught famous faces like Giada de Laurentiis, and collaborated with world renowned artists like Braldt Bralds — but she is nonetheless approachable, fun, and free-spirited.
Her sunny studio, which sits down the road from the Georgia O'Keeffe Museum, showcases her smoke-fired porcelain pieces and doubles as a school. If you want to flex your artistic muscle, sign up for a private pottery class. (Appointments are recommended, but walk-ins are welcome, and no prior experience is needed). Loewen prepares the clay on the wheel, and students of all ages can design and shape their pieces. She'll even ship your masterpiece back home, so you can remember your visit long after your trip ends.
Museum Hill
Nature and art unite at Museum Hill, a quiet area that comprises a botanical garden, gorgeous mountain views, and four museums that display Spanish colonial art, Native American art, and folk art. If you only have time for one, we recommend popping into the Museum of International Folk Art, which shelters more than 10,000 objects collected from more than 100 countries. The mind-blowing collection features intricate dioramas packed with tiny figures as well as whimsical dolls, masks, toys, textiles, beaded artwork, pottery, and garments galore. Other museums include the New Mexico Museum of Spanish Colonial Art, the Museum of Indian Arts, and the Santa Fe Wheelwright Museum. If you start to work up an appetite, make your way to Museum Hill Cafe for some tasty bites.
New Mexico Museum of Art
A magnificent example of Pueblo Revival style architecture (adobe walls and all), the New Mexico Museum of Art was founded in 1917, making it the oldest art museum in the state. If that's not enough to get you running through its doors, the extensive collection of over 20,000 works by artists like Georgia O'Keeffe, Gustave Baumann, Ansel Adams, Alfred Stieglitz, Robert Henri, and more should draw you in. The peaceful courtyard on the premises is well worth the trip alone. Plus, this year is notably special, as the museum celebrates its 100th anniversary in November. Tip: Friday evenings are free from 5 to 8 p.m.
Railyard District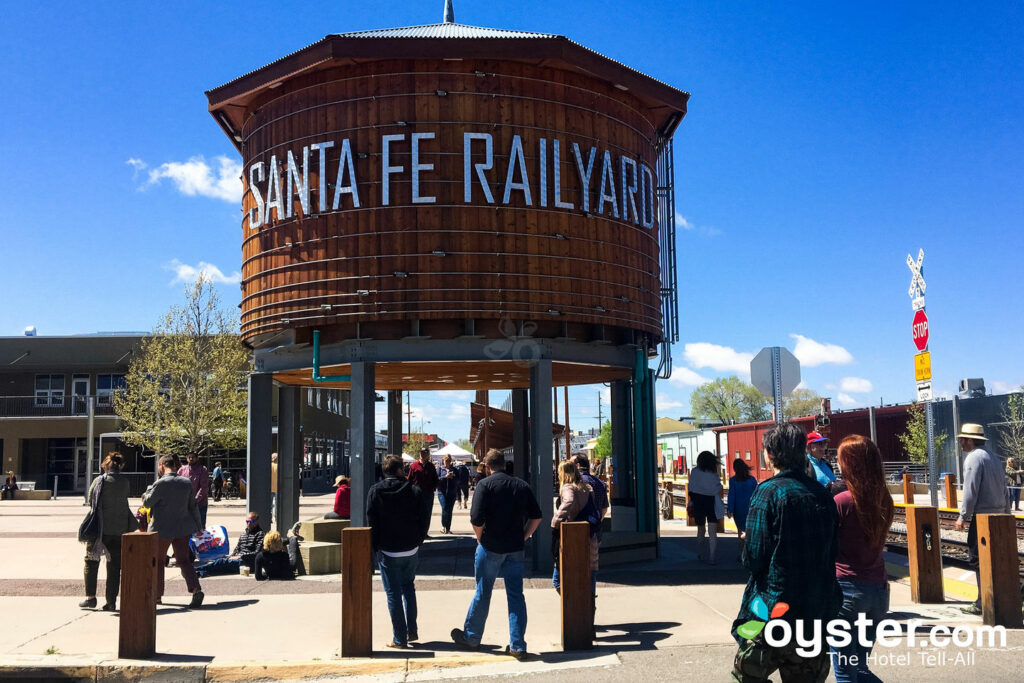 Just seven blocks southwest of the downtown Plaza lies yet another area that's bursting at the seams with culture and creativity — Santa Fe's Railyard District. In the 1880s, the area served as as a gateway to the city, as trains brought in trade opportunities and tourism. Today, locals and tourists converge in the neighborhood to peruse the artisan shops and boutiques, refuel at restaurants and bars like Second Street Brewery, and stroll in and out of art galleries like Evoke Contemporary, Charlotte Jackson Fine Art, and Tai Modern — all of which are within walking distance of one another.
But there's more to satiate your appetite for the arts. SITE Santa Fe, a contemporary art gallery set inside a former bottling warehouse, recently shook things up with a new biennial exhibition series called SITElines: New Perspectives of Art from the Americas. It's currently undergoing a major expansion that will add about 15,000 square feet to the building and make major infrastructure improvements. (SITE is slated to reopen in fall 2017). Until then, head to the bountiful indoor/outdoor farmers' market that's brimming with local produce, seasonal hatch peppers, and other southwestern specialties.
Santa Fe Opera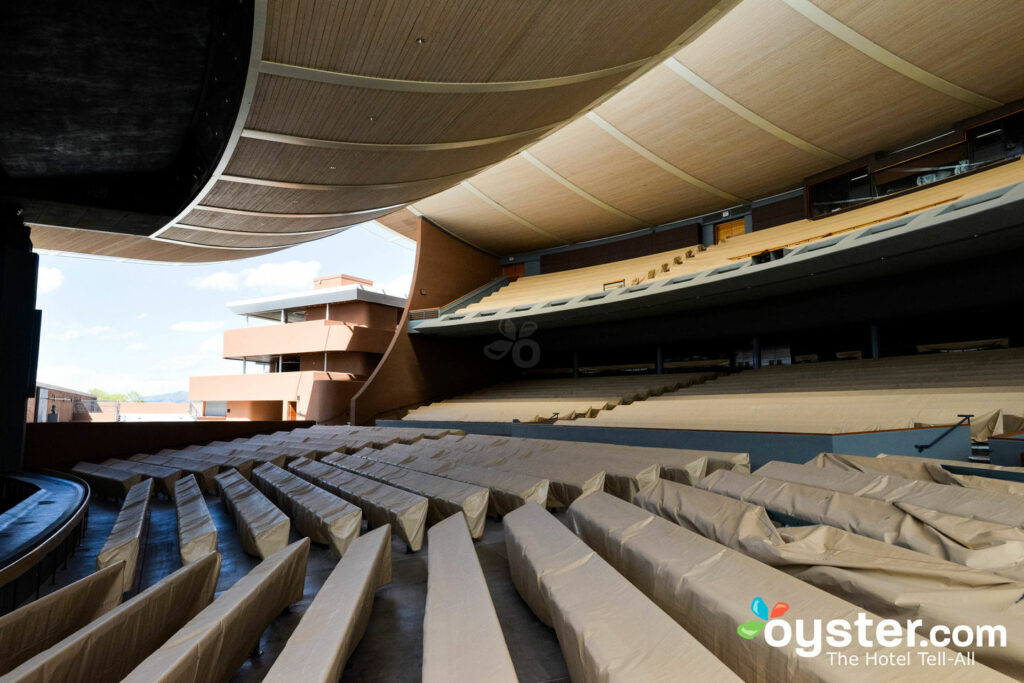 The handful of performances presented each season (July through August) at the Santa Fe Opera aren't the only shows you'll get when visiting the 19-year-old space. Nestled in the Sangre de Cristo foothills, the open-air amphitheater also puts the stunning Jemez Mountains on view. Both deserve a standing ovation. While here, do as the locals do and partake in some pre-performance tailgating in the opera parking lot. Yes, really.
You'll Also Like:
All products are independently selected by our writers and editors. If you buy something through our links, Oyster may earn an affiliate commission.