Local minibars, Bluetooth speakers, and bespoke toiletries. More and more, hotels are stocking their guest rooms with upscale and state-of-the-art amenities as a way to draw bookings. But for many travelers, there's one feature that trumps pillow menus, LCD TVs, and all the rest: a balcony. After all, does anything beat watching the sun rise or set? Or simply getting some fresh air? In-room extras are nice to have, but they just can't compete. Of course, not all balconies are cut from the same cloth. Here are some of the best hotel balconies we've seen, from Big Sur to Bangkok.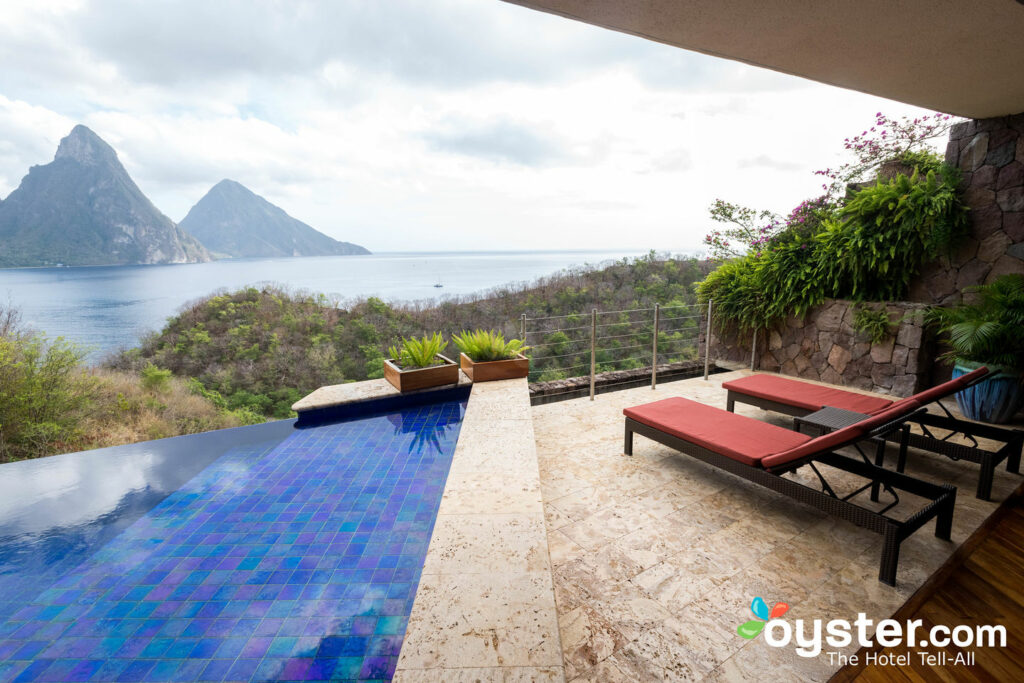 There's every hotel room in the world, then there are the rooms at Jade Mountain. Called "sanctuaries," Jade Mountain's rooms feature an innovative three-wall design (something many hotels have since tried to mimic) that opens up the space to the elements. Those elements, by the way, are views of the Pitons, the lush rainforest, and the Caribbean Sea. Where the fourth walls should be, there are stone platforms with cushioned lounge chairs and minimal railing to maximize the view. All 29 sanctuaries have hot tubs or infinity pools stretching toward the outside world. The pools are surfaced with luminous glass tiles and fiber optic lights, for nighttime swims under the stars.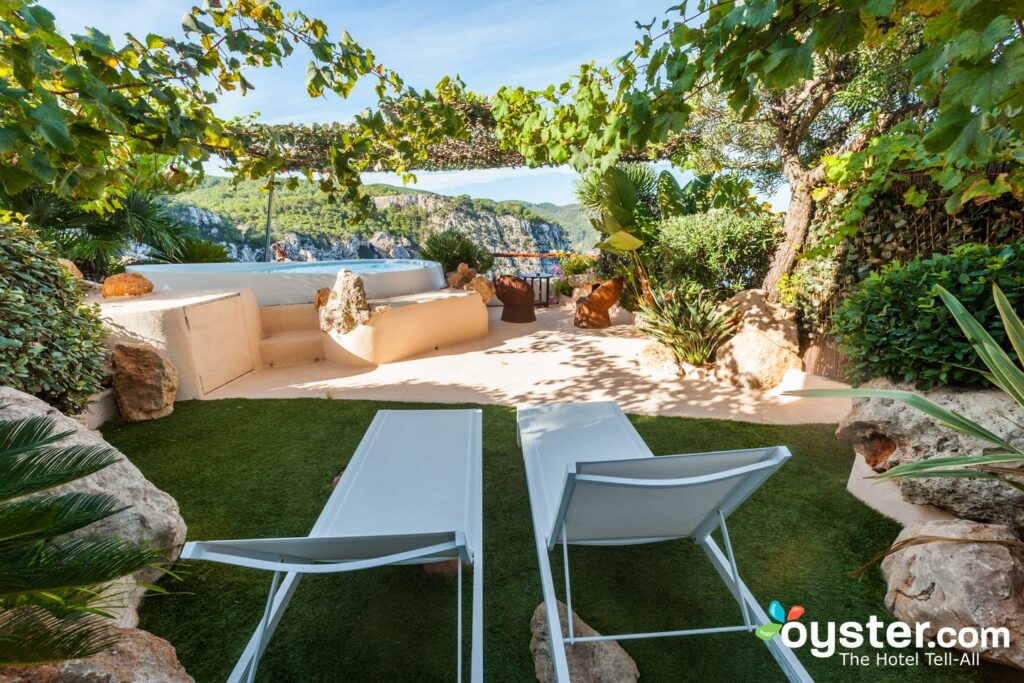 This secluded boutique offers the most spectacular Mediterranean views on Ibiza. Located amid pine tree forests and dramatic rocky cliffs that drop sharply into the sea, the property focuses on quiet luxury and stunning ocean views. All 77 rooms and suites feature furnished balconies or terraces and floor-to-ceiling windows that bring the outdoors in. Eden Rooms add lush, pergola-shaded garden terraces with loungers, wicker chairs, and plunge pools.
Occupying an 11th-century palazzo, Belmond Hotel Caruso sits dramatically on the highest point in Ravello, about 1,000 feet above the Tyrrhenian Sea. Naturally, the architecture takes full advantage of the knock-out setting. Archways and floor-to-ceiling windows look down to the turquoise sea, the terraced gardens, or the village. Brick balconies wreathed in flowers extend from most of the 50 rooms and suites, some of which also have private gardens with olive trees.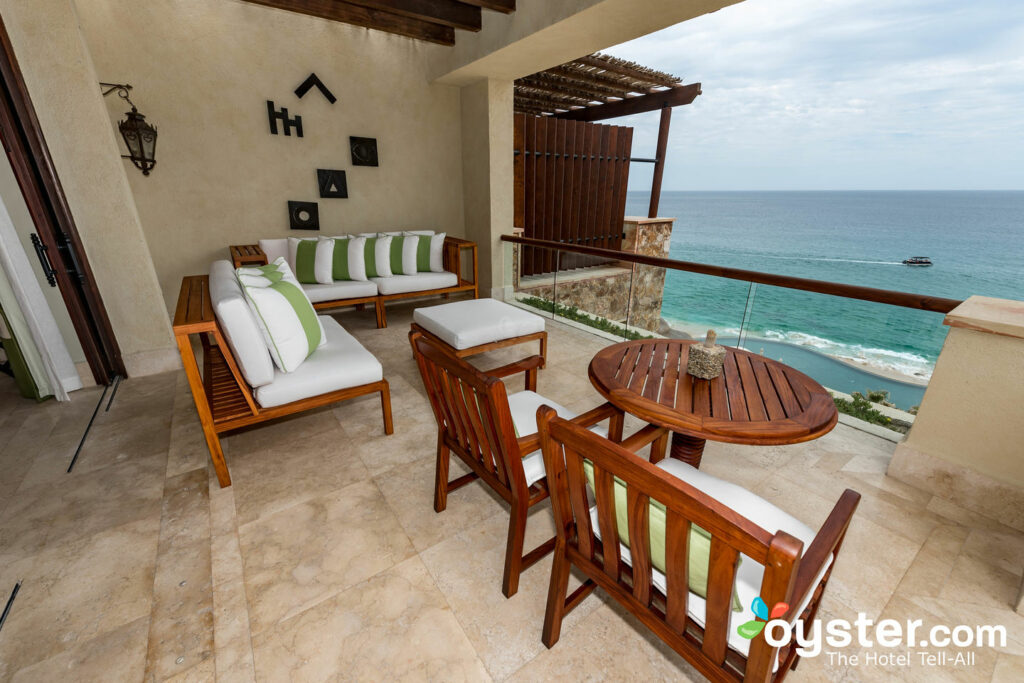 Cabo San Lucas is an elite resort town at the southern tip of Mexico's Baja Peninsula, known for its famously beautiful coastline and long list of breathtaking luxury hotels. At the top of that list is The Resort at Pedregal, a romantic boutique resort so secluded that it is accessed via a private tunnel cutting through the base of steep mountains. The cliffside property was designed to ensure splendid sea views from nearly every vantage, including every one of its 100-plus rooms and suites. Rooms have huge furnished balconies, all of which include a plunge pool with a view of the ocean. (Oceanfront casitas even have lawns, pools, and fire pits.) The balconies are especially rewarding during whale-watching season (January through March, but particularly March). Binoculars are provided.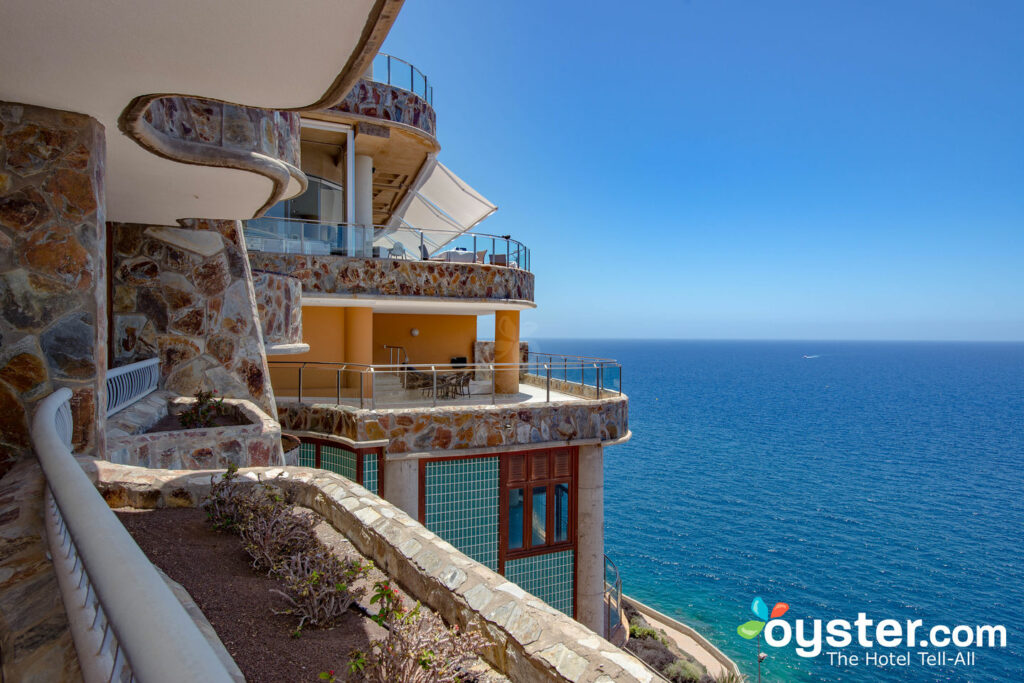 Beautiful sea views are in store from nearly every vantage point of this Gaudi-esque all-inclusive resort in Gran Canaria. Built from natural stone in an undulating layout that subtly reflects the Atlantic Ocean below, the clifftop hotel offers balconies in all of its 392 rooms, nearly all of which have uninterrupted views of the deep blue water.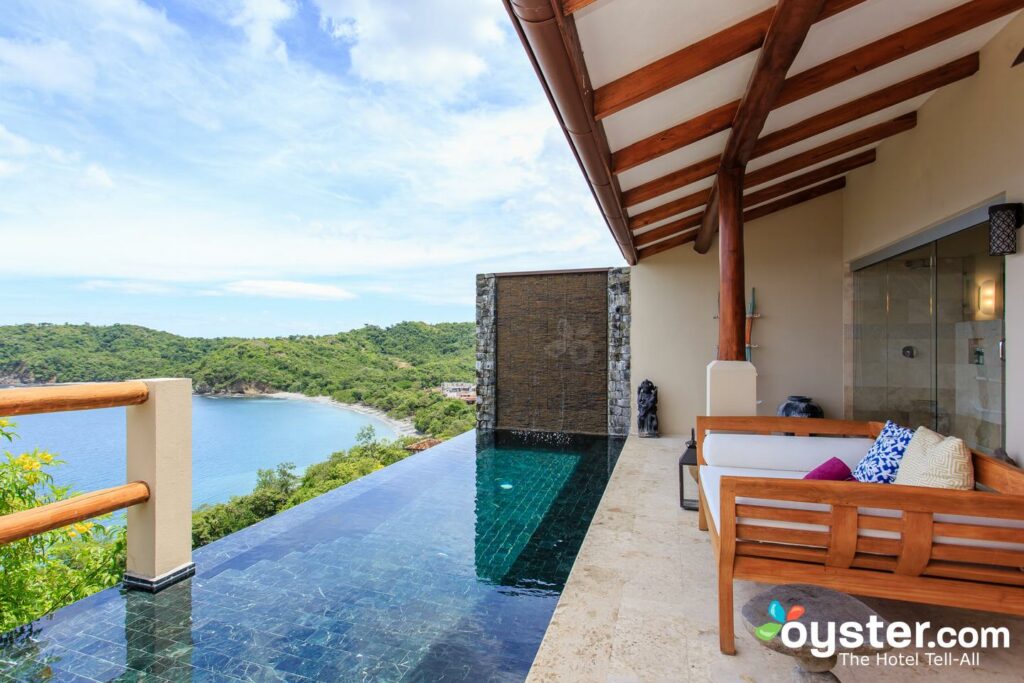 Costa Rica's many ecosystems make it a haven for hiking, surfing, zip-lining, whitewater rafting, and rappelling down waterfalls and canyons. But when your hotel room is one of the 21 totally private villas at Casa Chameleon Hotel at Las Catalinas, an adults-only boutique that opened in 2017, you might just want to skip all of that and simply sit outside to drink up the views. All room balconies offer saltwater plunge pools and stunning views over the Guanacaste coast and Pacific Ocean, including Sugar and Penca beaches to the south and the Catalina Islands on the horizon.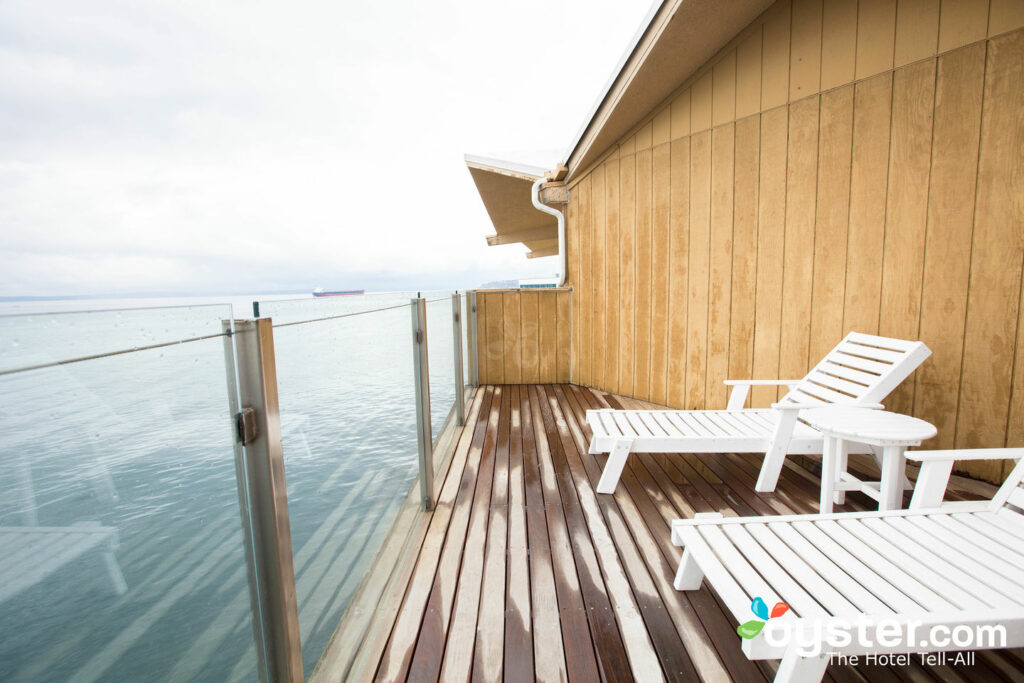 Book a city-side suite at this upscale lodge-like hotel on Puget Sound, and you'll find yourself on a small wood balcony with views of a big, wide parking lot and downtown buildings. Waterfront rooms with outdoor space, however, are another story altogether. Certain sound-side rooms have balconies or decks hanging over the water, offering stunning views of Elliott Bay and the Olympic Mountains. The views are gorgeous, but also unique: The Edgewater is the only Seattle hotel that sits over the water, cueing jokes that you can "fish from your room." As it happens, the Beatles were photographed fishing from what is now named the Beatles Suite (no balcony, but panoramic views of the bay and mountains).
When it comes to Santorini hotels, you could blindly pick a property and there'd be a decent chance it has outdoor space with killer views. That's because many terraced hotels on the island are molded directly into the vertigo-inducing caldera. But Sophia Luxury Suites is set on the hillside in the heart of Imerovigli — the highest point of Santorini — meaning it has some of the best views around, plus a quieter vibe than busy Oia or Fira. Each room has its own balcony or terrace with a plunge pool or hot tub (aside from the Character Cave Rooms, which have indoor plunge pools instead) and stunning views out to the ocean, the caldera, and scenic Skaros Rock.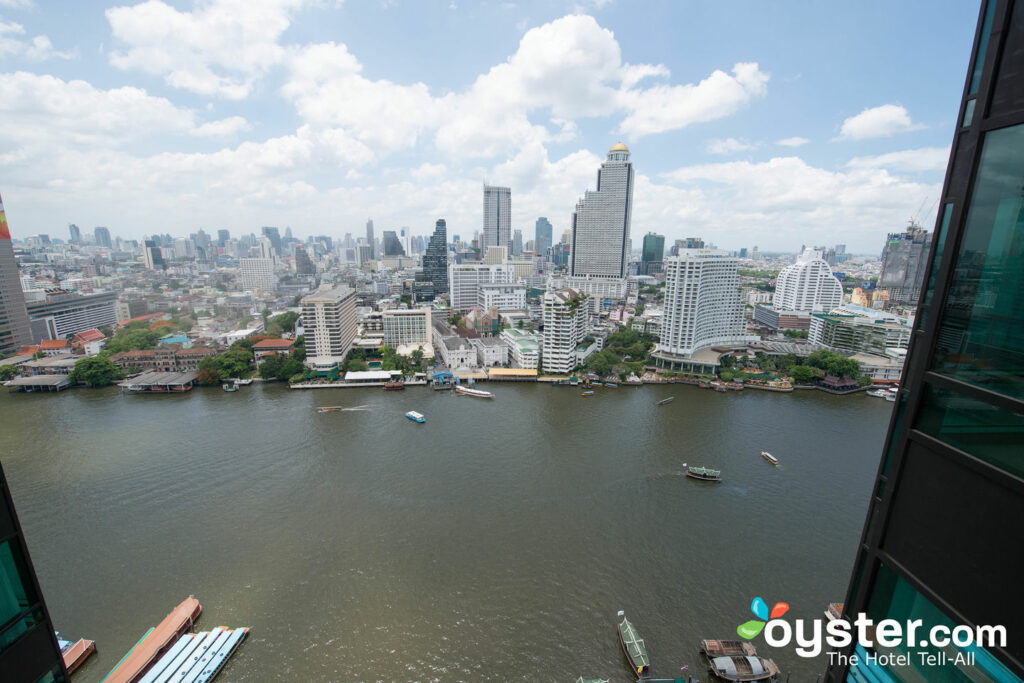 A location on the west side of the Chao Phraya River, across from Bangkok's main attractions, could be considered a drawback, as it means getting to Bangkok proper by road is arduous. On the plus side, the position guarantees unobstructed views of the river and the dramatic Bangkok skyline. (Plus, the hotel runs a free shuttle boat on the river, which drops guests off at the Saphan Taksin pier.) All rooms benefit from this perspective, and some, like the Grand Balcony Room, feature outdoor balcony seating — and stunning views.
Founded in the late 1800s as a luxury retreat for European high society, Belmond Reid's Palace has since become a landmark institution. The clifftop hotel's 158 rooms and suites have furnished balconies or patios with views of the terraced gardens full of bougainvillea and palms, or, even more impressively, over the sparkling Atlantic. Some of the best seats in the house are from the suites named after past guests like George Bernard Shaw and Winston Churchill — the latter came to Madeira to paint and write his war memoirs.
Every one of Post Ranch Inn's 39 standalone cottages and treehouses has a private deck with spectacular vistas of the rugged Santa Lucia Mountains or the Pacific Ocean. (Other in-room amenities include wood-burning fireplaces, indoor or outdoor hot tubs, and radiant heated floors.) But be aware that the area's omnipresent fog — though beautiful in its own way — can act as an impediment, and guests who have splashed out for the exquisite Pacific views may never actually see it.
Not every unit at this luxury spa resort has ocean views, but the higher-tier, sea-view rooms have balconies that expand into sizable swimming pools and green front yards overlooking Malia Bay. In the top-of-the-line suites, the outdoor space practically hovers over the teal waters, and in essence doubles the square footage.
You'll Also Like:
All products are independently selected by our writers and editors. If you buy something through our links, Oyster may earn an affiliate commission.