At first consideration, you might think that there's not much difference between the sun-soaked shores of Aruba and the beaches surrounding the Bahamas. Both are popular vacation spots, good getaways for snowbirds, and can claim year-round sunny and warm weather. Whomever's sand you land on, you'll undoubtedly find gorgeous water, stunning snorkeling and diving opportunities, and a handful of activities to break up the beach time. However, if you dig your toes in a little further, you'll find that these two Caribbean destinations are actually worlds apart. Do you like it hot and sticky or breezy and balmy? Would you rather limbo or disco? Are you feeling a tropical island or desert island? Are you traveling with kids? On a budget? And let's just talk about hurricanes for a minute.
We know those vacation days are precious, so let us help get any surprises out of the way. This way you can show up, relax, and bask in your best place. There's a reason why Aruba has the most return visitors in the Caribbean and why the Bahamas rings in as a top destination year after year -- now it's up to you to find your perfect fit.
Getting There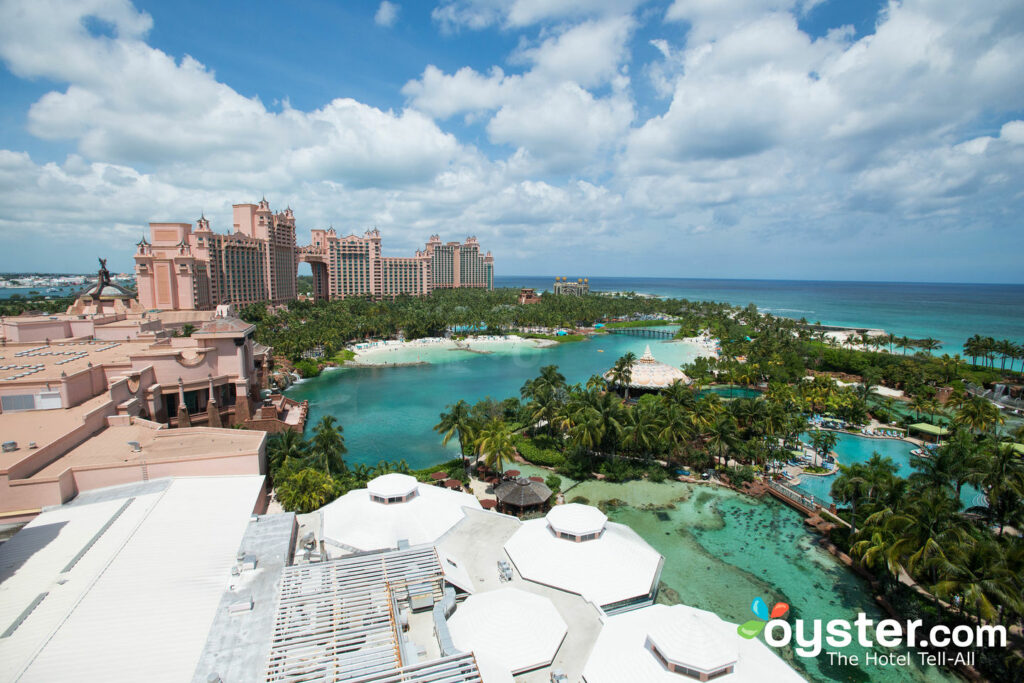 Good news: Both Aruba and the Bahamas are accessible by either boat or plane. Sorry West Coast folks, but no matter which of these destinations you choose, you are looking at a flight with stops. All major cruise lines have plenty of Aruba- and Bahamas-bound sailings, though check the itinerary carefully since they tend not to overlap in course.
Aruba: Flights to Aruba can be as painless as a two-hour nonstop from Miami or a four-and-a-half hour nonstop from New York City. However, flights from the West Coast can feel brutal, starting at nine hours (with stops) from Los Angeles to 10-hour, multi-stop flights from the Pacific Northwest. Cruises to Aruba will usually set sail from Miami — shorter itineraries might hit up the ABC islands (Aruba, Bonaire, Curacao), mid-length cruises may tack on a few nearby islands, and longer trips could include stops in South America.
Bahamas: While flights from the West Coast to the Bahamas (we tested the route from the Pacific Northwest to Nassau) only shaved off about 45 minutes, you can grab a six-and-a-half-hour flight from Los Angeles (with stops). Direct flights from Miami to the Bahamas clock in at under an hour, while New Yorkers can arrive in just around three hours. Cruises to the Bahamas are ideal for anyone looking for a short getaway. Thanks to its proximity to Florida, you can easily jump on board for a quick three-day high-seas adventure.
Beaches
Both of these destinations offer stunning sandy beaches, superb turquoise waters, and plenty of activities above and below the surface. However, the vibe varies dramatically. The Bahamas are a coral reef archipelago consisting over of 700 islands roughly located between Cuba and the United States. Aruba is a singular volcanic island that measures about 70 square miles.
Aruba: Even though Aruba is a volcanic, desert island, you can still expect those soft, white-sand beaches that many tourists dream of. The most popular beaches include Eagle Beach, Palm Beach, and Baby Beach. Eagle Beach was recently voted third best beach in the world in the 2017 TripAdvisor Traveler's Choice Awards. For the most part, you can look forward to delicate sand and calm water, though a few have rocky coasts and strong waves. Spots like the northern Arashi Beach trade convenience for unequipped but beautiful powder sand and fewer crowds. Swimmers should also beware of wild waves over at Andicuri Beach.
Bahamas: It might be a little unfair to judge one island's beaches against the beaches of the more than 700 islands that make up the Bahamas, but we're going to do it anyways. Overall, you can expect the same gorgeous sand-and-water combo you've memorized off brochures and tourism posters, but there are a few unique details you should know about. For example, Harbour Island is home to safe, calm, and beautiful waters, as well as pink sand beaches. Other popular beaches include the remote Treasure Cay Beach, Cape Santa Maria Beach (which offers spectacular snorkeling), and Cabbage Beach.
Food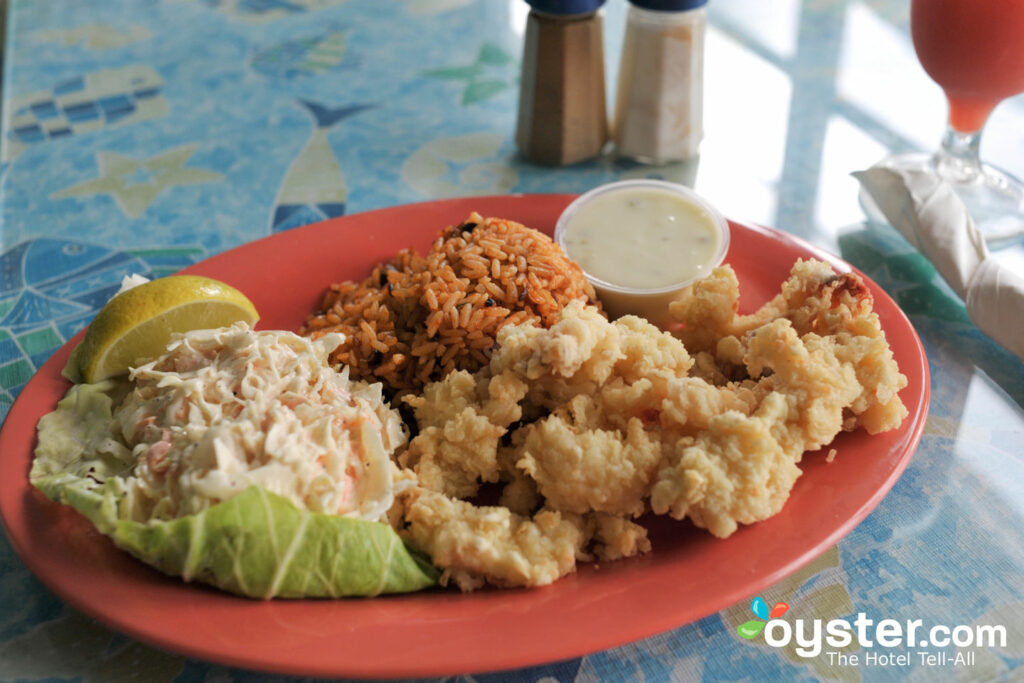 Cuisine varies greatly across the Bahamas and in Aruba. In the Bahamas, the focus is on shellfish. Aruban dishes also incorporate a lot of shellfish, but thanks to their Dutch and African roots, they tend to be outliers in the kitchen.
Aruba: While the island may be small, the selection of restaurants isn't lacking. You can find almost any type of cuisine, from Japanese and Italian to Mexican and French. However, if you're one of those travelers who enjoys tasting the local dishes, expect to find a lot of Dutch influence in the island's cuisine. Prepare for a lot of savory stew pots with ingredients like goat, citrusy snapper, fried fresh fish, or massive wheels of ground beef and vegetable-stuffed gouda cheese — all served with traditional polenta-like funchi or pan bati, which is akin to bread pancakes. We also recommend trying the island's signature fruity drink, an Aruba Ariba.
Bahamas: You might be more familiar with the traditional dishes of the Bahamas, as they're more typical of other islands in the Caribbean. Expect to find shellfish like rock lobster, cracked conch, and spicy but bright fish stews — all served with rice. You might also come across mysterious soused meat dishes.
Safety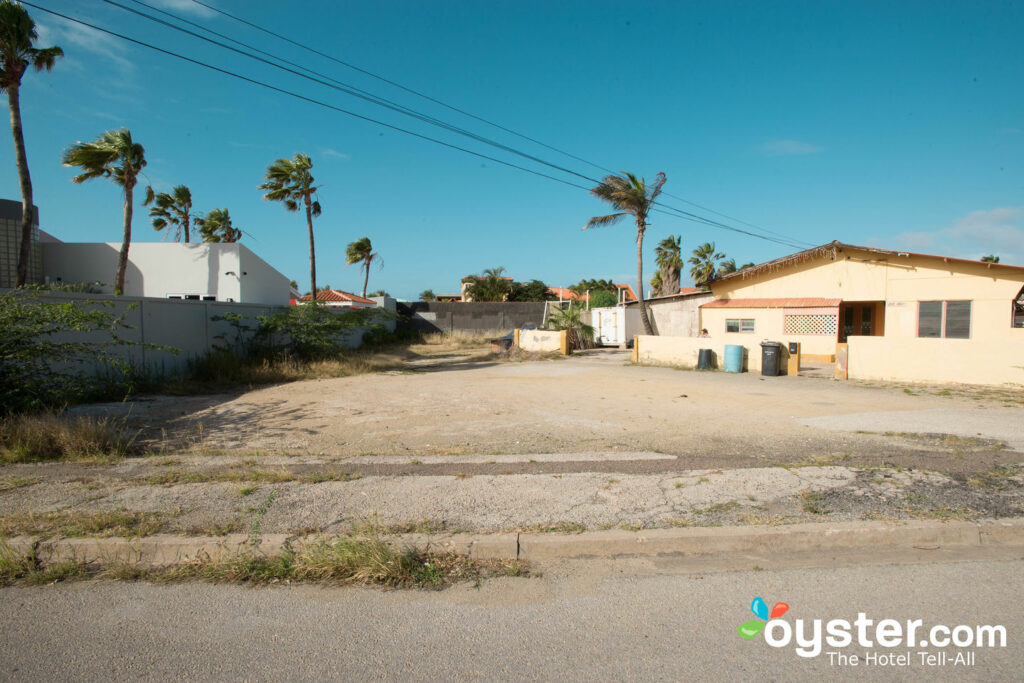 Any trip to the Caribbean might bring up the question of safety. While most islands in the Caribbean remain popular tourist destinations, it's no secret that some are flat-out dangerous, even during the day. So let's take a quick peek at how Aruba and the Bahamas stack up against each other.
Aruba: Aruba has dealt with its fair share of bad safety press. In 2005, American teen Natalee Holloway disappeared. Her body was never found and the case remains unsolved to this day. For years, tourists boycotted Aruba. However, the truth is, Aruba is one of the safest islands in the Caribbean today. According to Numbeo, it has a low level of crime or concern for crime in almost every category, and an overall safety rating of 74.63 and low crime rating of 25.37.
Bahamas: According to the Overseas Security Advisory Council (OSAC), the government hasn't released any comprehensive crime stats of the Bahamas since July 2013. However, Numbeo reports that the Bahamas have a safety rating of 33.97 and crime rating of 66.03, with most crime falling into the theft category. That being said, millions of people visit the islands with no problem.
Weather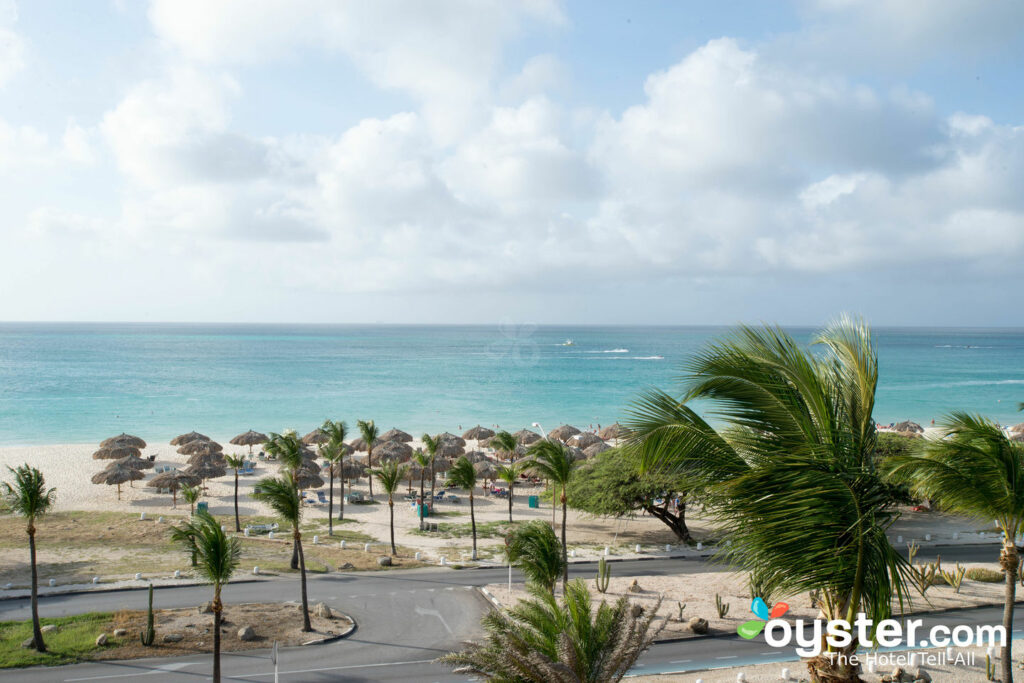 Hurricanes are a major consideration for anyone heading down to the Caribbean, especially during the hurricane season months from June through November. Not only do they contribute to canceled flights and other inconveniences, but they can leave you stranded far from home and in danger.
Aruba: Not only are visitors to Aruba privy to temperatures in the mid-80s nearly all year long, but the threat of getting pelted by a hurricane is slim to none. You may have to fly a few extra hours to reach it, but thanks to Aruba's southern Caribbean location, it's outside of the notorious hurricane belt. It also has breezy, year-round trade winds to keep you cool and fight off mosquitoes. Plus, the desert-like environment only receives about 20 inches of rain per year.
Bahamas: Unfortunately, the Bahamas is not safe from hurricanes, and is hit by one every two years on average. Weather-wise, you're looking at higher chances of being rained out during the hurricane season (rainfall peaks in July at around eight inches). The summer temps fall in the 80s and winter temps plunge down a few degrees to the mid to high 70s. It can get sticky with the humidity, but some islands do have trade winds to cool you down.
Actvities
We could sit here for days listing out all of the activities that both of the islands offer, from snorkeling and diving to sipping cocktails on the beach and taking food or rum tours. Instead, we'll highlight a few things that are unique to each island, in case there's just something you are itching to try.
Aruba: Again, thanks to the island's constantly flowing trade winds, Aruba is the perfect place to test your balance while either kiteboarding or windsurfing. (July is the top month for this.) It also has an easily accessible shipwreck, the SS Antilla — considered one of the largest in the Caribbean. Snorkel or dive the site, which can be found off the shores of Malmok Beach. Land adventure junkies should head to Arikok National Park, which covers about a fifth of the island, and is a must-visit for anyone who loves hiking, history, rock bridges, or bumpy ATV rides. There's also a small ostrich farm where you can learn about the world's largest living bird, though we don't condone you actually riding the animals.
Bahamas: Teeming with fish, the Bahamas might be best suited for those looking for underwater adventures. Another to-do: soak in the stunning beauty of the islands' cays (shallow, sandy banks by the coral reefs). Thunderball Grotto on Staniel Cay makes for an awesome half-day experience. And don't worry, landlubbers — you can make your way to Freeport's Lucayan National Park for approximately 40 acres of mangroves and palm and pine trees.
Nightlife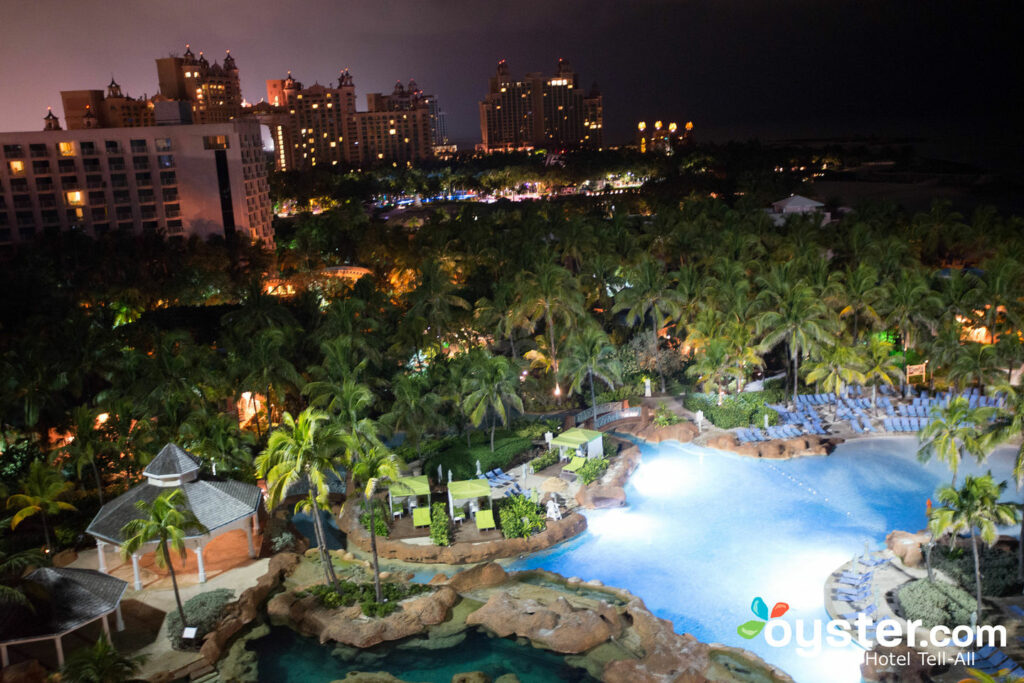 We found that both Aruba and the Bahamas tend to have extremely similar nightlife options, mainly centered around sundowner drinks by the beach, nightclubs with DJs (though there are fewer of these in Aruba), casual bars to grab a quick or nightlong tipple, and casinos. Gambling is legal in the Bahamas and Aruba, and many tourists take advantage of the Vegas-style tables, betting, and drinks. If you're planning on heading to a bar or club that's away from your hotel, we recommend taking a cab back, especially in the Bahamas.
Where to Stay
Aruba: Renaissance Aruba Resort & Casino
Located in Oranjestad's bustling cruise port, the upscale Renaissance Aruba Resort & Casino is packed with features not many Aruba hotels can match. Stand-out features include two casinos, eight bars and restaurants, two pools, and a luxury mall. The hotel is actually a massive resort complex with two distinct properties inside: the adult-only Renaissance Marina and the family-friendly Ocean Suites.
Bahamas: Hotel Riu Riu Palace Paradise Island
The upscale Hotel Riu Palace Paradise Island, located next door to mega-resort Atlantis, is one of the few all-inclusive resorts in the Bahamas. The buffet spreads change often, and four a la carte options — steakhouse, Japanese, gourmet, and fusion — help stave off all-inclusive monotony. All beverages, nightly entertainment, and use of a sauna are also covered. Renova Spa offers couples' massages and treatments.
Summersalt is almost made for the Caribbean. With sizes ranging from 2-24 and numerous styles, there's truly something for everyone.
You'll Also Like:
All products are independently selected by our writers and editors. If you buy something through our links, Oyster may earn an affiliate commission.