Buongiorno, and welcome to the eternal city of Rome, where ancient wonders of the past intertwine with modern delights. Rome is a tapestry of timeless allure, inviting visitors to step back in time and marvel at the wonders of rich history, awe-inspiring architecture, and tantalizing cuisine.
As you embark on a journey through the city's endless labyrinthine of streets, finding the perfect hotel becomes paramount. That is why we've curated a selection of the best hotels in Rome—with options for every budget.
Whether you're seeking a luxurious retreat or a boutique getaway, our handpicked selection of hotels will exceed your expectations and ensure that every moment spent in the eternal city is nothing short of extraordinary.
Baglioni Hotel Regina
The Baglioni Hotel Regina offers the perfect blend of timeless elegance and modern features. This gorgeous Arto Deco hotel is nestled in the heart of Rome, just steps from Via Veneto, placing you at the epicenter of the city's vibrant energy and rich history.
Indulge in a sanctuary of relaxation at the hotel's tranquil spa, where rejuvenating massages, invigorating body treatments, and blissful facials await. The on-site restaurant, Brunello, tantalizes your taste buds with mouthwatering Mediterranean cuisine, showcasing the freshest local ingredients expertly paired with an extensive selection of fine wines.
With impeccable service and attention to detail, the Baglioni Hotel Regina affords a truly extraordinary stay.
Anantara Palazzo Naiadi Rome Hotel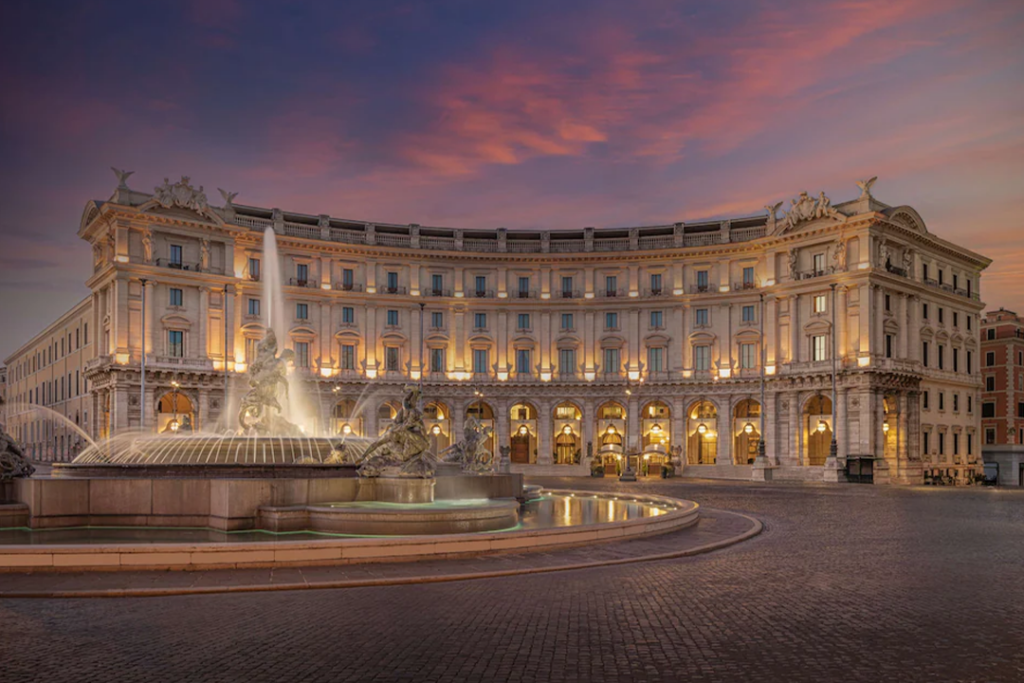 Become a part of living history with a stay at the Anantara Palazzo Naiadi Rome Hotel. Immerse yourself in the splendor of ancient Rome within this crescent-shaped palazzo, nestled in the picturesque Piazza della Repubblica. Located in the enviable city center, noteworthy sites such as Via Veneto, Trevi Fountain, and the Spanish Steps are all within walking distance. This hotel showcases 19th-century marble architecture with rooms suspended over the ruins of the ancient Baths of Diocletian.
Indulge in a rich experience with an array of exceptional amenities. Pamper yourself with luxurious treatments at the spa, prioritize your wellness and fitness at the state-of-the-art health club, or take a refreshing dip in the seasonal outdoor pool, basking in the summer sunshine while savoring moments of tranquility and peace amidst the dynamic city energy.
RELATED: Best Hotels With Jacuzzis in the Room
QC Termeroma Spa & Resort
Escape to the serene countryside just outside of Rome with a stay at the QC Termeroma Spa & Resort. Located in the heart of the enchanting Oasi di Porto natural park, this idyllic retreat offers a seamless blend of tranquility and a central location.
Let your senses come alive with the aromas of rose gardens nestled under the shade of centuries-old trees, and enjoy the peace and quiet of the serene countryside landscape.
This country-chic hotel is situated within a historic estate. It oozes magic and romantic charm, offering relaxing spas, thermal centers, and gourmet dining experiences where you can rejuvenate your mind and body. Every moment at the QC Termeroma Spa & Resort invites you to find inner peace and serenity.
NH Collection Roma Fori Imperiali
Indulge in a truly intimate and captivating stay at the NH Collection Roma Fori Imperiali, nestled alongside the awe-inspiring Imperial Forums, Rome's renowned archaeological treasures. This small boutique hotel boasts 42 tastefully designed rooms, ensuring an exclusive and personalized experience for every guest.
During your stay, you'll immerse yourself in the charm of this small-scale hotel, where every detail has been meticulously coordinated to create an ambiance of luxury and relaxation. Discover the hidden gem of the Secret View Rooftop Cocktail Bar, where handcrafted cocktails await, accompanied by breathtaking panoramic views of Rome. Savor each sip as you take in the enchanting cityscape, feeling as though you've stumbled upon a well-kept secret.
RELATED: 7 Nude Travel Experiences to Add to Your Bucket List
DOM Hotel
The DOM Hotel invites you to make yourself at home in its intimate, five-star property. Nestled within a 17th-century palace-turned-Claretian monastery, this exquisite hotel offers an exclusive experience with only 18 individually furnished rooms and suites, each offering direct views over the historic Via Giulia.
Step into a world of refined luxury as you make yourself at home in this hidden gem. The DOM Hotel embraces its rich heritage, seamlessly blending historic charm with modern comforts. Whether you unwind in your room's elegant surroundings or explore the vibrant city just beyond your doorstep, the DOM Hotel promises a harmonious fusion of history, comfort, and style.
Palazzo Dama
Set just adjacent to the renowned Piazza del Popolo, the Palazzo Dama presents a unique opportunity to indulge in the timeless allure of Rome within the refined setting of an Italian-style villa. Once the esteemed residence of the noble Italian Malaspina family, this distinguished 5-star hotel seamlessly blends historic grandeur with modern sophistication.
Step into a world of refined elegance as you enter the thoughtfully designed rooms and suites, each an embodiment of refined comfort and style. Adorned with carefully curated collections of rare art and design elements, the spaces exude a sense of history and timeless beauty.
NH Collection Roma Palazzo Cinquecento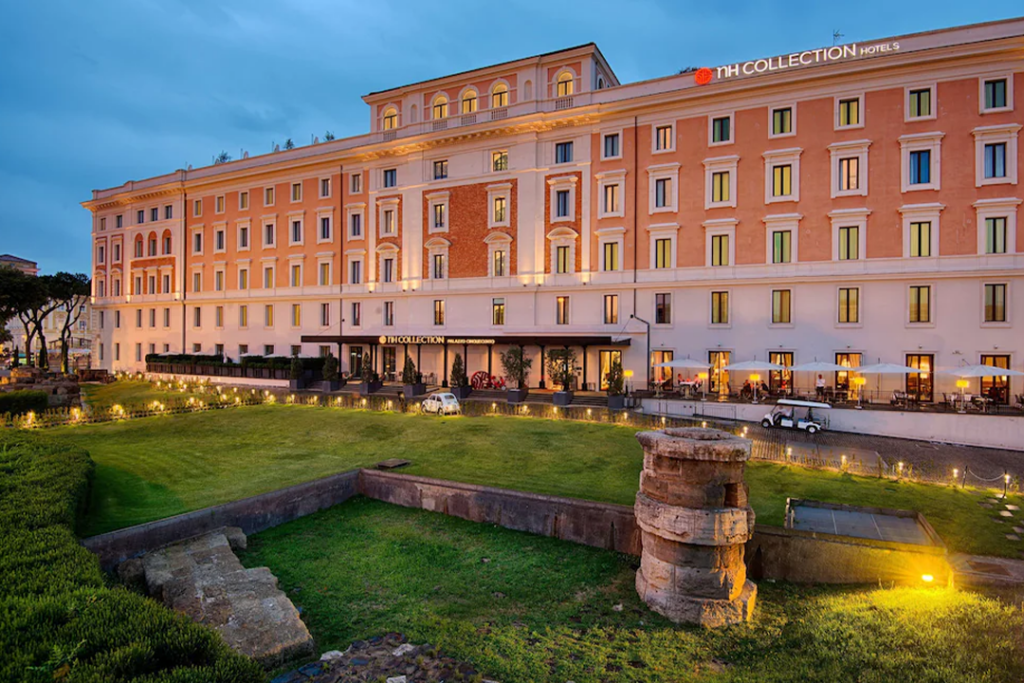 Set amidst elegant gardens and Roman ruins, the luxurious NH Collection Roma Palazzo Cinquecento offers a serene oasis in the heart of the city. The hotel boasts a charming and relaxing atmosphere, creating peaecful atmosphere for guests to unwind in after a long day of sightseeing and exploring.
Each room is designed as a warm, contemporary haven from the city, featuring notable touches of classic Italian ornamentation with views of the gardens and Roman ruins. Unwind with a refreshing rain effect shower or soak away tired muscles in the deep-set baths, sip on rich espresso from the in-room Lavazza machines, or embark on a gourmet journey at the hotel restaurant.
Elizabeth Unique Hotel
As the name suggests, the Elizabeth Unique Hotel offers a unique stay during your trip to Rome. The hotel boasts a cosmopolitan air and entices guests with its trendy atmosphere and design.
Guests can marvel at the beautiful views from their terrace and take advantage of complimentary amenities such as concierge services, in-room espresso makers, and bathrooms that feature deep-soaking tubs and rainfall showers. You'll also have the opportunity to enjoy local cuisine at the Bar Bacharach & Bistro, which features a tastefully designed bar/lounge.
RELATED: The Most Expensive Countries in the World and Their Cheaper, Cooler Alternatives
Maalot Roma
The Maalot Roma Hotel is ideal for guests who want to savor the best that Rome has to offer. With iconic attractions like the Trevi Fountain and the fashionable Via Condotti just a leisurely stroll away, this hotel is a magnet for travelers seeking the perfect balance of relaxation and exploration.
Housed in the former home of the renowned opera composer Gaetano Donizetti, this intimate boutique hotel exudes flawless white-glove service seamlessly paired with an authentic Italian experience. It's the perfect blend of timeless elegance with a hint of contemporary gusto.
Hotel Eden
The iconic Hotel Eden prides itself in offering an authentic Roman experience mixed with modern sophistication.
The spacious and airy rooms feature high ceilings and tall windows and beautiful city views.
A meal at the hotel's Michelin-starred restaurant, La Terrazza, where Chef Fabio Ciervo utilises local ingredients, will be one of the highlights of your stay.
All products are independently selected by our writers and editors. If you buy something through our links, Oyster may earn an affiliate commission.