New York is mostly famous for the Big Apple and the Hamptons, but there's so much more to the Empire State. Many Americans -- and even New Yorkers themselves -- could hardly fill in a map of the state outside these two areas. The New York City-ers' assumption that upstate New York is an indiscernible green blur past Westchester and Rockland County is, quite frankly, incorrect. There are plenty of cultural enclaves, culinary hot spots, and stunning landscapes to be found both north of the city and out on Long Island (outside of the Hamptons). Whether you live in New York City and are looking to flee urban life or you're an out-of-stater seeking a charming retreat, these 12 small towns in New York offer a multitude of experiences for any style of traveler.
1. Bovina, Delaware County
The smallest town on this list in terms of population (just over 630 people), Bovina is a great city escape. Weekend visitors can sample the farm life with a visit to Green Shepherd's grass-fed sheep farm (call in advance) and Bovina Valley Farm's farm store. The latter sells artisanal cheese, meat, and moonshine maple syrup in nearby Delhi. Bovina's only eatery, Brushland Eating House, serves up comfort food crafted with local ingredients in a welcoming atmosphere. Brushland effectively captures the simplicity and community feel of a historic eating house. Additionally, it offers spacious accommodations on site, which makes it a great hub for easy exploration into the heart of the Catskills.
A Boutique Hotel Nearby:
2. Callicoon, Sullivan County
Situated right on the Delaware River, Callicoon makes an ideal base for water sports enthusiasts and fly fishers. There are numerous access points for fishers on the river, as well as organized tours and DIY kayaking and rafting. Downtown is lined with several restaurants (we love Matthew's on Main), not to mention the Western Hotel and Callicoon Brewery. A few miles south of town, Skinners Falls makes for an ideal swimming spot with a handlful of sheltered pools. Farther outside of town, Bethel Woods Center for the Arts (home of the 1969 Woodstock Festival) holds frequent concerts and is home to a Woodstock museum. A great option for families and animal lovers is to schedule a tour at Apple Pond Farm, which offers educational programs on cheese-making and chances to interact with the goats and sheep. Riverside retreat Nine River Road is the perfect spot for a relaxing Catskill getaway.
3. Clayton, Jefferson County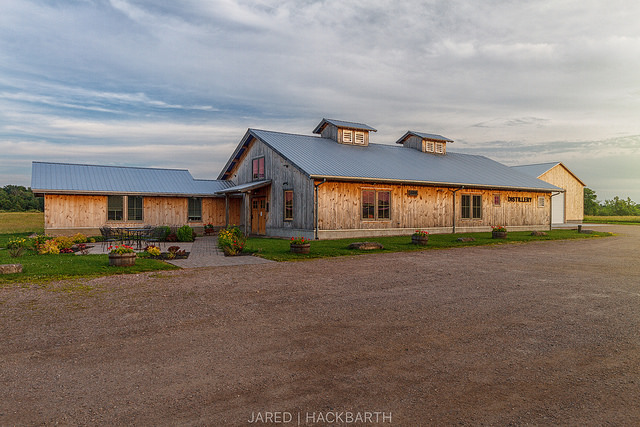 Positioned on the banks of the Saint Lawrence River, Clayton serves as the gateway to the Thousand Islands — a collection of 1,864 islands (that number doesn't quite have the same ring to it) straddling the U.S.-Canadian border. Before embarking on a journey out to the islands, explore the quaint waterside town's restaurants, museums, shops, and galleries. The Antique Boat Museum displays hundreds of well-maintained wooden boats and hosts an antique boat show in the summer. A remnant from the town's resort town heyday, the revived Clayton Opera House brings shows and musical acts back to Clayton's stage. Clayton Distillery and Coyote Moon Vineyards offer tours and beverages for the adult crowd. Allot time to get out and explore the beautiful islands and their architectural marvels, Boldt and Singer Castles.
4. Cold Spring, Putnam County
Conveniently located straight up the Hudson off a Metro North line, Cold Spring is a popular day trip for NYC dwellers. Main Street features restaurants, coffee shops, antique stores, and boutiques, and it has a remarkable view of the Hudson and surrounding hills. At the bottom of Main Street, Cold Spring's waterfront has benches and gazebos — they're a great place to enjoy a cone from Moo Moo's Creamery or catch a flick at a summer movie night. The nearby Boscobel House and Gardens offers tours, so visitors can take in the home's Federal architecture style, its history, special art exhibitions in the gallery, a sculpture garden, and a gorgeous rose garden. Boscobel is also home to the Hudson Valley Shakespeare Festival, and it regularly puts on yoga classes on the scenic grounds. Just north of town, Hudson Highlands Park's recreation space is networked by trails — the most popular is the Breakneck Ridge Trail for its panoramic views.
5. Cooperstown, Otsego County
There is much more to Cooperstown than the Baseball Hall of Fame (though you should certainly make a stop there). The town is scenically situated at the bottom of Otsego Lake, which can be easily explored by kayak or pontoon from Sam Smith's Boatyard. More leisurely waterside activities include lunch at the Blue Mingo Grill or swimming off the beach at Fairy Springs Park or Glimmerglass State Park. Across the lake, Glimmerglass Festival hosts world-class performances, ranging from Broadway musicals to classic operas — performers have included David Sedaris and composer Stephen Sondheim. Main Street is well worth a stroll to browse the cafes and shops. Just off Main, The Smithy displays work by talented local artists. Cooperstown's side streets merit further exploration as well, as wanderers can see historic architecture from the early 19th century and on. Families will want to make a point of visiting the Farmer's Museum, which is a working farm with exhibitions, demonstrations, and a vintage carousel. Further dining options include Origins Café, serving delicious organic cuisine inside a plant nursery amid wandering golden retrievers (yes, the dogs), and the newly renovated Hawkeye Grill at the Otesaga Hotel.
6. East Aurora, Erie County
Located about 30 minutes southeast of Buffalo, East Aurora was the country escape for the city's millionaires in the early 1900s. One such family, the Knoxes, kept a countr y estate which has been recently converted into a state park with trails for horseback riding and hiking. The main draw to East Aurora is the historic village, teeming with restaurants, cafes, art galleries, and shops. The old five and dime, Viddlers, is full of quirky trinkets and has been in operation since the 1930s. The town's superb restaurant scene includes Portuguese fare at Bica e Vinho (ask to be seated on the waterfall-adjacent patio), Rick's on Main, Griffon Gastropub, and Elm Street Bakery amongst others. Head to the Millard Fillmore House for a dose of American history — tours of the 13th President's home are offered on weekends from June to October.
7. Gilbertsville, Otsego County
Faced with the threat of being permanently flooded due to dam construction, this village kept itself above water — literally — by earning a designation on the National Register of Historic Places. Situated in the town of Butternuts, the village of Gilbertsville maintains several striking architectural structures, including the Greek Revival-style Gilbertsville Academy, the Gothic-and-Tudor-style The Major's Inn, and the Tudor-style Gilbert Block, which houses artist studios and a general store. The only hotel in the village is the Empire House, where locals converge for dinner and drinks on the outdoor patio. Gilbertsville Farm, a popular wedding venue just outside of the village offers glamping accommodations for weddings and retreats, as well as weekly goat yoga. Cooperstown is a mere 35-minute drive away, making Gilbertsville a doable day trip. It's the smallest village on this list (yes, villages and towns are different) with a population of less than 400.
8. Greenport, Suffolk County
The North Fork is the sleepier, less glitzy alternative to the Hamptons on Long Island's South Fork. Even Montauk, the Hampton's most distant and unpretentious village, is becoming very expensive and crowded. Greenport could be considered Montauk's charming, more affordable counterpart in NoFo (as some are calling the region), as it is one of the farthest villages out. The waterfront is strewn with fresh seafood eateries, and there's a 1920s carousel. The Long Island Sound and Peconic Bay may have less powdery sand than you'd find on the Atlantic, but the water is substantially calmer for swimming and paddle boarding. Post-beach activities include a visit to one of the nearby wineries, such as Bedell Cellars or Kontokosta Winery, browsing boutiques, or heading for a cocktail at Brix & Rye's basement speakeasy. Although NoFo is more affordable than its southerly neighbor, it's still the priciest destination on this list.
A Beachfront Hotel Pick:
9. Livingston Manor, Sullivan County
Nestled on the edge of the Catskill Park along the Willowemoc River, this hamlet has drawn fly fishers for decades. Livingston Manor takes its trout seriously, exemplified by the annual Trout Parade on the second Saturday of June — the celebration brings together local food vendors, concerts, and shops, as well as a quirky parade of trout costumes and floats. When Main Street isn't packed with parade-goers, head to Main Street Farm for deliciously fresh farm-to-table offerings, local produce, and other regional specialties. Other local spots worth a visit include the Catskill Brewery and Brandenburg Bakery. Trendy sister properties, the Arnold House and the DeBruce offer rustic-chic accommodations and dining just outside of town.
10. Old Forge, Herkimer County
Old Forge serves as a gateway into the central portion of the Adirondack Park. There are lakes and rivers everywhere, including First Lake, Second Lake, and so on through Eighth Lake, and the Moose River. The lakes are great for kayaks, canoes, and motorboats alike, while the Moose River is best experienced by rafting (we recommend ARO Adventures). Much of the network of hiking trails turns over to snowshoe, cross country ski, and snowmobile trails in the winter — the area receives substantial snowfall. Downhill skiing can be found at nearby McCauley Mountain. A good portion of the town shuts down in the winter months, though, making summer and fall the best times to visit. A stop at Old Forge Hardware is a must, which has dubbed itself the Adirondacks' most general store. There are plenty of budget friendly dining options on offer, but Five Corners Café is worth seeking out for its craft beer and tasty small plates.
11. Phoenicia, Ulster County
Nestled in the heart of the Catskill Mountains, Phoenicia is well-known in the region, particularly for the retro-style Phoenicia Diner, which is a worthy stop for a bite. You can enjoy the eatery's twist on traditional diner food and use of local ingredients. Phoenicia is also an arts destination, with the five-day Phoenicia Festival of the Voice concert series and contemporary exhibitions at Mount Tremper Arts just outside of town. Outdoor activities abound too — embark on a whitewater tubing expedition with Town Tinker Tube Rental, fly fish in nearby Esopus and Schoharie creeks, or hike the dozens of trailheads in the High Peaks area. The Graham & Co. Hotel's modern take on Catskill Heritage makes for a comfortable stay, with hammocks and a pool for relaxation post-hiking or tubing.
A Boutique Hotel Nearby:
12. Watkins Glen, Schuyler County
The village of Watkins Glen sits at the southern tip of Seneca Lake in the Finger Lakes region. Most people make their way here for the scenic gorge at Watkins Glen State Park. The gorge path takes hikers along the glen's stream, which includes 19 waterfalls over a two-mile section, while the rim trail provides a higher vantage point of the gorge below. Sites for tents and campers are available in the state park. The area's abundance of wineries and craft breweries are well worth a visit as well, most notably the wineries on the Seneca Lake Wine Trail, a non-profit which organizes events for its 35 member wineries. Many of the wineries offer tours, but consider checking for food and wine events to make the most of your visit. For breweries, Rooster Fish is the only tasting room in town, with nearby breweries up the lake including Two Goats Brewing, Wagner Valley, Seneca Lake Brewing Company, Lucky Hare, and several more.
NOW WATCH: 5 Adorable New England Inns Where You Can Get Cozy
https://www.youtube.com/watch?v=YKeB3UqNP7o
You'll Also Like:
Update 8/7: This article was amended to clarify that the Empire House is the only hotel in Gilbertsville, not the only accommodation.
All products are independently selected by our writers and editors. If you buy something through our links, Oyster may earn an affiliate commission.