To be honest, visiting Spain any time of year is a good idea. The country is blessed with a mostly mild climate, meaning that even during wintertime visits, you might not need a jacket during the day. Of course, there are plenty of factors to consider, and particular parts of the country are more hospitable to visit in certain times of the year. From festivals like Semana Santa in Seville to the bustling beach vibes in the Costa del Sol or the perennial charms of the nation's capital -- Madrid -- trying to figure out when to time your trip can be daunting. Luckily, we here at Oyster.com have crisscrossed Spain so many times that we've lost count, and we're here to help make your decision as easy as possible.
Winter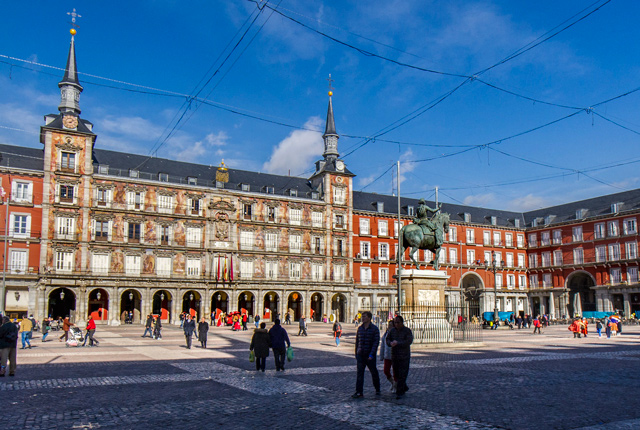 Many people choose to visit Europe in the summer, and while that season is certainly one of the most glorious times of year to tour Western Europe, opting for a winter journey to Spain can be a delight. Why? For starters, flights are often very cheap, and round-trip prices as low as $450 can be found from many major destinations in North America. Additionally, once you're in Spain, hotel rates will be far lower than they are in high season.
Most of Spain also has a Mediterranean climate, which keeps things from ever getting really frigid — particularly along the coastal cities and regions like Barcelona, Valencia, and Andalucia. Just keep in mind that while temperatures can crest into the 70s during the day, you still won't exactly be laying out on the country's famous beaches. However, even Madrid — the nation's landlocked capital — has relatively mild temperatures during winter days (though rain can be an occasional issue). You'll rarely need more than a medium-weight jacket in most of the country, though Basque Country and the northwest will be brisk and wet this time of year. If you find yourself offshore, on Majorca for instance, you're in luck. The island's famous almond trees generally bloom in February, coating everything in a surreal field of pink and white.
If you're in Spain during the colder months, holiday markets are likely to spring up, particularly in places like Madrid's Plaza Mayor. Additionally, the streets are abuzz with people shopping and preparing for the upcoming holiday season, which lasts from late December into mid-January. And while nights like Nochebuena (December 24) can be quiet, family-centric affairs, it's New Year's Eve (Nochevieja) that's the real reason to be here in the winter. The tradition goes as follows: Armed with 12 grapes (and wearing red underwear), head to the major public plaza where the New York countdown happens.
Then, pop them one by one to the sound of the striking of the clock. It's a symbol of good luck and prosperity in the New Year. Puerta del Sol in Madrid is prime New Year's revelry real estate, though parties happen across the country.
Spring
In some ways, spring is the trickiest season to plan a trip to Spain because certain times of this season are technically low season, while isolated stretches of time are some of the busiest in the country for travel. And that's due to almost one thing entirely: Semana Santa — the Holy Week before Easter that's celebrated in nearly every corner of the Spain. Much of the attention for this solemn time of year focuses on Andalucia and Seville. The region — and city in particular — is home to some of the world's most famous Holy Week rites, with processions marching through the streets. Expect to see marching bands, floats, religious icons, and — in Seville — hooded figures that bear a striking resemblance to the KKK in the United States (though the costumes found in Seville pre-date the emergence of the North American hate group).
Elsewhere in the nation, celebrations for Semana Santa range from solemn to jubilant, but be warned: You will need to book internal flights, trains, and hotel rooms many months in advance. And even so, you'll be paying a premium on rates at this time of year. Also, keep in mind that this is a holiday, so many services won't be available — shops, museums, and many restaurants will be closed. It's not all religious observances in the spring, though, and Valencia throws quite an annual party in March. Las Fallas is a jubilant occasion on which papier-mache sculptures are set up around the city, with all but the winning entry burned at the end in a riot of fireworks and revelry.
Outside of Semana Santa, you're likely to score bargains on everything from flights to hotel rates. Depending on where you are in the country, the weather will range from reasonably warm to hot — particularly in the southern regions like Andalucia and Murcia. Even as far north as Barcelona and in the beach towns of Catalonia, people are liable to be on the beach (and even swimming) in May. The north coast and Basque Country can still be quite wet and cool in the springtime, so if you're hoping to enjoy that region's great outdoors, be sure to pack weather-appropriate gear.
Summer
Summer can be glorious in Spain, but keep in mind that you won't be the only tourist who thinks so. This is peak travel season across Western Europe, and Spain is no exception. Flights to get here are expensive, trains between major destinations book out in advance, and hotel rates — while still comparably low when pitted against other European capitals — spike drastically. However, reasons to visit during the summer are almost too numerous to count, so long as you come prepared for crowds.
The highlight of the summer months in Spain are the beaches — from A Coruña and Asturias in the northwest to Catalonia, Andalucia, and the Balearic Islands. Spain's golden-fringed beaches are delightful, but whether they're crowded with all-inclusive guests or citizens of cities like Barcelona, they likely won't be empty. For a less tame take on beach life, opt for the magical landscapes of the country's Atlantic coast, in Basque Country to the north, and west toward A Coruña. In fact, cities like San Sebastian have become all-around excellent destinations in recent years, thanks to the surge of Michelin-star dining and an influx of museums, galleries, and other cultural outposts.
Summer is also music festival season in Spain's major cities, with events like Primavera Sound, Sonar, and Festival Internacional de Benicassim all drawing major international acts. The summer months happen to be the driest in Spain, but keep in mind that heat is not to be underestimated. Madrid, in particular, bakes in the summer, as do the interior cities of Andalucia, like Granada and Seville. Additionally, air-conditioning isn't always a given in older city-center hotels, so check ahead to make sure you'll be comfortable. It's also important to know that you will absolutely need to secure advanced tickets online for major bucket-list sights like Sagrada Familia (in Barcelona). Otherwise, you'll be waiting and wasting precious travel time.
If you're looking to avoid summer crowds, but still want to get a taste of the cultures of the Iberian Peninsula, head north and west to the regions of Galicia, Basque Country (including Navarra), Cantabria, and Asturias. You'll benefit by having a car to explore the far-flung and often untouched landscapes. During the summer, Madrid and Barcelona also come alive with massive LGBTQ pride events. And if you're looking to check off a bucket-list item during a summer trip to Spain, La Tomatina — an iconic city-wide tomato fight — takes place in Buñol (near Valencia) in late August.
Editor's Note: Spain's northwest was affected by wildfires in late 2017, and certain parts of the region suffered extensive damage. Check ahead on conditions in your specific destination before booking any travel in the region.
Fall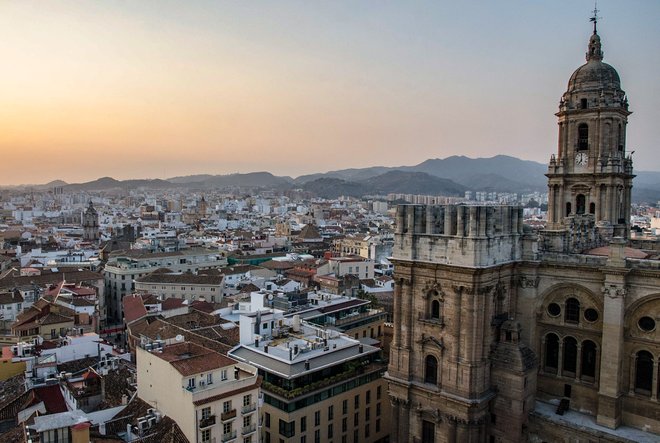 While the beginning of fall in North America is still considered peak season across much of Spain, if you put your trip off until late October or November, you'll score some serious bargains when it comes to flights and lodging. Plus, across much of the country, the weather holds out pretty nicely into late November, though nights will likely be quite chilly and some days may merit a jacket or sweater. In fact, beach lovers are still in luck for much of the early to mid fall, as the beaches around Malaga and the Costa del Sol enjoy wildly sunny weather that makes sunbathing a distinctly pleasurable option.
In the early fall, Barcelona hosts one of the most famous street festivals in all of Europe. Known as Las Festas de la Mercé, the event takes place in late September, and while it started as a religious occasion, it has evolved into a massive to-do that sprawls across the city. Today, the festival encompasses castellers (where humans stack themselves in improbably high towers in Placa Sant Jaume) and the parade of gigantes (where revelers wear giant papier-mache heads representing nobility, saints, and other public figures alongside music and dancing). However, if you want to see the casteller tradition practiced with particular fervor, head to the Catalonian city of Tarragona, where it originated.
Autumn also happens to be grape harvest season in Spain, and wine routes are a major tourist draw across much of the nation. Perhaps the most famous harvest-centered activities take place in Logroño, which is the capital of the Rioja region of Spain. While the festival here is officially dedicated to San Mateo, it has become a massive celebration of Rioja wine and the grape harvest. Be sure to book hotels here far in advance as they can sell out early.
You'll Also Like:
All products are independently selected by our writers and editors. If you buy something through our links, Oyster may earn an affiliate commission.