Believe it or not, not all chain hotels are created equal. Sure, there are those that feature uninspired decor, bland food menus, and bare-bones amenities, but others are chic, with fashion-forward furnishings and decorative details. For proof of that latter group, head to the stylish city of Paris. Ahead, we pulled together a list of modish Paris properties that you'd never guess are chain hotels.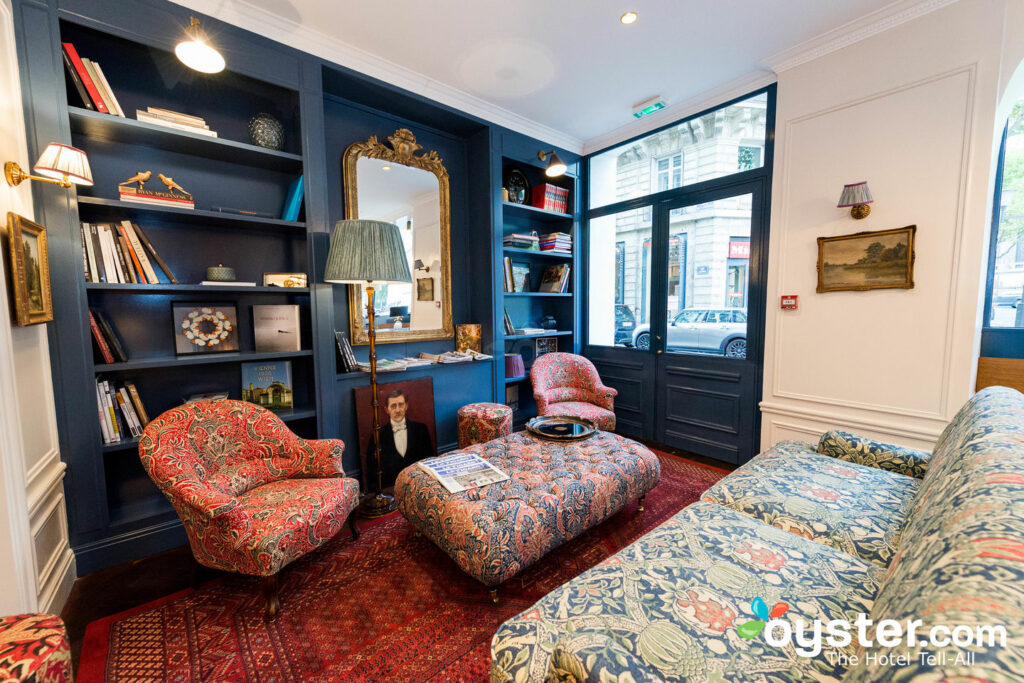 As the name infers, HappyCulture hotels work hard to nurture a romantic, social, and effervescent spirit in all its properties, and Maison Malesherbes follows suit — with Belle Époque splash and a 19th-century apartment building to boot. The lobby and attached lounge weave the brand's signature rich reds, blues, yellows, and greens into floral and velvet upholstery, wallpaper, and rugs, spruced up further by period portraits, brass mirrors, and other vintage ephemera. And while it isn't totally off the beaten path, the hotel's 8th Arrondissement location isn't the best for tourists who want to stay within walking distance of top sights. Design mostly outruns the amenities, with major features limited to breakfast for an extra charge, a stylish cocktail lounge and espresso bar, and free Wi-Fi throughout. Nonetheless, HappyCulture's seduction mostly succeeds, especially in the splashy bedrooms, all of which have AC, flat-screen TVs, and electric kettles.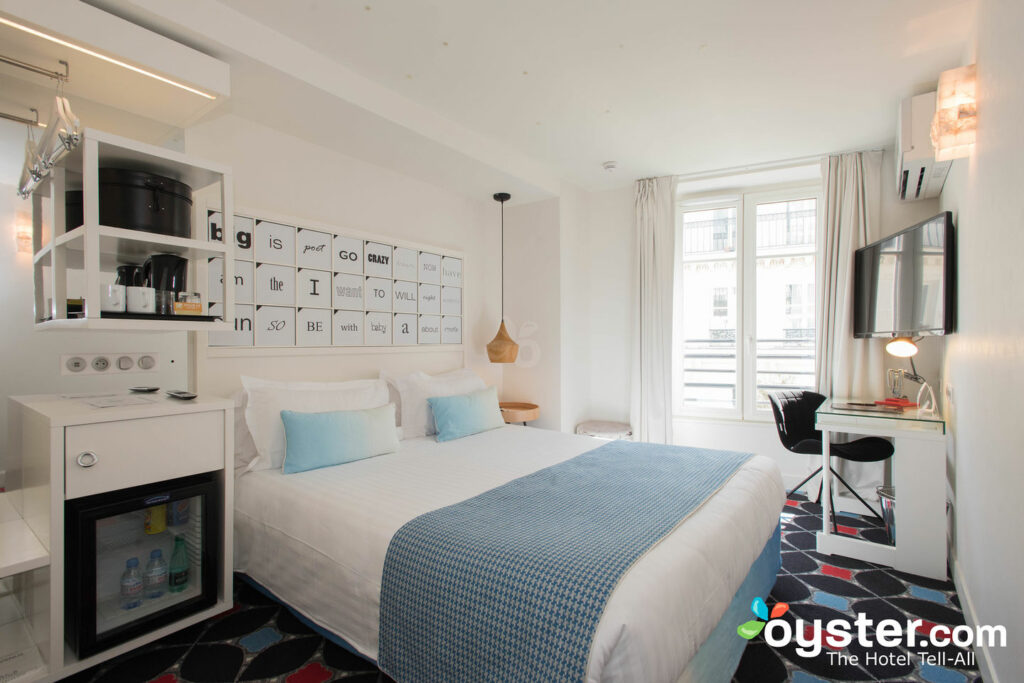 Located in Paris' 9th Arrondissement, the Hôtel Joke – Astotel sits in a modern, six-story building with a flat white facade. The hotel is a 2015 addition to the Astotel chain's repertoire of over a dozen mostly mid-range properties strung throughout Paris. Like other hotels in the Astotel chain, Hôtel Joke balances its limited amenities with hip, modern decor and a dash of whimsy. In the lobby, a funky geometric floor and circular "target" rug are measured by soft pastels, plywood accents, and trendy furniture inspired by mid-century modern design. Light fixtures double as playful accents, like the "balloon lights" that hover over the reception desk and a bright string of lights that twirls across the ceiling near the entrance. While slightly outside of the main tourist area, the hotel is in walking distance to trendy neighborhoods like South Pigalle and Montmartre, plus it's just a three-minute walk from the Moulin Rouge and the metro. Rooms are clean, compact, and contemporary with en-suite bathrooms, flat-screen TVs, electric kettles, free Wi-Fi, and mini-fridges stocked with free soft drinks. A buffet breakfast is served in a trendy breakfast room (extra fee) and free snacks and non-alcoholic drinks are available in the afternoon.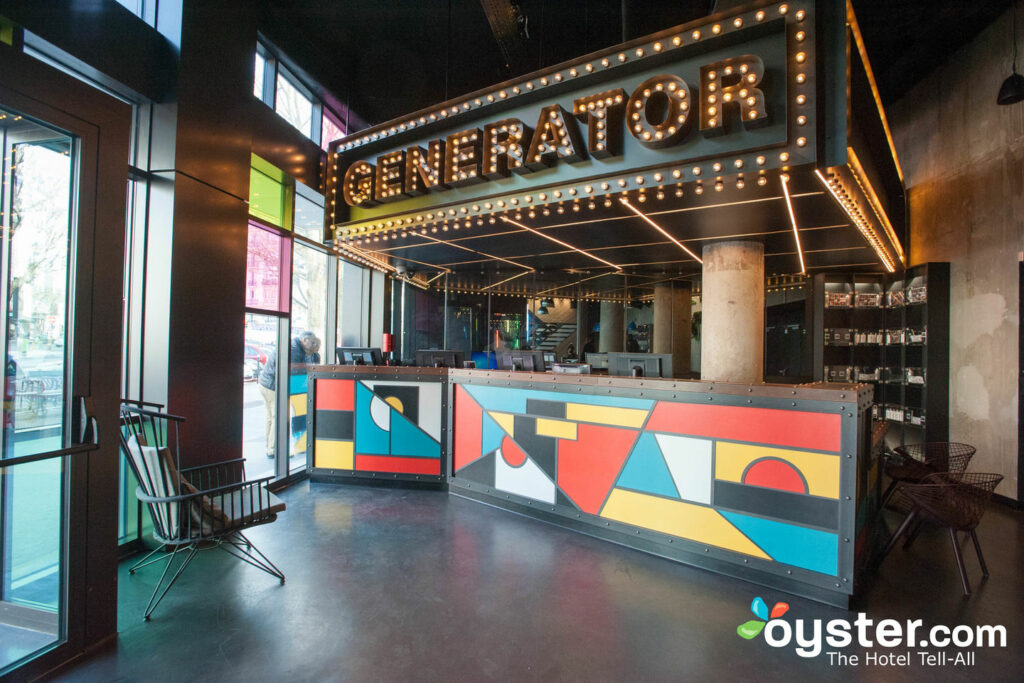 Formerly a derelict office block, this imposing yet gently curving property has been reborn as the hottest hostel-cum-hotel in town. Opened February 2015, the Generator Paris has thrown out the characterless and uniform hostel aesthetic for something that oozes quirky chic throughout. Designer lighting (that mellows in the evening) illuminates industrial concrete slabs and flea market curios while each of the spaces — from the Moroccan-inspired chill-out room to Metro-themed underground bar — has its own individual flavor. A set of four elevators transport guests to one of 916 beds spread over the building's eight floors, or to the hotel's superb rooftop bar, decked out with striped couches and a reclaimed-wood bar and offering views over the Sacre Coeur Basilica, Montmartre district, and even distant Eiffel Tower. Though the location in Paris's hip 10th Arrondissement is a little far from most tourist attractions, for stylish and funky lodgings close to Metro and Eurostar transport links, this place is a budget-category winner.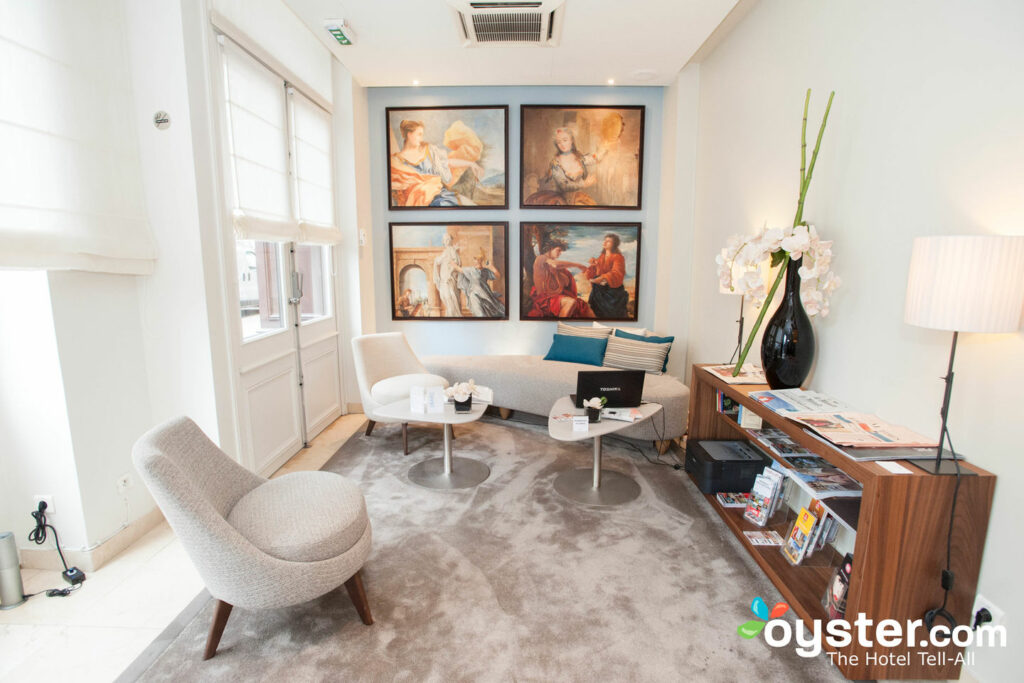 Part of the Paris-based Inwood Hotels group, Hotel Le Walt is a chic upper-middle-range boutique property in the 7th arrondissement, about a 15-minute walk to the Eiffel Tower. The 25 airy rooms, which come with satellite TV, DVD players, minibars, and free Wi-Fi, receive lots of natural light, and the sleek bathrooms have rainfall showers and towel warmers. Designer Paul Sartres combined bright whites and angular furniture in spaces with reproduction oil paintings whose originals hang in the Louvre. More paintings adorn the hallways — floor lights accent them with dramatic flair. An open-design bar and breakfast room also share an outdoor terrace with umbrella-covered tables, but the hotel has no full restaurant, spa, or fitness center.
The 63-room Le 123 Sebastopol – Astotel is a mid-range chain hotel that first opened its doors in 2013. It is located in the 2nd arrondissement of Paris and is spread over six floors. This contemporary hotel is designed around the theme of cinema, with each floor paying homage to a French artist and their work (including Ennio Morricone, Elsa Zylberstein, Agnès Jaoui & Jean-Pierre Bacri, Danièle Thompson, Claude Lelouch, and Jean-Paul Belmondo). There is a popcorn machine in the lobby, and in the basement next to the small fitness center, there is a small cinema that plays French films. The location is ideal for a tourist and business traveler; the 2nd arrondissement is home to the stock exchange and art galleries.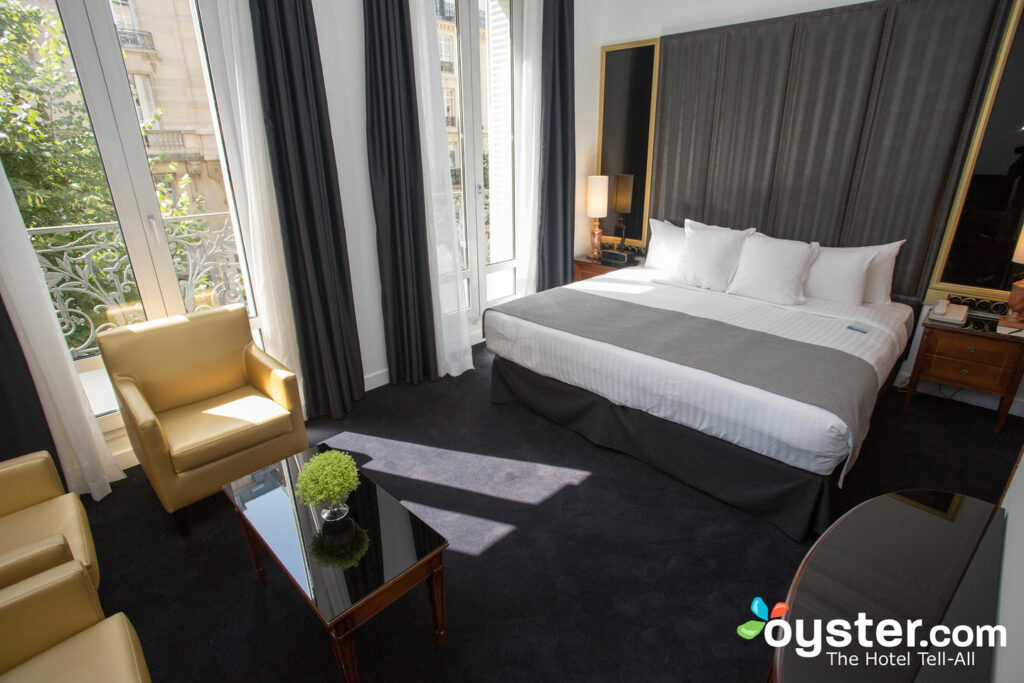 An upscale chain hotel, the Melia Paris Champs Elysees is housed in an elegant 19th-century Haussmannian building with a limestone facade and ornate wrought-iron detailing typical of its well-heeled Parisian neighborhood. An extensive 2014 renovation has left much of the lobby's original turn-of-the-century charm intact, with pleasantly aged carved wood paneling, classic black-and-white tile floors, and antique-style furnishings — the only nod to modernity is a collection of contemporary drum lampshades illuminating the scene. The property's setting on an attractive, tree-lined avenue is quintessentially Parisian, and the Arc de Triomphe and Trocadéro are both within walking distance. Rooms are handsomely finished and mostly spacious for Paris, though some are on the smaller side and bathrooms can be tiny. Rates are impressively low for the location and caliber of hotel, but keep in mind that facilities are a little sparse and breakfast is not included.
NOW WATCH: A Time-Lapse of the Eiffel Tower in Paris
https://www.youtube.com/watch?v=7xtUD6LUhZw
You'll Also Like:
All products are independently selected by our writers and editors. If you buy something through our links, Oyster may earn an affiliate commission.