My friend, Madeline, emailed me on Christmas Eve with an alert that Delta had a Memorial Day flight direct from JFK to Havana for $260.16. Thrilled at the low price, I turned to my cousin, Erin, and asked if she wanted to join us for a five-day trip. Deciding to go to Havana was the easy part. Figuring out how much money to bring with us proved to be much more of a challenge. American credit and debit cards aren't widely accepted in Cuba, so the best way to pay for (almost) everything is to bring U.S. dollars and exchange them for Cuban CUC. Oddly, when we asked our well-traveled friends how much money they spent in Cuba or what we should budget for the trip, they responded with vague answers. Money is still a taboo subject, but in the interest of helping you plan a trip to Havana, I broke down just how much I spent. No judgement on the number of mojitos consumed, please.
Before the Trip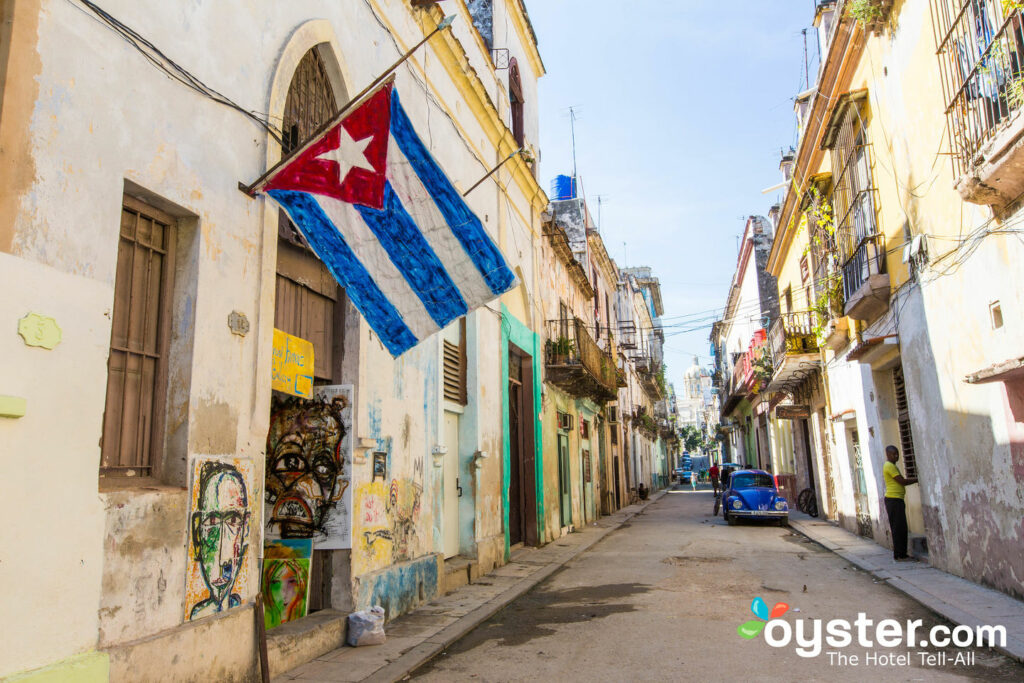 I'm a hotel expert, but for a three-person trip, an Airbnb rental made more fiscal sense. I researched the site and sent my friends eight options in Havana, ranging from a cheap shared family house for $82 per night to a luxury mansion with a pool for $300 per night. We landed in the middle and chose a beautiful private apartment with air-conditioning, two bedrooms, a kitchen, and a rooftop terrace for $150 per night. We divided the cost, which included an extra cleaning fee, between the three of us. Health insurance is required for all travelers visiting Cuba and this cost was included in our airfare. We purchased Cuban visas directly at the Delta gate in JFK, right before our flight, at a cost of $50. The gate agent warned us if we filled out the visa incorrectly, we would have to purchase new visas and start over.
Direct flight from JFK to Havana: $260.12
Two-bedroom apartment on Airbnb: $223 (my share of the total for all four nights)
Uber from Manhattan to JFK: $39.55
Pre-flight Shake Shack cheeseburger and coffee from JFK: $8.76
Mandatory Cuban visa purchased at the airport: $50
Total: $581.43
The First Day in Havana
Money exchanges are available throughout Havana, but it seems easiest to get it over with at the airport. We waited in line for about 40 minutes to change U.S. dollars to CUC. Cuba has two currencies, the CUP and the CUC, but I didn't see a single cent of CUP while I was in the country. I brought $400 to change, and kept an additional $100 in case I needed it (I didn't). There's a 10 percent tax charge for changing U.S. dollars. My friends and I decided to keep a "honey fund" to pay for all of our joint expenses such as meals, taxis, and drinks, rather than constantly dividing bills and figuring out who owed what. Any extra purchases were paid for out of our own separate funds. After changing money, we hailed a state-run taxi to take us to the Airbnb. These taxis look much like New York City yellow cabs and are modern with air-conditioning. There are also the ubiquitous vintage cars that operate driving services. These cars are divided into two tiers: the beautifully maintained convertibles and Instagram-worthy vehicles charge more than the clunkers held together with a prayer. Tip: Rates should be negotiated before passengers get in.
The apartment was even more beautiful than it looked in its Airbnb photographs. Frankly, it was much larger and nicely decorated than my Lower East Side junior one-bedroom. Our host stocked the fridge with Heineken, rum, bottled water, and soda. He had also made us a dinner reservation at a nearby paladar.
Can of Bucanero beer while waiting in the money-changing line: $1.50
State taxi to the Airbnb: $30 total, divided by three ($10 each)
La Terraza dinner (pina colada, Cristal beer, ropa vieja, beans, and rice): $27 (my share with a service charge)
Total: $38.50
Beach Day in Havana
Our first full day in Havana was spent at the beach. We hired a car to drive us to Santa Maria Beach, about a 20-minute drive from Old Havana, and spent the day in the crystal-clear water as well as getting massages under a thatch umbrella. Food and drinks were provided from a waiter at the nearby beach club, Casa Pina. After six hours in the sun, we went home to shower (with bottled water, since the water went out in the neighborhood that day) and had dinner at Habana 61. The day ended with a ride in an ancient cage elevator to the top floor of what we thought was an abandoned building, but turned out to be home to an underground nightclub. When a man wearing a dress invites you to a party, you go.
Breakfast of pineapple juice, cortada coffee, two fried eggs, and toast at Cafe Arcangel: $5
Private car to and from the beach: $40 divided by three (approximately $13 each)
Beach chair and umbrella: $2
One-hour beach massage: $25
Bottle of water: $2
Beach lunch of fried chicken, rice, carrot salad, bottle of water, mojito, and a pina colada from Casa Pina: $16
Two pre-dinner mojitos and live music at La Lluvia de Oro: $6
Coconut shrimp, rice, beans, and two mojitos at Habana 61: $24
A round of cocktails at the underground rooftop bar, ROMA: $9
Total: $102
Cultural Day in Havana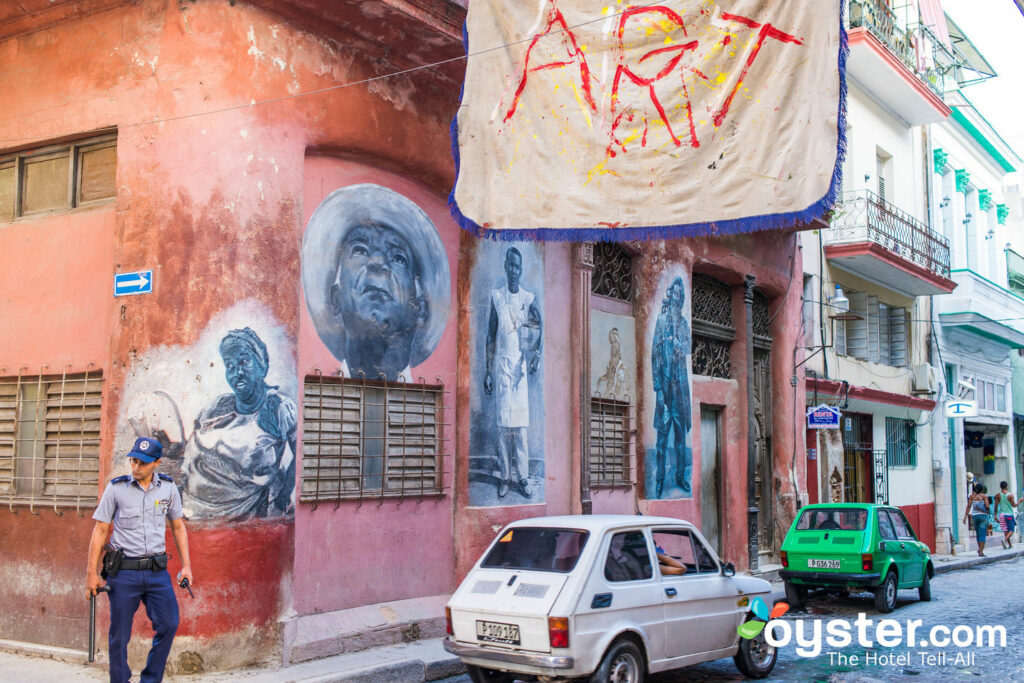 Day three was devoted to culture, art, and food. Food quality varies pretty wildly in Havana, so we stuck to Cafe Arcangel for breakfast (since we knew it was good), then walked to the Museum of the Revolution. After we toured the museum, we headed to Hotel Ambos Mundos to see where Hemingway supposedly started writing "For Whom the Bell Tolls." The museum was closed, but the notably sexist writer's typewriter and part of his writing desk are displayed in the hallway. From there, we found an art show set up on the Paseo del Prado. Art was one of the first products allowed for legal export out of Cuba and I bought a sketch from a local artist. For dinner, we took a gamble by strolling up to La Guarida without a reservation, and the hostess kindly informed us that she didn't have an opening for two days. Reservations are almost always required in Havana, due to food shortages and minimal table space. Luck was on our side, however, since she squeezed us in for the best meal we had in Cuba after we verbally committed to finishing dinner in 90 minutes. We spent the rest of the night on the rooftop bar drinking imported booze and chatting with fellow travelers.
Cafe Arcangel breakfast: $5
Ticket to Museum of the Revolution: $8
Fresh coconut: $2
Ice cream cone: $3 (not recommended — frozen dairy products aren't the island's strong suit)
Sparkling water at Iberostar Parque Central (mostly for the air-conditioning): $2
Pencil drawing at Paseo del Prado art market: $30
Shrimp skewer and mojito at Cafe Neruda on the Malecon: $10
Green salad, steak tenderloin with chocolate sauce, mushrooms, potatoes, and a service charge at La Guarida: $33
Two gin and tonics and a beer at La Guarida's rooftop bar: $21
Total: $114
The Fourth Day in Havana
We toyed with the idea of taking a day trip to Viñales to see the countryside, but the thought of a long car ride and missing another day at the beach turned us straight back to Santa Maria. Unfortunately, this is also the day I got sick. Perhaps it was an overabundance of mojitos, or maybe it was a touch of food poisoning, but after touring the Museo de los Orishas (devoted to the religion of Santería), I started to feel unwell. We took a vintage car to Hotel Nacional de Cuba, where I drank a Coke and checked my email (for the first time in Cuba). After that, I took a solo taxi ride in a red Buick convertible back to the apartment, leaving my friends and going to bed early. This was good for the budget, but not great for my stomach.
Round-trip vintage car ride to Santa Maria: $13
Beach chair under umbrella: $2
Tamale from a beach vendor: $1
Museo de los Orishas guided tour: $5 ticket and $3 tip
Hot tea and potato chips: $6
Can of Coca-Cola on the terrace of Hotel Nacional de Cuba: $3
One-hour internet card from Hotel Nacional de Cuba: $7
Ride home in a red Buick convertible: $15
Total: $55
The Last Day in Havana
We just had the morning in Havana before our flight back to New York. No surprise that we ate at Cafe Arcangel, then bought cigars, coffee, and postcards in a hotel gift shop. Americans can legally bring back $100 worth of cigars and rums to the United States. Taking a tip from our Museo de los Orishas tour guide, we also walked around a Ceiba tree three times to make a wish. Then, we hailed our last vintage car to drive us back to the airport.
Cafe Arcangel breakfast: $5
Cigar and Fidel postcard: $3.75
Old car to the airport (no air-conditioning): $20, divided by three ($7 each)
AirTrain and subway ride home: $7.75
Total: $23.50
Grand total: $914.43
You Might Also Like:
All products are independently selected by our writers and editors. If you buy something through our links, Oyster may earn an affiliate commission.