Whether you're an expert angler or a fair-weather fishing fan, a fishing trip is a great way to relax along the water with friends or family -- though there's also the potential bonus of a fresh supper. From tagging trout in Ireland to stalking salmon in New York, fishing requires a great deal of patience. That said, an awe-inspiring location in which to tackle the activity is a must. We rounded up eight awesome destinations around the world that make for great fishing getaways.
Surrounded by craggy valleys, mountains, and emerald green hills, this corner of Ireland is one of the most picturesque places on earth. So beautiful, in fact, that the catch here is almost secondary. Almost. This Irish wilderness is home to Lough Corrib where fly-fishing for trout is one way to make the most of the scenery. Alternatively, visitors can enjoy river fishing — the catch ranges from wild Atlantic salmon to sea trout. Many fishing spots require a license, so it pays to hire a guide or stay at a hotel with its own fishing facilities, like the grand Ballynahinch Castle Hotel.
Hotel Pick:
Free from development, the Scottish Highlands offer an arresting sight for fishing fans who want a dramatic backdrop alongside their sport. Plenty of hotels and resorts cater to fishing, and visitors have a choice between casting off in the lochs or tackling the spring salmon season when the rivers rush wildly and the fish fight their way upstream. The west coast and center of the Highlands have plenty of fishing lochs, from smaller expanses like Loch Linnhe to larger spots like Loch Awe (pike proves to be a popular catch in the latter). On the east coast and in central Scotland, the Dee, Tay, and Tweed rivers are all popular places to visit for the annual salmon dash, plus they offer anglers the chance to test their mettle against strong swimming salmon.
Hotel Pick:
Free flowing water may be the general expectation on a fishing trip, but there's something awesome about fishing on a landlocked frozen lake. The Midwest, and particularly Lake Michigan, has some of the best frozen fishing spots in the U.S. And while there are plenty options all over the vast lake, we prefer Illinois — namely, making a hole in Fox Chain O'Lakes.
If you're searching for top-notch salmon fishing, look no further than the aptly named Salmon River in New York. A huge sportfishing location, the river is popular among competitive anglers in the spring, winter, and fall. Camping is allowed on the banks of the Lake Ontario tributary should you choose to sleep where you fish. For those who wish to combine the sport with some more comfortable accommodations, we recommend taking the three-hour drive to Buffalo where you can choose from a range of hotels and enjoy bonus fishing on Lake Erie, which is home to steelhead, salmon, and trout.
Hotel Pick:
If the fresh cold air of Salmon River is a little too much for you, then you'll find the tropical climate of Khao Thong in Thailand much more to your liking. One of the world's greatest tropical fishing destinations, Krabi Province and the legendary Gillhams Fishing Resort offer the ultimate landscape in which to sling your hook. Surrounded by lush tropical vegetation and mountains, the stunning lakes near the resort are stocked with a range of species, from catfish to Siamese carp.
Hotel Pick:
Between Key Largo, Marathon, and Islamorada, the Florida Keys has you covered with some of the best fishing in the world. Throw in a great climate, beautiful scenery, and hotel options galore, and you can see why this is such a popular year-round fishing destination. Boat charters are easy to arrange and hotels will often have their own expert guides ready to take you to the best spots. From huge barracuda to the more modest snapper, the range of fishes will suit all skill levels.
Hotel Pick: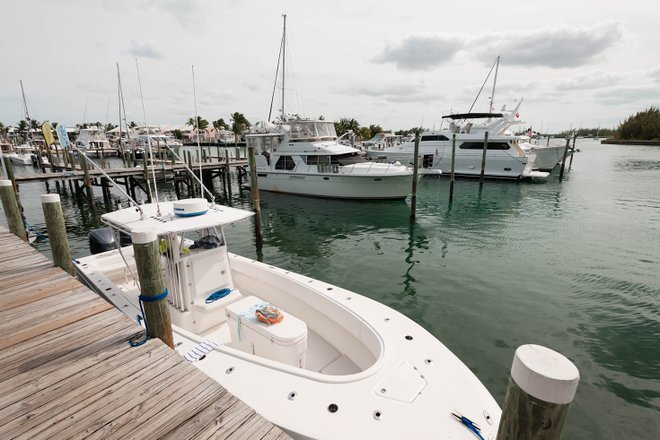 For those looking for marlin, Great Abaco Island in the Bahamas is the place to go. Sea fishing is the main draw here, with first-class mariners catering to the large numbers of boats who come looking for the ultimate catch. The resorts on the island often have fishing guides and experts on staff to take you to the best spots (this should include trips out to the deeper waters for barracuda, tuna, and marlin). Fly-fishers will also appreciate the amazing saltwater flats around Great Abaco Island.
Hotel Pick:
Fishing charters, with experienced guides, are available all over Riviera Maya. Sportfishing tours leisurely circle the Caribbean to bring their clients the best chance of hooking something impressive. The catch here can include wahoo, dorado, sailfish, and marlin. Many resorts around Riviera Maya, including the , , and , also arrange fishing excursions for guests.
Hotel Pick:
You'll Also Like:
All products are independently selected by our writers and editors. If you buy something through our links, Oyster may earn an affiliate commission.